Many predictions this 2021 probably won't pan out. However, here's a pretty safe bet: we will see a number of biotechnology company acquisitions this year.
Although it's not easy to accurately forecast which biotechnology companies will be involved in these deals, there is a handful that qualifies as prime acquisition targets.
One of the top biotech buyout candidates in my radar this year is Translate Bio (TBIO).
Thanks to the massive success of the COVID-19 programs of Moderna (MRNA), Pfizer (PFE), and BioNTech (BNTX), a spotlight has been cast on the benefits of the messenger RNA (mRNA) technology.
That's why I wouldn't be surprised if bigger players in the healthcare industry decide to scoop up smaller players to stake a claim in this quickly growing space.
Among all the small-cap biotechs in play, Translate Bio is easily one of the top prospects.
Before Moderna and BioNTech hogged the spotlight with their mRNA-based COVID-19 vaccines, Translate Bio was actually one of the strong contenders in the race. Unfortunately, it failed to keep up with its peers and is now lagging well behind the leaders.
On the flip side, the attention that mRNA technology has been getting these days seemed to have strengthened the confidence of investors in the technology – an effect that Translate Bio greatly benefited from in the past months.
Despite its lagging performance in the COVID-19 race, Translate Bio has been making significant progress with its work with partner Sanofi (SNY) on their own candidate, MRT5500. If all goes well, then the product should be out by the first quarter of 2021.
Apart from that, the two have been focusing on different vaccine candidates for other viral and bacterial diseases.
Translate Bio's pipeline also includes treatments targeting another lucrative market using the same MRT platform technology as MRT5500: cystic fibrosis (CF).
The company's CF treatment has been causing excitement among investors because instead of offering invasive therapy, this option offers patients an inhaled version of the mRNA drug as treatment.
Moreover, the MRT platform technology of Translate Bio could be expanded to cover more than just CF – a promising diversification that encouraged big investors like Sanofi to continuously pour money into collaborations with this Massachusetts-based biotech.
As mRNA technology gains more traction, Sanofi might even reevaluate its relationship with Translate Bio and decide that it wants more than just a collaboration.
With the smaller biotech company's modest market capitalization of only a little over $1.7 billion, an acquisition could be on the table sooner rather than later.
Another potential buyout candidate is Bluebird bio (BLUE).
Unlike its contemporaries in the biotech space, Bluebird shares plunged by nearly 50% in 2020.
Although the company offers a promising upside potential, it can't seem to generate sufficient enthusiasm to take part in the biotech sector's rally last year.
In fact, Blue stock continued to hover near its 52-week low despite several gene and cell therapy tickers reaching all-time highs.
While that's obviously bad news for Bluebird shareholders, I think this makes the company an even more attractive acquisition candidate.
I think it's important to determine the reasons behind Bluebird's abysmal 2020 performance.
The stock had a rocky start last year, with the COVID-19 pandemic exacerbating its overall meltdown.
One of Blue's major roadblock was its failure to secure approval from the FDA for its multiple myeloma treatment, which it has been working on with Bristol Myers Squibb (BMY).
Then, it delayed its submission for approval of its sickle cell disease treatment LentiGlobin. This was initially set for the second half of 2021 but was pushed to late 2022.
The main takeaway from this streak of negative updates is that Blue still doesn't have its act together when it comes to dealing with regulatory approval processes.
Regardless, the potential of this biotech's pipeline remains impressive.
Apart from its work with Bristol and LentiGlobin, Bluebird has been working on a late-stage candidate for treatment of a rare metabolic disorder called cerebral adrenoleukodystrophy with Lenti-D.
Prior to its partnership with Bristol, Bluebird was actually partnered with Celgene.
When Celgene was bought by Bristol in 2019, the bigger company continued the collaboration with Blue and expanded the partnership to cover more genetic disorders and extend to oncology treatments.
Due to the setbacks, Bluebird's market capitalization now hovers somewhere near $3 billion.
Given all these pipeline candidates and its future plans, I suspect it wouldn't take long before a major player takes notice of this attractive valuation and puts this bird in a cage.
Overall, both Translate Bio and Bluebird are solid companies in the biotechnology space.
While the COVID-19 pandemic slowed down some of their progress, the products in their pipelines could yield substantial value to interested acquisition partners.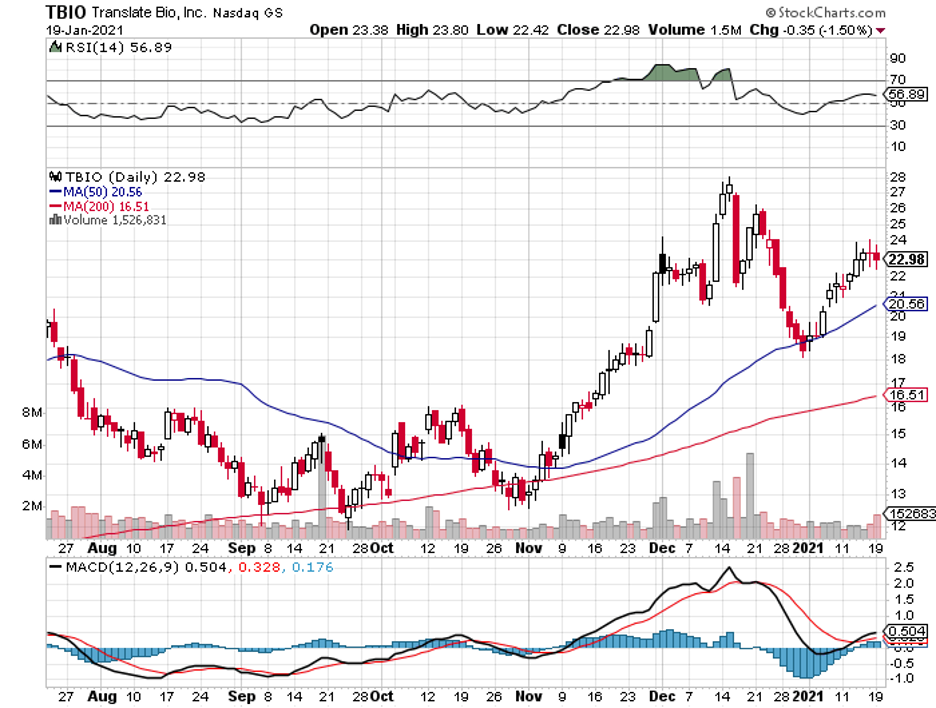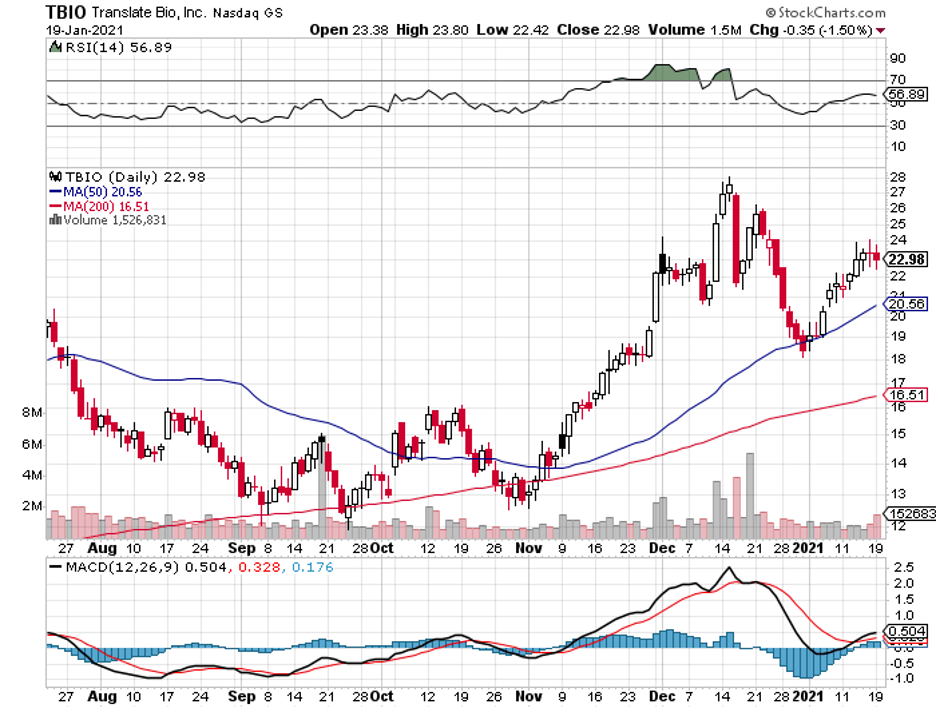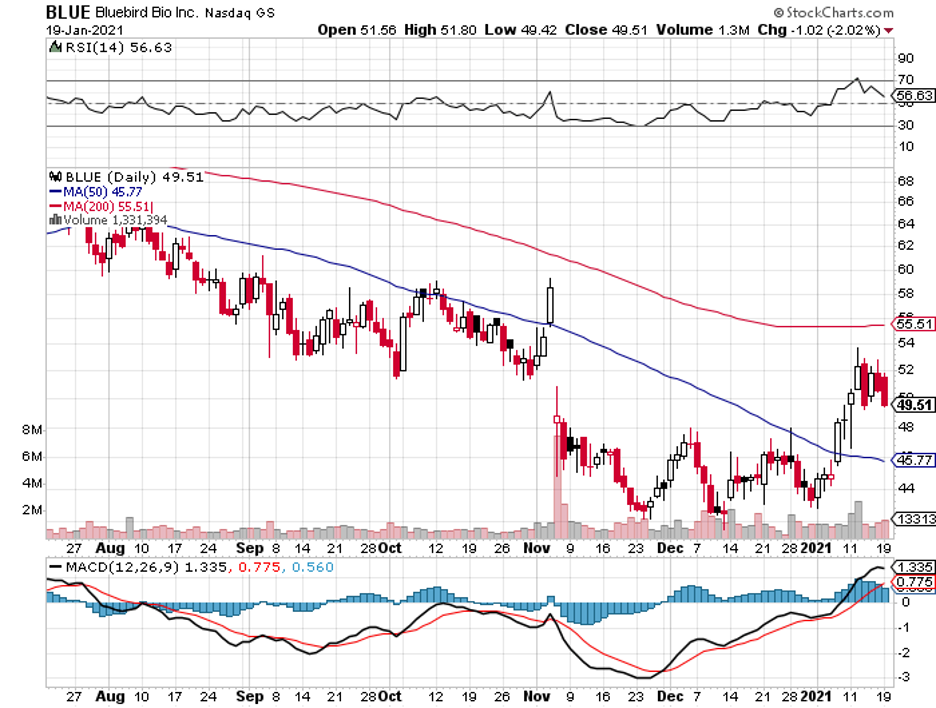 https://madhedgefundtrader.com/wp-content/uploads/2019/05/cropped-mad-hedge-logo-transparent-192x192_f9578834168ba24df3eb53916a12c882.png
0
0
Mad Hedge Fund Trader
https://madhedgefundtrader.com/wp-content/uploads/2019/05/cropped-mad-hedge-logo-transparent-192x192_f9578834168ba24df3eb53916a12c882.png
Mad Hedge Fund Trader
2021-01-28 13:00:46
2021-01-30 23:25:21
Watch Out for These Buyout Stocks