No way, Jose.
That is my read on the likelihood of the Federal Reserve raising interest rates at next week?s Open Market Committee meeting.
The evidence against it is overwhelming. Here are ten reasons why:
1) Chairwoman Janet Yellen has told me on many occasions that she will not raise interest rates until she sees ?the whites of inflation?s eyes? to paraphrase a Battle of Bunker Hill metaphor (we lost that one).
There is no inflation of any kind anywhere in the world. Deflation is still rampant. A US CPI of 0.8% YOY is not what rate hikes are made of.
2) The US economic data has recently slowed. Central banks are supposed to raise rates to prevent economies from getting overheated.
Overheated?
August Nonfarm Payroll came in at a lowly 151,000. The August ISM Manufacturing Index plunged from 52.6 to 49.9, a six year low. To a data dependent Fed, these numbers are shouting ?STOP?.
Need I say more?
3) Remember that election? The Fed is loathe to take any action before November 8. If the economy were in free fall, as in 2008, or going to the moon, like we saw in 1999 that would be a different story. But it?s not.
4) Even the hint, the rumor, or even a scintilla of a rate rise is keeping the US dollar at its high for the year. That is wreaking havoc with US multinationals which are seeing their products priced out of the international markets. This alone is a significant drag on the economy.
5) Watch the Fed fund futures. It is showing a 20% probability of a rate rise on September 20, or a one in five chance. Always follow the people who are putting their money where their mouths are, not the talking heads or dime newsletters that flood the Internet.
6) By the way, the same Fed funds futures are showing only a 48% chance of a December rate rise, which means there is a better than even chance that there will be NO rate rise in 2016. Did I mention that has been my view all year?
?
7) After watching the Fed for 45 years I can tell you that when in doubt, the fed always does nothing (remember the magisterial Arthur F. Burns?). It NEVER makes 50/50 calls.
8) Remember that black long chain carbon molecule, oil. Its price is in free fall again. That is delivering another deathblow to the oil patch, which accounts for 6% of US GDP (formerly 10%). I?m sure the new Dallas Fed governor has views on this situation.
9) Thanks to a gale force deflationary headwind, the Fed will be limited to only eight quarter point rate rises in this business cycle, and it has already used one. Why waste a rate hike now, when dry powder in the future is more valuable.
10) While the longest economic recovery in history is slow, but steady, it has also been uneven at best.
Growth has primarily been focused on the coasts, while those left behind by globalization in the Midwest and South are still suffering.
For many of these unfortunate people, the 2008 recession never ended. A rate rise just might push them over the edge.
To sum it all up, inertia is always a huge influence at the Fed.
Yes, we are already in a rate raising cycle in the wake of the December, 2015 25 basis point snugging. The Fed will raise again, it?s just a question of when.
And while there has been an abundance of Fed speakers over the past week, in the end, only one view counts.
That would be the one of my former UC Berkeley economics professor, Janet Yellen, possibly the most dovish Fed chairperson in history.
I rest my case.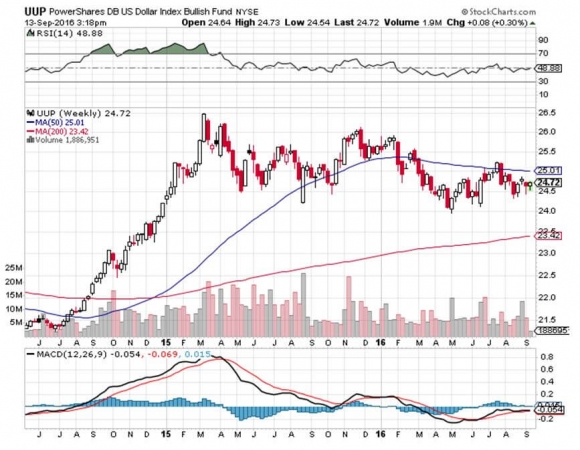 What?s On Your Mind, Janet?
https://www.madhedgefundtrader.com/wp-content/uploads/2016/03/Janet-Yellen-e1484877247453.jpg
300
238
DougD
https://madhedgefundtrader.com/wp-content/uploads/2019/05/cropped-mad-hedge-logo-transparent-192x192_f9578834168ba24df3eb53916a12c882.png
DougD
2016-09-14 01:07:36
2016-09-14 01:07:36
10 Reasons Why Janet Yellen Won?t Raise Rates