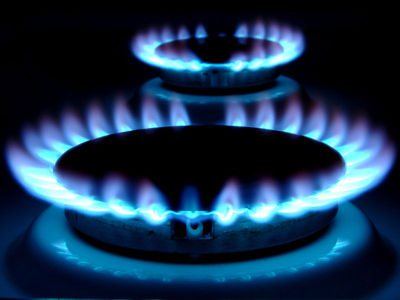 As a potentially profitable opportunity presents itself, John will send you an alert with specific trade information as to what should be bought, when to buy it, and at what price. This is your chance to ?look over? John Thomas? shoulder as he gives you unparalleled insight on major world financial trends BEFORE they happen.
Position Update – (UNG)
Long position United States Natural Gas Fund (UNG) July, 2014 $23 puts at $1.68 or best
Strategy Update
1-31-2014
expiration date: July 18, 2014
Portfolio weighting: 5%
Number of contracts:? 30
(UNG) $23 puts cost basis at?????$1.68
Those who followed my advice to buy the United States Natural Gas Fund (UNG) July, 2014 $23 puts at $1.68 yesterday are now in the enviable position of owning a security that is running away to the upside.
At this morning?s high the puts traded at $2.40, a one day gain of an eye popping 43%. I am getting emails from a lucky few that they got in as low as $1.55 after receiving my Trade Alert.
The question is now what to do about it.
I just called friends around the country, and it appears that a warming trend is in place that could last all the away into mid February. It is starting in Florida and Texas and gradually working its away north, although they are still expecting eight inches of snow in Chicago this weekend.
Mad Day Trader Jim Parker is confirming as much with his proprietary trading model, the chart from which I have included below. He says that we put in an excellent medium term high in the UNG on Thursday at $27. This morning we tested daily support at $23.26 and it held the first time.
But with warmer weather, this is almost certain to break on a future downside push. Then we train out sites on the 18-day moving average at $22.25. After that, $22.07 is in the cards, the top of the gap that we broke through only as recently as January 27, only four days ago.
There our United States Natural Gas Fund (UNG) July, 2014 $23 puts, with a present delta of 40% (forget this if you don?t speak Greek), should be worth $2.83. You might get more, if implied volatilities for the puts rise on the downside, which they almost always do.
That would be a one-day profit of 68%, adding $3,000 to the value of our notional $100,000 model trading portfolio, or 3% to our performance this year, which I would be inclined to take.
Now it is time to get clever. It would be wise to enter a limit day order to sell your $23 puts right now at the $2.68 price. Since the first visit to these lower numbers usually happens on a big downside spike, the result of stop loss dumping of panic longs accumulated by clueless short term traders this week, you might get lucky and get filled on the first run. If you don?t keep reentering the limit order every day until it does get done, or until we change our strategy.
This has been one of my best trades in years, and it appears that a lot of followers managed to successfully grab the tiger by the tail.
If there was ever a time to upgrade to Jim Parker?s Mad Day Trader service, it is now. He will see the breakdowns and the reversals with his models faster than I, and get his Trade Alerts out quicker. Why wait for the middleman, who is me? These fast, technically driven markets are where Jim really earns his pay.
If you want to get a pro rata upgrade from your existing newsletter or Global Trading Dispatch subscription to Mad Hedge Fund Trader PRO, which includes Mad Day Trader, just email Nancy in customer support at nmilne@madhedgefundtrader.com, or call her now at 888-716-1115.
Do it quick because she is about to get overwhelmed.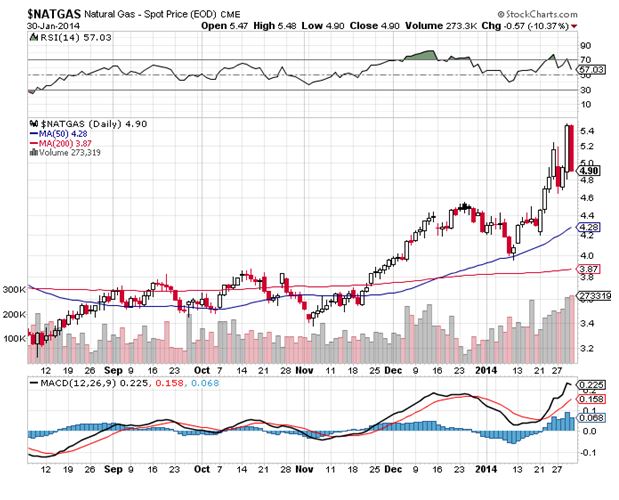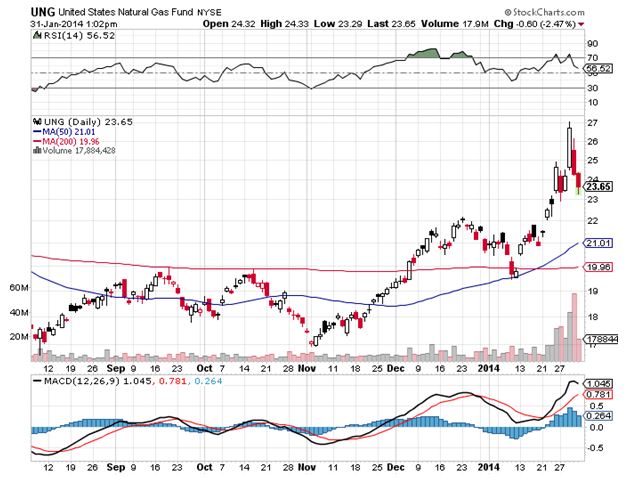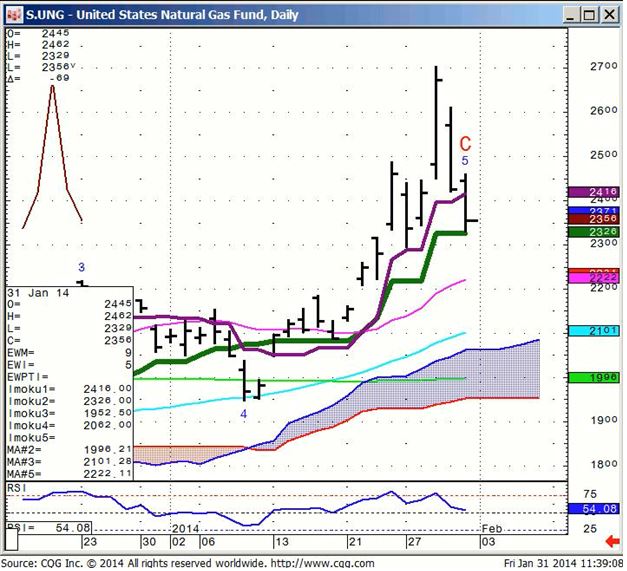 Now We?re Cooking With Gas
https://www.madhedgefundtrader.com/wp-content/uploads/2012/04/Natural-gas.jpg
300
400
Mad Hedge Fund Trader
https://madhedgefundtrader.com/wp-content/uploads/2019/05/cropped-mad-hedge-logo-transparent-192x192_f9578834168ba24df3eb53916a12c882.png
Mad Hedge Fund Trader
2014-01-31 14:05:28
2014-01-31 14:05:28
Trade Alert - (UNG) Strategy Update - January 31, 2014