Stocks are tumbling on the back of substandard vaccine updates, with investors growing more wary of the whole COVID-19 vaccine narrative.
January ended with Novavax (NVAX) announcing that its COVID-19 vaccine candidate is roughly 90% effective, but doesn't work as well against other more contagious strains in South Africa.
Johnson & Johnson (JNJ) reported that its candidate is only 66% effective at stopping moderate to severe strains of the coronavirus, but is 100% effective in preventing hospitalizations and even death 28 days after it gets administered.
However, the real kicker is Merck's (MRK) decision to completely drop out of the COVID-19 vaccine race when both its candidates showed disappointing results in the early stages.
This is disappointing news considering that Merck is one of the biggest vaccine developers in the world today.
Nonetheless, Merck's still not out of the COVID-19 race yet as it appears to be following the lead of Gilead Sciences (GILD) instead.
That is, it plans to focus on developing COVID-19 treatments in the hopes of benefiting from it the same way Gilead did in the past months.
Since the pandemic started, Gilead has been at the forefront of the fight – so much that its COVID-19 treatment, Remdesivir, is evidently having a major impact on the company's top line.
In its third-quarter earnings report in 2020, Gilead reported $6.6 billion in total revenue, showing off a 17% jump from its performance during the same period last year.
If you exclude its COVID-19 sales, Gilead would have only earned $5.6 billion, with the increase in its year over year performance changing from 17% to just 2%.
As for its overall performance in 2020, Gilead announced that it's raising its previous guidance from the $23 billion and $23.35 billion range to be somewhere between $24.3 billion and $24.35 billion.
This new guidance indicates a 10% year over year growth, but without Remdesivir, its product sales would actually show a slight decline compared to 2019.
Outside Remdesivir, Gilead has been active in searching for additional growth drivers.
So far, the most promising segment is its HIV lineup led by its top-selling product, Biktarvy, also known as "the gold standard in HIV treatment."
In the third quarter of 2020, sales of Gilead's HIV line climbed by 8% to reach $4.5 billion.
While generic competition has entered the market, Biktarvy is expected to continue to gain steam in 2021.
Another catalyst in its HIV line is the drug Lenacapavir, which can either be developed as a twice-a-year injection or a weekly pill.
If successful, Lenacapavir can bring an additional $9 billion in revenue for Gilead.
Aside from HIV, Gilead has also been working toward becoming a leader in the oncology sector.
To achieve this, the company spent $21 billion for the acquisition of Immunomedics.
Specifically, Gilead bought the New Jersey-based company for its new breast cancer treatment, Trodelvy.
Gilead's massive bet on Trodelvy raised a lot of eyebrows, but the product offers a very real chance for an enormous payoff for its shareholders.
Trodelvy lowers the risk of death among breast cancer patients by an impressive 52% when compared to those who receive standard care.
Annually, Trodelvy is estimated to rake in at least $1.8 billion in revenue for Gilead --- and that's only for breast cancer application.
Gilead also intends to expand Trodelvy's application to include more complex fields of oncology and even for some viral diseases.
Beyond its COVID-19 program, Gilead has an impressive portfolio of diverse assets that the company is focused on developing.
It currently has 42 clinical programs queued in its pipeline and at least a handful of these are anticipated to become steady sources of revenue.
As expected, it spent 2020 acquiring the necessary partners for its big picture plans, making 2021 a year of milestones for the company.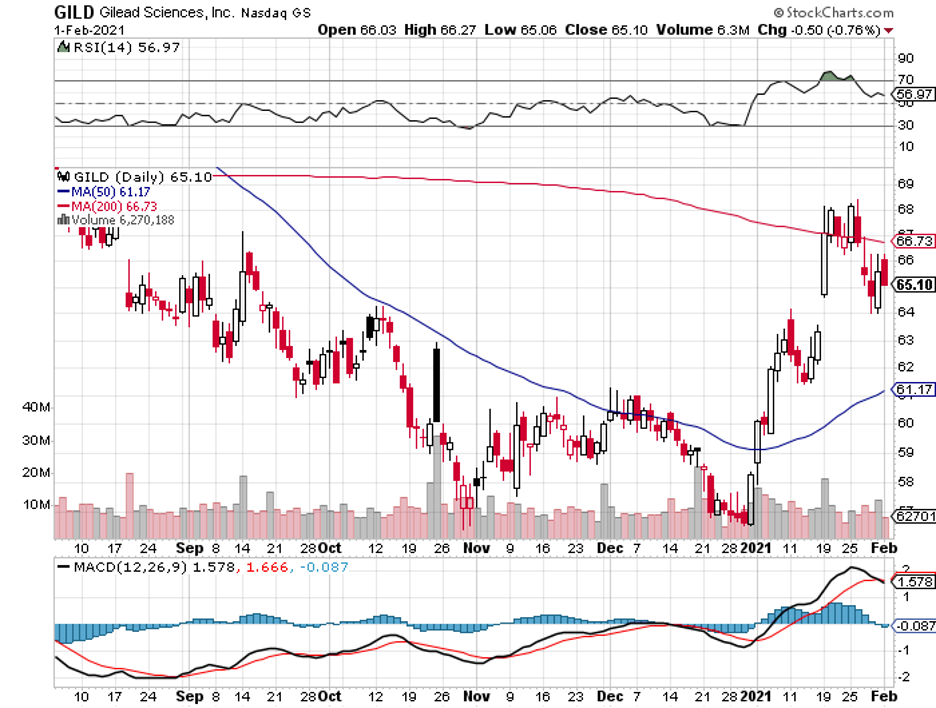 https://madhedgefundtrader.com/wp-content/uploads/2019/05/cropped-mad-hedge-logo-transparent-192x192_f9578834168ba24df3eb53916a12c882.png
0
0
Mad Hedge Fund Trader
https://madhedgefundtrader.com/wp-content/uploads/2019/05/cropped-mad-hedge-logo-transparent-192x192_f9578834168ba24df3eb53916a12c882.png
Mad Hedge Fund Trader
2021-02-02 14:00:56
2021-02-03 19:10:47
2021: Gilead Sciences' Year of Milestones