Would you believe that there was a bigger winner than Bitcoin (BTC) in 2020?
Amid the fanfare generated by COVID-19 vaccine developers like Moderna (MRNA) and Pfizer (PFE), there's one biotechnology company that has quietly boosted its humble $4 share price to an impressive $128: Novavax (NVAX).
As incredible as that sounds, this isn't the most unbelievable prediction for Novavax.
Despite recording a jaw-dropping 2,600% increase last year, this Maryland-based biotechnology company is projected to sustain the momentum in 2021 and beyond.
Let me share how Novavax can achieve a long-lasting winning streak.
Unlike Moderna and Pfizer, Novavax did not utilize RNA technology to develop NVX-CoV2373. Instead, the company opted for a more established approach.
The decision to pursue a more established technology could be viewed as a cost-cutting strategy for Novavax.
Doing so means dramatically lowering supply chain pressures, such as storage issues.
In effect, the Novavax vaccine would be the more convenient option that offers an equally potent result.
At this point, Novavax has yet to reveal its Phase 3 trial results. The tests, which involve trials in the UK, would prove to be the turning point for the company's future.
Here's a rough estimate of how the results could affect Novavax shares.
If the results show that NVX-CoV2373 is 90% effective, this would put the vaccine in the same league as Pfizer and Moderna. Consequently, shares will go up by 30% with this news.
Meanwhile, an efficacy result clocking in at less than 80% would have the stock falling by up to 20% primarily due to the strong competition in the COVID-19 market.
Approximately $40 billion in COVID-19 revenue is at stake this year.
While competitors Pfizer, Moderna, and AstraZeneca (AZN) have already had their vaccines approved for emergency use, Novavax still has a strong chance of getting a piece of the action.
Despite these candidates getting rolled out in other countries, Novavax's NVAX-CoV2373 remains a heavy favorite among experts and analysts alike.
At this rate, NVX-CoV2373 could generate at least $4 billion of the $40 billion COVID-19 market in 2021.
Considering that Novavax has an $8 billion market capitalization, this alone more than justifies the company's valuation.
Admittedly, Pfizer and Moderna hold the competitive advantage in being the first to market. It wouldn't be surprising if both would end up gobbling up market share while Novavax awaits regulatory approval.
More importantly, both have achieved the coveted name recognition when it comes to COVID-19 vaccine so that could offer them power in the soon-to-be-crowded marketplace down the road.
However, both vaccine leaders have a considerable drawback.
Their vaccines require extremely delicate storage and transportation.
In fact, Pfizer and BioNTech's (BNTX) BNT162b2 must be stored at minus 94 degrees—a requirement that not all countries, much less commercial distributors could adhere to.
This is where Novavax's vaccine comes in.
NVX-CoV2373 can be stored and transported at refrigerated temperatures. This means it would be easier to distribute particularly in remote areas.
Any hiccups with storage or transportation involving the Moderna or Pfizer vaccines could offer Novavax an opening to generate vaccine sales that would otherwise no longer be available.
This scenario would translate to a more dominant presence of Novavax in the second half of 2021 until the early part of 2022.
Pfizer and Moderna may have been the first to market, but Novavax's vaccine holds the potential to generate a sizable impact on sales over the long term.
In terms of revenue, the vaccine would be a significant boost for Novavax. It would transform from a zero product revenue to billions in a short period.
While Novavax has yet to announce the official pricing for the product, we can use its US price of $16 per dose as a benchmark for the rest of the contracts.
So far, Novavax has secured roughly orders for 300 million doses in the US alone. This would amount to $4.8 billion in sales—and all signs point to the number climbing higher this year.
Novavax has been ramping up its capacity to produce as many as 2 billion doses by mid-2021.
In comparison, Pfizer has a maximum capacity of 1.3 billion doses this year while Moderna would peak at 1 billion.
Evidently, Novavax holds an edge over the two companies in terms of capacity to fill orders.
Outside its COVID-19 efforts, Novavax has another potential blockbuster in its pipeline.
Although data is sparse, the company is expected to file for regulatory approval for its experimental flu vaccine called NanoFlu.
Oddly enough, NanoFlu was the reason that Novavax trounced the cryptocurrency surges in 2020.
Investors got all fired up following the promising showing of the flu vaccine candidate, with the stock gaining unprecedented attention when it reported remarkable results in a head-to-head study against the leading flu vaccine in the market today, Sanofi's (SNY) FluZone Quadrivalent.
With all these in mind, Novavax's earnings outlook is showing strong signs of even more stellar and stronger performance than that of Moderna this year.
So far, earnings per share for Novavax this year is estimated at $21 while Moderna's is $10.
Another possible game-changer for Novavax is its plan to combine a flu-coronavirus vaccine to be marketed post-pandemic.
Before making any moves though, it's important to invest in Novavax with all the facts out in the open.
Inasmuch as it's a promising stock, this is still a risky investment. This means that only aggressive investors should consider buying this biotechnology stock.
In a number of ways, Novavax and Bitcoin share some similarities.
Both are speculative assets that could either skyrocket or sink. They're extremely attractive to aggressive investors on the lookout for big wins but also unafraid of massive risks.
The main difference is that with Novavax, it's simpler to understand the reason for its rise or fall.
The potential drivers for its success or failure appear to be less cryptic than those behind the cryptocurrency.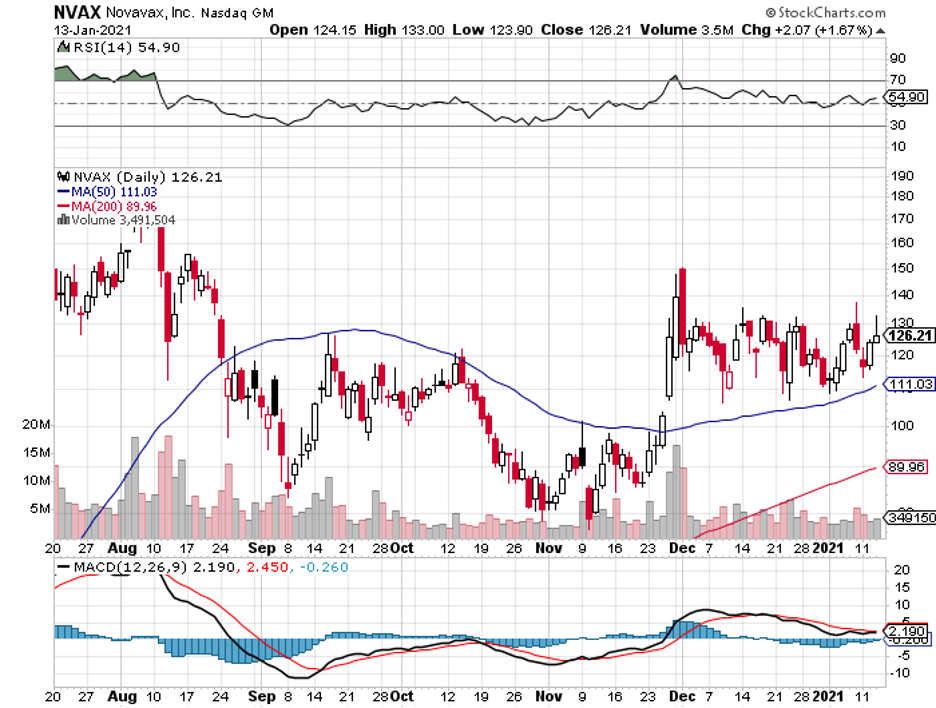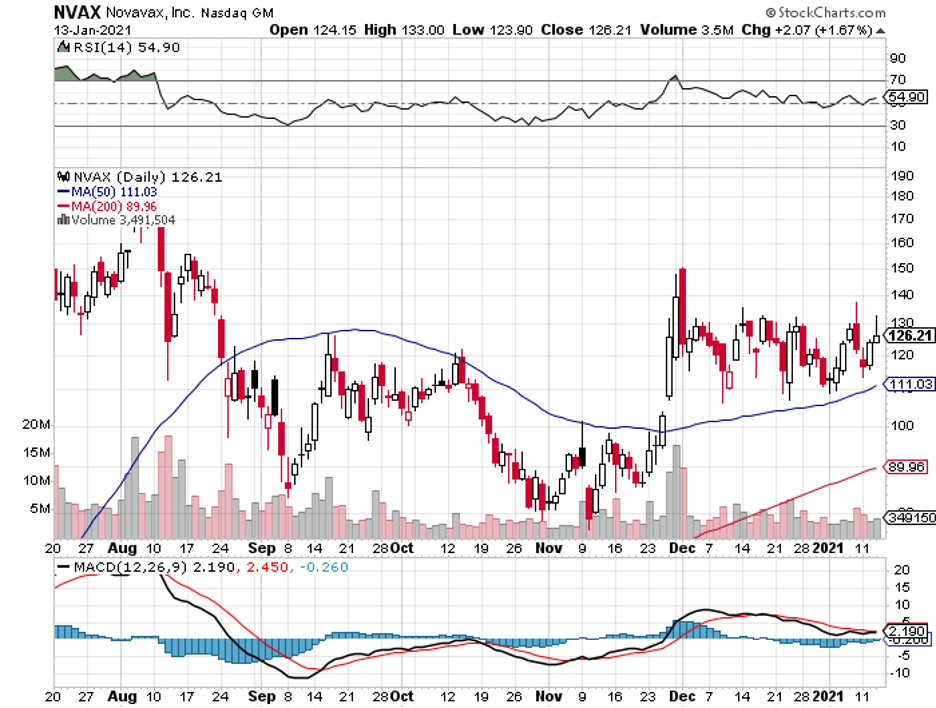 https://madhedgefundtrader.com/wp-content/uploads/2019/05/cropped-mad-hedge-logo-transparent-192x192_f9578834168ba24df3eb53916a12c882.png
0
0
Mad Hedge Fund Trader
https://madhedgefundtrader.com/wp-content/uploads/2019/05/cropped-mad-hedge-logo-transparent-192x192_f9578834168ba24df3eb53916a12c882.png
Mad Hedge Fund Trader
2021-01-19 15:00:19
2021-01-21 21:44:09
Can Novavax Extend Its Winning Streak?