I managed to catch my longtime friend, technical analyst, Charles Nenner, on the fly between London appointments yesterday. The must go to guy for big hedge funds, family offices, sovereign wealth funds, and high net worth individuals, says that the global markets are on the verge of completing round one of a major risk off trade, and there is much more to come. A ferocious short covering rally could ensue as early as next week and run well into June. This is a rally you want to slam big time. A failure to reach new highs will lead to substantial new lows by August. To me, this means that the short selling opportunity of the year is in the process of setting up. Intrigued, I asked Charles to go into as much detail on a ticker by ticker basis as London's spotty cell phone coverage and bumpy roads would permit. I break out his answers below by asset class. Equities The S&P 500 will start one more run at a new high for the year next week, or the following week at the latest. A failure heralds a much more serious correction that could last into August. Use a downside break of 1,325 as a sell signal. The Russell 2000 looks much more dubious. Pierce $77.20, spitting distance from here, and we will soon be visiting $71. NASDAQ (QQQ) has recently been underperforming recently and could lead any new charge to the downside. Emerging markets (EEM) fighting a monkey on their back with plunging commodity prices look even worse, and may not even bother to rally at all in this bounce. They look weak straight into July. I covered a few individual high profile equities with Charles. He doesn't like Apple (AAPL), which he sees touching $540, down $100 from the post earnings top. Ditto for IBM (IBM) which has probably squeezed out as much performance as it can for the time being. He says my short in Pulte Homes (PHM) will blow up in my face, remaining strong into July. Disney (DIS) looks pretty good and should maintain strength for a few more months. On the other hand, Boeing (BA) looks like it is rolling over and will track the indexes on any move south.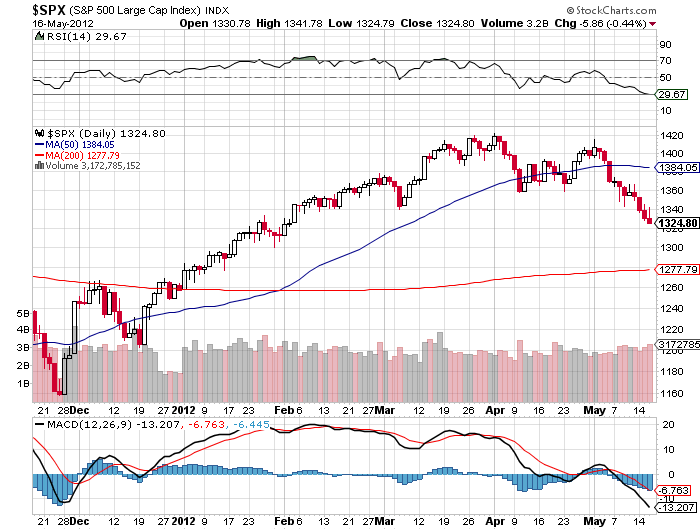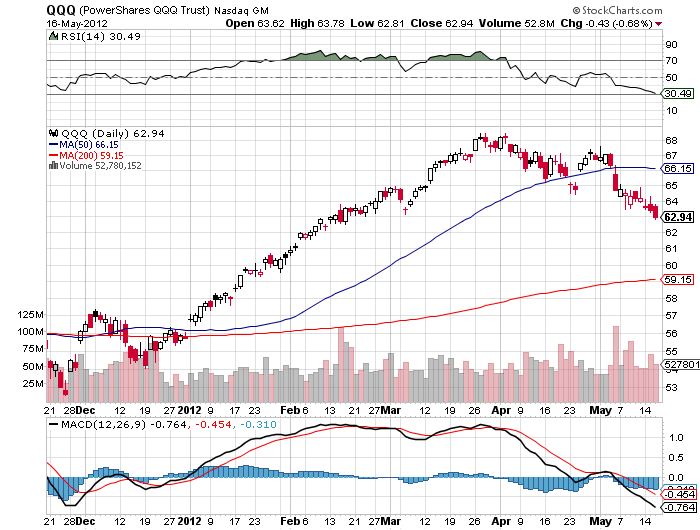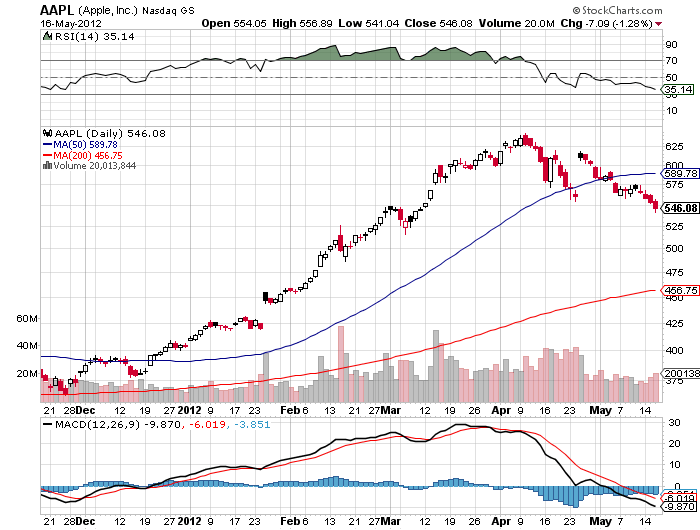 Bonds Charles was ultra-bearish on the Treasury bond market, believing that the 30 year bull market peaked last September. The current run to those highs will fail, setting up one of the biggest short side trades in the coming decade. His favorite instrument here is the (TBT), which he recommends selling puts on four months out. The expected disorder and thin markets this summer could take ten year  Treasury yields as low as 1.57% from today's 1.78%, but won't be able to sustain beyond that. His downside target for the 30 year is a gob smacking 2.6% yield.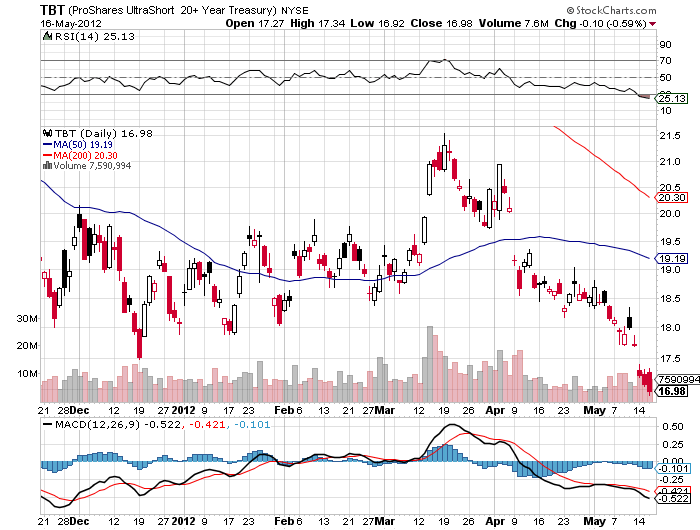 Foreign Exchange The Euro (FXE) has already breached his first downside target of $1.2850. If we can't recover that level soon, next on the menu is $1.2420. His longer term charts are showing a final goal of $1.00, but he refrains from mentioning this to the media because it is so extreme. The Japanese yen (FXY) has just completed a nice one month consolidation and will resume a major long term downtrend imminently. If the cash market clears ¥80.60, pennies from here, a much bigger move down is in store for the ETF, from the current $122.40 to $119.70, then $114. The Australian dollar (FXA) is looking equally sick and could be printing $89.5 in the months ahead. Further interest rate cuts by the Reserve Bank of Australia to combat a fading economy in China will add fat to the fire.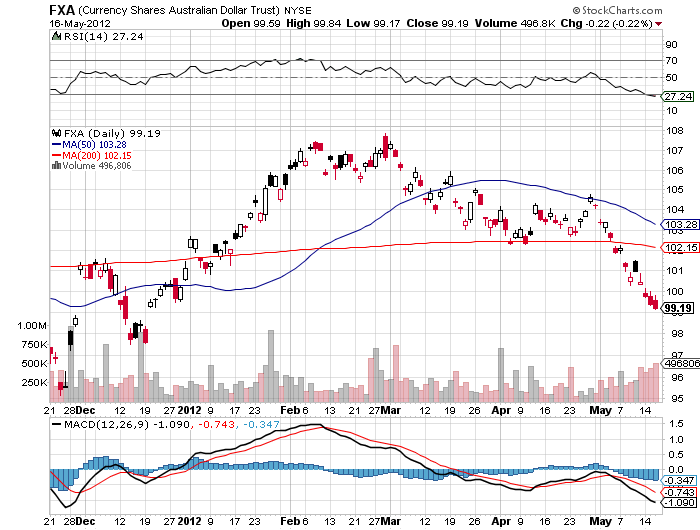 Energy The wily Dutchman has been negative on oil (USO) since it peaked at $110 a barrel in early March. It has already hit his initial goal of $93. If the markets move into a broader "RISK OFF" mode, we could see $68 by November, no doubt sending chills down the spines of oil men everywhere. Natural Gas (UNG), the worst performing asset of 2012, is enjoying a brief rally that may continue until the end of May. After that, the ETF for this unloved molecule should crater from $18.90 to below $14 this summer, around when the gas storage Armageddon hits. Longer term, he wants to scale into the long side, but not through (UNG), which has a huge contango and the worst tracking error of any ETF alive. He prefers to participate in any gas recovery through Canadian gas producer, EnCana (ECA), which derives almost 100% of its revenues from CH4.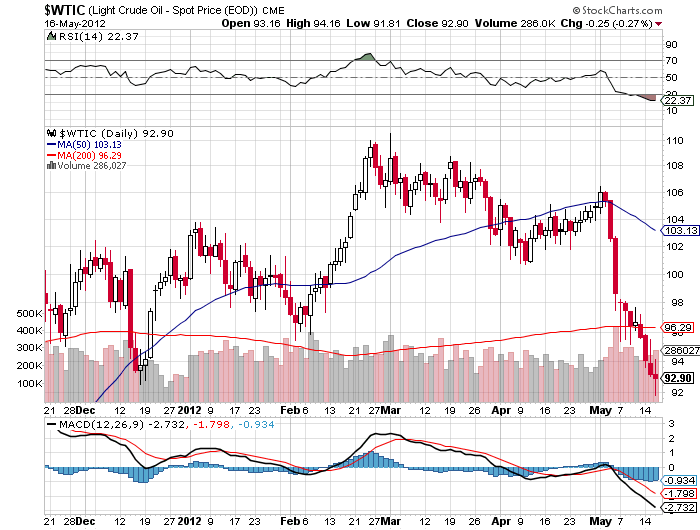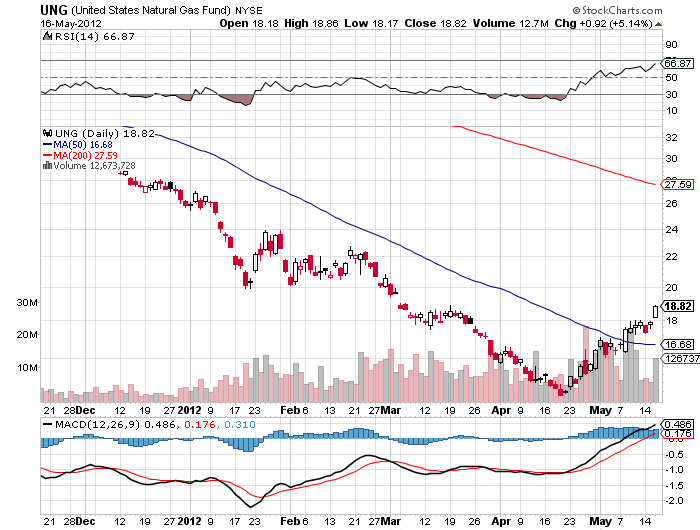 Commodities Nenner was early in jumping all over the copper (CU) trade, which was the first asset class to peak this year, in early February, unloading the red metal under $3.80. He thinks copper could trade as low as $2.80 in this cycle, down 28% from here. He also has been negative on the grain complex for some time, and thinks corn (CORN) has another 10% of downside to go. There he wants to load the boat for a potential double in coming years.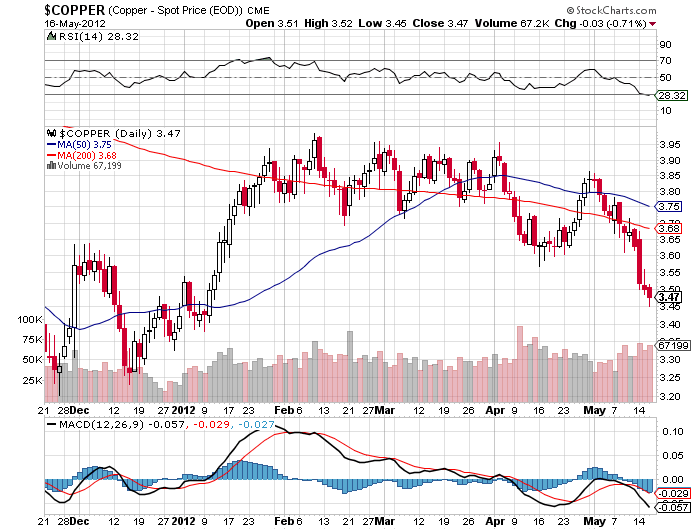 Precious Metals Charles argues that the precious metals will be anything but a safe haven. We could get a bounce in gold off of $1,510 in the near future. But if that make or break level doesn't hold, the barbarous relic could be paying a visit to $1,369, delivering the gold bugs a fatal dose of insecticide. Silver may challenge $23 soon, and substantially lower if no one steps up there.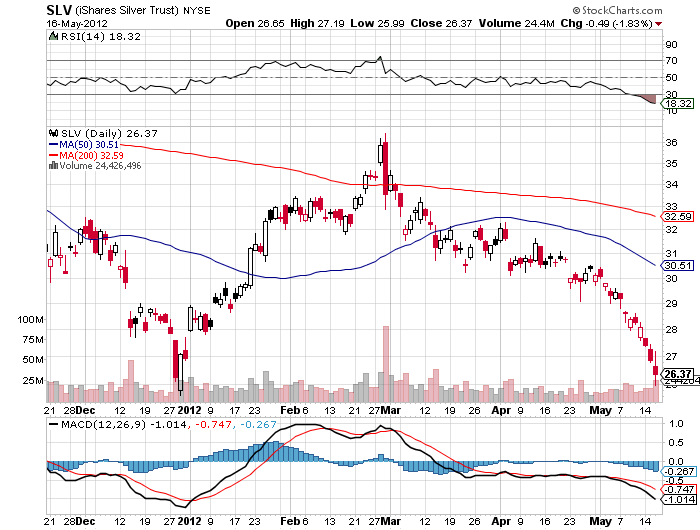 Charles hails from Holland, and has a long career that includes stints at medical school, Merrill Lynch, Rabobank, and ten years at the Vampire Squid, Goldman Sachs. He has spent three decades developing his proprietary Cycle Analysis System, which generates calls of tops and bottoms for every major market in the world. Charles developed a huge following after 2007, when he accurately nailed the top in the Dow at 14,500 and urged his clients to put on short positions when everyone else was predicting that the market would keep grinding higher. Today, Charles Nenner counts major hedge funds, banks, brokerage houses, and high net worth individuals among his clients. To learn more about Charles Nenner's cutting edge research organization, please visit his website by clicking here at http://charlesnenner.com/ . I have been following Charles' daily research reports myself for many years, and found them to be uncannily accurate. Whenever I feel like playing a three dimensional mental chess game, I call him to argue about the connections between human behavior and mathematics, a key market driver. I thanked him for his time, and offered to share a bottle of the fiery Dutch spirit, Bols, on his coming trip to San Francisco. I also told him that the next time Holland's canals freeze over, an event that happens only once a decade, I would race him mano a mano in the "Elfstedentocht," a 125 mile race around the country's canals on ice skates.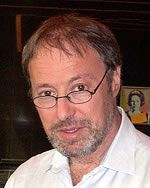 My Go To Source for Charts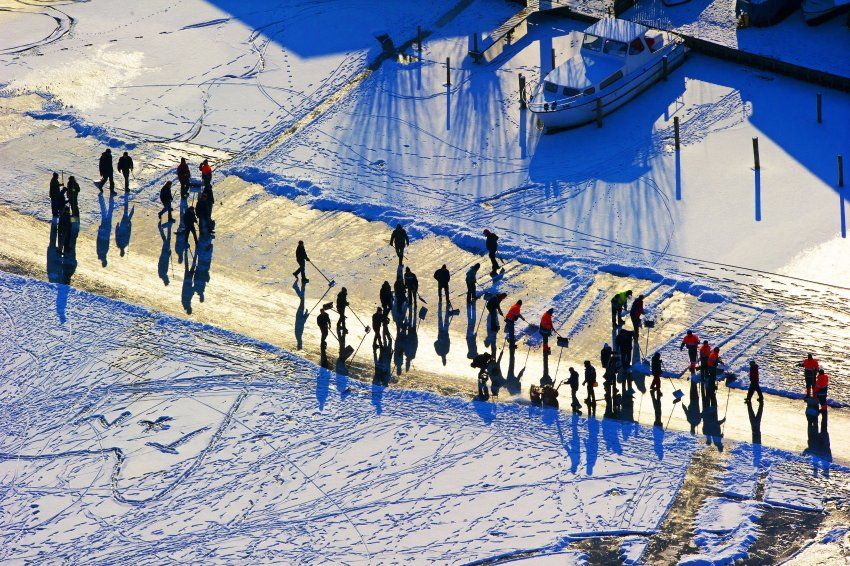 The "Elfstedentocht"