What comes up must come down, you didn't expect Alphabet's stock to explode on this earnings report, did you?
Alphabet shares have gone up in a straight line since the beginning of the year, and only a robust beat on the bottom and top line with raised guidance was going to push this stock to higher highs.
Chances of that were low.
I wouldn't classify Q1 as an awful quarter, but Alphabet was in need of a reset and culling a few hogs from the litter is not always a bad thing.
Shares retraced more than 8% in trading which could be the beginning of a brief but much-needed mini earnings tech recession.
Tech shares have carried the load this year, every continent on the globe wishes they had a tech sector like America does.
Google still has its digital ad duopoly intact and results were driven by ongoing strength in mobile search along with important contributions from YouTube followed by Google Cloud.
Revenues of $36.3 billion, up 17% YOY did not capture the imaginations of investors and this was graded as a big miss by over $1 billion.
This signals a sharp deceleration from Q1 2018 when Alphabet posted revenue growth of 26% YOY.
Growth of over 20% cut down to the high teens is a big deal in the tech world for growth names, and this puts a cap on the price trajectory for the short-term.
Cost per click on Google properties was down 19% YOY which was extremely disappointing even though paid clicks on Google properties were up 39% YOY which somewhat softens the blow.
Most crucially, there is nothing structurally wrong with Alphabet and investors must galvanize themselves around this salient point.
Execution risk reared its ugly head with CFO of Alphabet Ruth Porat explaining "while YouTube clicks continue to grow at a substantial pace in the first quarter, the rate of YouTube click growth rate decelerated versus a strong Q1 last year, reflecting changes that we made in early 2018 which we believe are overall additive to the user and advertiser experience."
Alphabet pulled a Twitter (TWTR), forgoing short-term profits to focus on maintaining the reputation of the platform and eradicating lingering problems with the algorithm.
The algorithm facelift will make the platform more attractive to digital advertisers going forward as their brand risk is mitigated by Alphabet optimizing their algorithms.
More specifically, this would mean identifying certain unpalatable content that needs to be flat-out removed, and certain ads that should not be bundled with certain content.
More advertisers will slash YouTube ad budgets if they aren't satisfied with the overall product experience and cannot accumulate positive user feedback.
Getting into the weeds makes us aware that costs aren't overly exorbitant this time around.
Total traffic acquisition costs (TAC) were $6.9 billion, 22% of total advertising revenues and up 9% YOY but down from 2% YOY from Q1 2018 reflecting a favorable revenue mix shift from network to sites as well as a decrease in the network TAC rate.
Alphabet's TAC rate rose from the impact of the ongoing shift to mobile, which manifests with higher TAC, but was offset by the growth in TAC free sites revenue driven by YouTube.
The European Commission (EC) and its decision that certain contractual provisions in agreements that Google had with AdSense for Search partners infringed European competition law and the associated €1.5 billion fine with it didn't help quarterly performance.
The fine, in no shape or form, is a threat to Google's dominance in Europe.
The Google cloud services 9 of the world's 10 largest media companies, 7 of the 10 largest retailers and more than half of the 10 largest companies in manufacturing, financial services, communications, and software.
Some of the companies that will join the Google Cloud are American Cancer Society and McKesson in health care, media and entertainment companies like USA TODAY and Viacom, consumer packaged goods brands like Unilever, manufacturing and industrial companies like Samsung, logistics company UPS and public sector organizations like Australia Post.
The expansion of 2 new Cloud regions in Seoul and Salt Lake City which will open in 2020 will help build on the footprint of 19 Cloud regions and 58 data centers around the world.
Alphabet missed badly on the top line, but comps from last year because of the strength of YouTube would have been hard to eclipse.
Bask in the glory of the reset in price - now it's time to play Alphabet from the long side.
Moving forward, Alphabet has many levers to pull as CEO of Tesla Elon Musk's rallying cry for the evolution of self-driving cars means that Waymo would reap the benefits first in automated vehicle technology.
Alphabet also has a few tools left in their toolkit such as monetizing Google Maps through selling digital ads on the Maps interface.
I expect a slow grind up for the rest of the year because Alphabet can brandish many weapons with little resistance in front of them, it's up to them to execute.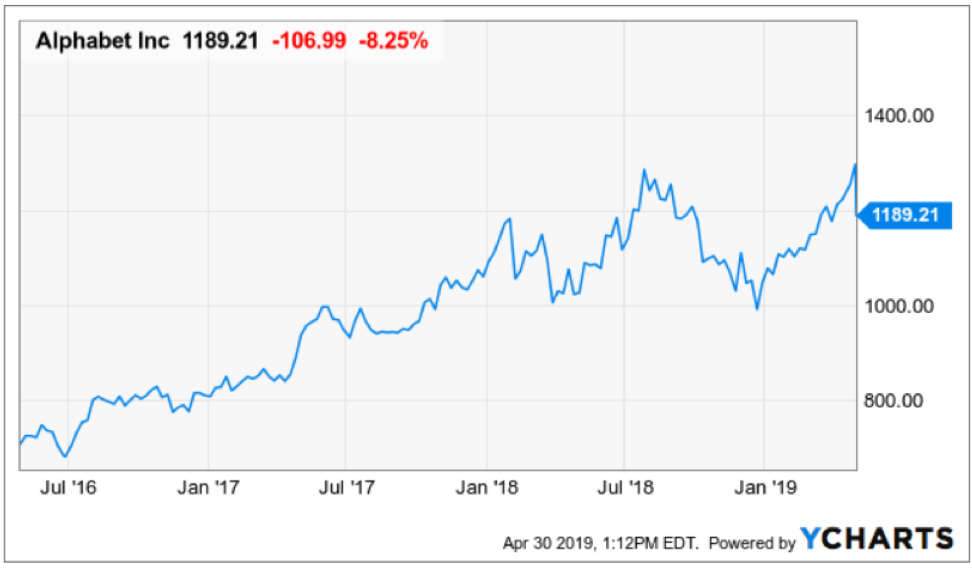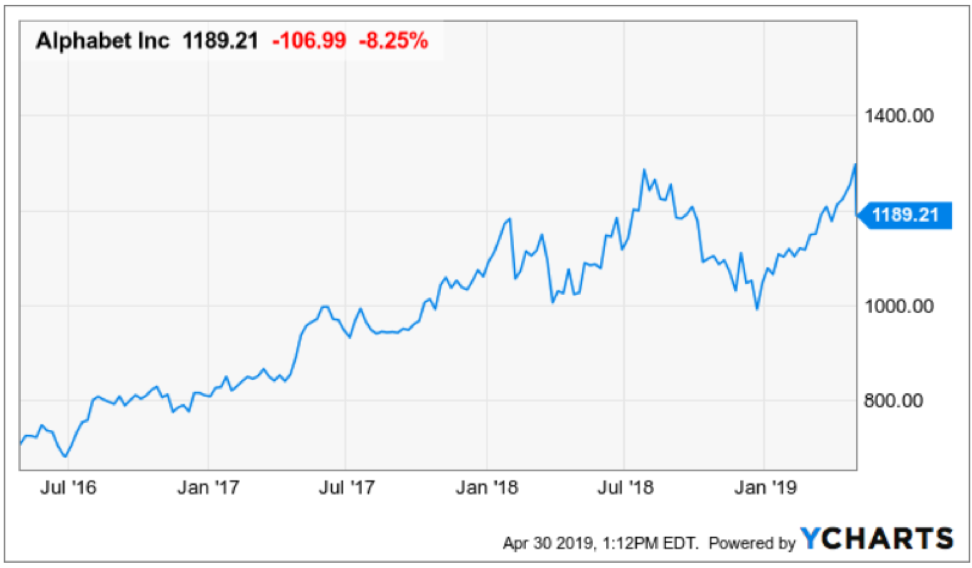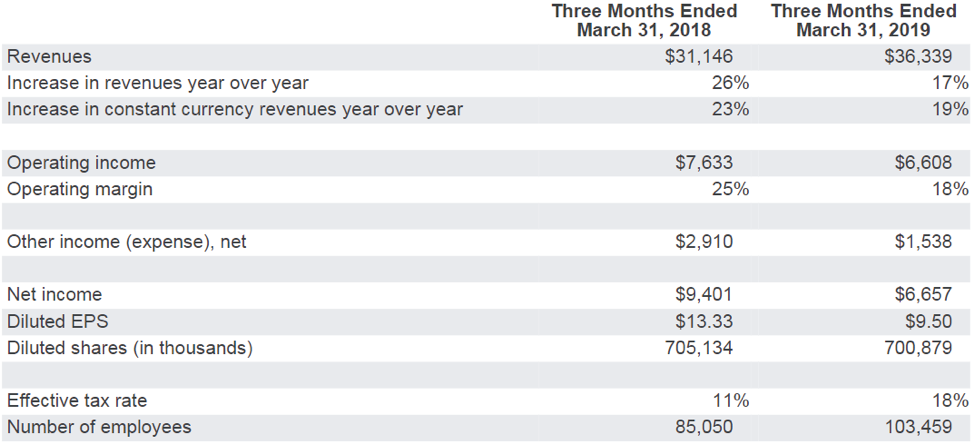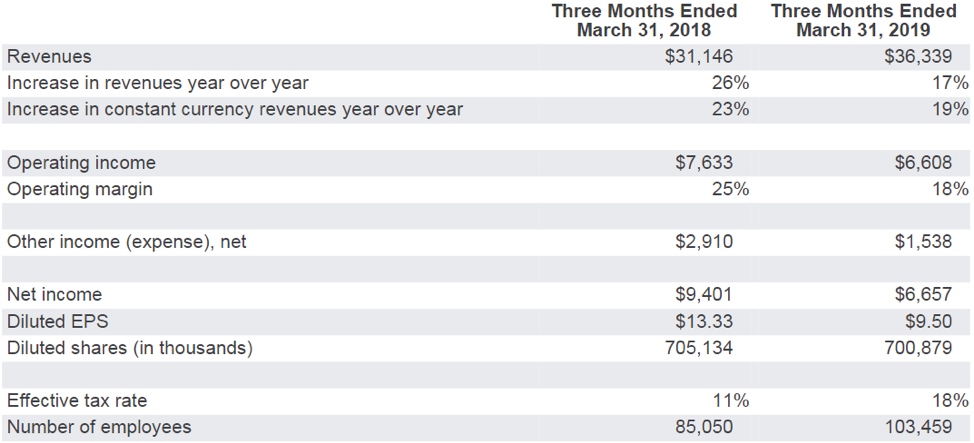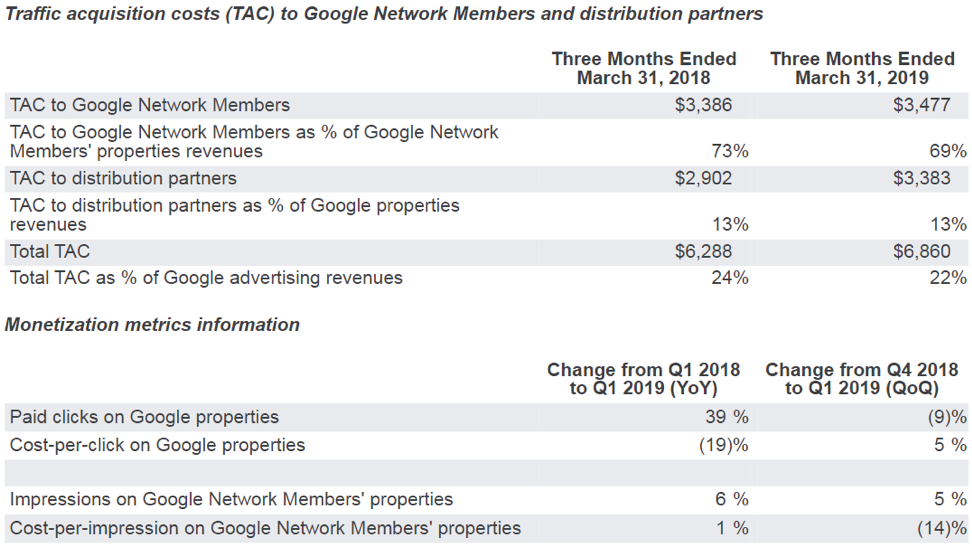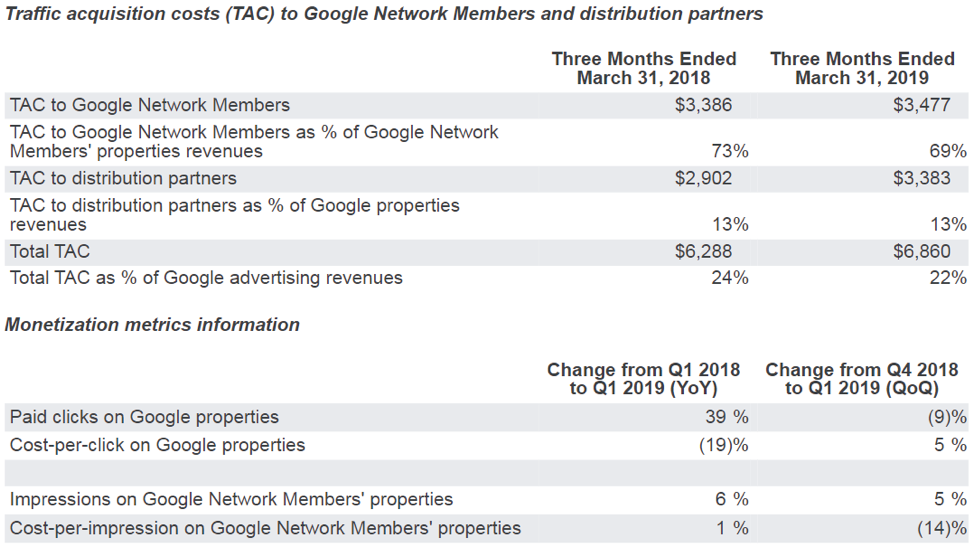 https://www.madhedgefundtrader.com/wp-content/uploads/2019/05/traffic-acquisition.png
547
972
Mad Hedge Fund Trader
https://madhedgefundtrader.com/wp-content/uploads/2019/05/cropped-mad-hedge-logo-transparent-192x192_f9578834168ba24df3eb53916a12c882.png
Mad Hedge Fund Trader
2019-05-01 01:06:26
2019-07-11 13:19:24
Alphabet's Big Miss