It is a basic concept of life that people will risk their lives for economic gain.
This is what the protests are about that have erupted all over the U.S. and will continue as families run out of food in the kitchen pantry.
Back in the world of the stock market where tech stocks have benefited from the Fed backstopping equities, Amazon (AMZN) reminded us that just because business is booming in volume, profitability can be a completely different story.
Amazons' earnings disappointed after many analysts believed the quarter would be untouchable.
The company that my friend Jeff Bezos built became inundated with too many orders that almost broke their supply chain.
Amazon's share price got ahead of itself which was up 34% on the year through last Thursday and only a beyond perfect earnings beat on the bottom and top line would propel the stock to newer highs.
The stock cratered by 8% after investors had time to digest the report.
Profitability came in significantly lower with Wall Street anticipating earnings per share of $6.25 and Amazon only producing $5.01.
The most important number in the earnings report was $4 billion which is the amount of additional expenses next quarter caused by the COVID-19 phenomenon.
The productivity headwinds in Amazon's facilities were meaningful as the company spent on social distancing, allowing for the ramp-up of new employees and investments in personal protective equipment (PPE) for employees.
In addition, setting up an Amazon fulfillment center in the age of COVID-19 encompassed cleaning and sanitizing facilities, higher wages for Amazon's hourly teams, and hundreds of millions of dollars to develop COVID-19 testing capabilities.
Amazon also needed to allocate another $400 million of costs related to increased reserves for accounts that participated in price gouging as Amazon third-party sellers tried to rip off buyers by jacking up prices to take advantage of the shortage in some products.
Amazon said they suspended more than 10,000 sellers from its platform for violating policies against price gouging.
The sudden spike in costs will result in an operating loss of $1.5 billion to an operating income of $1.5 billion based on its expectation of spending $4 billion on coronavirus-related costs.
The ultimate problem for Amazon's eCommerce division was that "essential items" didn't harvest the bumper type of premium that other products can command.
Not only did they suffer at the margins, but they also had to extend the shipping period from one to four days, and then further on non-essential items.
Groceries were the segment that saw explosive growth, but everyone knows that supermarkets have slim margins.
Amazon had to increase grocery delivery capacity by more than 60% and expanded in-store pickup at Whole Foods stores from 80 stores to more than 150 stores.
Amazon's best of breed execution was utterly swamped by the health phenomenon.
It got so bad that Amazon had to restrict selected products that were coming into the warehouses and focus on essential products.
A big chunk of the new costs will come in the form of hiring an additional 175,000 new employees.
Inflated costs were the bombshell of Amazons' earnings but looking down the road, the future looks bright.
Amazon is the only platform that can systematically service customers at scale and effectiveness during the crisis which will breed increased customer loyalty and faster adoption of e-commerce, despite higher costs in the near term.
Work-from-home dynamics are here to stay translating into significant Amazon market share gains and a longer Amazon growth runway.
This is also the first stage of Amazon developing a protective gear strategy for staff and customers as a potential point of competitive advantage.
Sterility of packages and products could be the new x-factor going forward and Amazon will likely lead in developing this new packaging and contactless delivery style.
This leads me to believe that the coronavirus is a springboard into the revenues of healthcare for big tech enabling unlimited resources with an industry offering unlimited low-hanging fruit.
Big tech is the only solution out there to America's dysfunctional healthcare system, and Amazon could become the leader in setting off a new deflationary decade in healthcare costs.
Amazon and Microsoft are the best companies in the country and any pullbacks should be met with a torrent of fresh buying.
To visit Amazon's webpage, click here and to see why Microsoft is the best tech company not named Amazon, then please click here.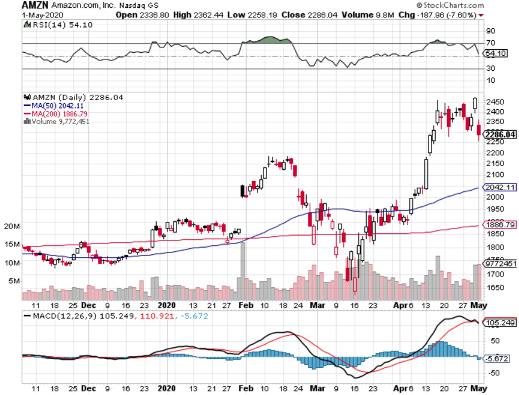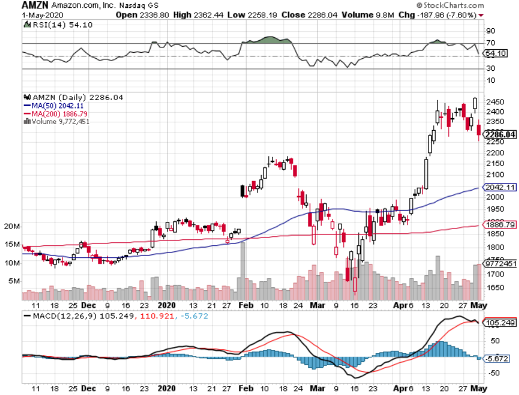 https://madhedgefundtrader.com/wp-content/uploads/2019/05/cropped-mad-hedge-logo-transparent-192x192_f9578834168ba24df3eb53916a12c882.png
0
0
Mad Hedge Fund Trader
https://madhedgefundtrader.com/wp-content/uploads/2019/05/cropped-mad-hedge-logo-transparent-192x192_f9578834168ba24df3eb53916a12c882.png
Mad Hedge Fund Trader
2020-05-04 11:02:58
2020-06-09 09:31:41
Amazon's Big Disappointment