Amazon's free 2-day shipping for Prime Customers is on the verge of becoming free 1-day shipping after the company recently announced this new wrinkle to their business model.
Amazon's competitors should be shivering in their wake.
But it's not all doom and gloom for the other e-commerce giants, hardly so, the gap up in the fierce competition will do what General Data Protection Regulation (GDPR) rules in Europe did to competition – enclose the existing players off from the smaller fish.
In examining who will be the last man standing, I have come to the conclusion that it will not just be one or two grinding it out in a vacuum, but more like several winners that will all benefit to certain degrees.
The outsized denominating factor in the e-commerce wars is logistics and who can best put this segment together.
E-commerce companies are being bullied into leaner models because of the premium on heavy scaling that will pile on added costs to make 1-day free shipping a reality.
This isn't selling lemonade on your driveway, getting 1-day shipping to work will be a tough nut to crack.
The result will be the imminent deterioration of FedEx (FDX) and United Parcel Service (UPS) on the expectation that Amazon will crowd them out.
It could be the case that Amazon improves its logistical capabilities to the point that FedEx and UPS will have to sell itself off or risk death by a thousand cuts.
There looks like no navigational path ahead for these two legacy logistic companies because of the nature of being lower down on the value chain.
The only other choice is if FedEx or UPS is able to jump into the e-commerce business themselves by buying a Kroger to maneuver into the integration process through the other side.
Either way, acquiring a supermarket is no guarantee of future success considering the stakes are about to become higher and higher.
I believe that Walmart will respond to Amazon by rolling out free 1-day shipping with no membership fee, boosting its customer experience while attracting and retaining customers.
Walmart is in this fight until the bitter end and they have invested heavily in improving the technological aspects of the company.
Where does this end?
Logistics will perpetually improve as companies drain more money into logistics, and customers will eventually receive their e-commerce packages in a drone less than 1-hour after payment.
Amazon CFO Brian Olsavsky told investors that Amazon is plunking down $800 million over the quarter in its fulfillment network and that number should rise every year as Amazon has targeted logistics as a huge competitive advantage that they must capitalize on and thrive in.
Amazon already has the option for 1-day free shipping in the European Union and Japan where the delivery distances are truncated.
America poses geographical challenges that will cost more to solve and will rely on the deregulation of future drone flights and cooperation with Amazon sellers to deliver this big step up in customer experience.
The constant iteration upgrades in logistics for the past 20 years have made this possible, and I believe Amazon would be well served to bite the bullet and splurge for UPS or FedEx to make it easier on themselves.
It is not shocking there is a scarcity value of logistic carriers and e-commerce giants will need more logistical capacity to execute free 1-day shipping and eventually free 1-hour shopping.
Amazon hasn't figured out how to transport physical goods through a computer yet, but I am certain, if there was the technology, they would spend unlimited amounts to get it to that point.
The most ironic aspect of the e-commerce wars is that supermarkets, being a part of e-commerce and the logistics behind it, is the most innovative part of technology at this moment.
Tech companies have identified that customers need to eat three times per day as paramount and are sizzling through cash to build this unfathomable logistics system – effectively working miracles and becoming whirling dervishes to seize this part of the economy.
I would probably label automobiles and the self-driving autonomous technology behind logistics as the second most innovative part of technology at this moment.
As for Amazon's earnings report, it was a mixed bag, but the good in the bag was astounding.
Profitability boosts through the scaling and efficiency savings inflated the bottom line with EPS in Q1 at $7.09 compared to expectations of $4.72.
Amazon Web Services (AWS) is still commanding enormous growth rates which is miraculous for a division its size, the cloud unit grew 41% YOY which is down from 49% last year.
On the negative side, the advertising business experienced a sharp slow down growing only 34% YOY to $2.7 billion.
Remember that ad sales were expanding over 100% YOY in prior quarters.
Total Revenue only grew 16.9% which shows how difficult it is to grow at Amazon's size and brings down the digital ad growth rate almost on par with Facebook.
Walmart and Target will be forced to compete with free 1-day shipping, and this will make their services better as well.
The question is how much pain can investors handle in terms of capital investments?
I believe substantially more.
Walmart and Target shares are poised to move higher on the news because the improvements in their logistical services will widen the gap between the haves and have nots. 
These companies are in the midst of persuading investors they should be revalued as tech companies and duly receive growth multiples.
They are doing a great job and imagine how badly this news feels for medium-tier grocers with a minimal digital footprint.
Investors will come to grips that Amazon, Walmart, and Target will pull away from the pack and trade blows with each other.
This time it's Amazon, but it's not the last laugh.
Where does this all lead?
The end game is voice-triggering smart speakers where Amazon and its Echo speaker have a distinctive lead and a market share of around 70%.
Graphic interfaces will exist in only voice-activated form and content will be bundled into voice technology where even managing a Walmart order will require Amazon Echo to register sales.
That type of future is still a way off, but these are the next baby steps in that direction.
In short, revelations of free 1-day shipping to Amazon prime customers is convincingly bullish for Amazon, quite bullish for Walmart, Target, and a death knell for smaller e-commerce platforms and logistic dinosaurs.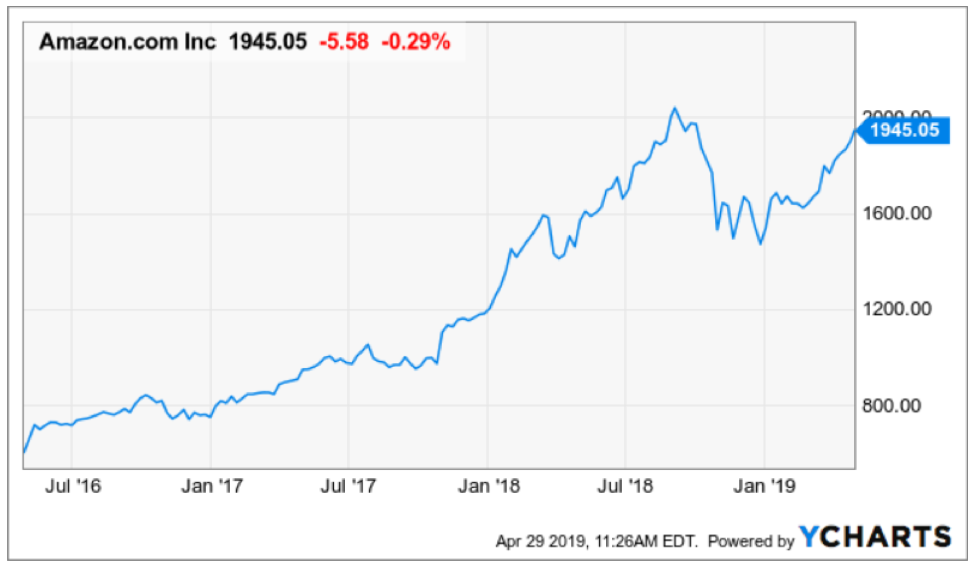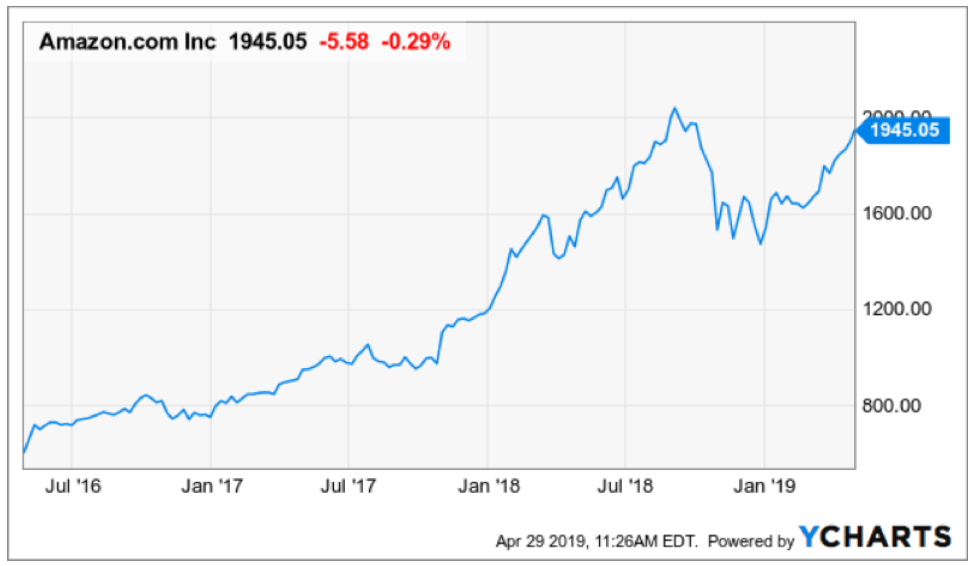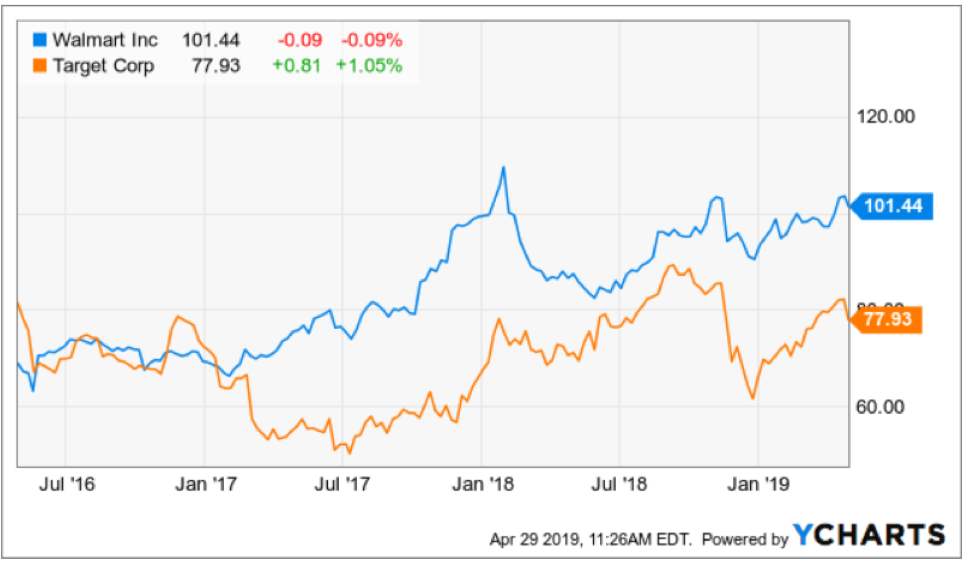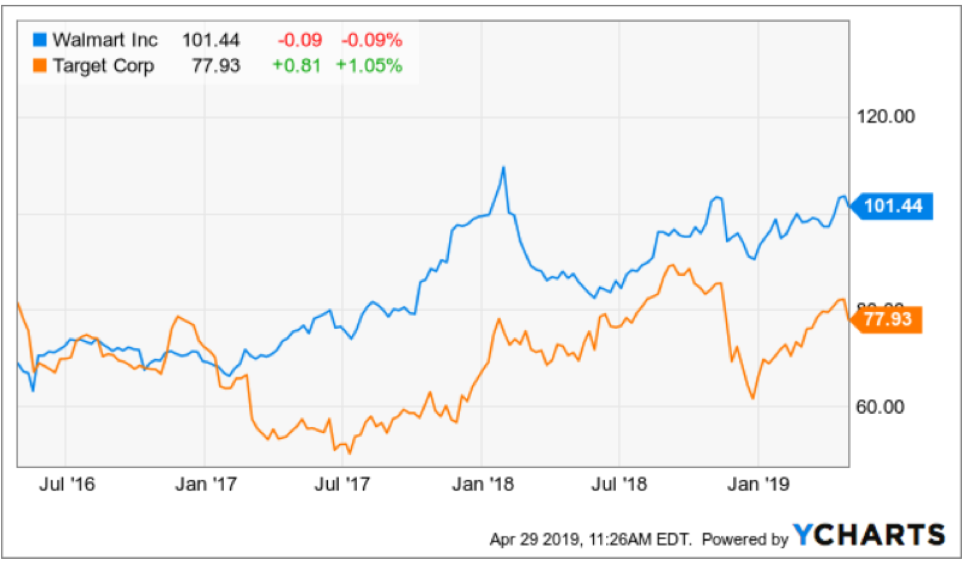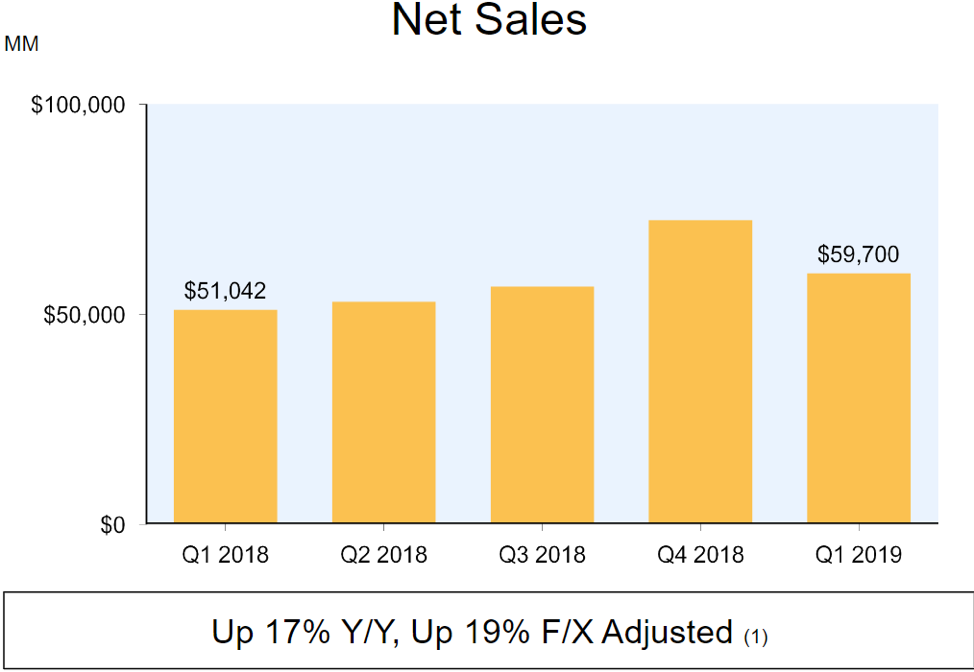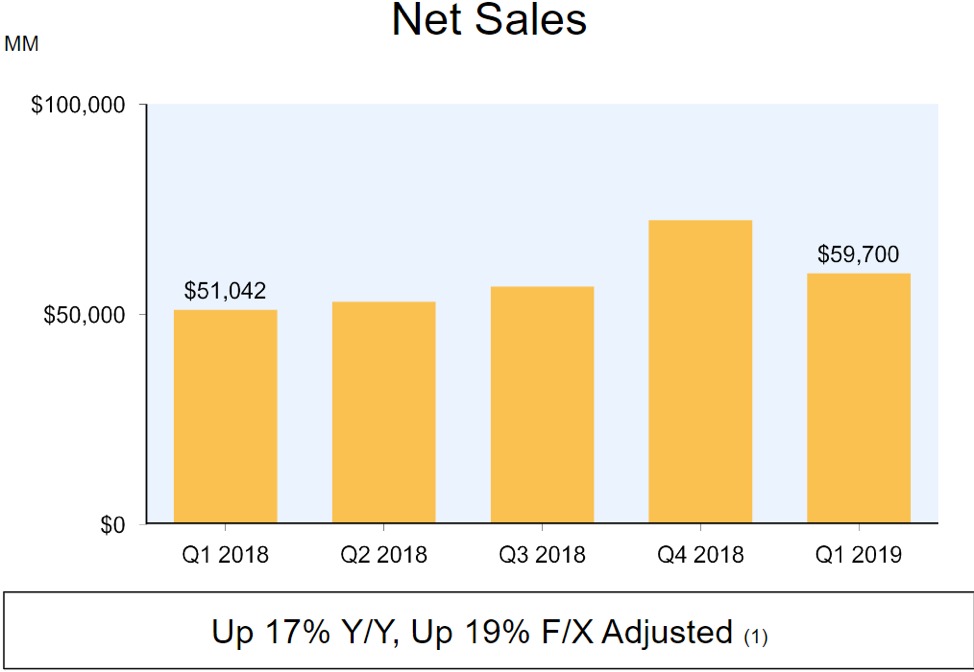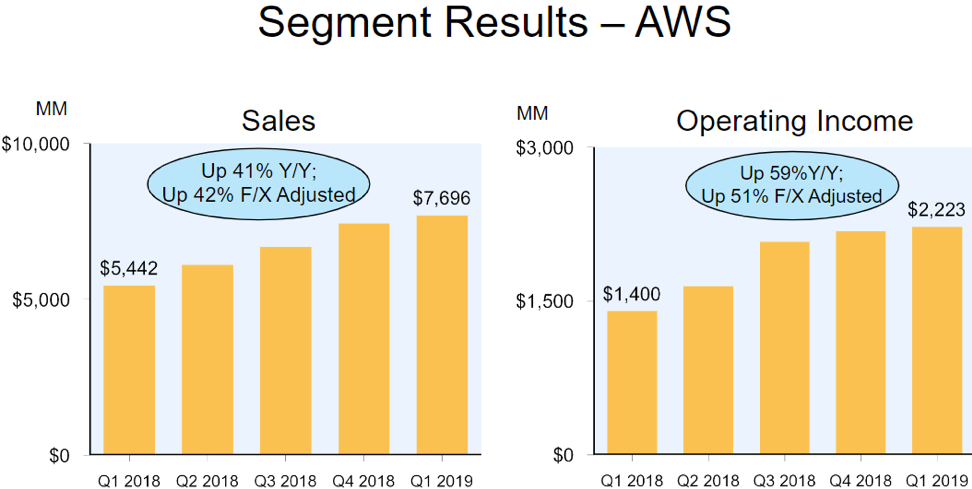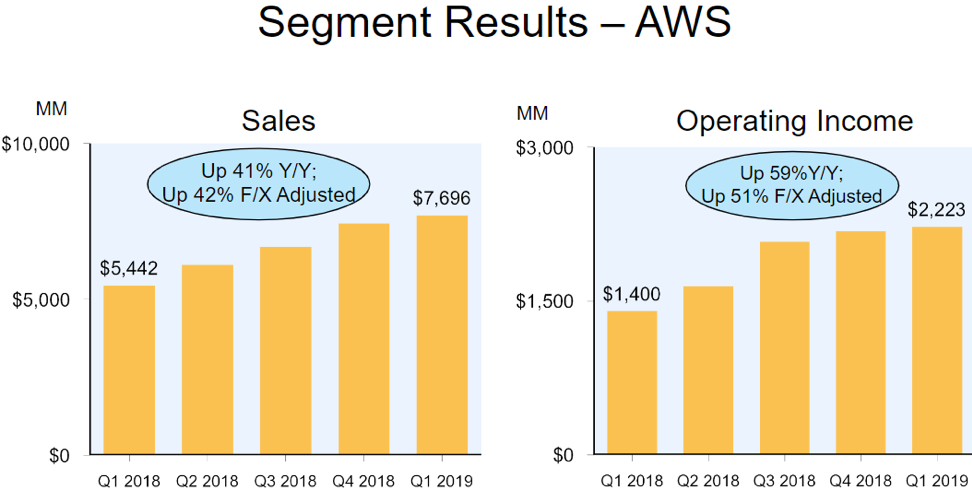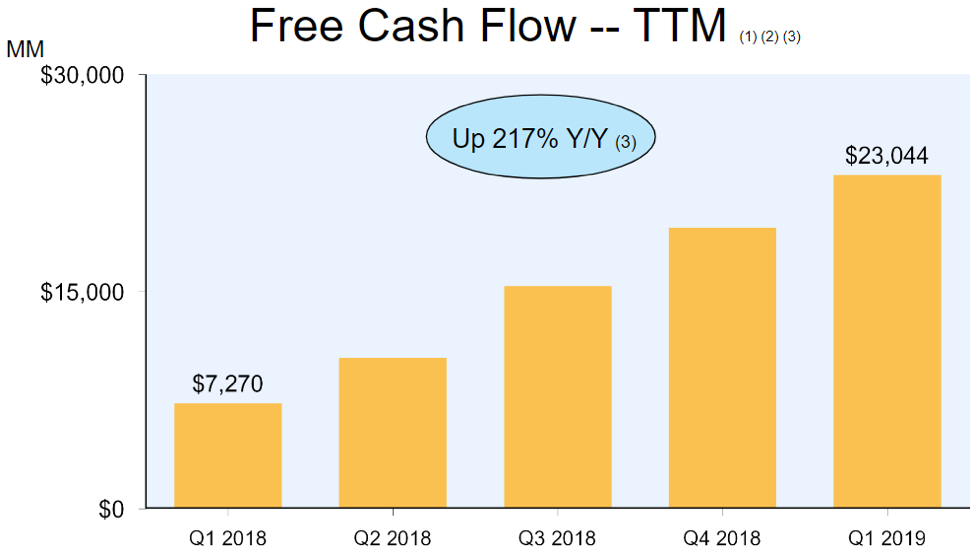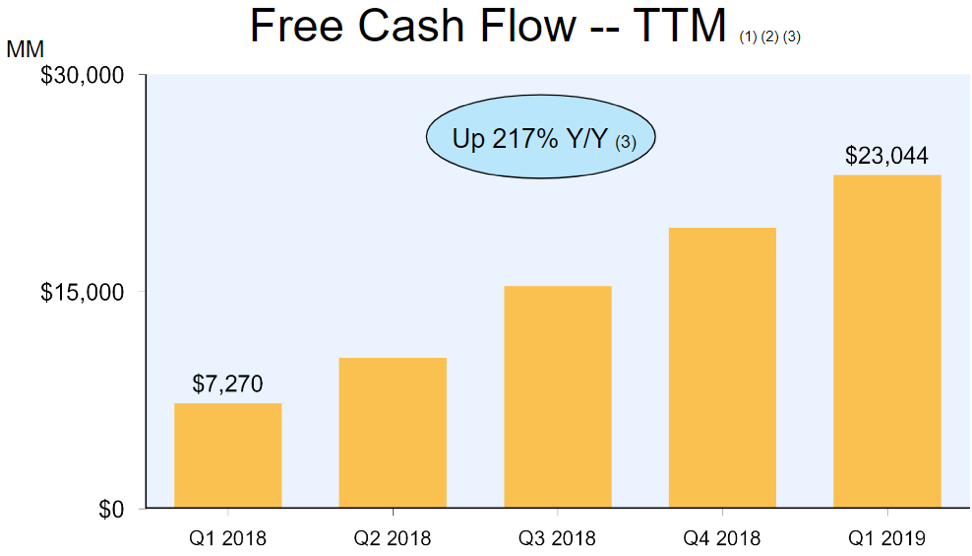 https://www.madhedgefundtrader.com/wp-content/uploads/2019/04/segment-results.png
489
972
Mad Hedge Fund Trader
https://madhedgefundtrader.com/wp-content/uploads/2019/05/cropped-mad-hedge-logo-transparent-192x192_f9578834168ba24df3eb53916a12c882.png
Mad Hedge Fund Trader
2019-04-30 01:06:16
2019-07-10 21:47:51
Amazon's New Game Changer