Tesla has announced a new battery swapping service that will enable drivers to get a full charge for their all-electric Model S-1 sedans in 90 seconds. The service will be available at strategically located charging stations around the country, and will cost $60, about the cost of an equivalent full tank of gas.
The swap is fully automated. You just drive over a machine and it is all done for you. No crawling under the car on your back is required.
There, owners will have the option of getting a fast charge for free in 45 minutes, or the instant battery swap. Given that the 270-mile range of the car is greater than the range of by bladder, I?ll probably be opting for the former.
The move offers some very interesting long-term implications. It certainly means that Tesla is not worried about the life of its 1,000-pound lithium ion batteries, which cost about $32,000 per vehicle to produce. If the range starts to fade, you just take it in for a swap.
In any case, the company?s mercurial founder and Iron Man model, Elon Musk, has other plans for old, depleted batteries. For a start, they can be used as backup storage devices for solar powered homes wired by his other firm, Solar City (SCTY), a top performing stock of 2013.
In the meantime, Tesla?s shares are impossibly maintaining a stratospheric price of over $100, valuing the company at $11 billion, and making it the number one performing American stock this year. This is despite announcing its first recall for a minor weld holding down the rear seat.
I tell my kids that I rode a time machine ten years into the future, bought the Tesla, and brought it back home to drive them. Ever the wise aleck, my oldest son asked why I didn?t obtain something more valuable, like a sports statistics magazine showing who will win the next ten Super Bowls. Now, that would be useful!
For a video of Elon demonstration the battery swap process last week and a fabulous piece of marketing, please click here. No wonder people are going gaga over this company!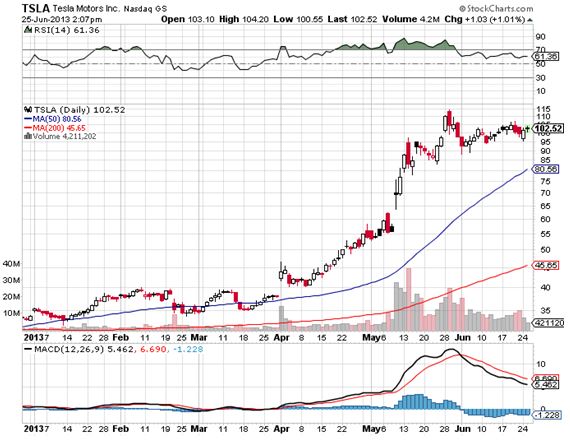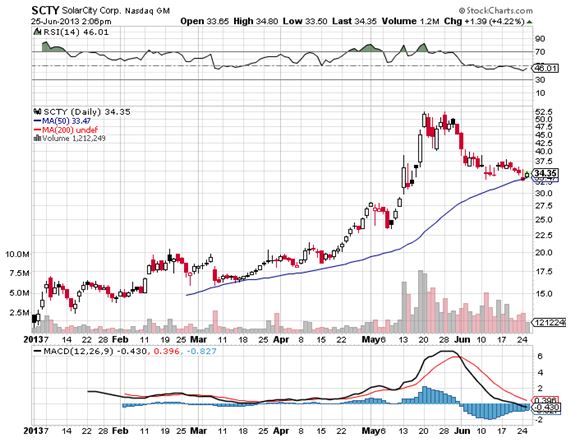 Mad Hedge Fund Trader
https://madhedgefundtrader.com/wp-content/uploads/2019/05/cropped-mad-hedge-logo-transparent-192x192_f9578834168ba24df3eb53916a12c882.png
Mad Hedge Fund Trader
2013-06-26 01:03:27
2013-06-26 01:03:27
Another Miracle from Tesla