Newspapers, TV, radio, and the Internet all carried the same headline in San Francisco today: ?Apple Now World?s Largest Company.? That was the response to the company?s Q4 earnings of $13 billion announced yesterday that drove its market capitalization skyward to $415 billion, surpassing ExxonMobile?s (XOM) once again.
What is even more amazing is that its cash position now sits at $97.6 billion, greater than the GDP of all but a handful of countries. In the midst of the current political debate, it is fascinating to note that the greatest capitalist enterprise in history was created by a vegan hippy college dropout from California who took LSD, walked around barefoot, and never took a bath.
Watching Apple (AAPL) post a new all-time high of $457 today, I was struck by a wave of nostalgia. When I took a young, cocky, long haired, Levis wearing Steve Jobs around to meet Morgan Stanley's institutional investors to pitch an Apple secondary share offering 28 years ago, I vowed never to buy anything from the man. He was such a great salesman, and possessed such a messianic devotion to his product, the risk of getting legged over had to be great.
This proved a good strategy for the next 18 years, when the company nearly went under three times, and the stock repeatedly plunged from its initial listing price of $22 down to $4. Disastrous products like the Lisa came and went, and then poor Steve got fired by a man he hired, John Sculley. Ouch!
Living in the San Francisco Bay Area, I was also creeped out by the fanatical cult following that Steve enjoyed. Criticize an Apple product here, and you risk getting attacked, ostracized, deleted from address books, chopped off Christmas card lists, banned from Facebook pages, and ejected from Twitter accounts. There was also no end of abuse from my IPod, IMac, and Tablet addicted kids who accused me of being a dinosaur sticking with my wheezing and spam infected Windows based PC.
I have to confess now that my prior prejudices led me to miss the boat on Apple for the last decade, when the stock soared 115 times. To see the company sell 37 million IPhones in a single quarter during unstable economic conditions is nothing less than amazing. While Main Streets around America sit empty, the Apple stores are easily identifiable because they are packed like a New York subway car at rush hour.
Forecasts for the global smart phone market are ratcheting up by the day on the back of surging demand from emerging markets. Sales could reach 250 million units annually by 2012, of which 17% currently is sold by Apple. China Mobile, with a staggering 600 million mainland customers, or six times Verizon?s, is now considering adopting the IPhone.
The company has become a monster cash flow generator. Apple now has the envious problem in that sales of several of its products are going hyperbolic at the same time.
Apple announced net profits of $13.06 billion, or $13.87 per share, up 11% from the previous year. If the company just maintains that rate for the rest of the year, it will generate $55.48 in earnings, which at the current 11.5 multiple should take the stock up to $638, up 40%. If Apple makes it up to a market multiple, the stock should rise to $721, a gain from here of 58%.
If the multiple expands to its pre-crash average of 35 X, that would take the stock to a positively nose bleeding $1,941, giving you a 424% return from current levels. Then the company would be worth $2.8 trillion and rank 5th in the world in GDP, more than France, and just behind Germany. Wow!
It all reinforces my view that Apple shares will reach my long term target of $1,000 sooner than anyone thinks. Long term readers are well aware that I have been making this call for the past two years back when it was trading at a lowly $240. More recent subscribers will also recall that I predicted that Apple would be the top performing technology stock in my 2012 Annual Asset Class Review.
I'm not saying that you should rush out and load up on stock today. But it might be worth taking a stake on the next wave of fear that strikes the market.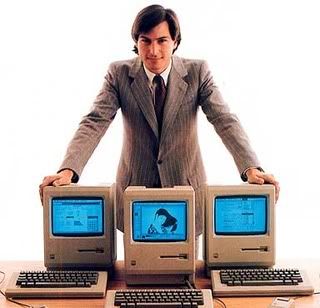 https://www.madhedgefundtrader.com/wp-content/uploads/2012/01/JOBS2.jpg
308
320
DougD
https://madhedgefundtrader.com/wp-content/uploads/2019/05/cropped-mad-hedge-logo-transparent-192x192_f9578834168ba24df3eb53916a12c882.png
DougD
2012-01-25 23:03:30
2012-01-25 23:03:30
Apple's Next Stop: $1,000!