In view of the blockbuster October nonfarm payroll report, and the collapse of the bond market that followed, it is time to take a cold, steely eyed look, and the financials, especially Bank of America (BAC).
What did the stock do? It rocketed by 6.5%, along with the rest of the market, hitting four month high of $18.09. I hate it when that happens, being right on the fundamentals, and wrong on the market timing.
You are getting the reaction that the bang up Q3 earnings report should have delivered, just one week late. The shares appear to be taking a run at a new multi year high.
It was a stellar report, with earnings beating expectations handily on both the top and the bottom lines. Expenses are in free-fall, and the company?s cost of funds is plummeting, as lower cost deposit surge.
Analysts were blown away when they saw after tax profits come in at $4.5 billion, producing a diluted earnings per share of $0.37. The company returned a staggering $3 billion to shareholders in the form of dividends and an aggressive share buy back program.
Every major business segment showed big year on year improvements, including consumer and business banking. Global wealth and investment management knocked the cover off the ball.
The sudden burst of market volatility gave a nice push in income to the global banking division.
Deposits from mobile banking jumped. Average deposits are up 4%. Subterranean interest rates kept income there flat.
Given the bank?s tremendous upside leverage, many analysts are now pegging the stock with a $30 handle.
There is another play here. (BAC) is highly geared to raising interest rates, which will enable them to lend money out at higher interest rates, increasing their spread. Think of it as long dated put option on the iShares Barclays 20+ Treasury Bond ETF (TLT).
That is not a bad position to have on board, given that we probably put in a multigenerational spike in bond prices last week.
Because of the bank?s long and well-publicized problems with regulators dating back to before the 2008 financial crisis, (BAC) became toxic waste for many portfolio mangers.
The end result of that has been to make the best-run banks in the industry also the cheapest.
I have a feeling that I will be visiting the trough here often, and generously.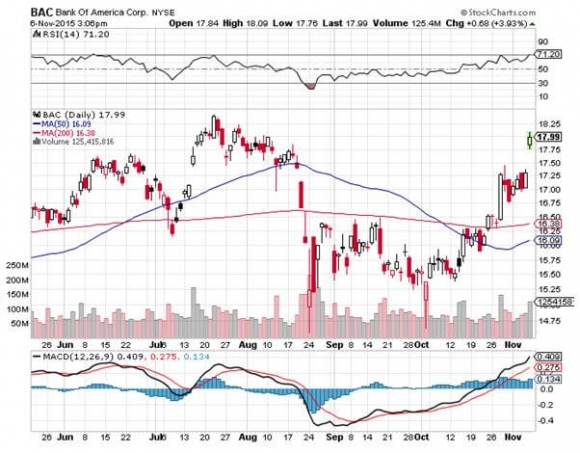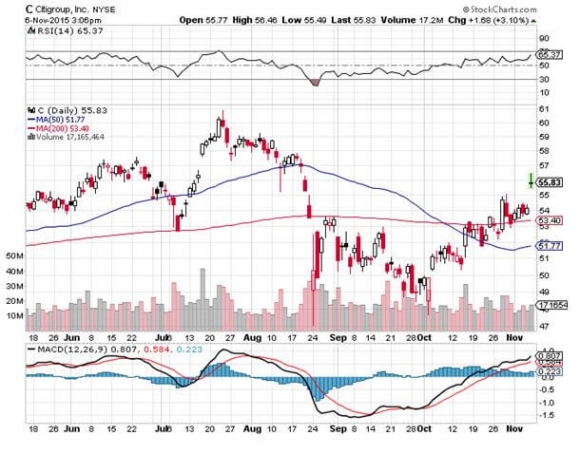 Time to Visit the ATM Again
Mad Hedge Fund Trader
https://www.madhedgefundtrader.com/wp-content/uploads/2019/05/cropped-mad-hedge-logo-transparent-192x192_f9578834168ba24df3eb53916a12c882.png
Mad Hedge Fund Trader
2015-11-09 01:07:34
2015-11-09 01:07:34
Bank of America is Breaking Out All Over