The start of the cloud consolidation is upon us.
The cloud kings, in order to stay ahead of the competition, are resorting to acquiring growth through M&A.
We are still in the sweet part of the growth phase with companies showing they can pull off a mid-20% annual growth rate.
Salesforce (CRM), the leader in client relationships management platforms, took this cue to add to its army of software cloud options by snapping up Tableau (DATA).
What does Tableau do?
Tableau software takes the inputs of raw data and transforms it into easily decipherable dashboards and diagrams.
The company has been expanding its product line to include data cleanup and machine learning tools, enabling it to compete in the wider data-warehousing business.
It has more than 86,000 customers, including Verizon Communications Inc. and Netflix (NFLX).
Let me remind you why big data companies are the golden goose of the technology industry and why they are intrinsic to the fortunes of tech companies.
The idea of big data has been around for years; most organizations now are acutely aware that if they capture all the data that flows into their businesses, they can apply data analytics and generate value creation by making the best strategic decisions suggested from the underlying data.
If upper management hasn't figured this out yet, they are probably out of business by now.
Let's roll back to the 1950s, decades before anyone coined the term "big data," businesses were using rudimentary analytics, basically numbers in a spreadsheet that were manually registered, to unearth paradigm shifts and market opportunities in their industry.
The smorgasbord of goodies that big data analytics offer the world is legendary.
Speed and efficiency are at the top of the list.
Whereas a few years ago, collecting vital information that could be used for future decisions took pace much slower than today.
Identifying insights for immediate actionable business implementation is happening in real time now.
This new mode of execution and organization offers firms an outsized competitive edge they could only dream of.
Harnessing data and utilizing it in the best way in order to monetize its business model is now the norm.
The end result is repeatedly higher trending profits and better customer experience.
Companies and its expenses were also reaping the rewards of this new model with major cost reduction.
Big data technologies can expect significant cost advantages when it comes to storing large amounts of data – plus they can identify more efficient ways of doing business.
Companies now have the pulse of the market and demonstrate the ability to gauge customer needs and satisfaction allowing the company to identify new markets.
This, in turn, has firms often migrating into completely different parts of the economy.
Salesforce's deal with Tableau isn't the first and won't be the last cloud deal.
This is just the beginning.
The decision comes after Google (GOOGL) agreed to buy Looker Data Sciences Inc. for $2.6 billion last week, a move to expand Google's offerings for managing data in the cloud.
I envision Google wading further into the enterprise software waters as they attempt to relieve their reliance on Search as the primary money maker.
Acquiring the best software then spreading its application through its other assets would be a great initiative too.
For example, creating an enterprise service for YouTube channels and charging YouTube creators a fee to operate a cloud-based product that specializes in optimizing their YouTube channel would be a compelling idea.
There are a million different machinations that Google could elect for, and letting the genie out of the bottle in a good way will do wonders.
After all, global spending on technologies and services that enable digital transformation will surpass $2 trillion in 2022 serving up a long and wide runway for companies that can hunker down and carve out premium enterprise software on the cloud.
As for Salesforce, the stock sold off on anxiety that Salesforce is overreaching to add growth.
There is definitely some truth behind this weakness.
Could this be the end for Salesforce's growth supercycle?
Salesforce is a pure software growth strategy and the stock has gone nowhere trading sideways for the past 6 months.
Make no bones about it, Salesforce absolutely overpaid for Tableau and even announced that its second headquarter will be stationed in Seattle, a stone's throw from the headquarter of Tableau.
Founder and Co-CEO of Salesforce Marc Benioff is betting the ranch on data analytics and hopes the subsequent synergies will result in cost savings, better cloud products, a resurgence in revenue growth while wielding a first-rate army of software engineers.
As for now, even the tech market is single-handedly propped up by the Fed who have signaled even more dovish monetary policy.
Wait to read the tea leaves on whether these new additions to Salesforce will meaningfully result in growth or not.
For the time being, Salesforce and tech remain in a precarious position whipsawing because of Trump's high-risk geopolitical strategy and the Fed attempting to cushion any economic blows from an administration hellbent on tariffs.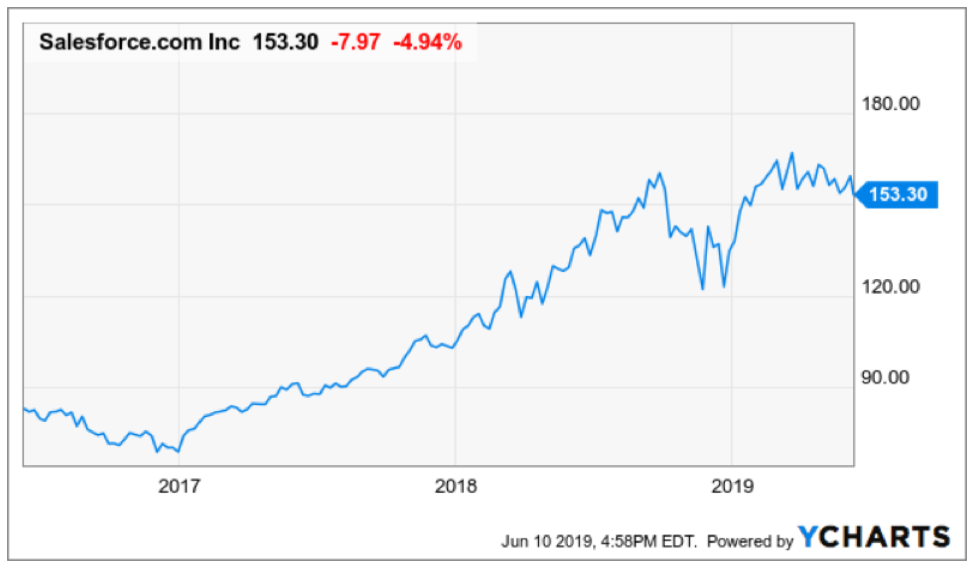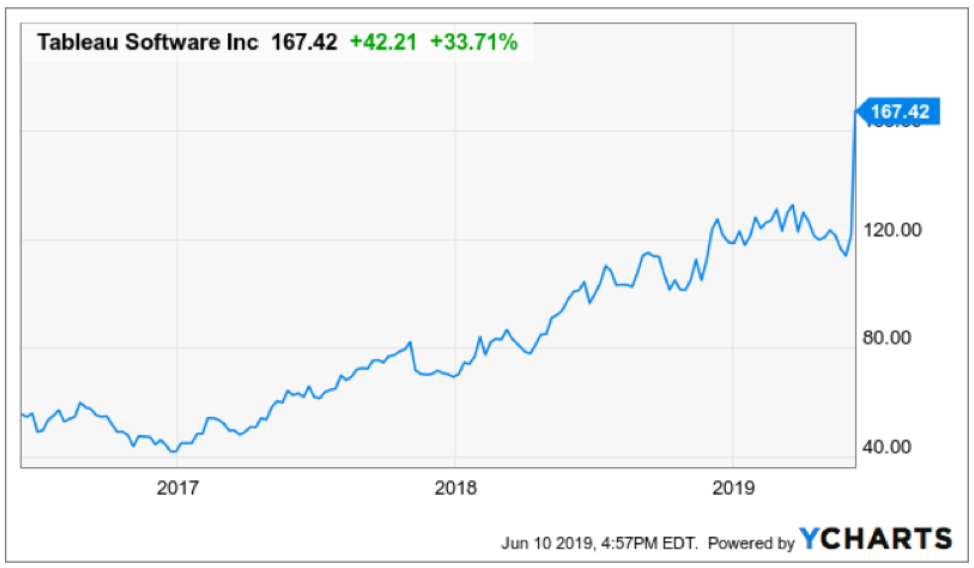 https://www.madhedgefundtrader.com/wp-content/uploads/2019/06/tableau.png
568
974
Mad Hedge Fund Trader
https://www.madhedgefundtrader.com/wp-content/uploads/2019/05/cropped-mad-hedge-logo-transparent-192x192_f9578834168ba24df3eb53916a12c882.png
Mad Hedge Fund Trader
2019-06-11 10:02:29
2019-07-11 14:10:12
Big Tech's Feeding Frenzy