When one of the 30 Dow Average companies ($INDU) gets into trouble, I sit up and take note, stand to attention and drill down with a magnifying glass.
After all, it may have a major important on an important tradable index, thus opening up an investment opportunity. It also may sound the alarm for a great single stock pick. That is certainly the case with New Brunswick, NJ based Johnson & Johnson, one of the oldest companies traded on the NYSE.
What piqued my interest today was the news that the company lost another talcum power lawsuit, which is alleged by plaintiffs to contain asbestos. This has been among the catalog of urban conspiracies for decades now.
Johnson & Johnson (JNJ) is, in fact, carrying on with their mission to strengthen their pharma sector which has consistently served as their top revenue driver in the past years. While their strong performance in this segment has always been led by their oncology portfolio, with sales of their cancer drugs increasing by 22.1% worldwide in the previous quarter, it looks like more and more products are on their way to becoming JNJ's blockbuster items.
The company estimates to launch more than ten new drugs — all of which have the potential to be blockbuster products — by 2021. On top of these, JNJ expects to complete 50 line extensions on their existing products. Both efforts are anticipated to temper the effects of generic drugs that are threatening to hamper the sales of a lot of key products in JNJ's portfolio.
The latest potential blockbuster drug for JNJ is Esketamine which is an anti-depressant aimed at treatment-resistant patients. This was developed by the company's pharmaceutical arm, Janssen Pharmaceuticals Inc. This new groundbreaking product was approved on March 5 by the FDA and will be marketed as Spravato. It is hailed as the first prescription depression drug developed from ketamine, which is more commonly used as an anesthetic.
Although ketamine has long been tagged as a party drug, aka "Special K", and is approved as an anesthetic, no company has patented its use. This is where Janssen swooped in and patented the left section of the molecule, called esketamine, and sent their application to FDA. The approval of this drug, which FDA described as a "breakthrough therapy" thus receiving priority review, translates to a potential cash cow for JNJ as it successfully legitimized the application of ketamine as an anti-depression drug.
Aside from depression, FDA is also taking into consideration the applicability of esketamine to patients afflicted with mood disorders such as bipolar disorder. The organization looks at it as a potential solution for reducing suicides as well.
Other drugs projected to rake in massive sales for JNJ pipeline include psoriatic arthritis Tremfya, prostate cancer medication Erleada, and metastatic urothelial cancer treatment Erdafitinib. With the addition of Spravato on the list, sales are expected to reach more than $1 billion.
However, no company is perfect and the same goes for products — even if they are poised to become blockbuster drugs. A major hindrance for the success of Spravato is cost.
Here's a sample quote for potential patients.
A one-month initial treatment will cost somewhere from $4,000 to $7,000. The exact price will depend on the dosage and if it's availed wholesale. Expenses for follow-up treatments will reach $2,360 to $3,500 a month. All in all, Spravato could become as expensive as an electroconvulsive treatment or even a transcranial magnetic stimulation therapy. Worse, this treatment might have to be shouldered by the patients themselves.
Another deterrent for investors looking into JNJ is the continuing issue concerning the talcum powder lawsuits which claim that the talc items of the company contain asbestos that resulted in ovarian cancer among many of its female users. As of August 2018, a Missouri court has ordered JNJ to pay 22 women a total of $4.7 billion for damages. While the company announced its decision to appeal the ruling, the case has been a huge red flag for investors ever since.
Nonetheless, it appears that JNJ remains a solid stock for a lot of investors.
With an annual revenue of $81.6 billion, (JNJ) is anticipated to stay ahead of its competitors Pfizer (PFE) ($53.4B), Novartis (NVS) ($51B), and AstraZeneca (AZN) ($21.9B). Taking into consideration currency impact, which is expected to negatively affect sales by roughly 1.5%, JNJ's revenues are projected to hit $80.4 to $81.2 billion this year.
While it still has a long way to go, the recent approval of Spravato spelled higher confidence in JNJ's revenue growth this year. The company's purchase of robotic surgical instruments manufacturer Auris Health, for $3.4 billion further strengthened its dominance in the industry.
In the past month alone, its shares rose by 4.55%. Investors are also anticipating more growth until the next earnings report, which is anticipated to show $2.10 earnings per share for the company. This represents a 1.49% year-over-year increase.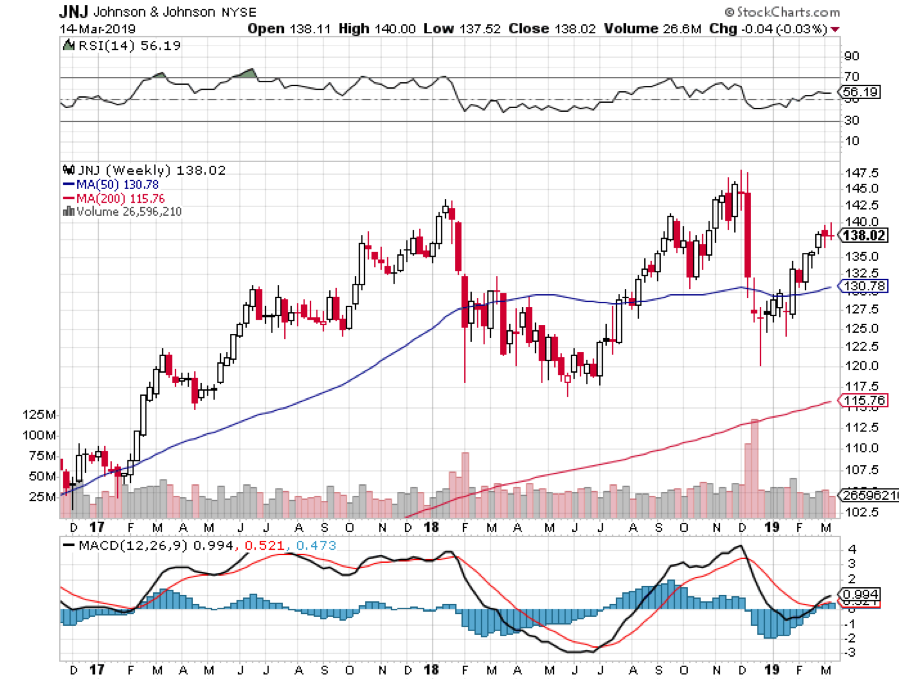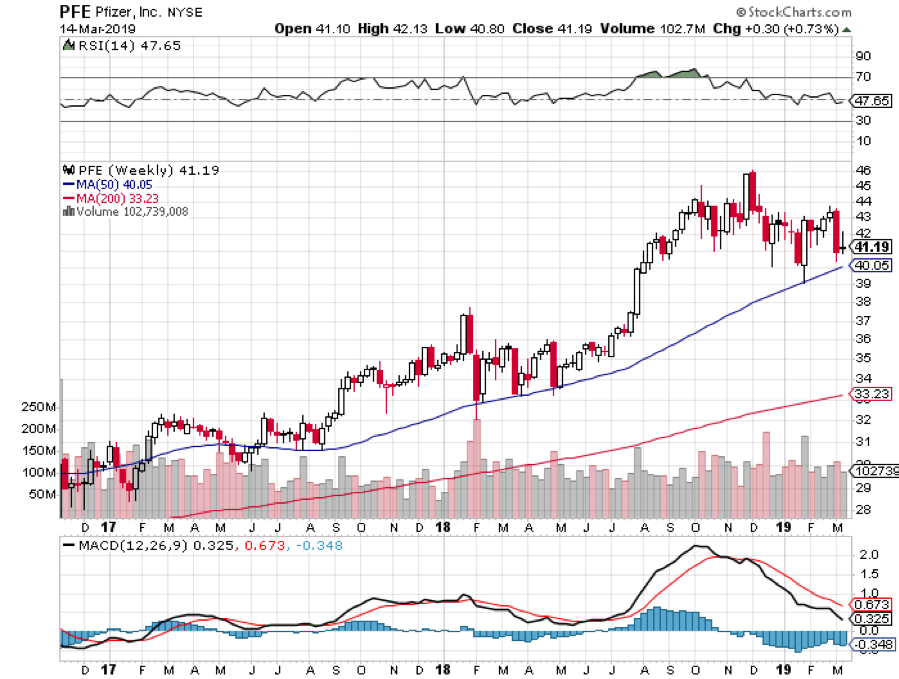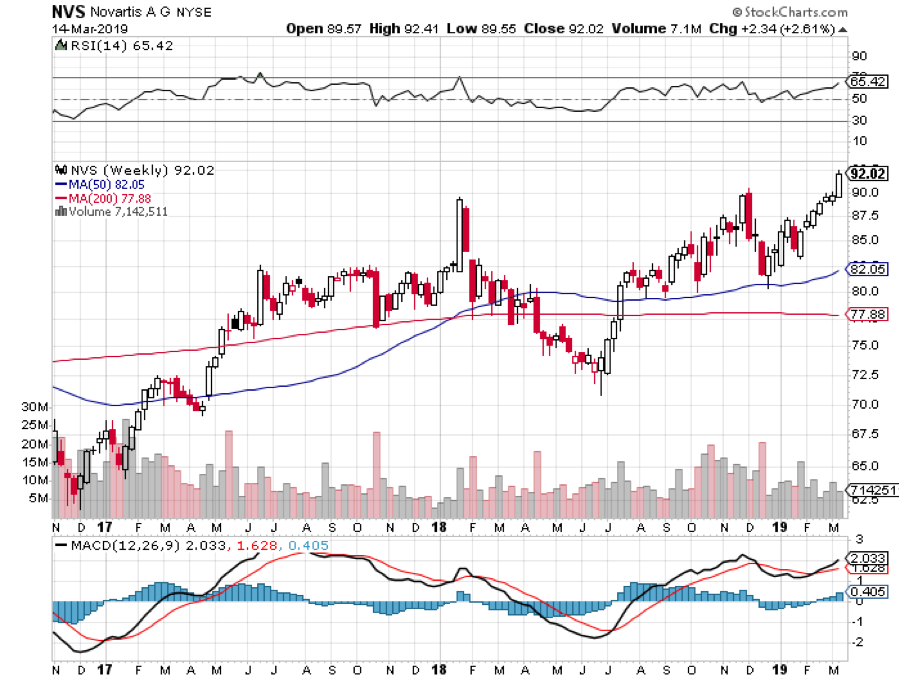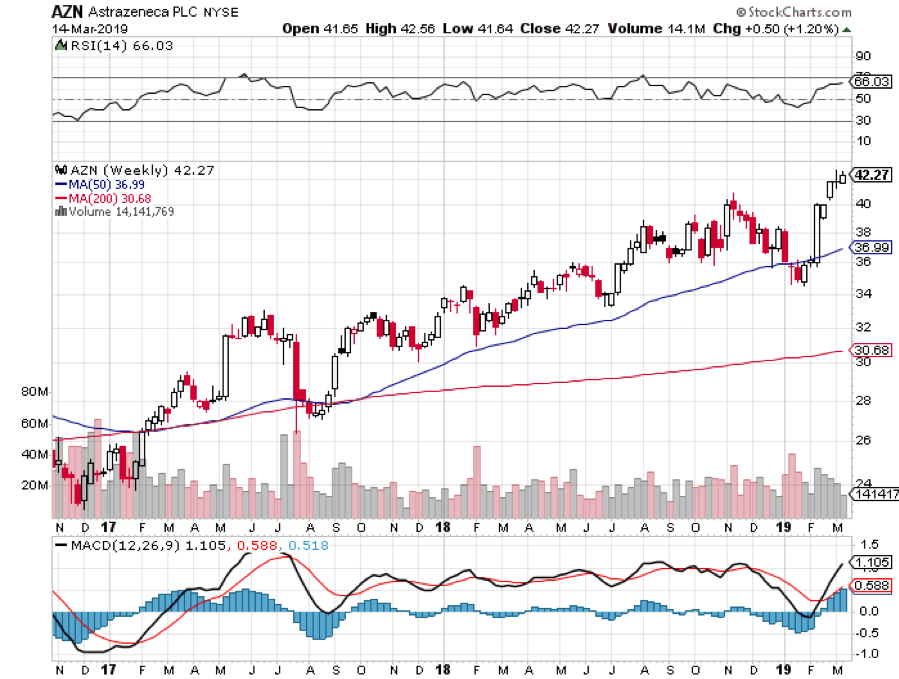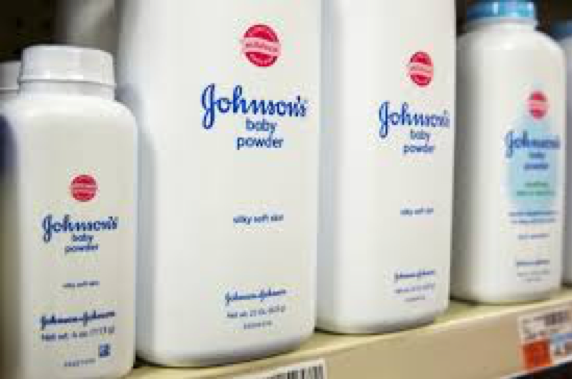 A Killer?
https://www.madhedgefundtrader.com/wp-content/uploads/2019/03/Johnson-and-johnson.png
379
572
Mad Hedge Fund Trader
https://www.madhedgefundtrader.com/wp-content/uploads/2019/05/cropped-mad-hedge-logo-transparent-192x192_f9578834168ba24df3eb53916a12c882.png
Mad Hedge Fund Trader
2019-03-15 03:06:25
2019-07-09 04:01:09
Buy Johnson & Johnson on the Bad News