Looking for beneficiaries of the coming collapse of the Japanese yen (FXY), (YCS), Toyota Motors (TM) has to be at the very top of your list. A cheaper domestic currency brings a lower cost of production, high foreign sales proceeds, and wider profit margins all the way around.
I am probably the only person in the country who once worked for Toyota, speaks Japanese, and worked in the White House Press Corps, so I feel uniquely qualified to comment on the current state of play with Toyota.
When Akio Toyoda, president of the Toyota parent and grandson of the founder, and English speaking Yoshimi Inaba, president of Toyota Motor North America, Inc. appeared in front of congress, it was the usual kabuki theatre.
The member from Kentucky, where nonunion Toyota plants are located, listed off the firm's charitable donations to the community, while the one from Michigan launched a vicious, no-holds-barred attack.
The language spoken by the two Japanese couldn't have been more different. Toyoda spoke the words of inherited wealth, of a ruling shogun, of privilege, and of condescension. Inaba talked like the hardscrabble warrior that he was, who spent 40 years clawing his way up the Toyota organization ladder.
I think the entire crisis happened because Toyota management believed in their products to such incredible extremes that any criticism was viewed merely as the unhappy grumblings of competitors. That?s how the whole brake pedal fiasco ran away from them, leading to the largest vehicle recalls in history. Similarly, the quality of Japanese products became so ingrained in the minds of American regulators that they too fell asleep at the switch, giving the company a free pass on the rising tide of consumer complaints.
On top of this, you can pile the Japanese cultural aversion to sending bad news up the command chain. This was a major reason why Japan lost WWII, and explains how the suicide rate in the country is so appallingly high. When the bill finally came due, the price tag was 37 dead in acceleration accidents, and a witch hunt on national TV. Toyota's management will make sure, literally on pain of death, that every product rolling off the assembly line, from here on, will be models of engineering perfection.
The stock has held up amazingly well so far, probably because it is mostly owned by strong hands, with few traders involved. Not only should you buy the stock when global markets return to a sustained risk accumulation mode, you should buy a Toyota car as well. It will be the only time in your life that you can find them at a discount. All of this explains why the 37% pop in the stock this year outperformed the main indexes in the US, but also those in Japan as well.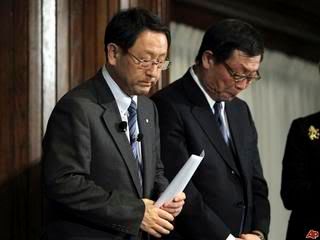 Is This a Buy Signal?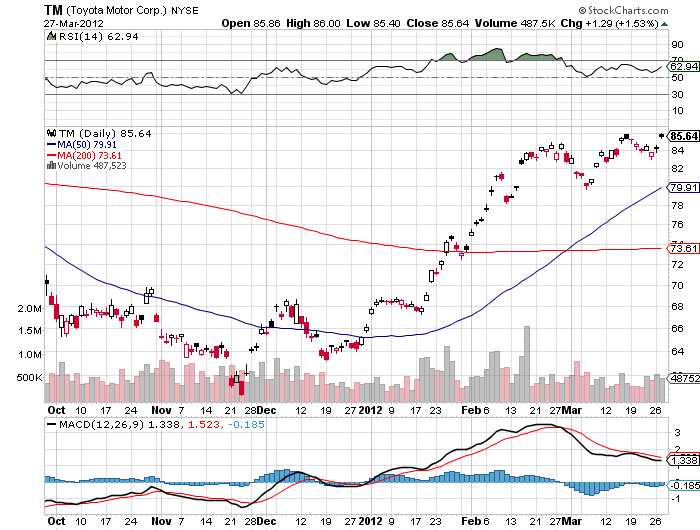 https://madhedgefundtrader.com/wp-content/uploads/2019/05/cropped-mad-hedge-logo-transparent-192x192_f9578834168ba24df3eb53916a12c882.png
0
0
DougD
https://madhedgefundtrader.com/wp-content/uploads/2019/05/cropped-mad-hedge-logo-transparent-192x192_f9578834168ba24df3eb53916a12c882.png
DougD
2012-03-27 23:02:38
2012-03-27 23:02:38
Buy Toyota Motors as a Cheap Yen Play