It is safe to say that all of the bad news is finally in the price at General Motors (GM).
In the wake of the latest batch of recalls, the total number of cars slated for mandatory repairs now equals virtually all of the company?s production of the last five years.
Woe to the outside supplier who provided those faulty, but cheap ignition switches to the beleaguered company! Penny wise, but 100 million pounds foolish!
What is more important is that ace mediator, Kenneth Feinberg, has finally come up with a number to offer the grieving families of the 17 who were senselessly killed driving GM?s deathtraps of yore. A fatality is now worth $1 million, and the company is offering as little as $20,000 for lesser accidents.
GM should put these numbers on their new car stickers.
In all honesty, this is just a ?feel good? gesture. The company that is actually responsible for these deaths went bankrupt in 2009, and the management long since sent into retirement to practice their gold swings. The new GM bears no legal liability whatsoever.
However, the company needs to preserve the value of its brand. The GM logo still goes out with every vehicle the firm manufactures. So, it will do the right thing for the victims.
Even if you apply these numbers to the much higher number of deaths claimed by plaintiffs? lawyers, more than 88, the total liability will not be enough to put a substantial dent in GM?s earnings. It is really just sofa change for them.
Many of the higher figures include drunk-driving deaths and fatalities of those driving at high speed without seatbelts. But every law school graduate out there is gunning for a piece of the action.
Don?t you just love America!
So all of this bad news is really good news in disguise. This will enable GM shares to catch up with those at Ford and Toyota, which have been on a tear this year. The industry seems poised to reach annual production of 17 million in 2014, an eight-year high. This will be great for profits for everyone.
I knew as much a few weeks ago, when I learned of massive insider buying of stock at GM all the way down to the middle management level. As has so often been the case this year, I waited for a dip that never came.
Now that the upside breakout is undeniable, I have to jump in. A share price appreciation up into the mid $40?s is in the cards.
The shares are starting from such a low base that even if a 5%-10% correction comes, the August, 2015 $32-$34 in-the-money bull call spread should be able to weather the selling. This strike combination particularly benefits from huge chart support at the 200 day moving average.
It doesn?t hurt that during the entire ignition crisis, GM?s market share actually rose. This was no doubt due to the heavy discount and attractive financing that was offered. What they?re losing in margin, they?re making up on volume.
Things are not so good that I am going to run out and buy a GM tomorrow. I am happy with my Tesla Model S-1, thank you very much.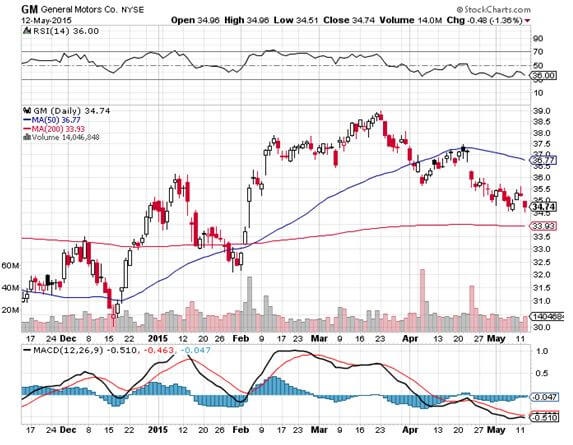 Time to Take Another Ride with GM
https://www.madhedgefundtrader.com/wp-content/uploads/2014/07/Corvette.jpg
262
345
Mad Hedge Fund Trader
https://madhedgefundtrader.com/wp-content/uploads/2019/05/cropped-mad-hedge-logo-transparent-192x192_f9578834168ba24df3eb53916a12c882.png
Mad Hedge Fund Trader
2015-05-13 09:19:24
2015-05-13 09:19:24
Time to Take Another Ride with General Motors