Take a look at these beauties that I recommended at the beginning of December 2018.
At that time, Okta (OKTA) was trading at $62 and Zscaler (ZS) was at $40 on the button – fast forward to today and Okta is now over $136 and Zscaler victoriously sitting at $82.
Oh, how do times change!
That was my reaction watching their performance for the past 7 months giving belief to my assessment that second-tier cloud companies will have a field day this year.
Cloud companies aren't going away anytime soon, please tattoo that on your forehead.  
There isn't a hotter topic circulating the gossip winds these days than digital security pressured by geopolitics.
Okta is the best in show for identity management – a snazzy term for managing employees' passwords.
Okta's products are built on top of the Amazon Web Services cloud.
Coincidentally, Okta was erected in 2009 by a team of former Salesforce (CRM) executives. Salesforce is one of my favorite cloud-based software companies, offering a blueprint for success to other up-and-coming software companies.
Current Okta CEO and founder Todd McKinnon previously served as the Senior Vice President of Engineering at Salesforce.
Other founders include Okta COO Freddy Kerrest who also meandered through the corridors of Salesforce.
I can tell you that you could do much worse than starting a new software company with a collection of Salesforce upper echelon talent.
This all-star team is behind the insatiable growth of Okta whose revenue has grown over 600% since establishing itself.
Okta's first-quarter results didn't disappoint with revenues of $125 million—a rise of 50% year-over-year beating the consensus of $117 million.
Subscription revenues comprised 94% of sales and the company expects sales of $130 million amounting to a rise of 37% year-over-year.
Okta's subscriber base has risen over 500% in the past 5 years and annual contract value of over $100,000 has expanded 60% annually.
The company still loses money but hopes to make some headway on this issue with projected EPS estimated to grow 25% annually in the next five years.
This year spawned a massive divergence between tech who has legs and tech who will be dragged down to the depths of the ocean floor by the heavy weight of regulation, overwhelming competition, or just flat out poor management or inferior product development.
Zscaler echoed similar positive sentiment of Okta by recording a quarter to remember growing revenue by 61% year-over-year while calculated billings grew 55% year-over-year.
In addition to the top line growth, operating margins improved 14% points year-over-year to 8%.
The quarterly results demonstrate the leverage in cloud security business models and the ability to drive growth and profitability.
String together a third consecutive quarter of profitability is just part of the battle, Zscaler will continue to aggressively invest for significant market opportunity that lie ahead.
Cloud security potential means going after a $20.3 billion Total Addressable Market in calendar 2019.
Let me divulge a tad bit about the competitive landscape and why Zscaler is brilliantly positioned for success.
As organizations increasingly make the shift to the cloud, traditional firewall and VPN vendors are finally acknowledging that the legacy security appliances can secure the new digital enterprise and are attempting to build a security cloud using single tenant software designed for on-premise appliances just like you can't create a Netflix service by stacking thousands of DVD players in the cloud.
You can't offer an inline high-performance security cloud by spinning up a bunch of virtual machines in a public cloud. This is a defensive strategy of cloud imitators which, in our view, serves the self-preservation of the vendor, not the needs of the customers.
Zscaler has a significant competitive advantage as a result of the technology, architecture and maturity of cloud security platform including one, Zscaler was born in the cloud, for the cloud just like Salesforce and Workday.
Two, Zscaler has a purpose built globally distributed multi-tenant cloud for fast user experience, unlike imitation cloud, Zscaler requires no back hauling from front doors to a central computing data center of a public cloud.
Three, Zscaler performs SSL inspection at scale as a purpose-built proxy for better security.
Lastly, Zscaler continues to deliver zero trust network access that provides application access without network access reducing business risk unlike firewalls and VPNs.
The duo of Okta and Zscaler are the bright lights of the cloud generation and leading the digital economy in digital security.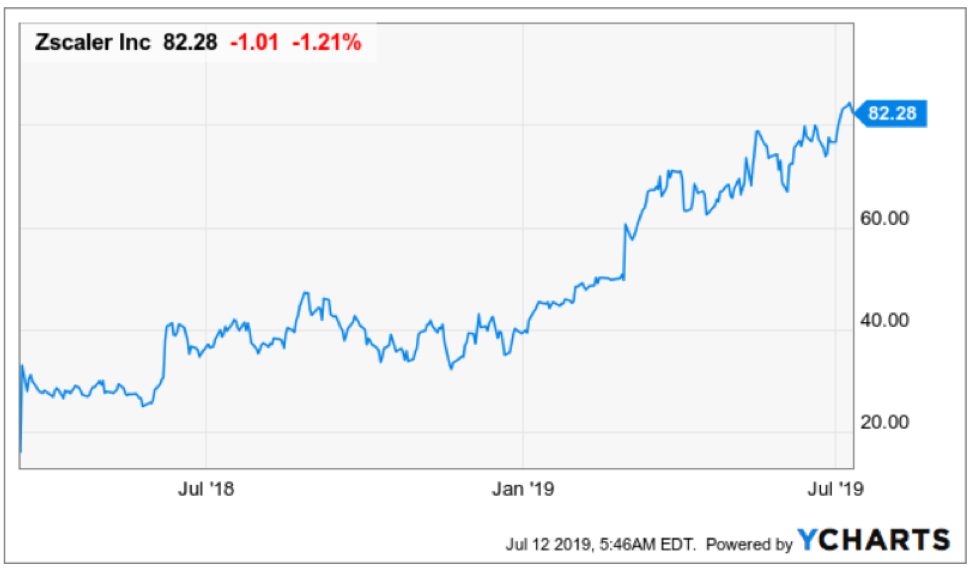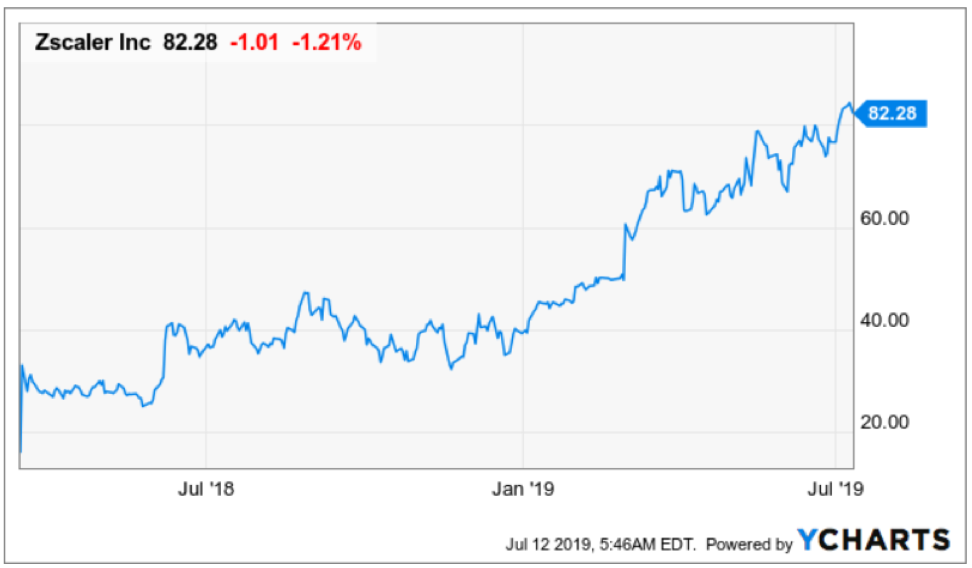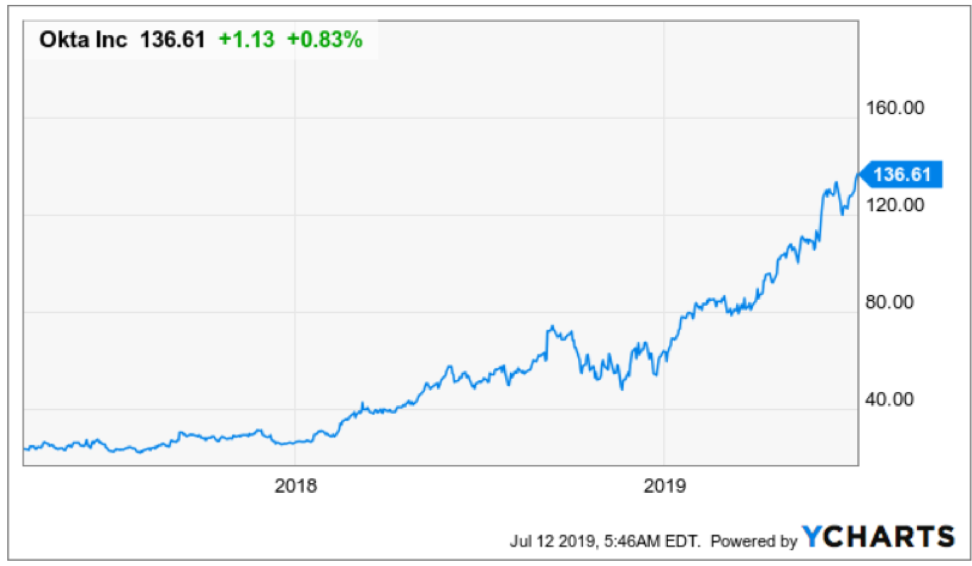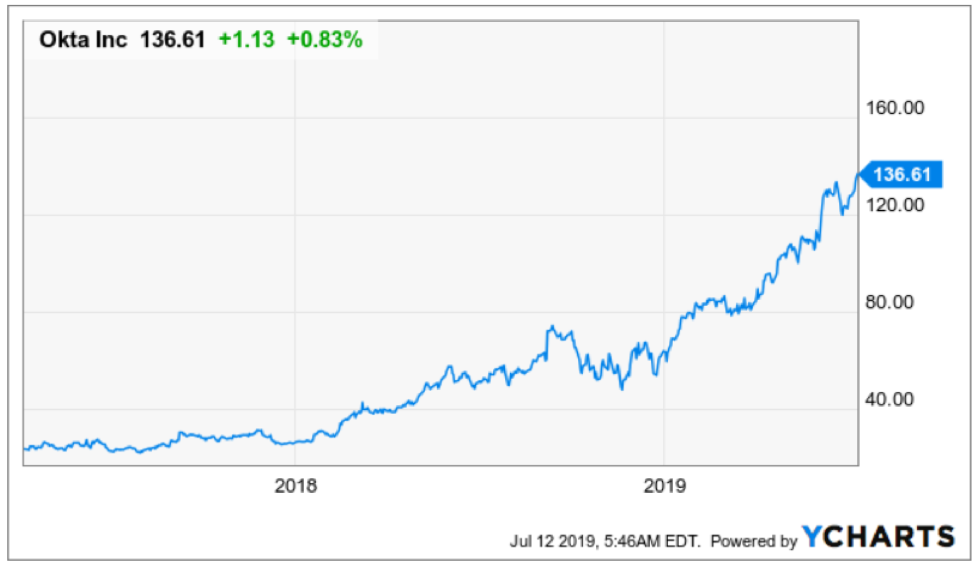 https://www.madhedgefundtrader.com/wp-content/uploads/2019/07/zscaler.png
568
972
Mad Hedge Fund Trader
https://madhedgefundtrader.com/wp-content/uploads/2019/05/cropped-mad-hedge-logo-transparent-192x192_f9578834168ba24df3eb53916a12c882.png
Mad Hedge Fund Trader
2019-07-12 08:30:35
2019-08-19 16:09:58
Cloud Security on the March