Anti-A.I. physicist Professor Stephen Hawking was a staunch supporter of preserving human interests against the future existential threat from machines and artificial intelligence (A.I.).
He was diagnosed with motor neuron disease, more commonly known as Lou Gehrig's disease, in 1963 at the age of 21 and sadly passed away March 14, 2018 at the age of 76.
Famed for his work on black holes, Professor Hawking represented the human quest to maintain its superiority against quickly advancing artificial acculturation.
His passing was a huge loss for mankind as his voice was a deterrent to A.I.'s relentless march to supremacy. He was one of the few who had the authority to opine on these issues. Gone is a voice of reason.
Critics have argued that living with A.I. poses a red alert threat to privacy, security, and society as a whole. Unfortunately, those most credible and knowledgeable about A.I. are tech firms. They have shown that policing themselves on this front is remarkably unproductive.
Mark Zuckerberg, CEO of Facebook (FB), has labeled naysayers as "irresponsible" and dismissed the threat. After failing to prevent Russian interference in the last election, he is exhibiting the same defensive posture translating into a de facto admission of guilt. His track record of shirking accountability is becoming a trend.
Share prices will materially nosedive if A.I. is stonewalled and development stunted. Many CEOs who stake careers on doubling or tripling down on A.I. cannot see it die out. There is too much money to lose.
The world will see major improvements in the quality of life in the next 10 years. But there is another side to the coin which Zuckerberg and company refuse to delve into...the dark side of technology.
Defective Amazon (AMZN) Alexa recently produced unexplained laughter because of a mistaken command to start laughing. Despite avoiding calamity, these small events show the magnitude of potential chaos capable of haywire A.I. functions. If one day a user attempts to order a box of tissues and Alexa burns down the house, who is liable?
Tesla's (TSLA) CEO Elon Musk has shared his anxiety about robots flipping the script on humans. Musk acknowledges that A.I. and autonomous vehicles are important factors in the battle for new technology.
The winner is yet to be determined as China has bet the ranch with unlimited resources from Chairman Xi.
The quagmire with China has been squarely centered around the great race for technological supremacy.
A.I. is the ultimate X factor in this race and whoever can harness and develop the fastest will win.
Musk has hinted that robots and humans could merge into one species in the future.
Is this the next point of competition among tech companies? The future is murky at best.
Bill Gates noted that robots should be taxed like humans.
This reflects the bubble in which the ultra-elite reside.
This comment implies that humans and robots are at the same level. It shows a severe lack of empathy for the 40% of working Americans who will be replaced by machines over the next 10 years.
The West is comprised of a deeply hierarchical system of winners and losers. Hawking's premise that evolution has inbuilt greed can be found in the underpinnings of America's economic miracle.
Wall Street has bred a culture that is entirely self-serving regardless of the bigger system in which it finds itself.
Most of us are participating in this perpetual money game chase because our system treats it as a natural part of life.
A.I. will help more people do well in this paper chase to the detriment of the majority.
Quarterly earnings performance is paramount for CEOs.
Return value back to shareholders, or face the sack in the morning.
It's impossible to convince anyone that America's capitalist model is deteriorating in the greatest bull market of all time.
Wall Street has an insatiable hunger for cutting-edge technology from companies that sequentially beat earnings and raise guidance.
Flourishing technology companies enrich the participants creating a Teflon-like resistance to downside market risk.
The issue with Professor Hawking's work is that his timeframe is too far in the future.
Professor Hawking was probably correct, but it will take 25 years to prove it.
The world is quickly changing as science fiction becomes reality.
The year 2020 will signal the real beginning of A.I. in tangible form when autonomous fleets flood main streets and is another step in the direction of human's overreliance on machines.
People on Wall Street are a product of the system in place and earn a tremendous amount of money because they proficiently execute a specialized job.
Traders are busy focusing on how to move ahead of the next guy.
Firms building autonomous cars are free to operate as is.
Hyper-accelerating technology spurs on the development of A.I., machine learning, and enhanced algorithms.
Record profits will topple, and investors will funnel investments back into an even narrower grouping of technology stocks after the weak hands are flushed out.
Professor Hawking said we need to explore our technological capabilities to the fullest in order to avoid extinction.
In 2019, exploring these new capabilities still equals monetizing through the medium of products and services.
This is all bullish for equities as the leading companies associated with A.I. have a red carpet laid out in front of them.
And let me remind you that technology is still the least regulated industry on the planet even if sentiment has pivoted this year.
The only solution is keeping companies accountable by a function of law or creating a third-party task force to regulate A.I.
In 2019, the thought of overseeing robots sounds crazy.
However, by 2020, it might be as normal as uncontrollable laughter from your smart home device.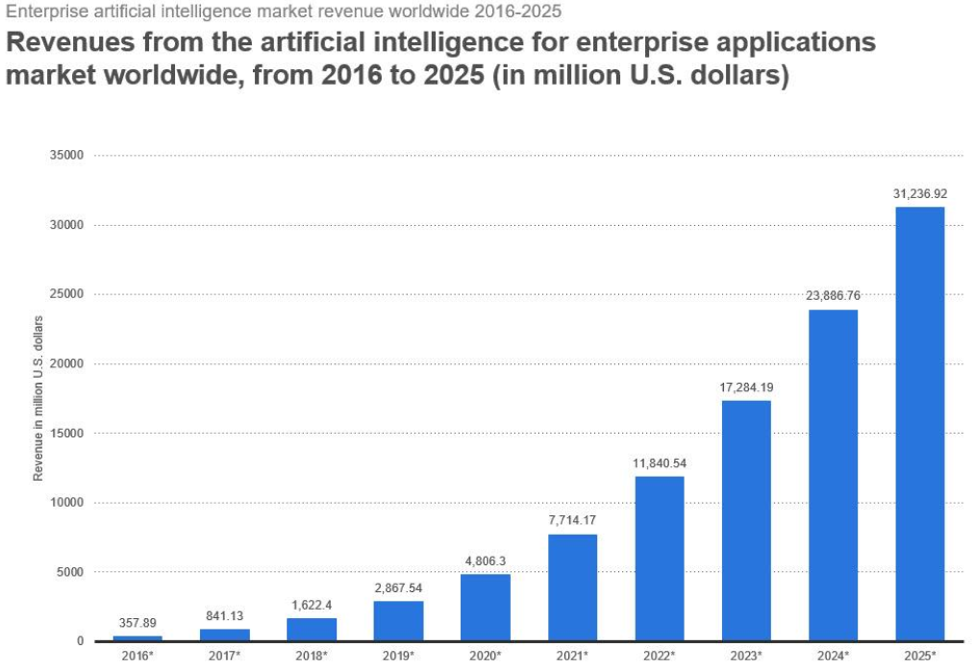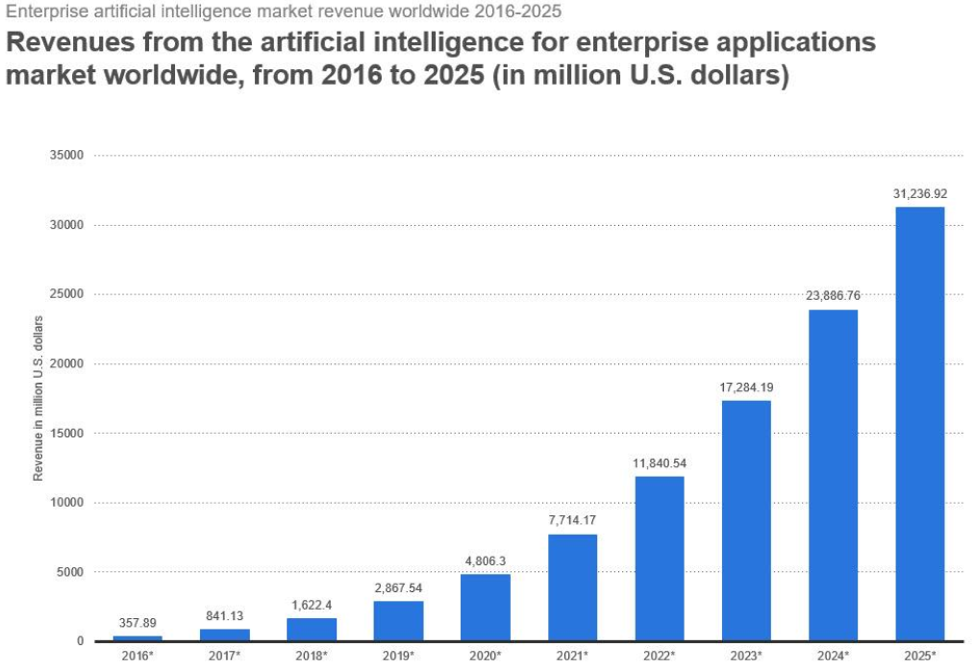 https://www.madhedgefundtrader.com/wp-content/uploads/2019/07/ai-revenues.png
672
972
Mad Hedge Fund Trader
https://madhedgefundtrader.com/wp-content/uploads/2019/05/cropped-mad-hedge-logo-transparent-192x192_f9578834168ba24df3eb53916a12c882.png
Mad Hedge Fund Trader
2019-07-22 01:02:57
2019-08-19 16:08:21
Does Artificial Intelligence Work for You?