As a potentially profitable opportunity presents itself, John will send you an alert with specific trade information as to what should be bought, when to buy it, and at what price.
Trade Alert – (DIS)- BUY-UPDATE

BUY the Walt Disney Co. (DIS) January, 2016 $100-$105 in-the-money vertical bull call debit spread at $4.25 or best
?RISK ON?

Opening Trade
11-27-2015
expiration date: January 15, 2016
Portfolio weighting: 10%
Number of Contracts = 23 contracts
You can pay all the way up to $4.60 for this spread and it still makes sense.
If you can?t do options, buy the stock outright? or pick up the Consumer Discretionary Sector Select SPDR ETF (XLY) (click here for a description: https://www.spdrs.com/product/fund.seam?ticker=XLY). Its three largest components are Amazon (AMZN), Home Depot (HD), and Walt Disney Co. (DIS).
Keep in mind that a basket of stocks has a lower volatility and lower risk through diversification.
We are getting a rare and welcome $5 dip today because the company reported that its ESPN subsidiary lost 3 million subscribers this year, thanks to cord cutting and cord shaving. It has lost 7 million since its peak years ago. That still leaves ESPN with a massive 93 million subscribers.
However, The sports cable giant only accounts for 10% of Disney?s total earnings.
There are far more significant developments in the company?s prospects that will more than offset this misstep.
Brace yourself.
Star Wars will be launched in just a few more weeks and will certainly become the biggest movie in history. Traders will go gaga over the stock when the early attendance figures hit the tape.
This stock has been incredibly hot, and very difficult to get into since I last recommended it the day after the August 24 flash crash at $95 a share.
The industry is predicting the biggest increase in the sales of themed toys in a decade, thanks to the relaunch of the Star Wars franchise.
Disney, alone, is expected to take in $2 billion from the movie, and another $2 billion on spin off toys. These increase higher margins than earlier generations, as they have far more sophisticated technology elements.
When I was three years old, in 1955, my parents took me to the opening day of Disneyland in Anaheim, California. Tickets were impossible to get, and on the first day, more than 10,000 tried to get into the fabled theme park, more than double the capacity.
However, my dad knew Walt?s brother, Roy Disney, and managed to gain us entry.
Right there on Main Street was Walt himself, greeting each guest as they strolled down an avenue from yesteryear. We lined up to shake his hand, and when my turn came, I pulled out my cowboy cap gun and shot Walt at point blank range.
He smiled, and to my delight, he feigned an agonizing death. My embarrassed mother hurriedly hustled me aside.
I never forgot that incident. Walt Disney was ever the entertainer, although later I learned he was a real bastard to work for, a screamer of the first order.
Some 60 years later, and 49 years after his passing from lung cancer in 1966 (he was an inveterate chain smoker), Walt Disney Corp. (DIS) is still going strong.
It survived the financial crisis in fine fettle. It went on an aggressive round of acquisitions, cherry picking the entertainment industry of its crown jewels. It is now poised to see its earnings go ballistic as the global demand for quality content explodes.
If there was ever a company that had pixie dust sprinkled upon it, this is it.
You would not think that Disney would be piquing my interest here, with the failure of this year?s Tomorrowland, and the disastrous Lone Ranger two years ago.
But without anyone noticing, Disney has in recent years turned into a monster global conglomerate.
It bought Steve Jobs? Pixar in 2006, locking up the best programming in animation (Toy Story, Finding Nemo, and the present runaway hit, Inside Out). It picked up Marvel Entertainment in 2009 (Iron Man, Spiderman, the Incredible Hulk, and Captain America).
It paid $4 billion to my friend George for Lucas Entertainment in 2012 (the Star Wars monopoly).
Bet you didn?t know Disney owned the sports money machine ESPN, which alone promises to kick in a staggering $4.5 billion in EBITDA this year, accounting for 28% of group earnings.
As a result, Disney has created an entire ecosystem of products, not unlike Apple?s (AAPL). Watch a film, and you end up buying the toys, games, clothes, TV show, and eventually taking your kids on the ride and the cruises.
This massive content upgrade has enabled them to become the top box office draw of 2015. Incredibly, Avengers: Age of Ultron, a story about a monster who lives inside the Internet and wants to destroy the earth, promises to become one of the top five grossing films of all time.
Apparently, wiping out the planet sells well these days.
This is happening globally!
Nobody has assembled a portfolio of assets with the breadth and depth that Disney has.
What?s more, the tried and true sequel rollout is about to jump to warp speed over the next two years. Through 2017, we will see new iterations of Star Wars, The Jungle Book, Finding Nemo, Toy Story, The Avengers, and Pirates of the Caribbean.
Ring that cash register!
The Star Wars relaunch is particularly interesting, as it means the company is about to capture the lion?s share of the $107 billion a year entertainment based toy and merchandise business. They are already handily beating out competitors Viacom (VIA), Time Warner (TWX), and Dreamworks Animation SKG (DWA).
Plastic, made-in-China Wookies, R2D2?s, Darth Vaders, and Millennium Falcons made George Lucas a staggering $27 billion in sales, compared to the $8 billion he took in from films, because the original movie producers considered the rights to such tchotchke worthless.
Indeed, Disney is already dominant in the business, with 300 stores worldwide. Any dad with kids who passed near one of these franchises was always easy prey for a $50 hoodie or princess doll.
A synchronized revival of the global economy means the marquee park business is going from strength to strength. A new one near Shanghai is about to open and become the biggest ever.
It seems that opening a Disneyland near a city of 25 million upwardly mobile consumers is always a good idea. The second a new middle class Chinese consumer joins the western economy, they want to buy a set of mouse ears.
Even the perennial loser, Disney Paris, the only park that serves wine, is turning around, thanks to the European Central Bank?s new, aggressive program of quantitative easing. Ironically, Di
sney bonds are among the hundreds of private issues that the ECB is hovering up.
Walt was always fascinated with technology. His first animated cartoon, Steamboat Willie, which introduced Mickey Mouse to the world in 1928, was state of the art. He blew audiences away with Fantasia in 1939, inventing new three-dimensional glass plate cameras to do so.
Disney became the first customer of two struggling engineers working out of a Palo Alto garage, who went on the form Hewlett Packard (HPQ). Their homemade oscilloscopes provided sound for the movie.
From a trading and investment perspective the story here gets better. (DIS) shares are trading at 18 times 2016 projected earnings of $18 a share. That compares to other competitors trading at higher multiples with lower earnings growth.
It is a rare instance of the best quality growth selling at a discount. This means that the stock could easily rise another 50% over the next two years based on what Disney already has in place.
All of this makes (DIS) stock fodder for a low risk, in-the-money, vertical call spread, even a long dated one. It seems to be the stock that perpetually goes up, ideal for long-term portfolios as well.
To see how to enter this trade in your online platform, please look at the order ticket below, which I pulled off of optionshouse.
If you are uncertain on how to execute an options spread, please watch my training video on ?How to Execute a Bull Call Spread? by clicking here at https://www.madhedgefundtrader.com/ltt-executetradealerts/
The best execution can be had by placing your bid for the entire spread in the middle market and waiting for the market to come to you. The difference between the bid and the offer on these deep in-the-money spread trades can be enormous.
Don?t execute the legs individually or you will end up losing much of your profit. Spread pricing can be very volatile on expiration months farther out.
Here are the specific trades you need to execute this position:
Buy 23 January, 2016 (DIS) $100 calls at???…$14.65
Sell short 23 January, 2016 (DIS) $105 calls at?..$10.40
Net Cost:???????????????????.?…..$4.25
Potential Profit: $5.00 – $4.25 = $0.75
(23 X 100 X $0.75) = $1,725 or 1.73% profit for the notional $100,000 portfolio.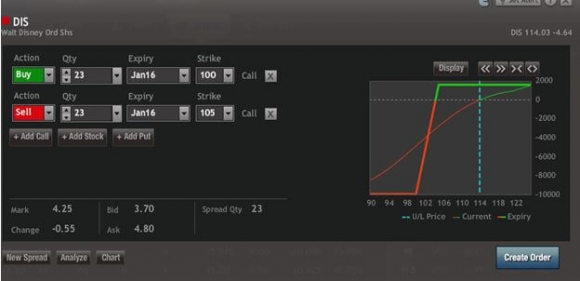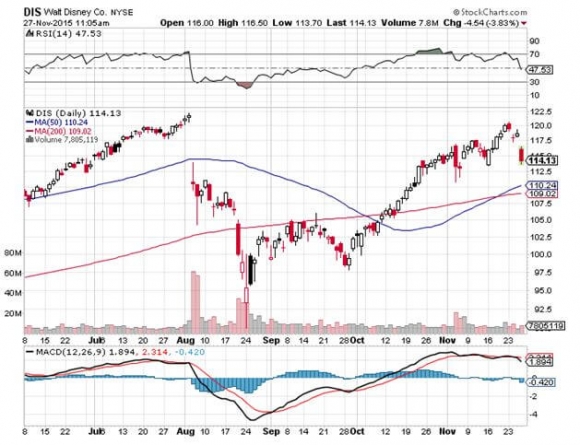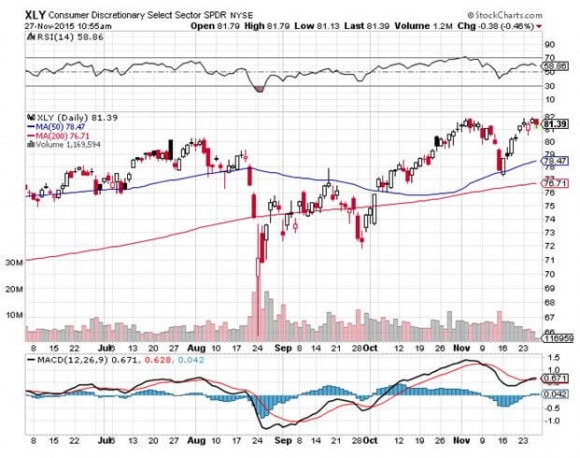 Partner Up With Mickey
https://www.madhedgefundtrader.com/wp-content/uploads/2015/11/Mickey-Mouse-e1448641710923.jpg
400
383
Mad Hedge Fund Trader
https://madhedgefundtrader.com/wp-content/uploads/2019/05/cropped-mad-hedge-logo-transparent-192x192_f9578834168ba24df3eb53916a12c882.png
Mad Hedge Fund Trader
2015-11-27 12:44:33
2015-11-27 12:44:33
Follow Up to Trade Alert - (DIS) November 27, 2015