As a potentially profitable opportunity presents itself, John will send you an alert with specific trade information as to what should be bought, when to buy it, and at what price.
Further Update to: Trade Alert -(TLT)
Buy the iShares Barclays 20+ Year Treasury Bond Fund (TLT) December $107-$110 bear put spread at $2.65 or best
Opening Trade
11-15-2013
expiration date: 12-20-2013
Portfolio weighting: 10%
Number of Contracts = 38 contracts.
You all know well my antipathy to the bond market, which I believe hit a 60-year peak on August 18, 2012 at 10:32 AM EST. I managed to catch the exact top of the one-month post taper bond market rally, and sent the Trade Alerts to sell bonds showering upon you. I quickly closed all of those out for nice profits.
We have since seen a $2.24 dead cat bounce in the (TLT) that took the yield on the ten year Treasury bond back down to 2.68%, off of the recent 2.77% top. That is enough for me to sell into.
Take a look at the chart below, and you will see that we are probably setting up an interim head and shoulders top that presages much larger moves lower to come.
The rocket fuel for this break will be the yearend selling where money managers attempt to minimize their bond exposure that appears in their annual reports so as not to appear too stupid to their customers. Then we have the "Great Reallocation" trade out of bonds into stocks, which should get some real legs in 2014.
This all promises to take the (TLT) down from today's $104.51 to $98 or lower over the next six months. If I am wrong on this, then we should hit major resistance for the (TLT) on the upside at $106.80, where you would expect the right shoulder formation to begin that will carry us safely into the December 20 expiration. This could be the trade that keeps on giving.
The best execution can be had by placing your bid for the entire spread in the middle market and waiting for the market to come to you. The difference between the bid and the offer on these deep in-the-money spread trades can be enormous. Don't execute the legs individually or you will end up losing much of your profit.
Keep in mind that these are ballpark prices only. Spread pricing can be very volatile on expiration months further out.
Here are the specific trades you need to execute this position:

Buy 38 December, 2013 (TLT) $110 puts at……………..…$5.90
Sell short 38 December, 2013 (TLT) $107 puts at……….…$3.25

Net Cost:………………………………….……..………….$2.65
Potential Profit: $3.00 – $2.65 = $0.35
($0.35 X 100 X 38) = $1,330, or 1.33% for the notional $100,000 model portfolio.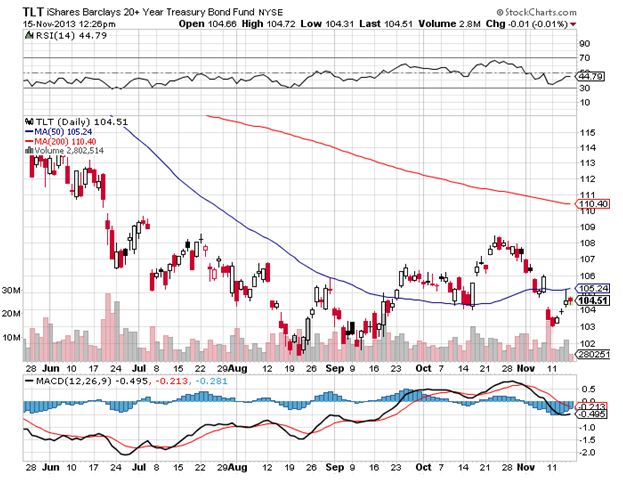 Bonds Have Suddenly Become Unloved