It's hard to imagine that Microsoft's earnings report on Wednesday will be anything other than remarkable as their growth drivers plow ahead in a digital-first economy.
The only risk that could soften shares following the report is the forward guidance.
Bill Gates asserted that the U.S. economy will come back to "semi-normal" in the next 2 months, and I wouldn't bet against management putting a positive spin on the path going forward tying the company's short-term prospects with the comeback of the wider economy. By semi-normal, he means still falling economic growth, just at a slower rate.
There is a high probability that this "semi-normal" state of the economy will last for longer than we think, but even in that scenario, Microsoft will outperform competition widening the gap between the haves and have nots.
Another theme picking up traction is the massive volume of business that will migrate digitally and will want to work with a quality cloud provider who is not their direct competitor Amazon.
What is there to like about Microsoft?
Almost all of it is the short answer.
Momentum in Microsoft's cloud computing platform is strong and has experienced a surge in usage becoming a lifeline to many companies that have been forced to go all digital.
Even in the cutthroat COVID-19 environment, I still believe Microsoft's Azure cloud expanded 50% year over year in the past quarter.
Even more successful, Microsoft's workspace communication product, Teams, has seen a dramatic surge in popularity as co-workers try to solve company problems remotely.  
Teams broke a daily record of 2.7 billion meeting minutes, up 200% from 900 million minutes on March 16.
In late March, Teams has 44 million daily active users (DAU), and 93 firms have implemented Microsoft Teams in the Fortune 100.
Another strong data point is Microsoft 365 and Dynamics 365 suite of solutions.
Every company needs these platforms as a utility to boost enterprise productivity.
The subscriber base has benefited from the avalanche of remote workers with their array of tools.
Microsoft's professional network LinkedIn platform is likely to show outperformance adding to the top line in the quarter to be reported.
Another outstanding segment that can't be overlooked is gaming, and specifically a meaningful increase in the Xbox Live monthly active users and a boost in the adoption of Game Pass subscriptions.
The only negative segment that is probable will most likely be the hardware segment as a deteriorating trend in PC shipments in the first quarter rears its ugly head because of coronavirus crisis-induced supply constraints.
A demand shock doesn't help as well.
Consumers just don't have the cash to upgrade their Microsoft Surface computer-tablet hybrid device.
Total PC shipments in first-quarter 2020 declined 12.3% year over year to 51.6 million units.
Another damper on profitability could come in the form of higher investments in cloud and AI engineering, amid stiff competition from Amazon (AMZN) in the cloud computing vertical and Slack (WORK) in enterprise communication domain.
Even with the global economy coming to a standstill, growing cloud sales by 50% would represent a massive relative victory in the broader scheme of things.
As the economy opens back up, Microsoft is well-positioned to capture much more of the rapid transformation into digital the has been a dramatic side-effect form this pandemic.
The company is already worth over $1.3 trillion and in a new economic world where big tech gets bigger, I see nothing in their path that will slow them down.
The anticipation of the new reality that Microsoft will become more influential post-COVID gives way to a rapid recovery in shares that will only gain steam as the 5G revolution approaches.
Microsoft will easily become a $200 stock and if the U.S. economy opens up sooner than people expect, then nail down this stock for a price of $230 a share by year-end.
I am strongly bullish Microsoft for the rest of 2020.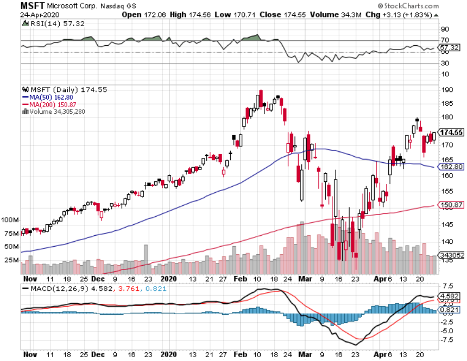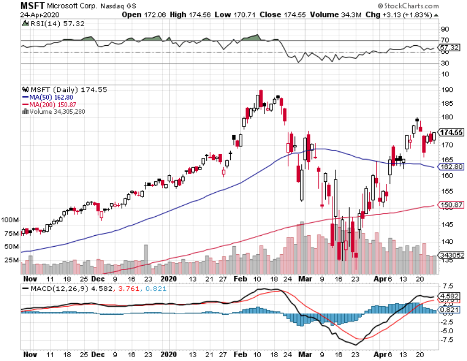 https://madhedgefundtrader.com/wp-content/uploads/2019/05/cropped-mad-hedge-logo-transparent-192x192_f9578834168ba24df3eb53916a12c882.png
0
0
Mad Hedge Fund Trader
https://madhedgefundtrader.com/wp-content/uploads/2019/05/cropped-mad-hedge-logo-transparent-192x192_f9578834168ba24df3eb53916a12c882.png
Mad Hedge Fund Trader
2020-04-27 10:02:25
2020-06-09 09:32:40
Front Running the Microsoft Earnings