It took me precisely 28 days and not a day more.
That's how long it took for my bearish call on desperate online food delivery company, GrubHub (GRUB) to come to fruition.
I wrote an overly negative report on the company which was published on October 2nd explaining why this company and its terrible unit economics were set for a rude awakening.
I usually don't revisit the same company within the same month in this newsletter, but when I looked at the price this morning, it took me a few minutes to wrap my head around the 44% daily decline.
I will go one more step now and profusely recommend that nobody in their right mind should currently take any bullish positions on any company reliant on employing the gig economy.
The gig economy has been found out for what it is – an elaborate scheme enriching tech stakeholders while shorting American blue-collar labor.
Instead of proper wages flowing to the Uber driver or in this case the GrubHub driver, management has maneuvered its way through some nifty alternative classifications enabling companies to divert a chunk of capital back into the business model.
If these companies can't make money with skimping on driver pay, how will they make money when American law mandates them to cover sick leave, paid vacations, health insurance, and overtime pay which could soon be coming?
And on top of the subsidies which add to the overall unit cost, how on earth will they piece together a solution that would satisfy shareholders?
Then mix the unworkable unit economics and fuse it with a boatload of competition and my conclusion is clear – profitability is a pipedream.
Buttressing my claims of unprofitability and market stagnation in a note to shareholders, the company admitted, "supply innovations in online takeout have been played out."
The pitiful food delivery company slashed fourth-quarter revenue projections to between $315 million and $335 million making a mockery of the $387.3 million consensus.
The house of cards is finally collapsing.
Who is the competition?
There are three fierce contestants in UberEats, DoorDash and PostMates.
And to add even more spice inside the fajita, PostMates has recently shelved a planned 2019 IPO because of "market conditions," a testament to the poor growth prospects for online food deliveries.
I believe no food delivery stock will ever go public again unless they revalue themselves 65% lower from today's prices.
Much of the value in these companies is a mirage.  
To give GrubHub credit, they didn't put up Chinese walls in their guidance and mentioned that competition is wreaking havoc detailing that their customers are not "extremely loyal."
They should expect investors to not be extremely loyal either.
Existing customers are now price-shopping by surfing around different apps to take advantage of price promotions proving my point that these gig economy companies contribute minimal incremental value to the end user.
Their secret sauces are hardly secret.
These apps are commodities and yes, there is value in their proprietary algorithms, but by no means are the barriers of entry so colossal that it would take North Korean engineers 10 years to reverse-engineer these same algos.
And with wielding low-grade tech and resigned to "low double-digit" growth, the bullish case behind this stock and the industry as a whole becomes almost laughable.
Don't bring a knife to a gunfight!
If Uber can perform miracles and reach $40 or if Lyft can snake its way up to $55, these would be the perfect entry points to scale into these cash burn disasters from the short side.
As for GrubHub, don't buy the dead cat bounce.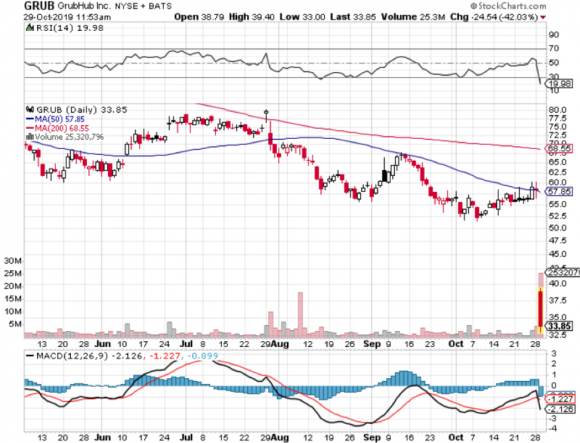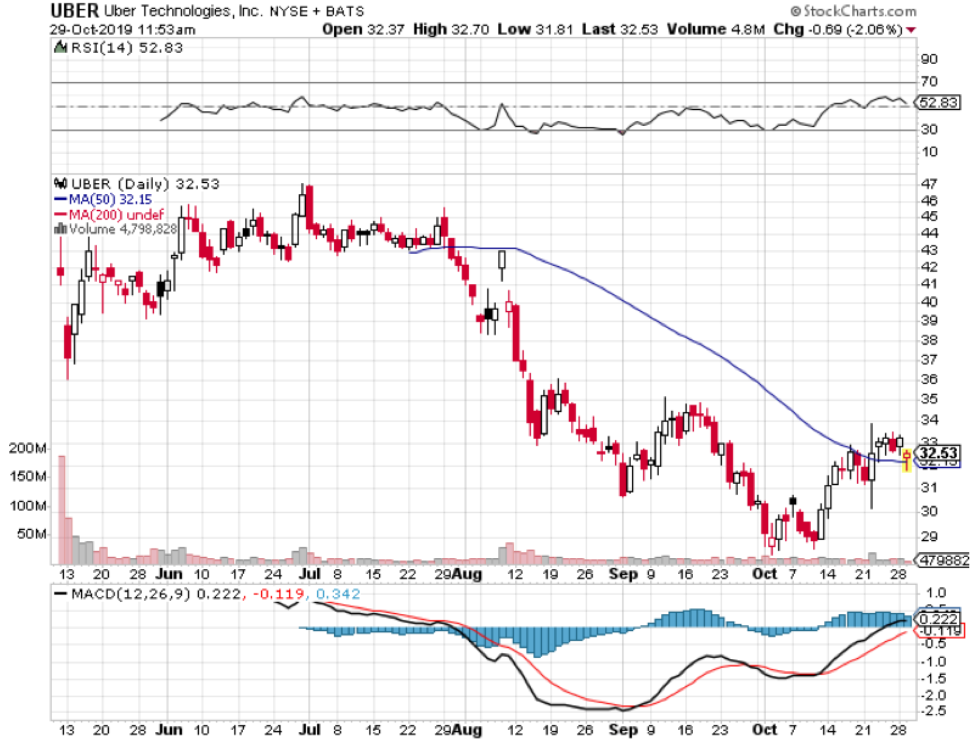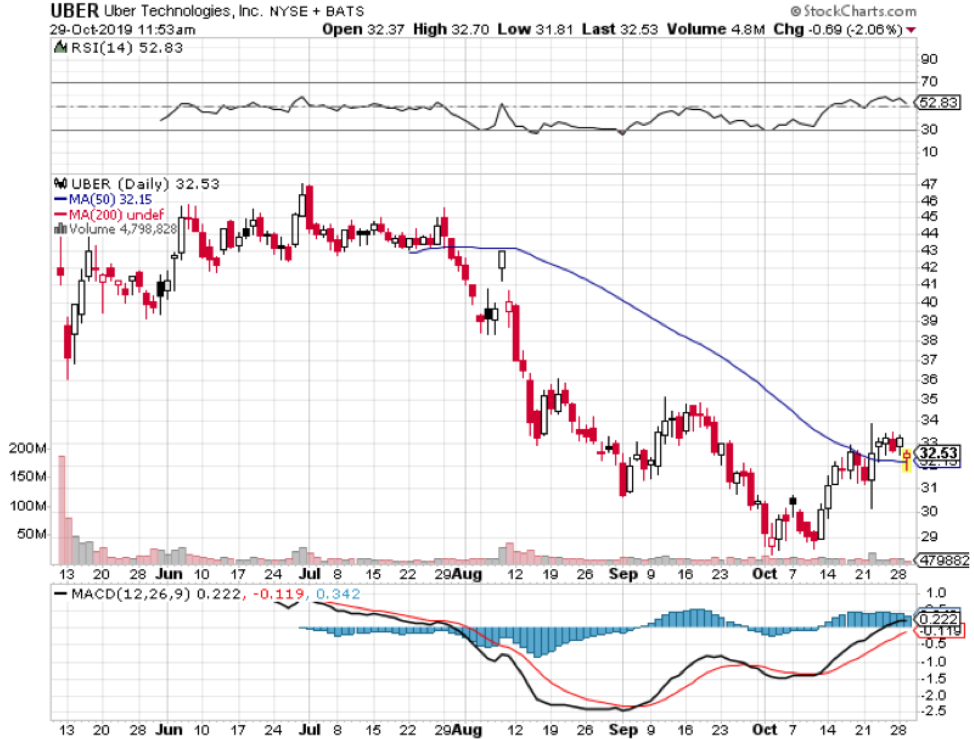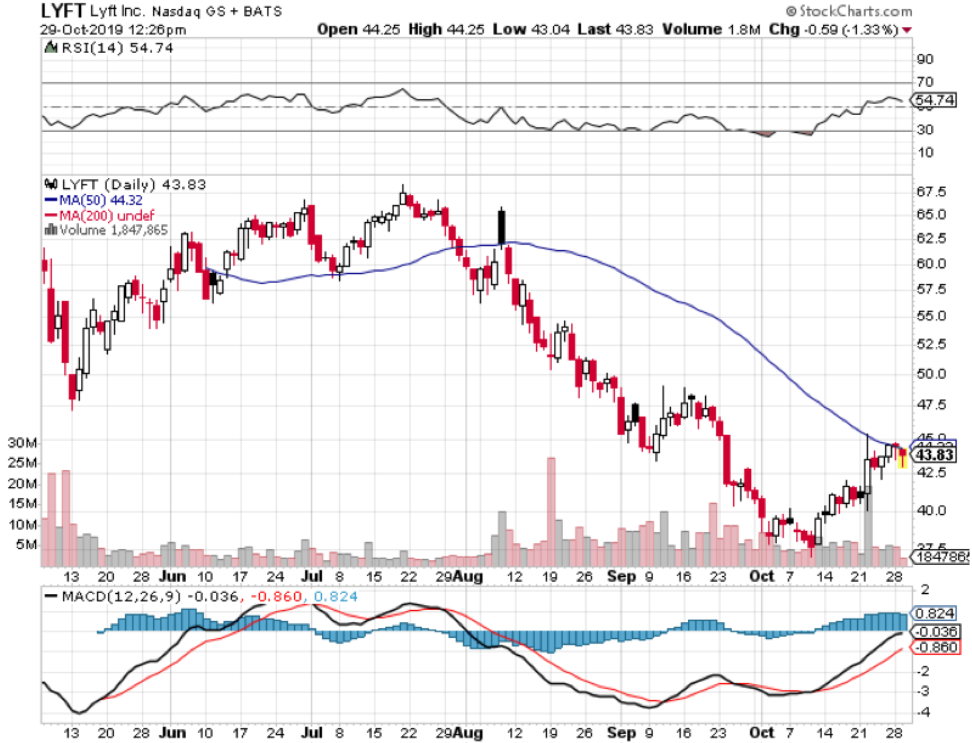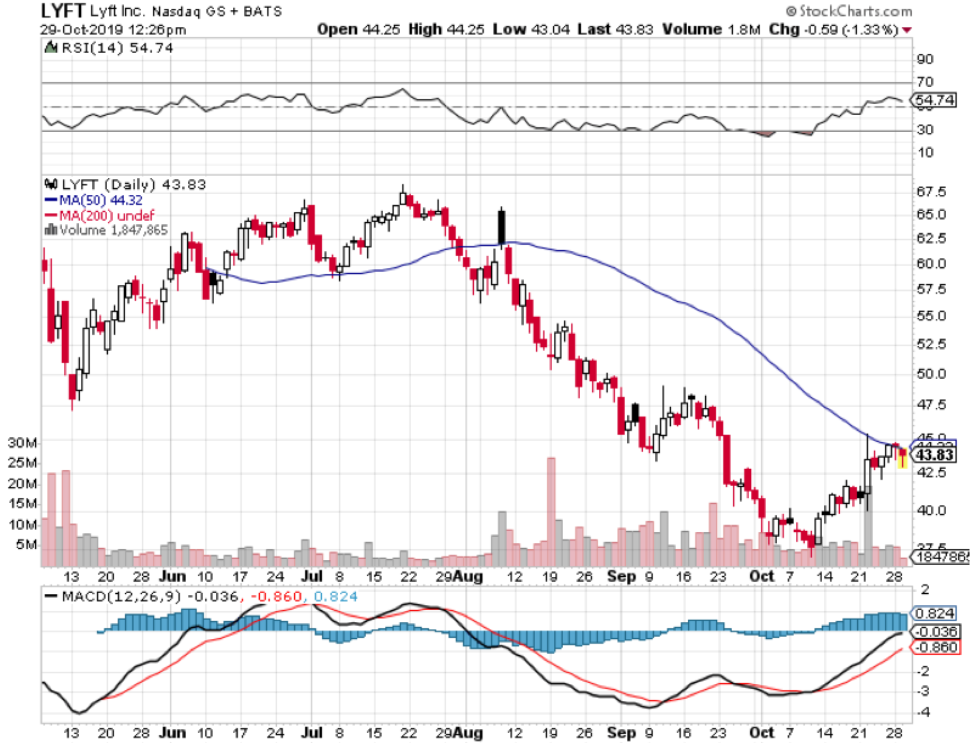 https://madhedgefundtrader.com/wp-content/uploads/2019/05/cropped-mad-hedge-logo-transparent-192x192_f9578834168ba24df3eb53916a12c882.png
0
0
Mad Hedge Fund Trader
https://madhedgefundtrader.com/wp-content/uploads/2019/05/cropped-mad-hedge-logo-transparent-192x192_f9578834168ba24df3eb53916a12c882.png
Mad Hedge Fund Trader
2019-10-30 10:42:57
2020-05-11 13:27:29
GrubHub's Toxic Meal