Let the Sunshine In!
I?ll never forget those immortal words for the hit musical Hair, where I took my senior prom date in 1970.
I had no idea that the entire cast would drop their clothes off at the end of the first act, standing there stark naked. I remember that they guy sitting in front of me almost hard a heart attack. I didn?t know then that such words existed.
My date?s dad would not have been amused.
He was the legendary founder of Wham-O, marketer of famed novelty toys like the Frisbee, the hula-hoop, the Slinky, the Super Ball, and the Slip?n Slide, a multi millionaire, and a famed African lion hunter.
He was a real tough guy.
But he never found out. There were a lot of things he never found out, thank goodness!
But I digress.
I?m sure that California Governor Jerry Brown was humming a few bars of Let the Sunshine In this week, although I doubt he ever saw the play.
Back then, he had just graduated from divinity school as a Jesuit priest (click here for my exclusive interview with the Moon Beam governor ?An Afternoon with California Governor Jerry Brown?.
But the words would have been appropriate, for my illustrious neighbor with the great security detail signed a bill this week that brings into law the most ambitious alternative energy goals seen anywhere in the world.
Jerry?s aspiration is for the Golden State TO OBTAIN 50% OF ITS ELECTRICITY NEEDS BY 2030, IN A MERE 15 YEARS!
In 2014, the state garnered an already impressive 22% of its electricity from non hydro renewables, including solar, wind, biomass, and geothermal sources, already the highest share in the world for a major economy.
There has not been a traditional coal fired electric power plant in the state for more than a decade.
Also included in the legislation are provisions to double the energy efficiencies of homes, offices, and factories. Another goal to cut gasoline consumption by half was axed from the measure after heavy lobbying by big oil.
Lucky for me that I?m already there with my new SunPower Solar installation (click here for ?How to Buy a Solar System? ).
Jerry thoughtfully signed the bill at the Los Angeles Griffith Park Observatory, which offered a panoramic view of the legendary LA smog, the city barely visible.
Some of it is probably still coating the inside of my lungs from my childhood there in the 1950?s.
My readers in all 50 states and 137 countries are constantly begging me to tell them what the Hell is going on in California.
As a technology and regulatory leader, what is adopted here is often imitated across the country and around the world, both the good, and the bad.
You know those seat belts, safety glass, and catalytic converters you find in your cars? They are all the result of laws first passed in California. But then it?s always easy to pile regulation on the industries entirely based out of state.
It doesn?t always work out so well. Adolph Hitler entirely imported the state?s racial purity laws to Germany during the 1930?s, and we all know where that went.
But that is a story for another day.
Of course, there are many who say that the lofty 50% target is unobtainable, or will drive us all broke if we ever get there.
But there is one fact that is utterly undeniable. This will be an absolute windfall of the US solar industry, which has the only technology advanced enough to meet governor Brown?s aggressive targets.
There is, in effect, a solar Moore?s Law that sees efficiencies per dollar spent doubling every four years, such as we have already seen with the faster growth of microprocessor efficiencies since the 1960?s.
Exponential growth of efficiencies will bring exponential growth of company profits.
Annual installations of photovoltaic panels have soared from a token 0.3 gigawatts in 2000 to an impressive 45 gigawatts in 2014, more than enough to fuel 7.4 million American homes.
They are about to grow much larger.
This is all happening because of the simultaneous maturing and cross-pollination of technology, regulation, financing, and venture capital.
A key development was the Chinese entry into mass production of solar panels during the late 2000?s, which led to a near immediate 80% collapse in prices. They now control 70% of the global market.
For the first time in history, solar power is now cheaper than grid power on a non-subsidized basis. Costs are set to still fall dramatically from here.
Fossil fuels are about to become, well?fossils.
The Paris based International Energy Agency, no slouch when it comes to analyzing power data, predicts that solar will account for 27% of the global supply by 2050, and will become the biggest single source.
But futurologist friends of mine, like Tesla?s (TSLA) Elon Musk, Google?s head of engineering, Ray Kurzweil, and cosmologist Dr. Stephen Hawking, believe there is no reason why it shouldn?t be at 100% by 2030-35.
To quote Kurzweil, ?we are only six more doublings away.?
Hillary Clinton wants nothing less than to eliminate all oil and gas tax subsidies worth $100?s of billions, and shift the money to alternatives.
That is a radical move.
Her goal is to increase the solar share of American power generation to 33% by 2027. To expect that this will cause the shares of solar companies to skyrocket is an understatement of the highest order.
Improving solar cell efficiencies promises to take us further and faster into this brave new world.
My own SunPower (SPWR) X-335 panels, with their patented Maxeon solar cells (made in Georgia), convert 20.3% of the sunlight they receive into electricity, the highest in the industry. Cheap imported Chinese panels offer efficiencies as low as 15%.
University labs have perfect cells with 45% efficiencies using advanced silicon compounds. I happen to know that the military has a 65% efficient cell. All that remains are the economies of mass production to bring them to the public market.
This is crucial for the solarization of the global economy. Every 1% improvement in efficiencies cuts that total cost of a new installed system by 5%.
With the trends already in place, it is safe to assume that solar energy costs will fall by at least 10% a year for the foreseeable future.
What are the investment implications of all this? Clearly, the solar industry is about to see its market size increase 30 fold.
Here is the great thing about solar shares.
They have been mercilessly beaten down by the recent collapse in oil prices, which is trading at the $30 handle as I write this, even though its business prospects are vastly improving.
Oil is giving you a once in a lifetime entry point into solar.
Call it guilt by association. Isn?t energy just energy.
These investment plays are the obvious ones that I have been recommending for the past couple of years. They include Solar City (SCTY), First Solar (FSLR), SunPower (SPWR), and more recently, Sun Edison (SUNE).
If you want a broader diversification, you can buy the (TAN).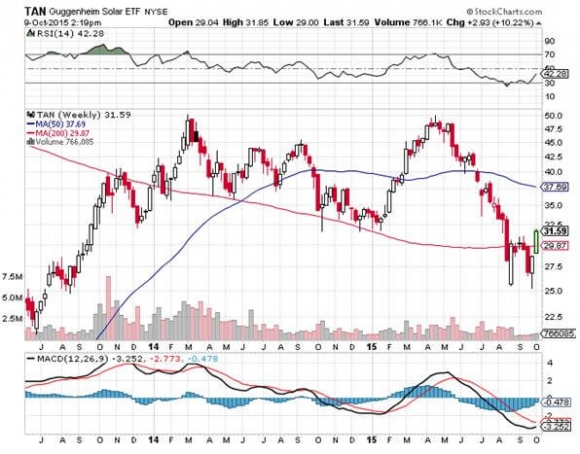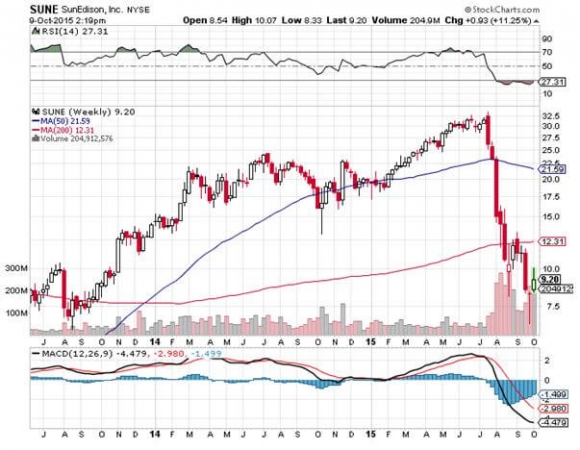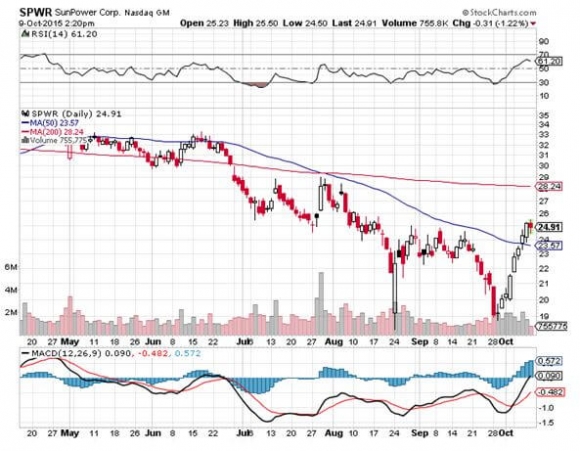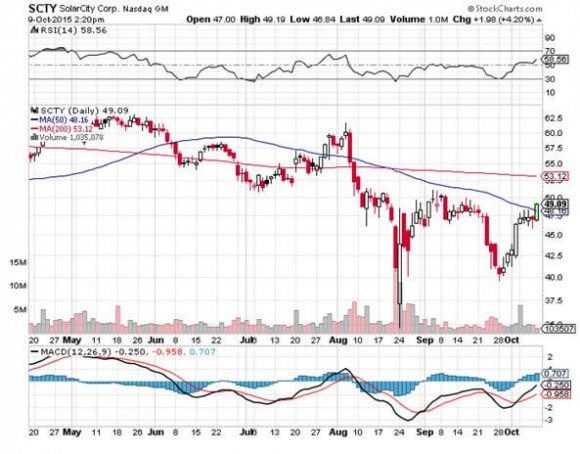 Way to Go Jerry!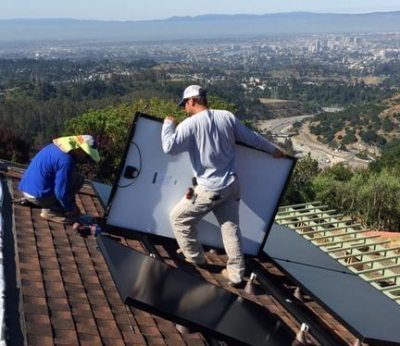 Count Me In!
https://www.madhedgefundtrader.com/wp-content/uploads/2015/10/John-Thomas-Solar-Panal-e1444422199491.jpg
296
400
Mad Hedge Fund Trader
https://madhedgefundtrader.com/wp-content/uploads/2019/05/cropped-mad-hedge-logo-transparent-192x192_f9578834168ba24df3eb53916a12c882.png
Mad Hedge Fund Trader
2015-10-12 01:06:00
2015-10-12 01:06:00
Let the Sunshine In!