A tech company in the jaws of the trade war dilemma is one to keep tabs on because this company leads Apple's stock price.
Many industry analysts say that the market cannot recover unless Apple participates.
Paying homage to the sheer size of Apple is one thing, and the gargantuan size means that many other companies are positioned to feed off of Apple revenue model and rely on the iPhone maker for the bulk of their contracts.
Is this a dangerous game to play?
Yes.
But its better than having no business at all.
No stock epitomizes this strategic position better than niche chip stock Skyworks Solutions (SKWS) who extract 83% of total revenue from China.
Apple announced slashing production to its latest iPhone model by 10% in the first quarter due to weak sales.
Apple has also trimmed forecast for total iPhone production from about 48 million to between 40 and 43 million.
The company also failed to meet its latest projected forecast selling a disappointing 46.9 million in the fourth quarter of fiscal 2018, significantly lower than analysts' expectation of 47.5 million units.
Then when you thought the bottom was in, President of the United States Donald Trump announced an escalation of tariffs from 10% to 25% on Chinese goods that could siphon off 10% of Apple's revenue from China-produced iPhones.
All this means is that Skyworks Solutions (SWKS) is now the most oversold stock in the tech sector going from $123 about a year ago to about $63.
The avalanche of grumpy news has halted Apple in its track, but Skyworks Solutions is truly ground zero, the metaphorical canary in the coal mine.
The uncertainty that pervades this part of tech does what tech stocks abhor –  puts a cap on Skyworks Solutions ceiling and the whole industry which peaked last year.
Containment is the absolute worst description of a tech because it tears apart any remnant of a growth narrative which tech firms need to justify the accelerating investment.
This is evident in how CEO of Tesla (TSLA) Elon Musk ran his business. If he didn't convince and mesmerize the public with his antics and chutzpah, he might not have cultivated the star power to have pushed through a loss-making enterprise for so long.
Now the loss-making enterprise is history and Musk is finally turning a profit.
Now let's turn to the chip sector – sling and arrows have been fired with some direct hits.
Samsung reported earnings and scared off investors with a dud.
Management presides over a huge drop in earnings making China and weak sales as the scapegoats.
Samsung's first profits decline for 2 years could be a sign of things to come.
Chip momentum and earnings are decelerating. There is no getting around that.
Investors will need management to flush out the chip glut and need confirmation that prices have bottomed to really flesh out a legitimate turnaround later this fiscal year.  
Samsung curtailed sales estimates by 10% and expect operating profits to sink 28.7% in 2019.
The walking wounded Korean chaebol has also been the recipient of a massive price war against Chinese smartphones, the end result being that consumers are favoring lower-priced Chinese substitutes that match Samsung's Galaxy 80% of the way.
Remember that when you battle China tech companies – it's a fight against the Chinese state who subsidizes these behemoths and have access to unlimited loans at favorable interest rates.
Apple has had the same problem, as well as Huawei and Xiaomi, have started producing premium smartphones. Second tier Chinese smartphone makers Oppo and Vivo have also picked up market share at the marginal buyer level.
Semiconductor annual growth in 2018 held up quite well even though a far cry from 2017 when the semiconductor industry expanded 21.6%.
However, this year forecasts to only eke out 6.8% growth and then 2020 will turn negative with growth contracting 1.9%.
These dismal numbers could signal total revenue downshifting below total revenue numbers not seen since 2016.
In short, the chip industry is going backwards and backwards quickly.
I wouldn't want to bet the ranch on any chip names now because the short-term prospects are grim.
The perfect storm of market saturation, overproduction, facetious geopolitics, weak demand, and unparallel competition is not a good cocktail of drivers towards accelerating earnings growth.
This is, in fact, a recipe for disaster.
And when you look at mobile, the phenomenon has been a true gamechanger and success but let's face the facts, its already onto its 15th year and petering out.
There is only so much juice you can squeeze from a lemon.
Mobile will last for the time being until something better comes along which is absolutely what the tech markets are screaming for.
Tech companies have monetarily benefitted from this massive migration to mobile and there are still some hot croissants to take home from the bakery but I would estimate that 80% of the low-hanging fruit is off the tree.
That leads me to double down on my recent rant of a lack of innovation.
Google is still making most of its revenue from ad search and going 18 years strong, there will be no plans to stop even in year 30 and beyond.
Apple has been making iPhones for over 12 years.
Oracle is still selling the same dinosaur database software that has barely changed for a generation, except for the prettified front end.
Amazon is the only company that is brimming with innovation and that is the very reason why all companies must react to the Amazon threat because they set the terms of engagement.
The pipeline is fertile to the point its hard to keep track of all the new products coming out of the company.
Bezos has stayed head and shoulders ahead of the competition because the competition has gotten comfortable, content with above average market positioning, and gobbling up the profits.
Once companies start behaving this way, it is the beginning of the end.
Then there is Skyworks Solution.
Can you imagine if Apple ever announced a ground-breaking new product that would see them stop making iPhones?
Skyworks Solution would go out of business.
This elevated existential risk has nudged up the beta on this stock and it trades accordingly.
Apple's price action lags Skyworks Solution's, but the chip companies' booms and busts are more exaggerated.
On cue, Skyworks Solutions announced a cut in guidance from $1 billion in revenue to $970 million in 2019.
EPS would drop from an estimated $1.91 to $1.81-$1.84.
Skyworks president and CEO Liam Griffin said they were "impacted by unit weakness across our largest smartphone customers."
A bottom looks to be forming unless the trade war turns for the worse again.
The silver lining is that Skyworks Solutions is in queue for some hefty 5G contracts for the upcoming network upgrade.
This would be Skyworks Solutions' chance to jump out of the ring of fire and attach themselves to alternative revenue that doesn't shred their share price in a growing piece of the tech industry.
If Skyworks Solutions manages to successfully pivot to 5G and specifically IoT products, management will finally be able to wipe away the sweat bullets because welding yourself to Apple's story hasn't been heavenly as the global smartphone market has calcified.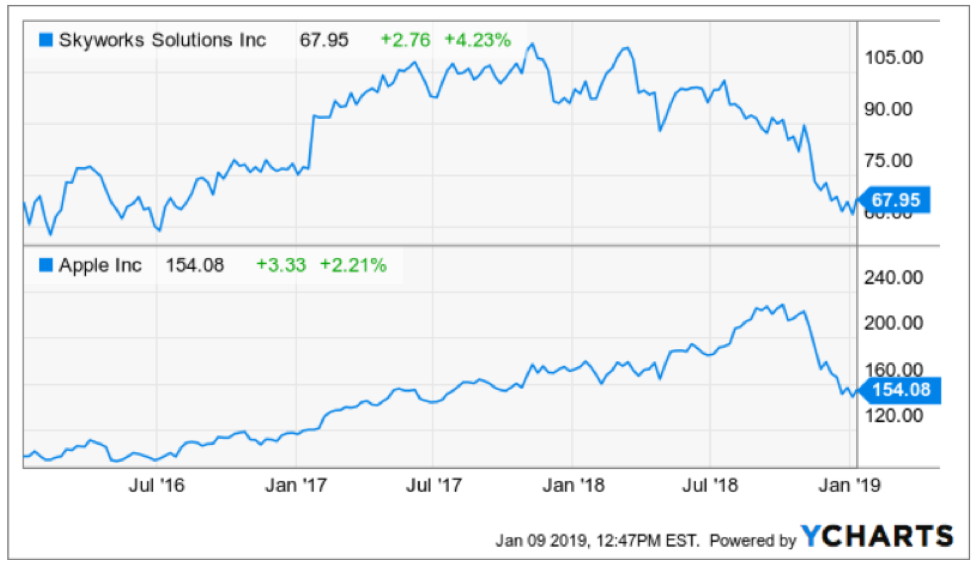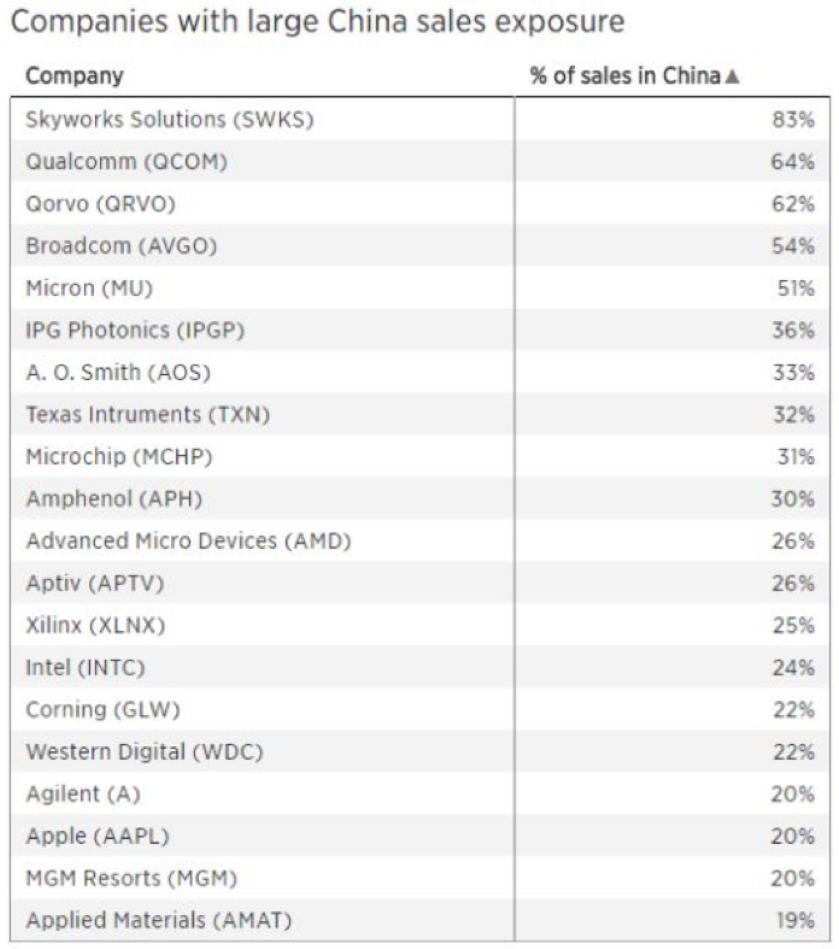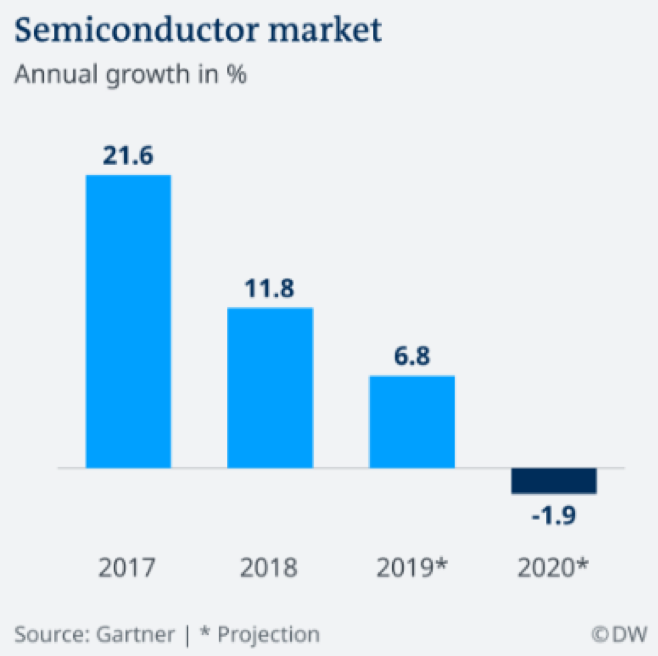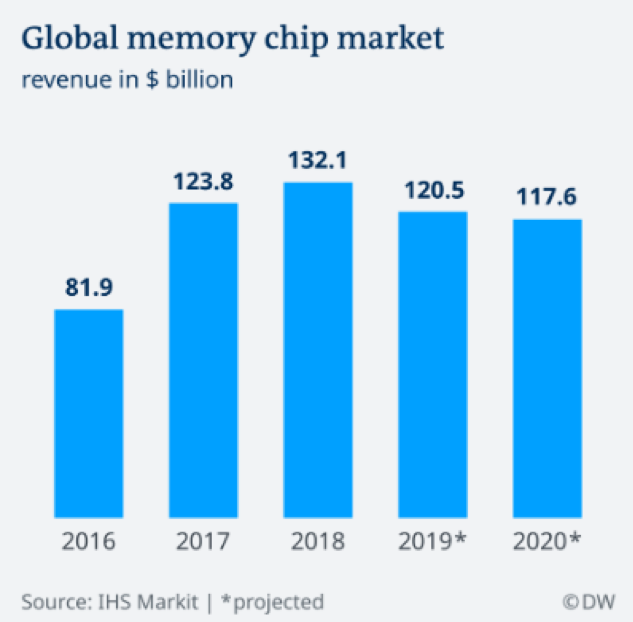 https://www.madhedgefundtrader.com/wp-content/uploads/2019/01/chip-market.png
622
633
Mad Hedge Fund Trader
https://madhedgefundtrader.com/wp-content/uploads/2019/05/cropped-mad-hedge-logo-transparent-192x192_f9578834168ba24df3eb53916a12c882.png
Mad Hedge Fund Trader
2019-01-10 02:06:08
2019-07-09 04:57:58
Here's the Canary in the Coal Mine for Apple