The x-factor for the last tech generation has been none other than – the cloud.
Any portfolio manager that hasn't aligned performance with this transformational phenomenon is most likely not a portfolio manager anymore.
Now, as we enter into an unknown world, if you thought the cloud was the x-factor of the tech in the last generation, then the 2020s will make the cloud contributions to growth in the last generation appear meek.
About 1/3 of small businesses recently surveyed admitted there is really no path back to reopening. Who would really want to shoulder financial risk in an economic environment that outwardly punishes businesses that operate around anonymous customers in close proximity?
Many of these owners, even with generous government funding, have chosen not to fight against the path of strongest resistance.
When the dust settles, even if a vaccine arrives out of thin air tomorrow, the work at home thing, or should I say the work from anywhere but the office phenomenon will persist like a bad flu, no pun intended.
The Cloud is the winner, and everything associated with it will drive the economy forward.
It has emerged as the cog in the works, that no company can live without.
Not only is the cloud highly effective but it's also cheaper than traditional systems.
It also provides nimbleness in scaling up or down computing capacity according to business requirements.  
Search for growth companies that do not deploy the cloud as a critical pillar of operational execution.
They hardly exist now.
Whether it's the vanguard of the cloud plays such as Amazon (AMZN), the second in show nipping at Amazon's heels, Microsoft's (MSFT), or any other small cloud play, they are all profiting off the monstrous pivot to digital commerce and cord-cutting.
In China, Tencent, Alibaba, and Huawei are cloud companies doing so well that the U.S. government has tried to shut them down to allow a wider moat around U.S. companies.
What's the simplest way to carve out significant exposure to cloud equities?
A barrage of ETFs (exchange-traded funds) has come online to serve your needs.
They are also durable enough to endure stormy and uncertain times.
Here are three that should whet your appetite.
The First Trust Cloud Computing ETF (SKYY) tracks a modified equal-weighted index of infrastructure, platform, and software cloud companies. Microsoft, Amazon, and Alphabet are its secret sauce.
The Global X Cloud Computing ETF (CLOU) consists of companies that are positioned to benefit from the increased usage of cloud computing. While Amazon, Microsoft, and Alphabet are included in the portfolio, the fund's top holdings are pure-play cloud companies like Zscaler (ZS) and Shopify (SHOP).
The WisdomTree Cloud Computing ETF (WCLD) tracks an equal-weighted index of emerging companies with DocuSign (DOCU) and RingCentral (RNG) among the largest holdings.
What's more, let's remember that every cloud company is about to embark on a massive round of expense cuts by getting rid of the physical office.
Twitter (TWTR) even has allowed workers to work from home on a permanent basis.
Yes, this means San Francisco commercial real estate prices are about to nosedive, but as it relates to the tech industry, operation costs will benefit in one fell swoop boosting earnings.
This also paves the way for many tech companies to re-establish tax headquarters in Nevada, Texas, or Florida which will act as another supercharger to growth.
Elon Musk has called out the Bay Area politicians in Alameda County, California because of a convoluted response and conflicting rules with regards to restarting the Fremont, California factory.
Covid-19 is most likely the straw that breaks the camel's back as many Bay Area tech workers start to question what on earth they are doing paying $4,000 per month to rent a "cozy" 400 square foot apartment in Cupertino or San Francisco.
The mass exodus from high tax states to low tax states is just another supercharger out of many cloud superchargers on top of growth.
What more can I say?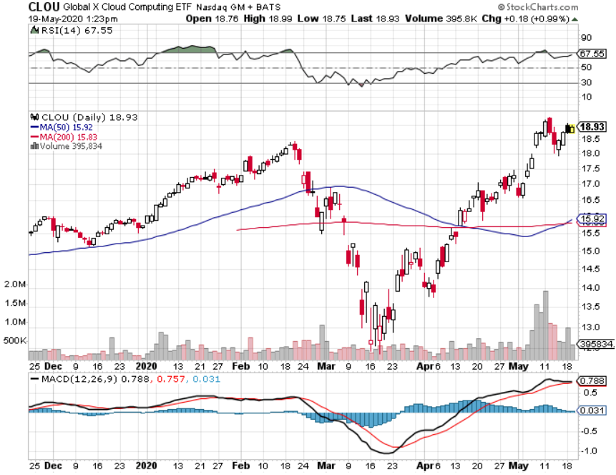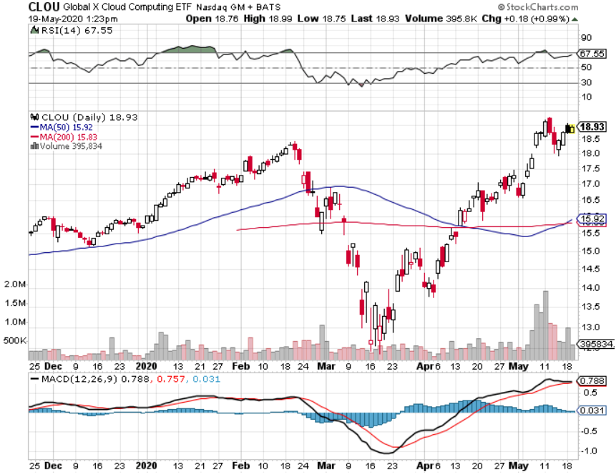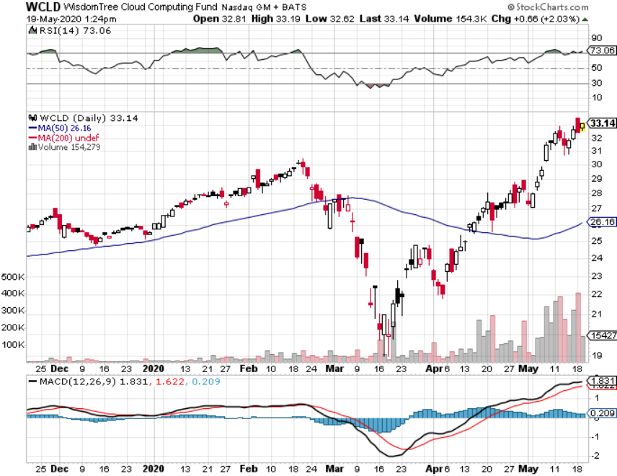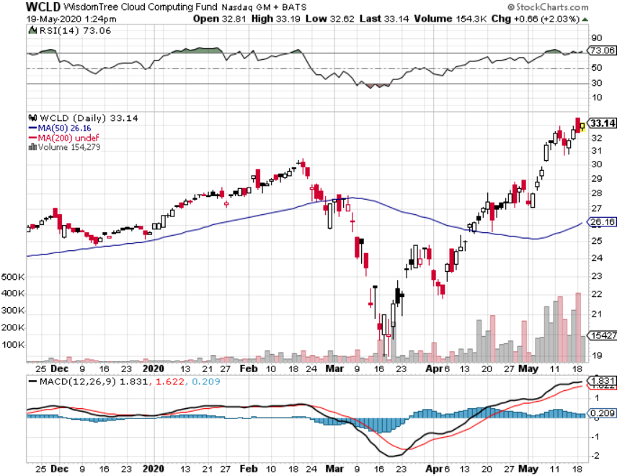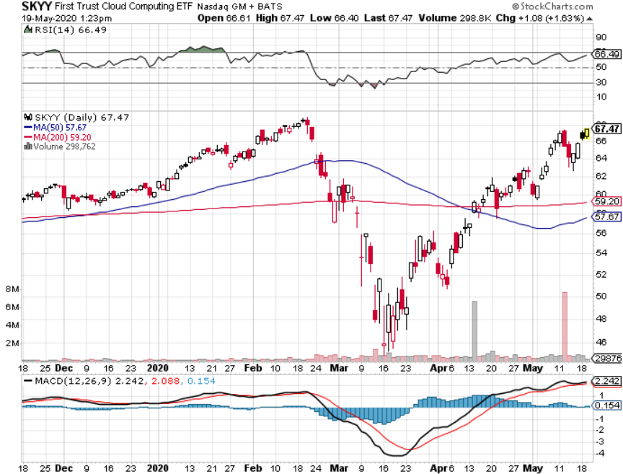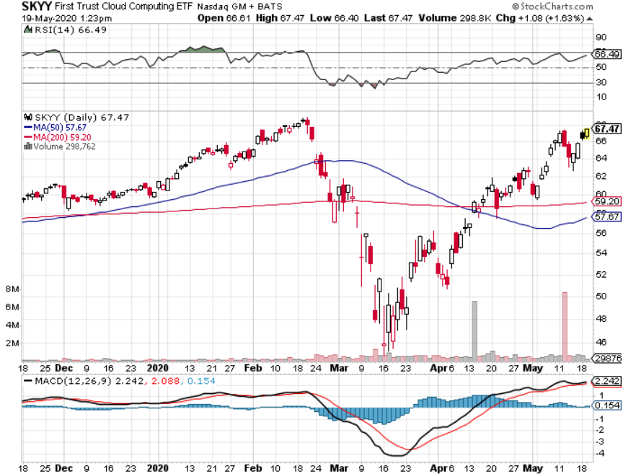 https://madhedgefundtrader.com/wp-content/uploads/2019/05/cropped-mad-hedge-logo-transparent-192x192_f9578834168ba24df3eb53916a12c882.png
0
0
Mad Hedge Fund Trader
https://madhedgefundtrader.com/wp-content/uploads/2019/05/cropped-mad-hedge-logo-transparent-192x192_f9578834168ba24df3eb53916a12c882.png
Mad Hedge Fund Trader
2020-05-20 10:02:11
2020-06-22 11:41:47
It's All About the Cloud