Featured Trades: (LAS VEGAS STRATEGY LUNCH REVIEW)


1) Las Vegas Strategy Luncheon Review. It has been a full life. What else could I conclude, finding myself in a luxury suite at the Las Vegas Wynn Hotel with two dozen drunken twenty something's playing 'beer pong' at 2:00 am? It is amazing what some people can do with a ping pong ball.
If there was ever a city that needed a jolt of adrenaline for its economy like the annual Consumer Electronics Show, it is Sin City. Some 130,000 free spending techno geeks made sure that the casinos were packed, every top rate restaurant was sold out, and there was an hour wait to buy jet fuel for private aircraft at the airport. I overheard one lovely woman calling friends on the east coast urging them to fly out asap, as there 'were men everywhere!' I was so busy visiting with investors and subscribers that I didn't even have time to take advantage of a free invitation to the adult entertainment convention down the street to meet the porn stars. Now that is busy!
Every time I visit Las Vegas I feel like I'm an extra in the filming of the sequel of The Bachelor. While having breakfast, I couldn't help but notice a young man, nicely dressed in a suit and a tie, passed out in a rubber dingy floating in the middle of the swimming pool. Buddies were calling to him to paddle shoreward, eliciting only dull groans. A friend walked into the ladies room to find one hottie dressed to kill, but passed out on the floor, while a companion snorted cocaine. And why are they burning so much incense in a no smoking hotel?
On every trip here I always make my rounds speaking to blackjack dealers, waiters, cocktail hostesses, real estate agents, pit bosses, showgirls, and masseuses to get a grass roots read on the real economy. You can see from the pain in their eyes that these people have been through a financial meat grinder. I won't call it a 'thousand yard stare', but it is something close. The City Center and the Bellagio completed high rise condo towers, which are now mothballed. The Venetian Hotel is blighted with the skeletal remains of a new tower whose funding was pulled somewhere around the eighth floor. A clueless investor group sunk at least $3 billion into the massive and nearly completed a 3,339 room, 68 story Fontainebleau Resort, which now sits abandoned. Raider Carl Icahn bought the project for pennies at a fire sale, and is currently stripping it of assets. Instead of laying off 25% of his staff, Steve Wynn wisely cut everyone's shift from eight hours down to six to keep them all eating. One heard stories of desperate friends moving out of foreclosed homes at midnight to avoid the judgmental stares and shame from their neighbors.
The strategy lunch was held amidst a fleet of new Lamborghini's at the Dal Toro restaurant, with the meticulous service enjoyed by all. I never cease to be impressed with the sophistication of the readers who attend these functions. Almost all by now have upgraded to the 'Macro Millionaire' service, and as a result were rolling in new trading profits. Most sank their teeth into the (TBT) trade for an appetizer, feasted on Bank of America (BAC) as a main course, and gorged on Cisco System (CSCO) as a desert. There was much discussion on how long the gravy train will last, and the dozen or so factors that could derail it. Linda won the prize for the greatest distance traveled to the event, some 591 miles from Marin County, California. Spend you Zimbabwean dollars well.
–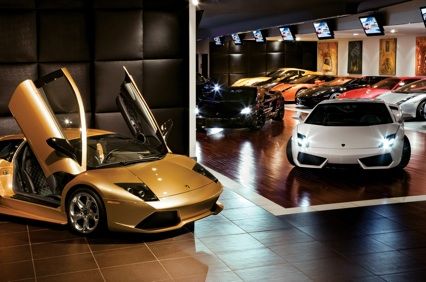 Lunch With the Lamborghini's
–