Global Market Comments
January 13, 2010
Featured Trades: (HYUNDAI), (KOREA), (WON), (EWY), (CYB), (REI)
1) I watched with both amazement and foreboding Japan's share of the US car market grow from 1% in the seventies to 40% in recent years. General Motors made excuses all the way up, as the Japanese ate an inexorably larger share of their lunch, until they went bankrupt. I see history about to repeat itself, but it's not American car makers' market share that is on the menu, but Japan's. South Korean auto makers Hyundai and KIA stunned industry experts when they, along with Japan's Subaru (Which is Japanese for the constellation Pleiades. Go figure), emerged as the only three auto firms to see sales increase in 2009. Hyundai's sales rose 8%, boosting its market share by 40%. The company got a lot of mileage when its elegant new $30,000 sports sedan, Genesis, was named 'Car of the Year,' becoming the first gasoline powered car to get an EPA rating over 30 mpg. New generations of the crossover SUV Tucson and midsize Sonata sedan promise to take the marque forward. The company will make its first foray into the hybrid space with a 'green' Sonata powered by a third generation lithium polymer battery pack. I rented a Hyundai a few weeks ago, and it took me back to my youth, reminding me of the Toyota Corolla I drove in Japan 25 years ago. You can buy Hyundai stock directly, which owns KIA, thanks to some financial indiscretions a few years ago. The hardier may also take a look at Samsumg, which is part owned by Renault, and Daewoo, which has a partial ownership by none other than GM. Consider it the same as buying Toyota in 1980, but with a lot more leverage, and a nice currency play on the side. For a broader view, look at the South Korean ETF (EWY), a country that seems to be doing everything right.
?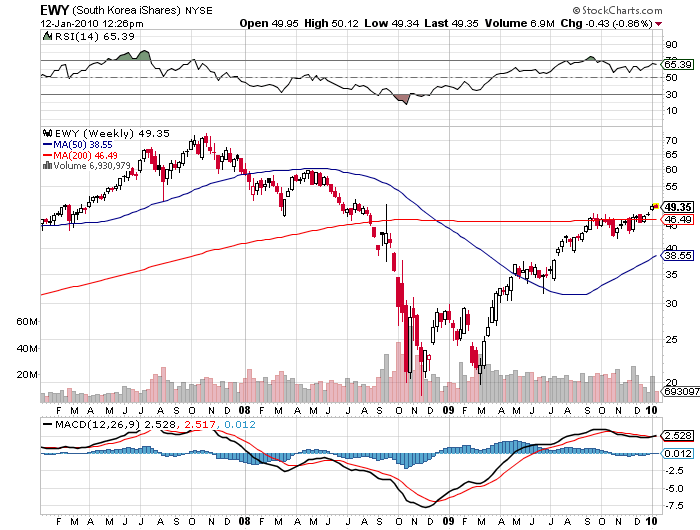 2) With much fanfare, China announced that it became the world's largest exporter last year, a humongous $130 billion in December shipments taking the annual figure up to a staggering $1.3 trillion. The Middle Kingdom also became the largest car market last year, and is set to surpass Japan to become number two in GDP this year. It remains to be seen whether there are buyers for all of these shoes, toys, clothes, furniture, and consumer electronics. The country's $586 billion stimulus package has proven so successful, about triple our package on a GDP basis, that the People's Bank of China has already started throttling back with the first two of, no doubt, many interest rate hikes to come. Ben Bernanke take note. This amazing performance makes a long Yuan position one of the great no brainer trades out there. Until now authorities have permitted a slow, controlled creep up in China's currency to the present 6.8270 to the dollar rate, or 14.6 cents. But with China's surpluses growing at a bat out of Hell rate, it's just a matter of time before that breaks. The fixed rate essentially lets the Federal Reserve set China's monetary policy, a central bank with a notorious reputation for inflating bubbles. It's the classic irresistible force meeting the immovable object scenario. Either China floats, or its domestic inflation will explode. When it does so, the Yuan will rocket, possibly by as much as 50%, as every hedge fund, their fraternity brothers, and their distant second cousins, dog pile in. In the meantime, noted short seller Jim Chanos is banging his drum about imminent economic collapse in China, claiming that it is manufacturing a mountain of goods that no one will buy, and that its real estate market is Dubai times 1,000. Right idea Jim, but wrong timing. I think you're early, way early. Sure there's a bubble in China, but these things can run far longer than you can possibly imagine. Having traded through the great Japanese stock market bubble of the eighties, I know. Better look at the Chinese Yuan ETF (CYB).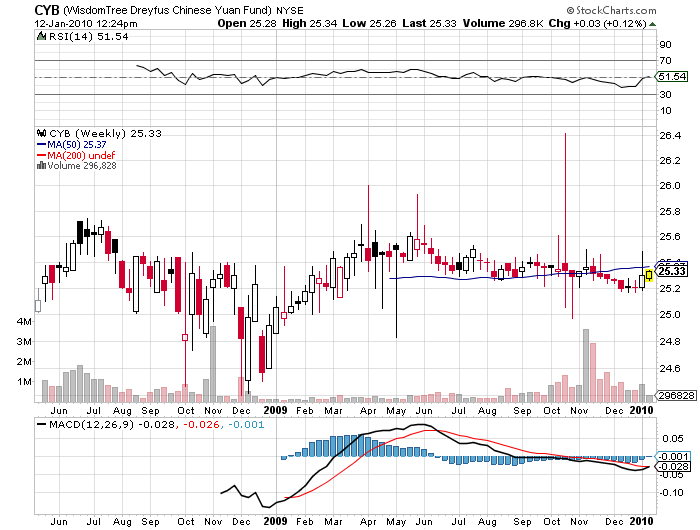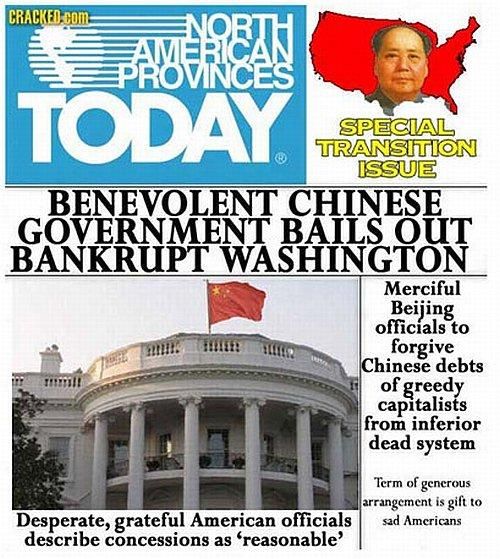 3) A year ago, I spent a shivering Saturday morning lined up for Recreational Equipment Inc.'s (REI) monthly members' only used equipment sale. Outdoor enthusiasts were joined by the newly jobless and homeless, who were hoping to pick up deeply discounted equipment so they could live out of their cars. They were not disappointed. I picked up a pair of Asolo heavy mountaineering boots, list price $280, with tax, for $5! I guess the size 13's don't fly out the door. It did not bode well for the economy when retailers were selling boots for the value of their laces. Since I hike about 1,000 miles a year on Sierra granite that eats up the thickest Vibram soles, I went back to the same sale last weekend for another pair. There were fewer homeless people this time, and more fitness fanatics. Identical boots were again on offer, this time for $27. I guess that says it all for the economy. We're off the bottom, but not off to the races yet. See you on the John Muir Trail.

QUOTE OF THE DAY
'If you have been playing poker for a half an hour, and you don't know who the patsy is, it's you,' said Warren Buffet.

https://madhedgefundtrader.com/wp-content/uploads/2019/05/cropped-mad-hedge-logo-transparent-192x192_f9578834168ba24df3eb53916a12c882.png
0
0
DougD
https://madhedgefundtrader.com/wp-content/uploads/2019/05/cropped-mad-hedge-logo-transparent-192x192_f9578834168ba24df3eb53916a12c882.png
DougD
2010-01-13 16:55:00
2010-01-13 16:55:00
January 13, 2010