Below please find subscribers' Q&A for the Mad Hedge Fund Trader January 8 Global Strategy Webinar broadcast from Silicon Valley, CA with my guest and co-host Bill Davis of the Mad Day Trader. Keep those questions coming!
Q: If the market is doing so well, why is the Fed flooding the market with liquidity?
A: It's election year, so their primary focus is to get the president reelected and do everything they can to make sure that happens. If we continue at the current rate, the Fed will have zero ability to get us out of the next recession which will make it much deeper than it would be otherwise. Doing this level of borrowing and keeping interest rates near zero with the stock market going up 30% a year is insane, and we will be severely punished for it in the future.
Q: With the Volatility Index (VIX) near a 12-month low and the Mad Hedge Market Timing Index near an all-time high, is this a good time to put on LEAPs for the (VXX)?
A: Yes, in fact, a (VXX) LEAP (Long Term Equity Participation Security, or one-year-plus option spread),  is the only LEAP I would put on right now. I get asked about LEAPs every day because returns on them are so huge, but I am holding back on a trade alert on a (VXX) leap because it seems like in January they really want to run this market high and run volatility down low. On the next move to a (VIX) in the $11 handle, you want to put out a one-year LEAP with a $16 strike. And that is essentially a guarantee that you will make money sometime in the coming year on a big down move in the stock market. (VXX) LEAPs are coming, just not yet.
Q: Do you think Iran is done with their attacks against the US or will there be more?
A: The belief there will be no more attacks is to call the end of a 40-year trend. There will be more attacks, and those are going to be your long side entry points. Every geopolitical crisis for the last 10 years has been a great entry point on the long side and the next one will be no different. Just hope you are not one of the victims.
Q: What would a war with Iran mean for the US economy and should I buy defense stocks?
A: You can take the Iraq war, which cost us about $4 trillion, and multiply that by three times to $12 trillion because Iran's economy is three times the size of Iraq and has a much more sophisticated military. The Iranians are really in a good position because they know the US has no appetite for another Iraq, Afghanistan, or Vietnam. They just want us out of their neighborhood. As far as defense stocks, those really move on very long-term investments and production for government contracts. When you get an attack like this, you get a one-day pop of 5% and then they usually give it all back. So, I wouldn't be chasing defense stocks like Lockheed Martin (LMT), Northrop Grumman (NOC), and Raytheon (RTN) at these high levels—it's a very high-risk trade.
Q: Will Boeing (BA) take heat from the Ukrainian crash in Tehran?
A: Yes. It's down about $5, and you might even consider running the numbers on a February call spread. This may be the last chance to get into Boeing at those low levels. The 737 MAX will fly this year, their most important product.
Q: What's your opinion on Thai Baht?
A: This really is the home here for opinion on all asset classes, large and small. The Thai Baht will rise. It's a weak dollar play. Money is pouring into all the emerging currencies because of the massive overborrowing that's going on in the U.S. Countries that overborrow and print money like crazy always debase their currencies over the long term. That makes emerging markets (EEM) a great buy, which are trading at half the valuation levels of US ones.
Q: U.S. hog farmers missed the opportunity of a lifetime last year because of African Swine Flu. Any thoughts on the price of pork and commodities for 2020?
A: They should do better now that we're at least getting relief from an escalation of the trade war. However, I gave up covering agriculture because the American farmer is just too efficient; every year they just produce more and more crops with fewer and fewer inputs—it's a loser's game. They occasionally get bad weather and get a big price spike, but that Is totally unpredictable. I'm staying away from ag stocks. In terms of buying soybeans or Apple, or Google, or Amazon, I'll take the tech stocks any day over ag's. Plus, the insiders have a big advantage in ag's.
Q: What is the ticker symbol for the Silver ETFs?
A: The Silver metal ETF is (SLV), Silver miners is (SIL), and the Silver Royalty Trust, Wheaton Precious Metals, is (WPM).
Q: Why has volatility been so minimal even with massive geopolitical risk going up?
A: Liquidity trumps all. This month, the fed is pumping a record $160 billion into the financial system, and all that money is going into stocks, making them go up and making volatility go down. Until that changes, this trend will continue.
Q: Apple just passed $300, is the next stop $400?
A: Yes, and we could get that this year in the run up to 5G in September. By the way, my average cost on my Apple shares split adjusted is 50 cents. I bought it in the late 1990s when the company was weeks away from bankruptcy.
Q: Any thoughts on Tesla (TSLA)?
A: Yes, go out and buy the car, not the stock. Wait for some kind of pullback. We have just had a fantastic run of good news kicking the stock from $180 up to $490. I think we will make it up to $550 on this run. But you don't want to get involved unless you're a day trader because now the risk is very high. The next big move for Tesla is going to be the announcement of a production factory in Berlin, where they will try to take on Mercedes, BMW, VW, and Audi on their home turf. Then, they will own Europe.
Good Luck and Good Trading
John Thomas
CEO & Publisher
The Diary of a Mad Hedge Fund Trader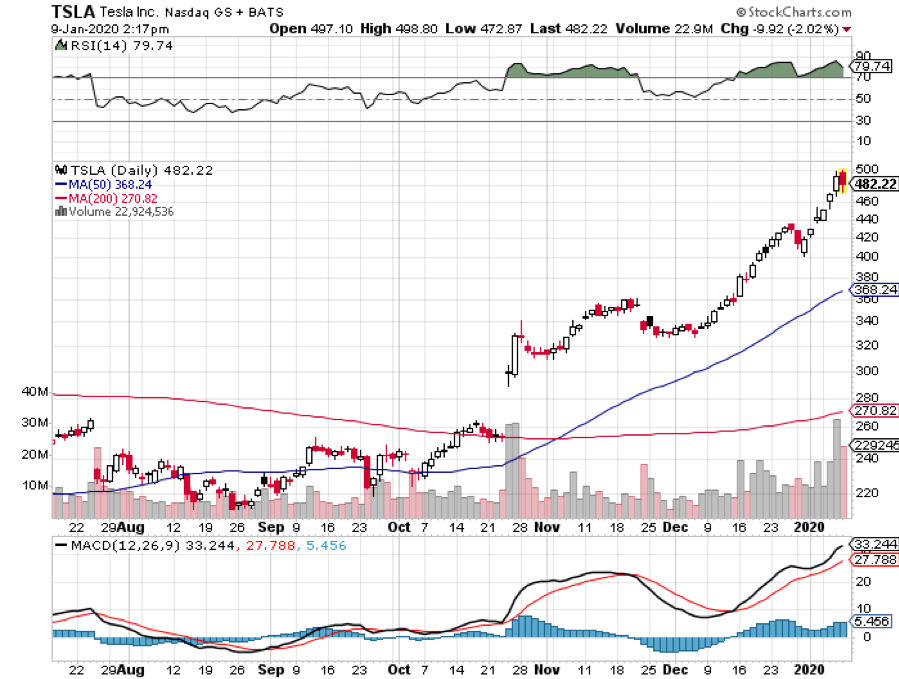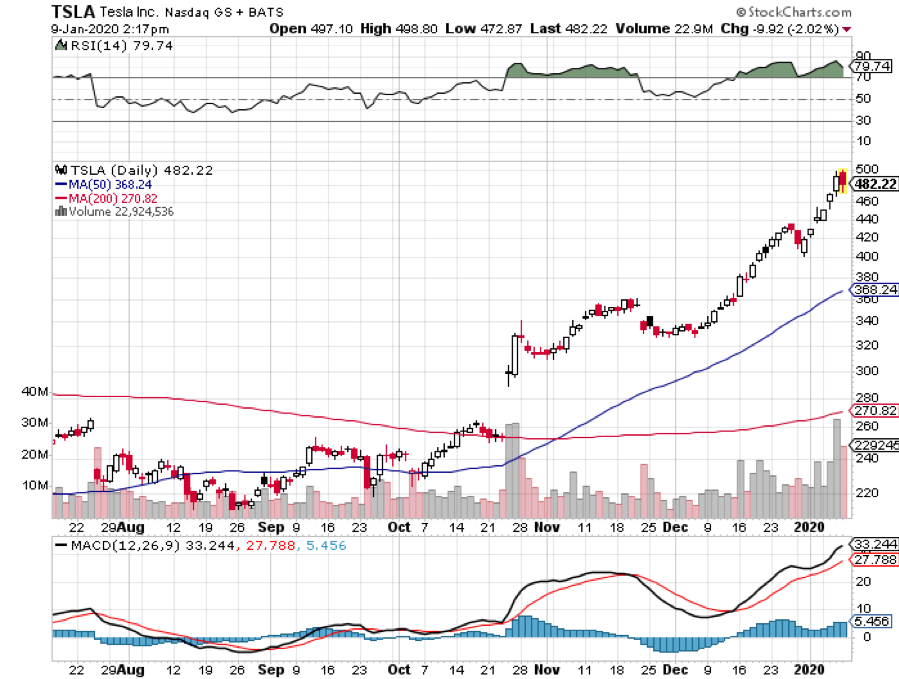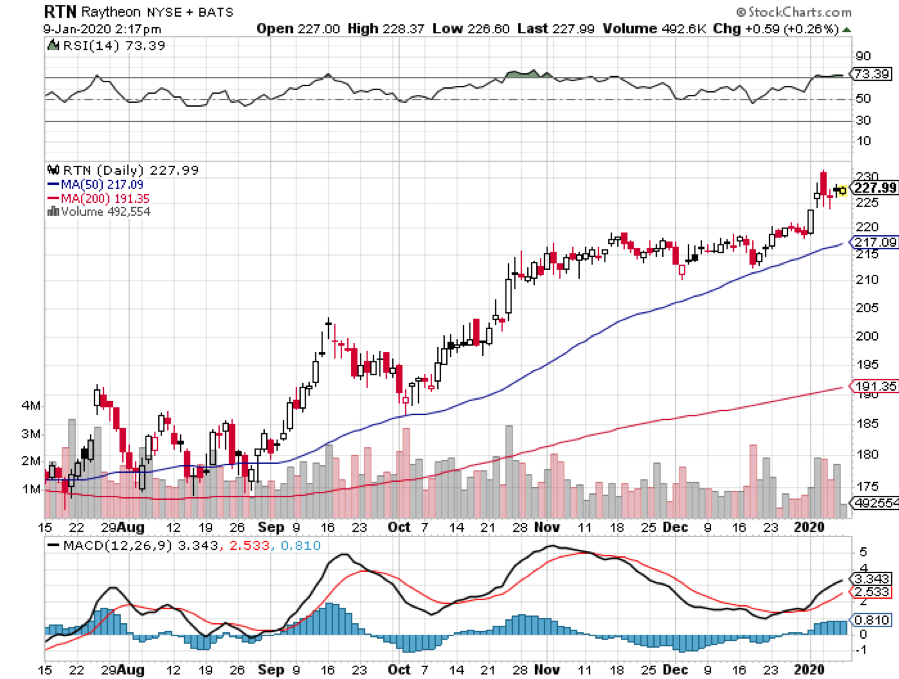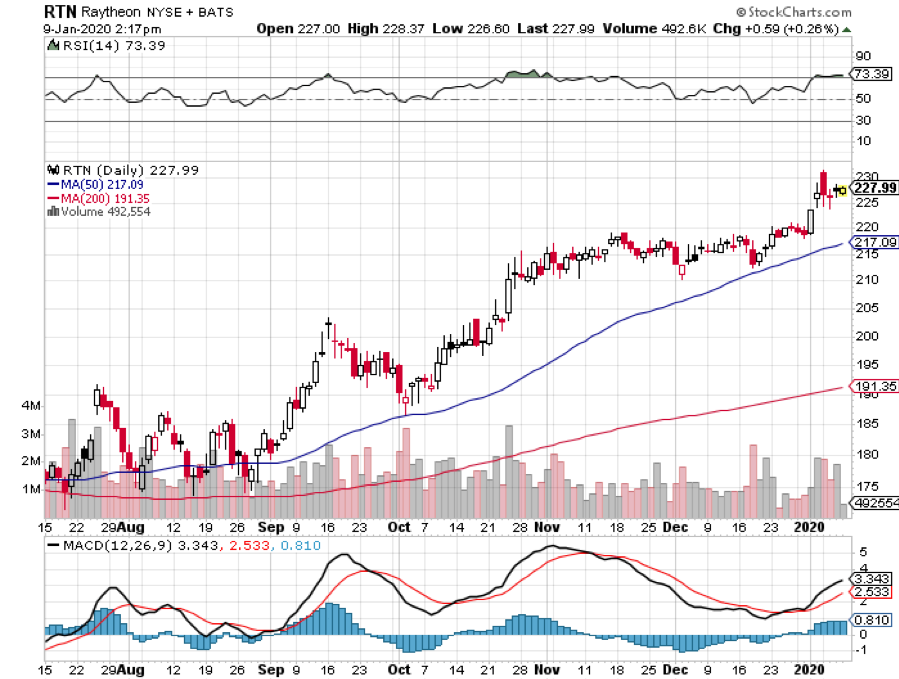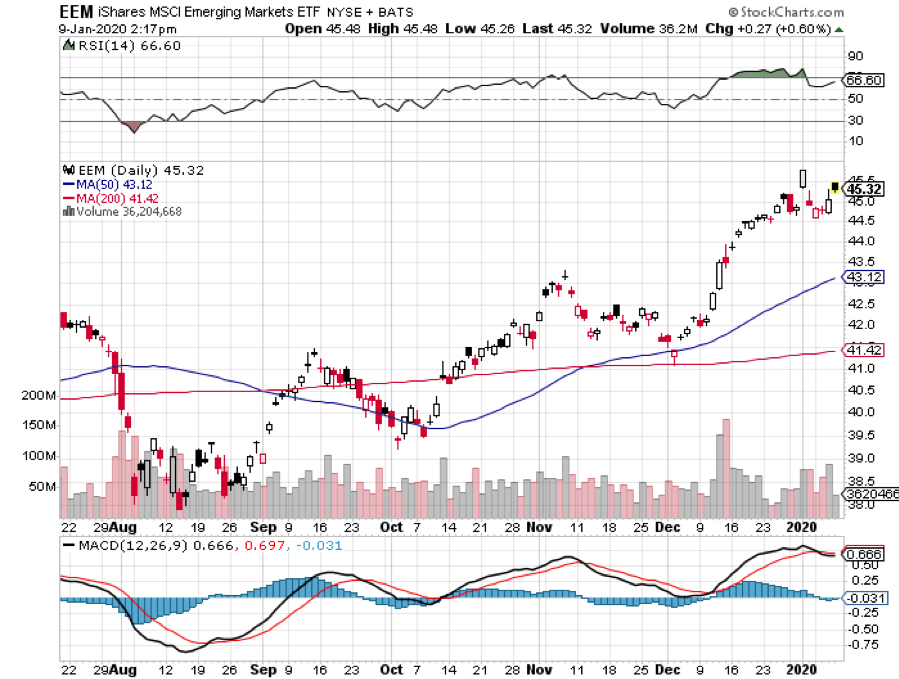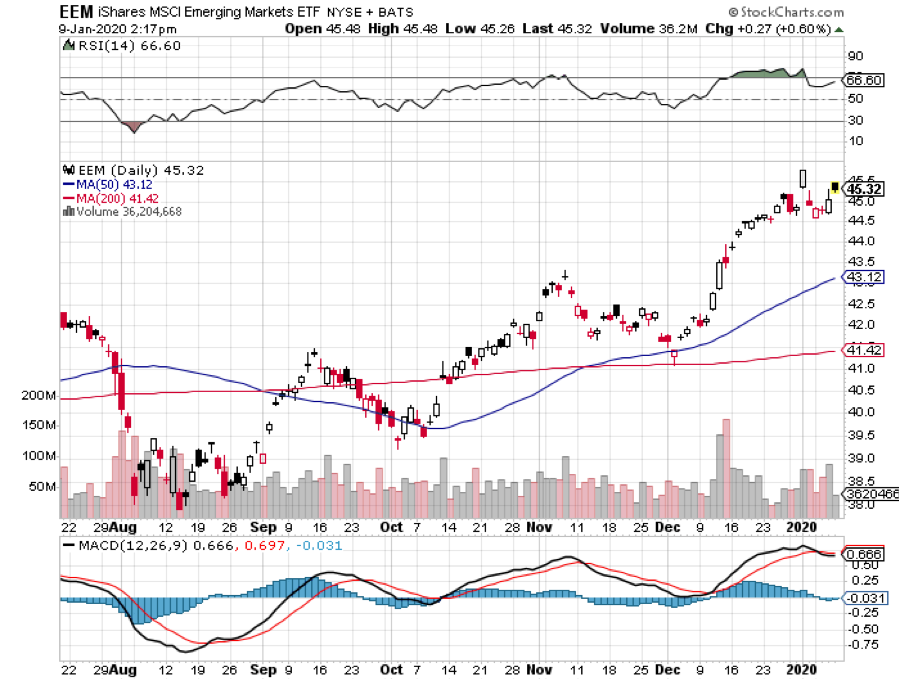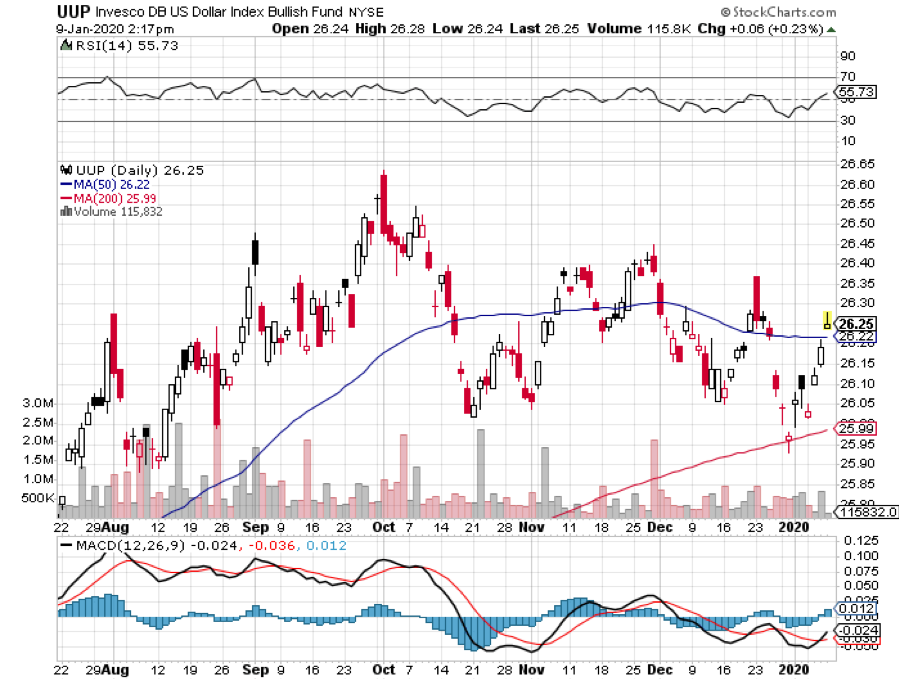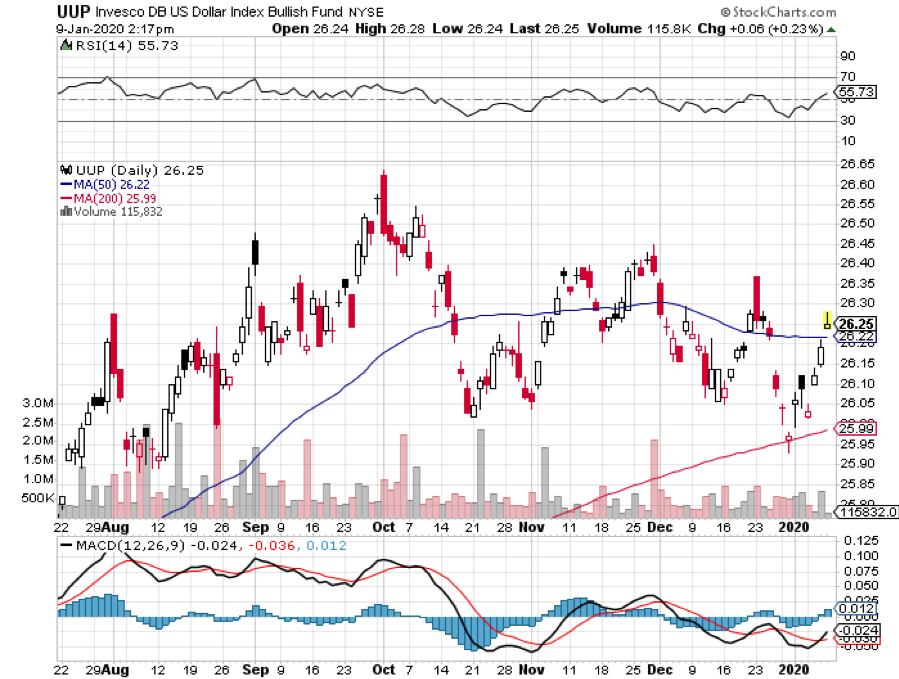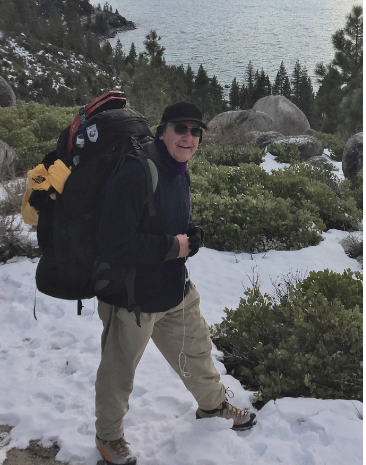 https://www.madhedgefundtrader.com/wp-content/uploads/2018/09/John-Thomas-Hiking-e1537885559217.png
465
366
Mad Hedge Fund Trader
https://madhedgefundtrader.com/wp-content/uploads/2019/05/cropped-mad-hedge-logo-transparent-192x192_f9578834168ba24df3eb53916a12c882.png
Mad Hedge Fund Trader
2020-01-10 10:02:22
2020-05-11 14:15:58
January 8 Biweekly Strategy Webinar Q&A