Global Market Comments
July 23, 2009 Featured Trades: (FCX), (COPPER), (CAT)
1) One of my favorite stocks, and one of the great ?tells? on the state of the global economy is Freeport McMoRan (FCX), the world?s largest copper and gold producer. CEO, Richard Adkerson, says it?s all about ?China, China, China?, which has been frenetically stimulating its economy with a $586 billion reflationary package, and rebuilding stockpiles of the red metal at a furious pace. The ongoing lifestyle upgrade in other emerging markets is adding to demand, as is the switch to hybrid cars in industrialized countries, which use two to three times more copper than conventional cars. Last year FCX mined 102 billion pounds of copper, 40 million ounces of gold, and 266 million ounces of silver. A doubling of copper prices since January enabled FCX to announce blowout earnings yesterday. The stock has tripled since my New Year recommendation . Did I mention that this is the number two performing stock in the S&P 500 this year? If you want a core holding that is in many right places at the right time, use dips to back up the truck for FCX.
?
2) Another great ?tell? stock for me is Caterpillar (CAT). I have never owned CAT in my life, but have always followed the company closely because it speaks volumes about the state of the world economy, and because they used to hand out those neat yellow hats at the analyst meetings.?? CEO, Jim Owens, says that only painful job cuts held the decline in earnings to 66% on a 41% fall in revenues, with the emphasis on the word ?earnings? in the most severe conditions since the thirties. The news was good enough to take the stock up a whopping 40% in a week. CAT gets 61% of its revenues from abroad. Business in Western Europe and Japan is worse than in the US, and what strength they are seeing is in Asia, with China up 8%. Large customers are seeing a resumption of credit lines, while smaller and medium sized ones are not. Owens sees a turnaround beginning in Q4, and a full scale recovery beginning next year, as the cyclicality of its major customers in construction, mining, and energy kicks in to the upside. Longer term, Owens sees CAT?s future in the ongoing infrastructure build out in the emerging markets. Hey, didn?t FCX just tell us that? Is there a trend going on here?

3) It looks like Goldman Sachs (GS) is going to leg over the Treasury once again. It is buying back the warrants it issued the Feds as part of its TARP dole out for a mere $1.1 billion, giving a 23% annualized return on the investment. Why is the government selling? Do you think GS knows something about its future earnings the government doesn?t? Could this be the greatest example of insider trading of all time? Has anyone at the Treasury considered keeping free calls on GS to maturity, as Warren Buffet is with his paper? Then they might be worth $10 billion, or even $100 billion. I know that if hedge funds could get these warrants at the same terms as the Treasury, they?d be loading the boat. Safe to say that when GS shakes your hand, you want to count all of your fingers afterward.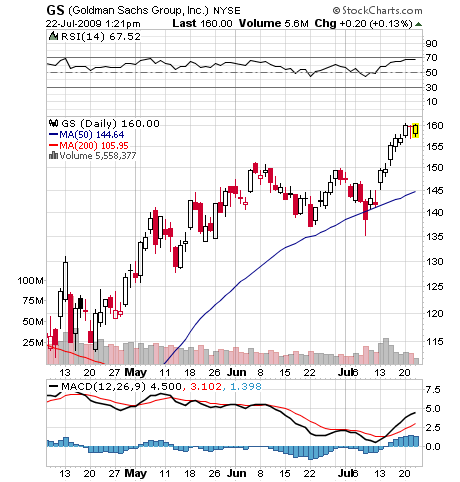 4) I have quit listening to the health care debate because there is so much false information being pumped out there. Over the past month I have been told that if you get a heart attack in England in the middle of the night, you have to wait until 9:00 am the next morning to see a doctor. I have been told that vast numbers of Canadians are flocking to the US for treatment because the lines at home are so long. I have also been told that even vaster numbers of Americans are flocking to Canada to buy cheaper drugs. Having spent 25 years living overseas and been a frequent user of the medical services there, I know from firsthand experience that all of the above are untrue. I never invest in health care anyway because the business models are so unpredictable. Better to be amused from afar. So I?ll just turn off the TV and wait to see what makes it through Congress, and then decide what to do.?? My time is better spent elsewhere.
?

QUOTE OF THE DAY
?He who lives upon hope will die fasting,? said Benjamin Franklin.

https://madhedgefundtrader.com/wp-content/uploads/2019/05/cropped-mad-hedge-logo-transparent-192x192_f9578834168ba24df3eb53916a12c882.png
0
0
DougD
https://madhedgefundtrader.com/wp-content/uploads/2019/05/cropped-mad-hedge-logo-transparent-192x192_f9578834168ba24df3eb53916a12c882.png
DougD
2009-07-23 14:34:21
2009-07-23 14:34:21
July 23, 2009