Below please find subscribers' Q&A for the Mad Hedge Fund Trader July 24 Global Strategy Webinar broadcast from Zermatt, Switzerland with my guest and co-host Bill Davis of the Mad Day Trader. Keep those questions coming!
Q: What are your thoughts on the Freeport McMoRan (FCX) long position here?
A: We could take a profit here. We probably have about 50% of the maximum potential profit, but I want to hang on and go to the max on this because we're so far in the money. Cash always has a premium ahead on any Fed interest rate decision. But long term, I think the stock could double, and with the earnings report now out of the way, we have room to run.
Q: What can you say about semiconductor stocks?
A: Long term we love them, short term they are too high to chase here. I would wait for any kind of pullback and, better yet, pull back from the other side of the next recession. We're not seeing an improvement in prices or orders so this is strictly a technical/momentum-driven trade right now.
Q: How do you play the Volatility Index (VIX)?
A: There are numerous ways you can do it; you can buy call options on the (VIX), you can buy futures on the (VIX), or you can buy the iPath Series B S&P 500 VIX Short Term Futures ETN (VXX). We are probably a week away from a nice entry point on the long side here.
Q: Does a languishing U.S. dollar mean emerging market opportunities?
A: It absolutely does. If we really start to get a serious drop in the U.S. dollar (UUP)—like 5-10%—it will be off to the races for commodities, bonds (TLT), emerging stock markets (EEM), emerging bond markets (ELD), emerging currencies (CEW), and gold (GLD). All of your weak dollar plays will be off to the races—that's why I went straight into bonds, the Aussie (FXA), and copper through Freeport McMoRan (FCX). All of these trades have been profitable.
Q: When should we sell the U.S. dollar?
A: How about now? For any kind of strength in a dollar against the (FXA), (FXE), (FXC) and (FXY), I would be buying any dips on those foreign exchange ETFs. We're about to enter a six-month - one-year period weakness on the dollar. It could be the easiest trade out there. The only one I would avoid is the British pound (FXB) because of its own special problems with Brexit. You never want to go long the currency of a country that is destroying itself, which is exactly what's happening with the pound.
Q: Should I start selling pounds?
A: It's pretty late in the pound game now. We went into Brexit with the pound at $1.65 and got all the way down to $1.20. We're a little bit above that now at $1.21. If for some reason, you get a surprise pop in the pound, say to $1.25, that's where I would sell it, but down here, no.
Q: I missed the (FCX) trade—would you get in on the next dip?
A: Yes, we may not get many dips from here because the earnings were out. Today, they were not as bad as expected, and that was keeping a lot of buyers out of the market on (FCX), so any dips you can get, go a dollar out on your strikes and then take it because this thing could double over the medium term. If the trade war with China ends, this thing could make it to the old high of $50.
Q: Is now a good time to refi my home?
A: Yes, because by the time you get the paperwork and approvals and everything else done (that'll take about 2 months), rates will likely be lower; and in any case you're looking to refi either a 7/1 ARM or a 15-year fixed, and the rates on those have already dropped quite substantially. I was offered 3.0% for a 15-year fixed loan on my home just the other day.
Q: On trades like (FCX), why not sell short the put spread?
A: It's really six of one, half dozen of the other. The profit on either one should be about the same. If it isn't, an options market maker will step in and arbitrage out the difference. That's something only an algorithm can do these days. I recommend in-the-money call spreads versus shorting sell short vertical bear put credit spreads because for beginners, in-the-money call spreads are much easier to understand.
Q: The Mueller hearings in Congress are today. Is there any potential impact on the market?
A: The market has completely detached itself from Washington—it couldn't care less about what's happening there. I don't think politics have the capacity to affect stock prices. The only possible impact was the prospect of the government shutdown in September. That seems to have been averted in the latest deal between the House and the White House.  
Q: What about Amazon (AMZN)?
A: Like the rest of technology, long term I love it, but short term it's overdue for a small correction. I'm looking for Amazon to go to $3,000 a share—it's essentially taking over the world. The antitrust threats will go absolutely nowhere; Congress doesn't even understand what these companies do, let alone know how to break them up. I wouldn't worry about it.
Q: I just received an email inviting me to buy a new Bitcoin auto trading system that is guaranteed to make me a millionaire in four months. It is being promoted by Nicole Kidman. Do you think I should try it?
A: I wouldn't touch this with a ten-foot pole. No, wait. I wouldn't touch this with a 100-foot pole! Whenever a new type of security comes out, these types of "get rich quick" investment scams come out of the woodwork. Cryptocurrency is no different. Nicole Kidman was probably paid $500,000 to make the pitch by a promotor. Or more likely, Nicole Kidman has nothing to do with these people and they just swiped her picture off the Internet. I hear about these things daily. Follow their plan and you are more likely to get completely wiped out than become a millionaire. There are NO get rich quick schemes. There are only get rich slowly strategies, such as following this newsletter. Click here to see the above-mentioned scam which you should avoid at all cost. Gee, do you think Nicole Kidman would be interested in promoting the Mad Hedge Fund Trader?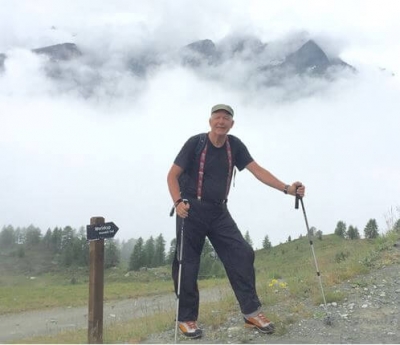 https://www.madhedgefundtrader.com/wp-content/uploads/2016/07/John-with-Hiking-Poles-e1468528643680.jpg
354
400
Mad Hedge Fund Trader
https://madhedgefundtrader.com/wp-content/uploads/2019/05/cropped-mad-hedge-logo-transparent-192x192_f9578834168ba24df3eb53916a12c882.png
Mad Hedge Fund Trader
2019-07-26 08:04:04
2019-07-26 08:59:41
July 24 Biweekly Strategy Webinar Q&A