Last Thursday,?Trade Alert?followers saw?Mad Day Trader?Jim Parker and I both jump into Apple (AAPL) on the long side, once again. When two old critters with a combined 85 years of trading experience, such as ourselves, agree on something, it is usually a pretty good idea.
We were both responding to a rare $3, or 3.1% dip in the share price of Apple in response to the financial crisis du jour emanating from Europe?thanks to Portugal?s Banco Espiritu Santo.
Of course, Apple has nothing to do with the Portuguese financial system, except to the extent that they have to recycle all the profits from the many iPhones they sell in the country. It didn?t take traders long to figure this out, running (AAPL) shares right back up to unchanged on the day.
Jim already has issued a second?Trade Alert?to take profits?such is the short-term nature of his strategy. I, however, am looking to hold on longer, possibly as far out as September.
That is when the next generation iPhone 6 will almost certainly make its debut. A similar launch two years ago marked a multiyear high in the stock.
Rumors about Apple products have grown into a full-scale cottage industry of its own over the decades. Sometimes these speculations come true, and with the shares in play, it is worthwhile to explore a few of these.
The big one is that some hedge funds and/or business publications have bribed underpaid workers at China?s Foxconn, the principal manufacturers of the world?s most popular smart phone, to reveal that they have an order to supply a stunning 68 million units by the end of the year.
This is more than double the initial order for the iPhone 5s. Foxconn, a company famed for working its people to death, is hiring a stunning 100,000 new workers to meet the gargantuan order. Confirmation has been found all the way down the supply line among OEM parts manufacturers.
One possible explanation for the massive ramp up in numbers is that Apple may offer two versions of the iPhone 6, one with a 4.7-inch screen, and a second premium model with a much more generous 5.5-inch screen. The company did much the same last year, when it brought out both the iPhone 5s and the 5c. Higher prices and profit margins are predicted for both products.
The move is in no doubt in response to the emerging ?phablet? market, or the convergence of the smart phone and the tablet. Google?s Android and Samsung?s Galaxy are already well down the road on this front.
This is in response to the runaway growth of Apple?s market share in China, where larger screens are needed to read Chinese characters. It also may be an attempt to capture more of the baby boomer market here in the US, where aging (but big spending) eyes require larger letters and images.
As for me, I can only use my iPhone 5s with reading glasses.
All of this explains why Apple has been on an absolute tear for the past year, rising some 78%. It is the world?s largest company once again, with a market capitalization at an eye popping $574 billion. Exxon (XOM), eat your heart out.
Brokers upgrades of the company are now nearly a daily occurrence. It has also been a major component of NASDAQ?s recent blistering gains, which account for more than 20% of the tech heavy index.
Unfortunately, I have seen this movie before, in 2012, when the iPhone 5 first came out. Which is why I?m only hanging on until September.
I was never one of the many Apple naysayers. I think CEO Tim Cook has done a great job transitioning the firm from the sway of the late founder, Steve Jobs. I think the shares will one day see $150, if not $200.
But given the history, when shares plunged 45% after the last major product launch, and the temptation to take sizeable profits in an otherwise morose market, caution is called for.
Reweighting of investment funds with major Apple holdings, which will have to unload stock to avoid going too overweight in their annual report, will be a further drag on the stock going into yearend.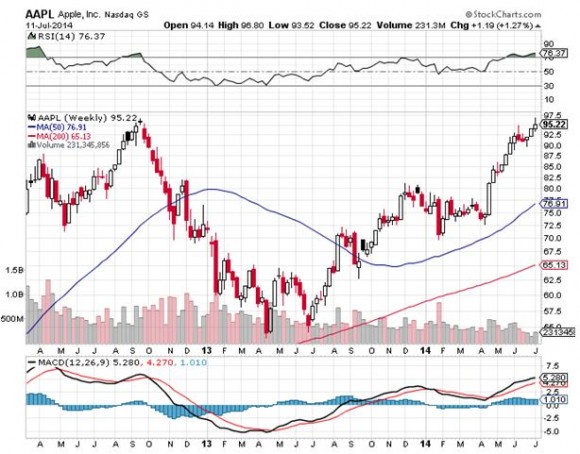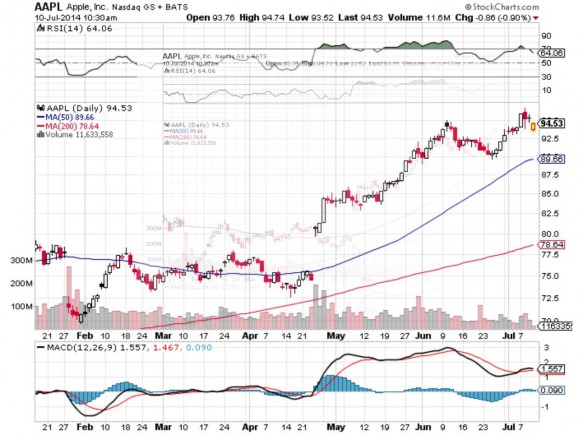 I Hear They?re About to Upgrade?
?And Diversify
https://www.madhedgefundtrader.com/wp-content/uploads/2014/06/Apple-Trucking.jpg
239
321
Mad Hedge Fund Trader
https://www.madhedgefundtrader.com/wp-content/uploads/2019/05/cropped-mad-hedge-logo-transparent-192x192_f9578834168ba24df3eb53916a12c882.png
Mad Hedge Fund Trader
2014-07-15 01:04:21
2014-07-15 01:04:21
Jumping Back Into Apple