What does the technology sector's "last gasp up" mean for tech stocks?
At the Mad Hedge Lake Tahoe Conference in late October, I correctly identified that the tech sector would experience a last leg to the price appreciation that has been part of a broader 10-year bull market in American equities.
The past 7 weeks have been nothing short of spectacular for tech shares as not only have the heavy hitters delivered in spades, like Apple (AAPL) and Microsoft (MSFT), but tech growth shares have been released from the penalty box after a short-dated growth scare and joined the rally with zeal.
How long will the "last gasp up" last?
The bar was set exceptionally low in 2019 because senior management spun the trade war acrimony into the accounting calculus effectively offering CFOs a chance to lower expectations to the point of getting away with murder.
Even with earnings' expectations reset at nadir data points, performance was a mixed bag.
Superior tech companies were able to jump over the pitiful expectations, then if that wasn't enough, they pushed backwards any inklings of earnings growth by guiding as low as they possibly could.
An archetypal example is Palo Alto Networks (PANW) whose shares dipped more than 8.5% in pre-market trading after issuing their quarterly earnings report.
The company announced sales of $771.9 million with an adjusted EPS of $1.05 topping analysts' estimates.
Why did shares sully?
Palo Alto Networks tanked guidance by telling investors they expect sales between $838 million and $848 million in the second quarter.
The expectation represented a midpoint sales forecast of $843 million, which is lower than the consensus estimates of $845.12 million.
The adjusted EPS in the second quarter is estimated to be $1.11–$1.13, below the consensus earnings forecast of $1.30.
Palo Alto Networks is forecasting sales between $3.44 billion and $3.46 billion with an EPS between $4.9 and $5.0 for next year, compared to analyst projections of $3.46 billion in revenue and an EPS of $5.07 in 2020.
PANW accounts for a big piece of the pie in the cybersecurity trade comprising 16.2% in 2019.
Overall industry growth is strong at 10.4%, and PANW managed to increase its sales by 22.3% to $633.7 million.
This cybersecurity company is one of my favorite tech stalwarts and is as rock-solid as they come for a second-tier tech growth company.
Another trend that dovetails closely with the last gasp up thesis is buying growth.
At this stage in the tech cycle, the low hanging fruit has been plucked and tech companies are increasingly finding it hard to generate organic growth.
Companies are now resorting to inorganic growth with Palo Alto Networks announcing that it will acquire Aporeto for $150 million in an all-cash transaction.
This isn't just a one-off for PANW, they have acquired four other companies in 2019 to plug into their growth puzzle.
They have also completed the acquisition of an IoT cybersecurity firm Zingbox.
Palo Alto Networks acquired two cloud security startups in July as well - Demisto to gain traction in the AI security segment and Twistlock, the leader in container security.
The other top players in this field are Cisco (CSCO), Fortinet (FTNT) and Symantec (SYMC).
The bullish secular trend in cybersecurity is watertight and comments from Nikesh Arora, CEO of Palo Alto Networks, only reconfirmed the strength in cybersecurity when he said, "As a growing number of organizations move their business to the cloud, developers increasingly rely on cloud-native technologies such as containers and serverless infrastructure to accelerate the development, testing, and deployment of modern applications and services."
What's next for investors?
Barring any exogenous shocks, the last gasp up continues and recent macro policy developments have supported this hypothesis as well as the tailwinds of an improving economy.
Palo Alto Networks is part of a high growth segment and many corporates are on record contemplating lower enterprise tech spending heading into 2020.
This sets up another incredibly low bar for cybersecurity companies to hop over next year and I believe the best in show such as PANW, Fortinet, Cisco, and Symantec will pass with flying colors.
The interesting acid test will occur at the end of 2020 when tech firms and sub-segments of tech such, as cybersecurity, release commentary on whether 2021 guidance could signal ensuing risk of being dragged into recessionary turbulence.
A 2021 tech sector recession is certainly not priced into current tech share valuations in this frothy period of asset appreciation.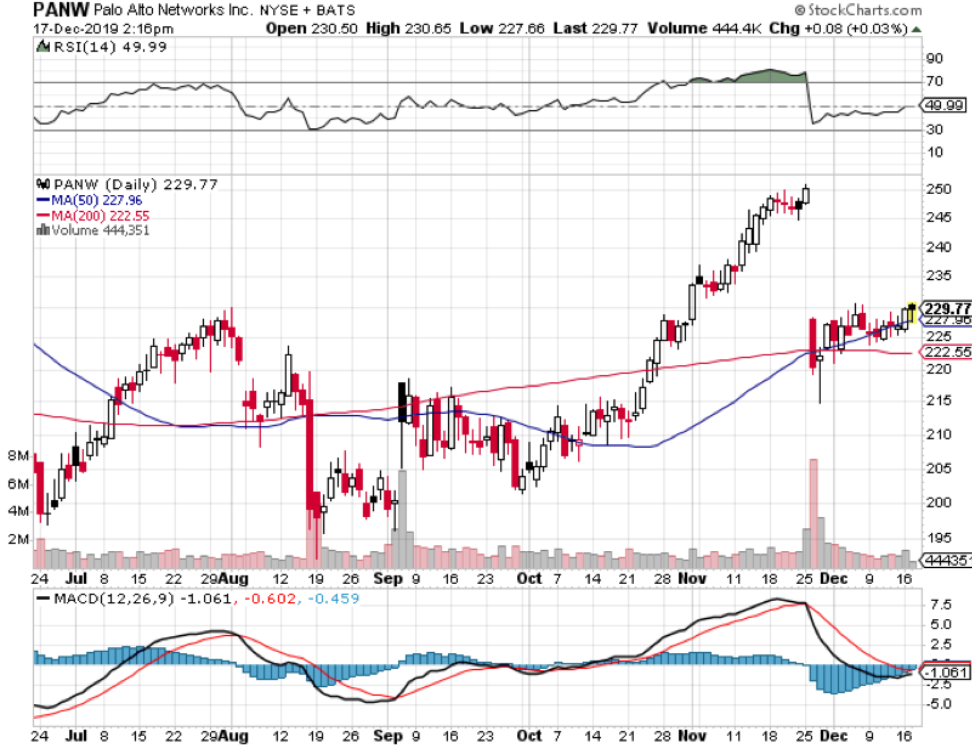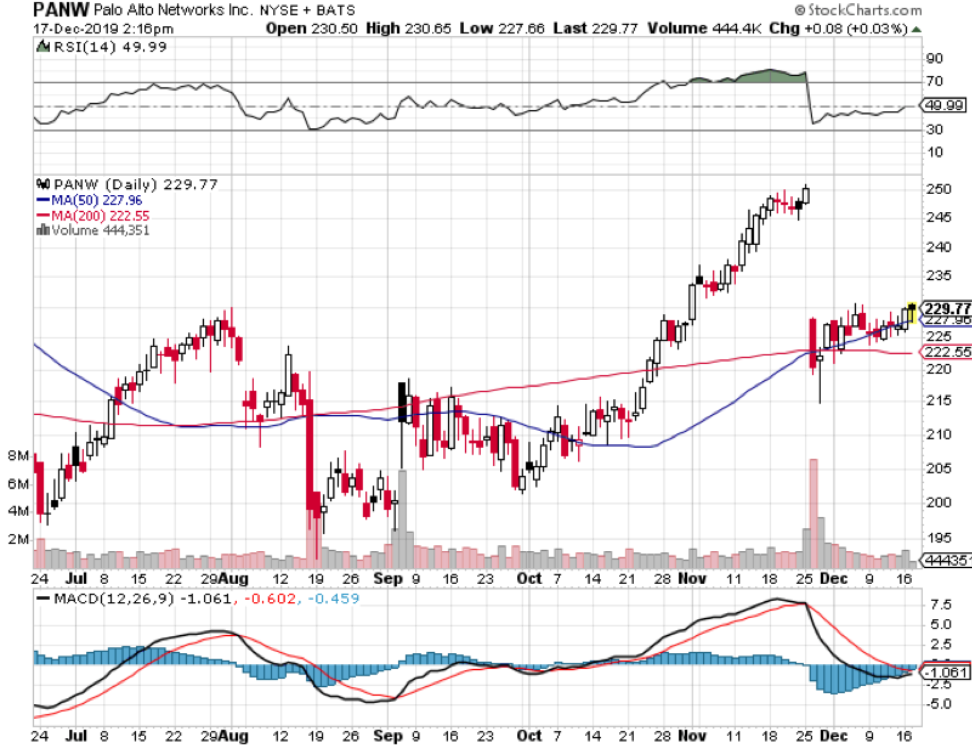 https://madhedgefundtrader.com/wp-content/uploads/2019/05/cropped-mad-hedge-logo-transparent-192x192_f9578834168ba24df3eb53916a12c882.png
0
0
Mad Hedge Fund Trader
https://madhedgefundtrader.com/wp-content/uploads/2019/05/cropped-mad-hedge-logo-transparent-192x192_f9578834168ba24df3eb53916a12c882.png
Mad Hedge Fund Trader
2019-12-18 04:02:40
2020-05-11 13:03:56
Cyber Security is Still a Buy