Google?s earnings were terrible. Therefore, the stock is rocketing.
The fact that the earnings were not as bad as they could have been seems to be the twisted logic behind this rally.
You would think I have a hole in my head buying a stock that just got slapped with a massive antitrust suit in Europe, which could potentially result in a record $6 billion fine, and suffers from plunging profits.
Clearly, Europe suffers from a ?Not invented here? syndrome.
However, it is safe to say that these negatives are now in the price. Anti trust suits take decades to resolve, and always end with an out of court settlement agreeable to all when they are of this size. Remember IBM and Microsoft?
Traffic at Google actually rose, but the company suffered a hit from the weak Euro, as did most other multinationals. That is largely behind us (see the Friday letter about the tag ends of the Euro collapse).
But margins are stabilizing, and the erosion seen in previous quarters now appears to be a thing of the past.
What you will hear next is about how much revenue from Google?s mobile ads search is exploding. Profits from YouTube are also building, and is no longer the drag it once was.
Knock out their revenues, and the cost per click realized at Google is actually rising. These are all good things.
Investors are so desperate to find a laggard quality stock in a toppy market with decent future growth prospects that they are willing to give my next door neighbor, the Internet search giant, the benefit of the doubt.
There has been such an influx of money into ?safe? dividend paying, bond proxy stocks that companies which sell toilet paper now trade at 25X earnings, while growing technology stocks are valued at a sub market 15X earnings.
In that looking glass world, you always buy the technology stocks.
It?s either this, or buy more Apple (AAPL), which announces earnings on Monday. But you are probably already up to the gills with Steve Jobs? creation, that is if you have been reading the Mad Hedge Fund Trader?s research.
At the very least, (GOOG) shares have to play catch up with (AAPL), which is coming off its own torrid year.
This means that the shares have rock solid support at $520, and that the Google (GOOG) May, 2015 $520-$540 deep in-the-money vertical call spread makes all the sense in the world.
You can pay all the way up to $18.50 for this spread and it still makes sense, as the expiration is in a short 15 trading days.
If you can?t do the options, then buy the sock. It is headed north of $600 a share soon.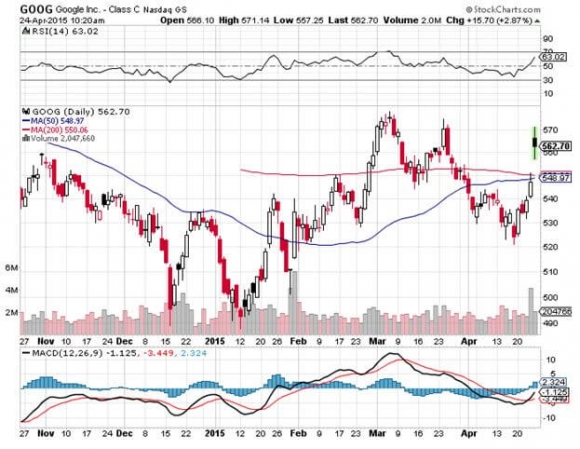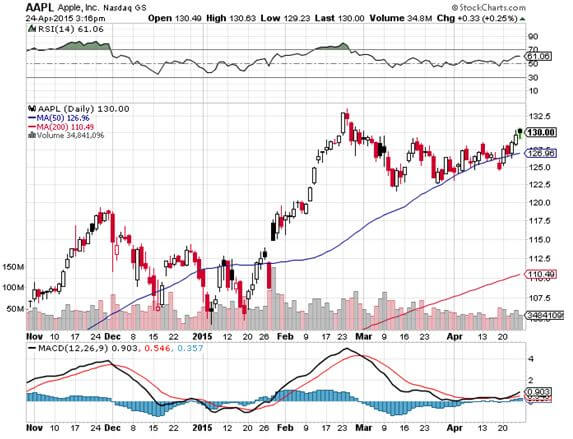 https://www.madhedgefundtrader.com/wp-content/uploads/2015/04/Google-e1429886800185.jpg
136
400
Mad Hedge Fund Trader
https://madhedgefundtrader.com/wp-content/uploads/2019/05/cropped-mad-hedge-logo-transparent-192x192_f9578834168ba24df3eb53916a12c882.png
Mad Hedge Fund Trader
2015-04-27 01:04:51
2015-04-27 01:04:51
Jumping Back Into Google