I remember that the highlight of my 1968 trip to Europe was always my visit to the nearest American Express (AXP) office to pick up my mail.
In those pre Internet and email days, it was the only way that a fresh faced 16 year old could stay in touch with a hand wringing family while traveling around the world.
They just wrote ?John Thomas, c/o American Express, Paris, France,? and the letters never failed to get through to me.
It was also a great place to meet other vagabonding Americans my age–of the female persuasion. At least they spoke English. Almost.
That was a very long time ago.
So I got to know well the American Express locations off the Spanish Steps in Rome, Saint Mark?s Square in Venice, Berlin?s Kurfurstendamm, and the Champs-Elysees in Paris.
I have a feeling that American Express is about to give me a warm and fuzzy feeling once again.
After being taken out to the woodshed and getting beaten senseless in the wake of getting fired by Costco, one of the biggest customers, the shares appear poised for a comeback.
We have a rare occasion where the highest quality stock in a sector with the best business model is selling cheaper than its cohorts for a series of temporary reasons.
Take a look at the charts for (AXP) and Visa (V) below, and one of the greatest pairs trades of all time may be setting up, whereby you want to buy for the former and sell short the latter against it.
At the very least, you should be taking your monster profits on Visa and rolling the money into American Express.
Since its inception in 1958, that flashy green (or platinum) piece of plastic has long been a status symbol, and owned the premium end of the credit card market.
As a result, it earns more fees and extends fewer loans than its competitors. The loans it does have enjoy a far lower default rate. There are now 107 million Amex cards in circulation, compared to only 55 million in 2001. Thank you 1%!
American Express cardholders run balances three times larger than the average Master Card holder. That?s what happens when you buy a Ferrari on your Amex card, as I once did (to get the frequent flier points).
Merchants pay very high fees, usually 5% of the purchase. That?s why many shun the card. (AXP) is currently running a credit card balance of $940 billion, versus $3.1 trillion for Visa (V).
Fees accounted for an impressive 57% of the company?s revenues, a far higher ratio than other credit card companies. Better yet, (AXP)?s fees are rising, while those of others are falling. Interest on balances brings in 15% and cardholder fees 8%.
(AXP) is expected to earn $5.8 billion in net income on $33.9 billion in revenues this year, up 9.4%. With the US economy recovering, growing by 2.6% this year and 3.0% plus in 2015, the company is in the sweet spot for capturing more profits.
Morgan Stanley estimates that cardholder spending grows at 4.5 times the US GDP growth rate. That should cause (AXP)?s earnings to double, and the stock as well. An extra tailwind will be the company?s new strategy of moving down market to expand market share.
Despite all this good news, (AXP) shares are selling at a 13.4X multiple, a discount to its industry (21X), and the main market (18X). An ambitious share buy back program should put a floor under the stock.
Part of the discount can be explained by a Justice Department suit claiming that the company overcharges merchants. Amex correctly argues that, as the smallest of the major credit card companies, it has nowhere near monopoly pricing power.
It will be interesting to see how aggressively the government pursues its action, now that attorney general Eric Holder, has moved on to retirement.
You all know by now that I think financials are the place to be for years going forward because of imminently rising interest rates. But I?ll hold back on pulling the trigger on single name long side stocks plays until the carnage in the markets abate.
When I?m ready to shoot out a Trade Alert, you?ll be the first to know.
When I do, don't even think about putting it on your credit card.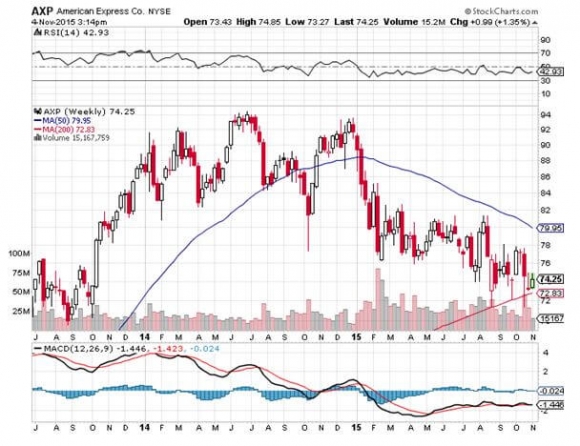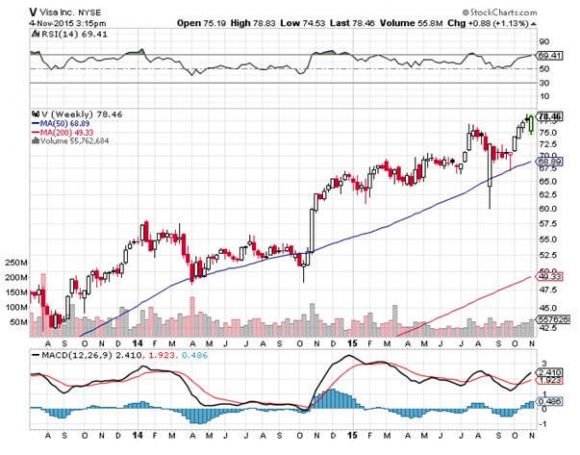 Just Stopping By to Pick Up the Mail
https://www.madhedgefundtrader.com/wp-content/uploads/2014/10/John-Thomas-16-yrs-old.jpg
349
348
Mad Hedge Fund Trader
https://www.madhedgefundtrader.com/wp-content/uploads/2019/05/cropped-mad-hedge-logo-transparent-192x192_f9578834168ba24df3eb53916a12c882.png
Mad Hedge Fund Trader
2015-11-05 01:06:30
2015-11-05 01:06:30
Keep American Express on Your Short List