Being the armchair historian that I am, I sense that I have just been through D-Day, the Battle of the Bulge, and Dien Bien Phu.
That is what its felt like trading these violent markets for the past month. After snoring for eight months, volatility came back with a vengeance.
They're now running the movie on fast forward.
So it has been a little more than a month since the performance of The Mad Hedge Fund Trader's Trade Alert Service has hit a new all time high.
Yet, despite some non-fatal battle injuries, and plenty of scars, and now wiser from the trying experience, here we are.
They say in the Marine Corps. that whatever doesn't kill you makes you stronger.
Semper Fi.
So true, so true.
I have been using every short-term rally to strap on short positions in the S&P 500 (SPY) through risk limiting vertical bear put option spreads. Those who couldn't trade options bought the ProShares Ultra Short S&P 500 (SDS) instead.
I have completed seven round trips using this approach so far.
That's not all I have been doing.
I have also been using every horrific melt down to play from the long side, buying deep out-of-the-money vertical bull call spreads in the (SPY). Every one was profitable.
I then got aggressive and snapped up a vertical bull call spread in Home Depot (HD), one of the top performing companies in the healthy home building sector this year. No big international exposure or dollar sensitivity to worry about here.
After holding this baby for only a day, I was able to snap up a quickie 6.2% profit.
The fruit of these labors was to take the Mad Hedge Fund Trader's profit for 2015 up to a new all time high at 38.95%.
September so far has been as hot at the Sahara Desert that I recently escaped, up a blistering 6.72%, making it the second best month of the year.
This brings my performance since inception four years and eight months ago to 191.76%. That annualizes out to 40.58% per year, not bad in this upside down, zero return world.
It seems like only a Madman can prosper in these hopeless trading conditions.
The last nine consecutive Trade Alerts I issued since have been profitable, most instantly.
Followers have found themselves in the green during every month of 2015, except during August, when the flash crash ending up costing me 0.90%. That is a modest lost most traders would have given their right arm for.
It has been a near perfect year.
I started out 2015 with the goal of earning 25% for my readers during the first half, and another 25% in the second half. This latest batch of trades puts me right on track for reaching my yearend goal.
Given the weird dynamic of this market, the shares of best quality names have had the biggest falls. That means the pickings will be especially ripe when I return to single name picks at the next market bottom.
Under promise and over deliver; it has always been a winning business strategy for me.
This is against a backdrop of major market indexes that are all down so far this year, despite sudden bursts of volatility and long, Sahara like stretches of boredom.
The key to winning this year has been to put the pedal to the mettle during those brief, but hair raising selloffs, and then take quick profits.
They don't call me "Mad" for nothing.
When the market is dead, you sit on your hands.
After all, you are trying to pay for your own yacht, not your broker's.
When the market pays you to stay away, you stay away in droves.
Those who have made the effort to wake up early every morning and read my witty and incisive prose have an impressive row of notches on their bedpost to show for their effort.
My groundbreaking trade mentoring service was first launched in 2010. Thousands of followers now earn a full time living solely from my Trade Alerts, a development of which I am immensely proud.
Some 50% of my clients are over 50 and managing their own retirement funds fleeing the shoddy but expensive services provided by Wall Street. The balance is institutional investors, hedge funds, and professional financial advisors.
The Mad Hedge Fund Trader seeks to level the playing field for the average Joe. Looking at the testimonials that come in every day, I'd say we've accomplished that goal.
Quite a few followers were able to move fast enough to cash in on my trading recommendations. To read the plaudits yourself, please go to my testimonials page by clicking here. Our business is booming, so I am plowing profits back in to enhance our added value for you.
Global Trading Dispatch, my highly innovative and successful trade-mentoring program, earned a net return for readers of 40.17% in 2011, 14.87% in 2012, 67.45% in 2013, and 30.3% in 2014.
Our flagship product, Mad Hedge Fund Trader Pro, costs $4,500 a year. It includes Global Trading Dispatch (my trade alert service and daily newsletter).
You get a real-time trading portfolio, an enormous research database, and live biweekly strategy webinars. You also get Bil Davis' Mad Day Trader service.
To subscribe, please go to my website at www.madhedgefundtrader.com, click on the "Memberships" located on the second row of tabs.
And now for the rest of the year.
I can't wait!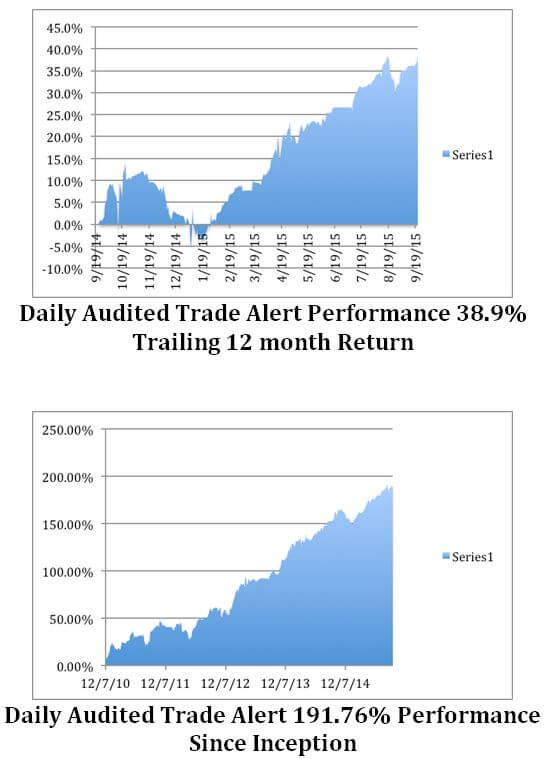 Off to Find the Next Great Trade