Featured Trades: (LAS VEGAS CITY CENTER)
4) A Poolside Report from City Center. I write this to you from my poolside cabana at the Aria at City Center, the newest and hottest hotel in Las Vegas, against a background of blaring rock music and helicopters buzzing overhead every five minutes. It's amazing what passes for a swim suit these days, and some of the tattoos I saw were nothing less than shocking.
I'm here because at a throw away rate of $120/night for a room that is worth at least $500, and discount fares offered by the airlines, it is cheaper to spend a weekend in Sin City than it is to stay home. Hotel flacks glibly tell reporters that with an 80% occupancy rate, they are near profitability. But staff tell me those numbers are achieved only because 20% of those rooms have been mothballed and taken off the market.
The glitzy, ultra-modern, Cesar Pelli designed, 16.8 million square foot, 63 acre complex occupies a quarter mile on the city's fabled Strip between the Bellagio and the Monte Carlo Hotels, and will unquestionably become one of the hedonist Wonders of the World. It includes the Mandarin Oriental, Aria, Veer, Vdara, and Harmon Hotels, offering 4,000 rooms and 2,600 condos. They will be adorned by two casinos, a convention center, a new theater for an Elvis themed Cirque du Soleil show, and parking for 6,900.
I wandered in amazement though the gargantuan 'Crystal' shopping mall, where half of the retail space was boarded up in the most tasteful way possible, and marquee luxury names like Fendi, Ermenegildo Zegna, Tiffany, and Louis Vuitton were manned by elegantly dressed and earnest staff, but bereft of a single customer. Despite hiring 12,000 since opening in December, service at the Aria is still glacially slow. My inside guy in Vegas, a blackjack dealer at Caesar's, tells me this is because it is an all-union house. The city is also rife with rumors that the oddly titling Harmon will have to be torn down and rebuilt due to construction flaws.
I spent my free time looking at condos that were initially offered at $600,000, but now could be had for $200,000. To see them, I had to drive through 'ghost suburbs', blighted with dusty, abandoned strip malls and tumbleweed blown office parks that might have been a scene out of a Twilight Zone episode.
Still, how can you hate Vegas? The French toast at hotel Paris, France was to die for, and my masseuse at the Aria, Monique, is clearly God's gift to mankind.
You really have to wonder what MGM-Mirage's Kirk Kerkorian, Dubai World, and their long suffering lenders were thinking when they ponied up $8.5 billion for this venture. Excess is in abundant over supply here, and they clearly thought the good times would go on forever. Instead, they created the worst commercial real estate disasters in human history.
Thanks for the great weekend, Kirk!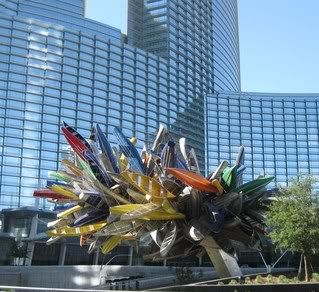 –