Below please find subscribers' Q&A for the Mad Hedge Fund Trader March 25 Global Strategy Webinar broadcast from Silicon Valley, CA with my guest and co-host Bill Davis of the Mad Day Trader. Keep those questions coming!
Q: Since we flipped the off button on the economy, I don't see how we can simply flip the on button and have a V-shaped recovery. It seems much more unlikely that it will get back to pre-recession levels.
A: Actually, all we really need is confidence. Confident people can go outside and not get sick. Once we start seeing a dramatic decline in the number of new cases, the shelter-in-place orders may be cancelled, and we can go outside and go back to work. It's really that simple. So, we will get an initial V-shaped recovery probably in the third quarter, and after that, it will be a slower return spread over several quarters to get back to normal. Everybody wants to get back to normal and let's face it, there's an enormous amount of deferred consumption going on. I have hardly spent any money myself other than what I've spent online. All of those purchases get deferred, so in the recovery, there's going to be a massive binge of entertainment, shopping, and travel that is all being pent up now—that will get unleashed once the airlines start flying again and the shelter-in-place orders are cancelled. We're not losing so much of this growth, we're just deferring it. Obviously, some of the growth is gone permanently; you can forget about any kind of vacation in the next couple of months. I would say, the great majority of consumption in the US—and thus growth and thus stock appreciation—is just being deferred, not cancelled outright. 
Q: Other than the ProShares Ultra Technology ETF (ROM), do you have any other leveraged sectors coming into the recovery?
A: There is a 50/50 chance the Roaring 20s started 2 days ago, on Monday, March 23 at the afternoon lows. We may go back and test those lows one more time, which at this point is 3,700 points below here, but we are clocking 1,000 points a day. It doesn't take much, like a bad non-farm payroll number, to go back and test those lows. The good news is out; they're not going to spend any more money other than the $10 trillion they're putting in now.
Q: Would you buy Boeing (BA) here? Is this the bottom?
A: The bottom was at $94 on Monday; we went up 100% in three days and now we're at $180. Incredible moves, and a total lack of liquidity. One reason I haven't added any positions lately is that they have closed the New Yok Stock Exchange floor and its not clear that of I send out a trade alert, it could get done. We have gone totally online, so I just want to see what happens as a result of that. I don't want to be putting out trade alerts that no one can get in or out of, heaven forbid.
Q: What do you mean by "The spike to $80 in the Volatility Index (VIX) was totally artificial?"
A: When you have a series of cascading shorts triggered by margin calls, that is artificial. I have seen this happen many times before, both on the upside and the downside. This happened twice in the (VIX) in the last two years. When you go from a (VIX) of $25 to $80 and back down to $39 in days, which is what we did, you know it was a one-time-only spike and we are not going to visit the $80 level again— at least not until the next financial crisis because those positions are gone and are never coming back. A (VIX) of $80 means we are going to have 1,000 point move in the Dow Average for the next 30 days.
Q: I bought some ProShares Ultra Pro ETF (UPRO) which is the 3x long the S&P 500 at $1,829. Do I take profits by selling calls or just hold longer?
A: I would just sell the whole position outright. The (UPRO) is so incredibly volatile that you are rewarded heavily for just coming out completely and then reopening fresh positions on these big meltdown days. We will probably be doing trade alerts on (UPRO) or its cousin, the 2x long ProShares Ultra S&P 500 (SSO) sometime in the near future.
Q: With 2-year LEAPs, would you go at the money or out of the money?
A: This is the golden opportunity to go way out of the money because the return goes from 100% to 500%, or even 1000% if you go, say, 30%-50% out of the money. A lot of these stocks are ripe for very quick 30% bouncebacks, especially the (ROM). So yes, you want to do out of the money 20% to 30%. It will easily recover those losses in weeks if you are picking the right stocks. Over a two-year view, a lot of these big tech stocks could double by the time your LEAP expires, and then you will get the full profit. The rule of thumb is: the farther out of the money you go, the bigger the profit is. But I wouldn't go for more than a 1000% profit in 2 years; you don't want to get greedy, after all.
Q: You called the Dow to hit 15,000. Is that still possible? We got down to the 18 handle.
A: Yes, if the coronavirus data gets worse, which is certain, we could get another panic selloff. How will the market handle 100,000 US deaths, given the exponential rise in cases we are seeing? With cases doubling every three days that is entirely within range. So, I would say, there is a 50% chance we hit the bottom on Monday at 18,000, and 50% chance we go lower.
Q: Do you know anything about the coronavirus stocks like Regeneron (REGN)?
A: Actually, I do, it's covered by the Mad Hedge Biotech & Health Care Letter, click here for the link. If you get the Biotech Letter, you already know all about stocks like Regeneron. Regeneron literally has hundreds of drugs in testing right now to work as vaccines or antivirals, and some of them, like their arthritis drug, have already been proven to work. So, we just have to get through the accelerated trials and testing to unleash it on the market. But for anybody who has a drug, it's going to take a year to mass-produce enough to inoculate the entire country, let alone the world. So, don't make any big bets on getting a vaccine any time soon—it's a very long process. Even in normal times, some of these drugs take months to manufacture.
Q: Are there any ventilator stocks out there?
A: There are; a company called Medtronic (MDT), which the Mad Hedge Biotech & Healthcare Letter also covers. They are the largest ventilator company in the US. Their normal production is 100 machines a week. Now, they are increasing that to 500 a week as fast as they can, but it isn't enough. We need about 100,000 ventilators. China is now selling ventilators to the US. Elon Musk from Tesla (TSLA) just bought 1,000 ventilators in China and had them shipped over to San Francisco at his own expense, and Virgin Atlantic just flew over a 747 full of ventilators and masks and other medical supplies from China. So yes, there are stocks out there to play these things, they have already had large moves. We liked them anyway, even before the pandemic, so those calls were quite good. And China thinks their epidemic is over, so they are happy to sell us all the medical supplies they can make.
Q: Why did 30-year mortgage rates just go up instead of down? I thought the Fed rate cuts were supposed to take them down; am I missing something?
A: In order to get 30-year mortgage rates down, you have to have buyers of 30-year loans, and right now there are buyers of nothing. The lending that is happening is from banks lending their own money, which is only a tiny percentage of the total loan market. When the Fed moves into the mortgage market, you will see those yields move to the 2% range. The other problem is how to get a loan if all the banks are closed. They are running skeletal staff now, and you can't close on real estate deals because all the notaries and title offices are closed; so essentially the real estate industry is going to shut down right now and hopefully, we'll finish that in a month.
Q: Do you think Uber (UBER) and Lyft (LYFT) will go bankrupt?
A: It is a possibility because one to one human contact inside a car is about the last situation you want to be in during a pandemic. Their traffic was down 25% according to a number I saw. It's very heavily leveraged, very heavily indebted, and those are the companies that don't survive long in this kind of crisis. So, I would say there is a chance they will go under. I never liked these companies anyway; they are under regulatory assault by everybody, depend on non-union drivers working for $5 an hour, and there are just too many other better things to do.
Q: Is this the end of corporate buybacks?
A: To some extent, yes. A future Congress may make it either illegal or highly tax corporate buybacks, in some fashion or another because twice in 12 years now, we have had companies load up on buying back their own stock, boosting CEO compensation to the hundreds of millions—if not billions—and then going broke and asking for government bailouts. Something will be done to address that. If you take buybacks out of the market (the last 10,000-point gain in the Dow were essentially all corporate buybacks), we may not see a 20X earnings multiple again for another generation. Individuals were net sellers of stock for those two years. We only reached those extreme highs because of buybacks, so you take those out of the equation and it's going to get a lot harder to get back to the super inflated share prices like we had in January.
Q: How long before an Italian bank collapses, and will they need a bailout?
A: I don't think they will get a collapse; I think they will be bailed out inside Italy and won't need all of Europe to do this. But the focus isn't on Europe right now, it's on the US.
 Q: Do you think this virus is really subsiding in China based on their past history of dishonest reporting?
A: Yes, that is a risk, and that's why people aren't betting the ranch right now—just because China is reporting a flattening of cases. And China could be hit with a second wave if they relax their quarantine too soon.
Q: What's your opinion on how the Fed is doing and Steve Mnuchin in this crisis?
A: I think the Fed is doing everything they possibly can. I agree with all of their moves—this is an all-hands-on-deck moment where you have to do everything you can to get the economy going. Notice it's Steve Mnuchin doing all the negotiating, not the president, because nobody will talk to him. For a start, he may be a Corona carrier among other things, and you're not seeing a lot of social distancing in these press conferences they are holding. About which 50% of the information they give out is incorrect, and that's the 50% coming from Donald Trump.
Q: What do you think about no debt and no pension liability?
A: That's why Tech has been leading the upside for the last 10 years and will lead for the next 10. You can really narrow the market down to a dozen stocks and just focus on those and forget about everything else. They have no net debt or net pension fund liabilities.
Q: Why have we not heard from Warren Buffet?
A: I'm sure negotiations are going on all over the place regarding obtaining massive stakes in large trophy companies that he likes, such as airlines and banks. So that will be one of the market bottom indicators that I mentioned a couple of days ago in my letter on "Ten Signs of a Market is Bottoming."
Q: What's the outlook for gold?
A: Up. We just had to get the financial crisis element out of this before we could go back into gold, so I would be looking to buy SPDR Gold Shares ETF (GLD), the gold miners like Barrick Gold (GOLD) and Newmont Mining (NEM), the Van Eck Vectors Gold Miners ETF (GDX), and the 2X long ProShares Gold ETF (UGL).
Q: Does the Fed backstop give you any confidence in the bond market?
A: Yes, it does. I think we finally may be getting to the natural level of the market, which is around an 80-basis point yield. Let's see how long we can go without any 50-point gyrations.
Q: Do you foresee a depression?
A: We are in a depression now. We could hit a 20% unemployment rate. The worst we saw during the Great Depression was 25%. But it will be a very short and sharp one, not a 12-year slog like we saw during the 1930s.
Good Luck and Good Trading and stay healthy.
John Thomas
CEO & Publisher
The Diary of a Mad Hedge Fund Trader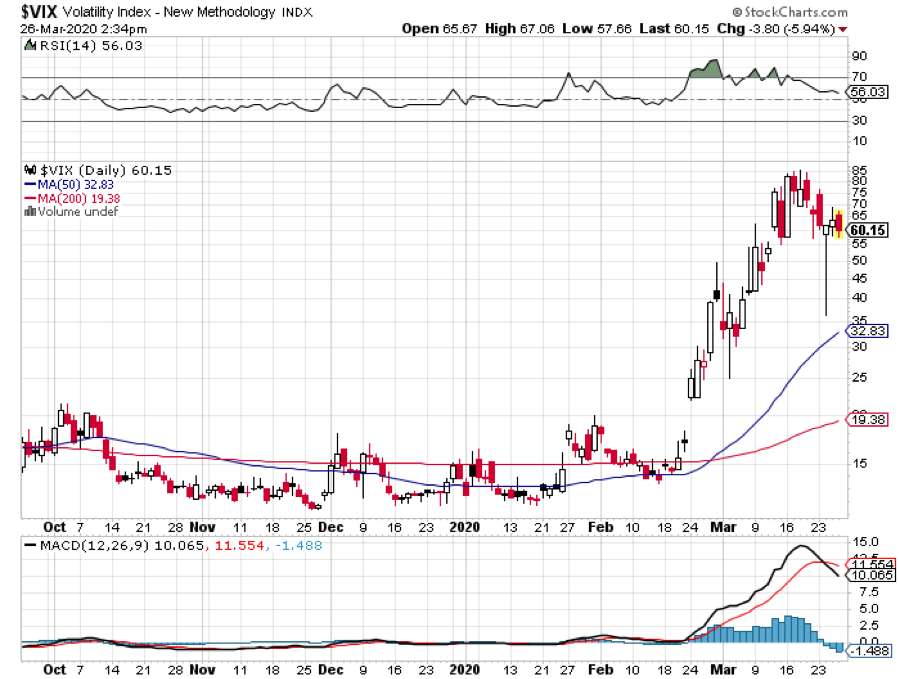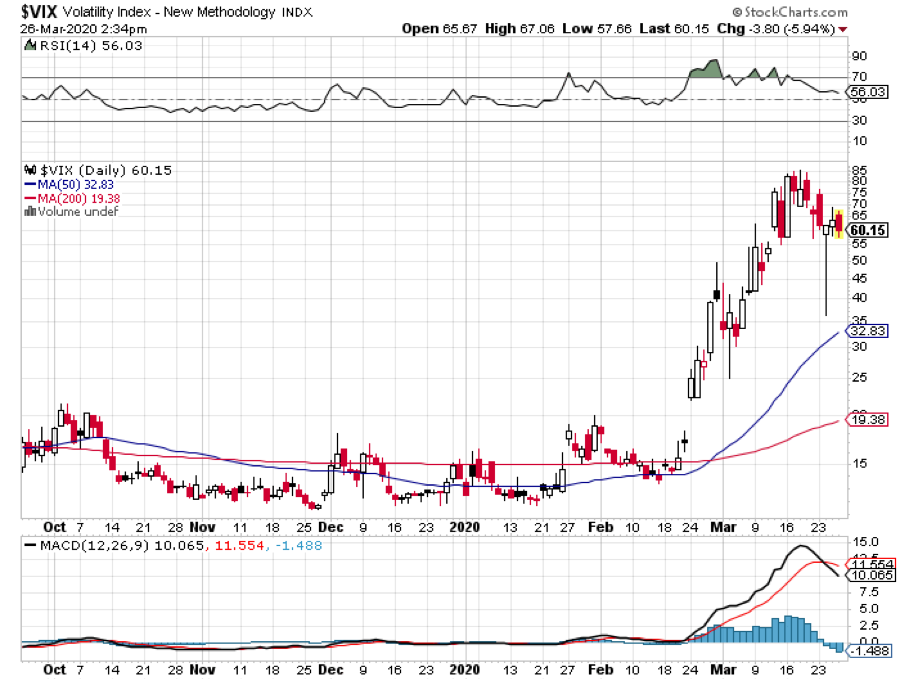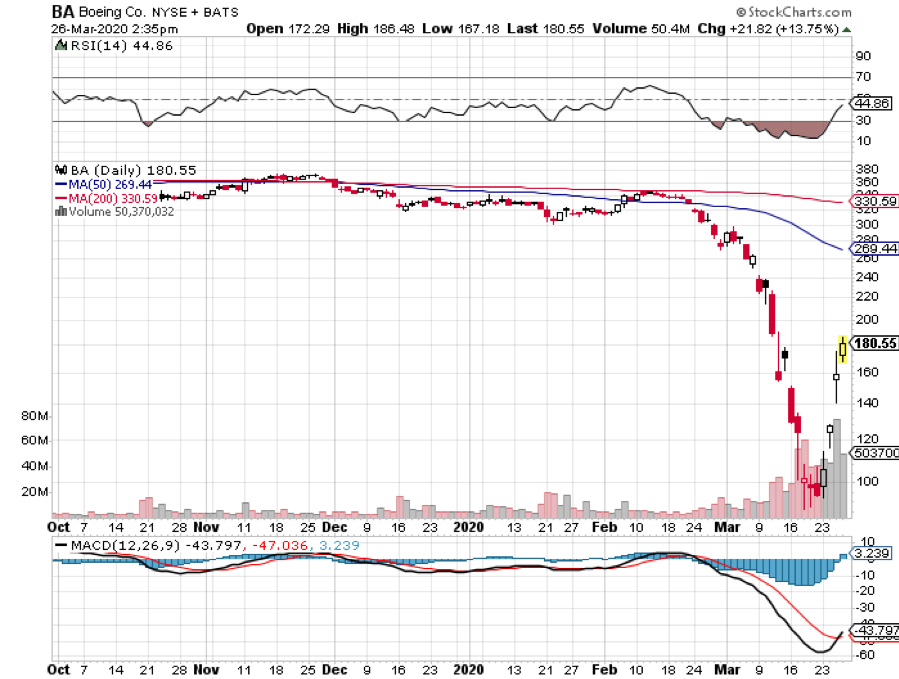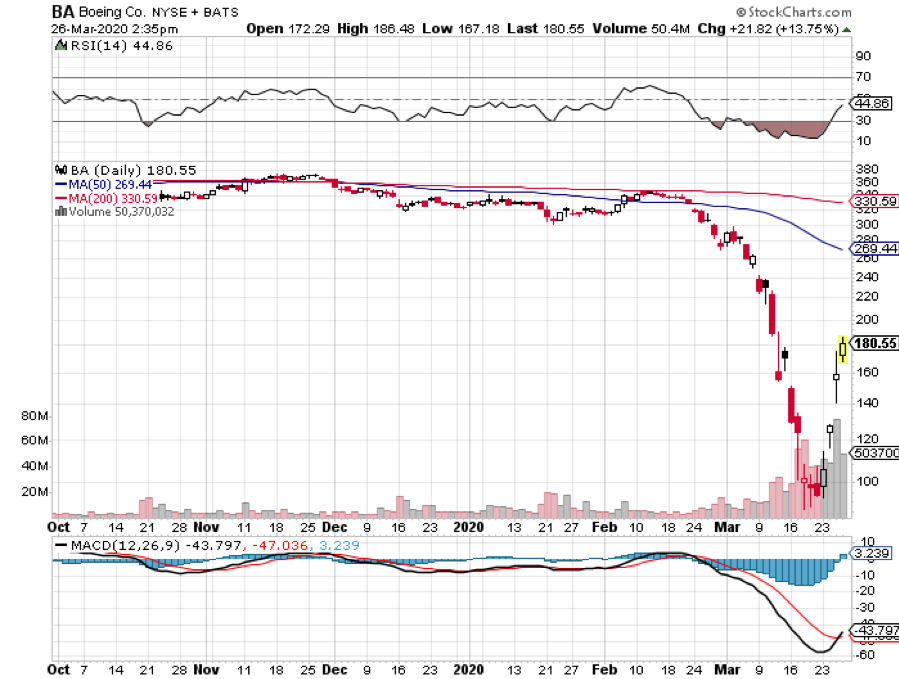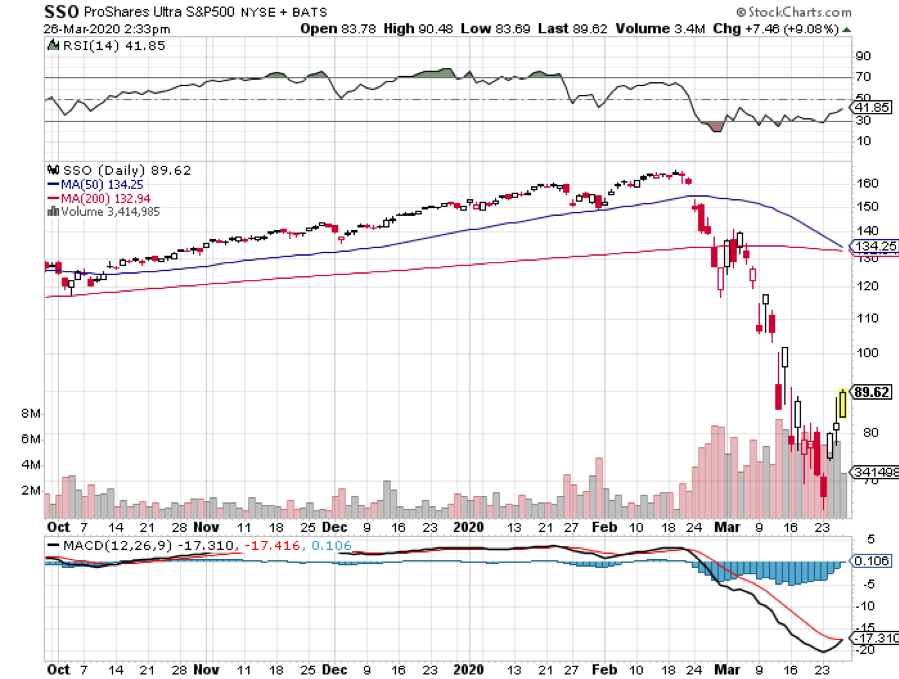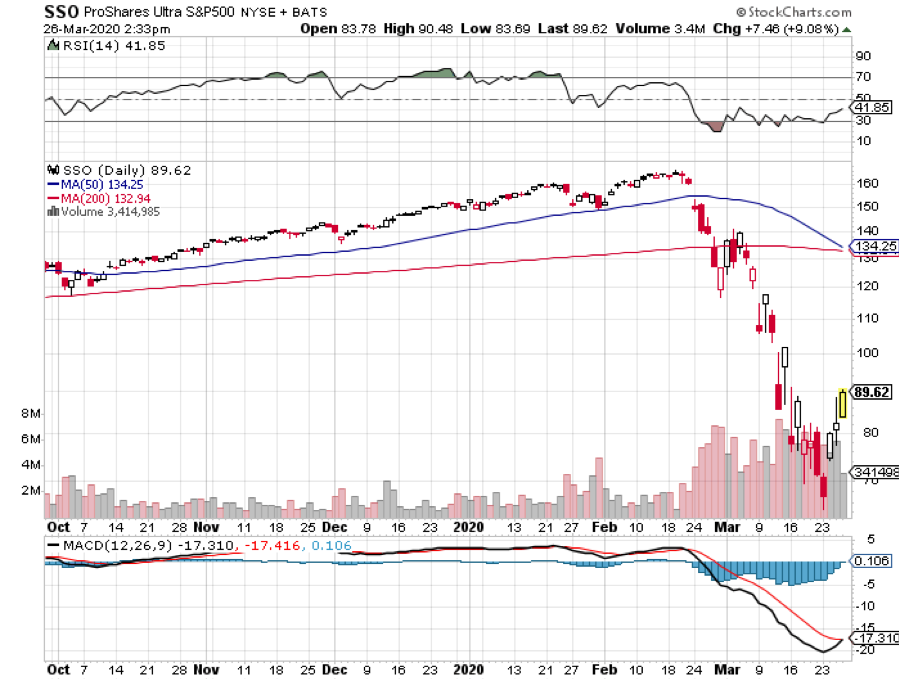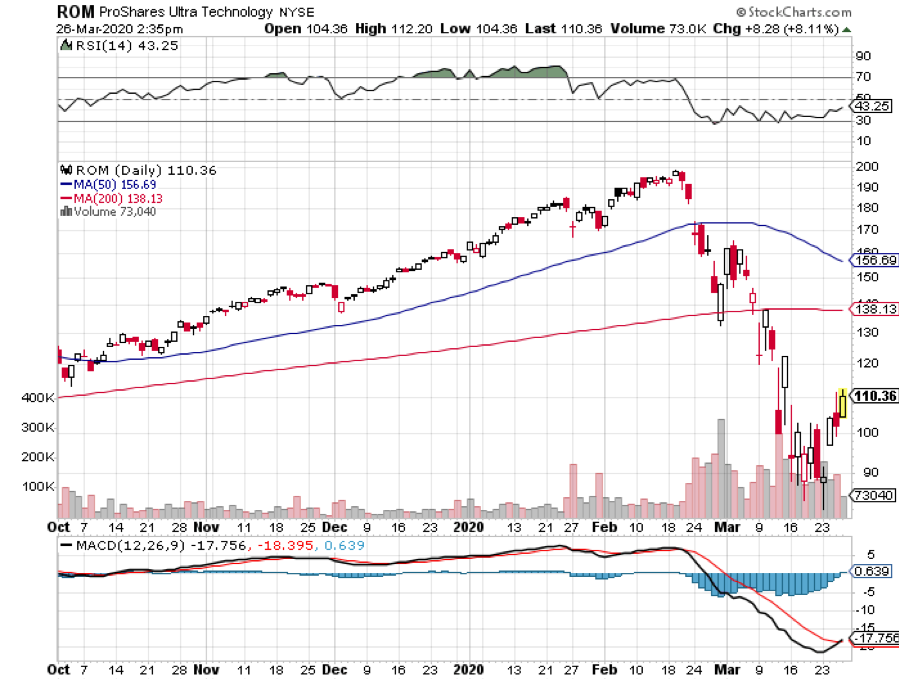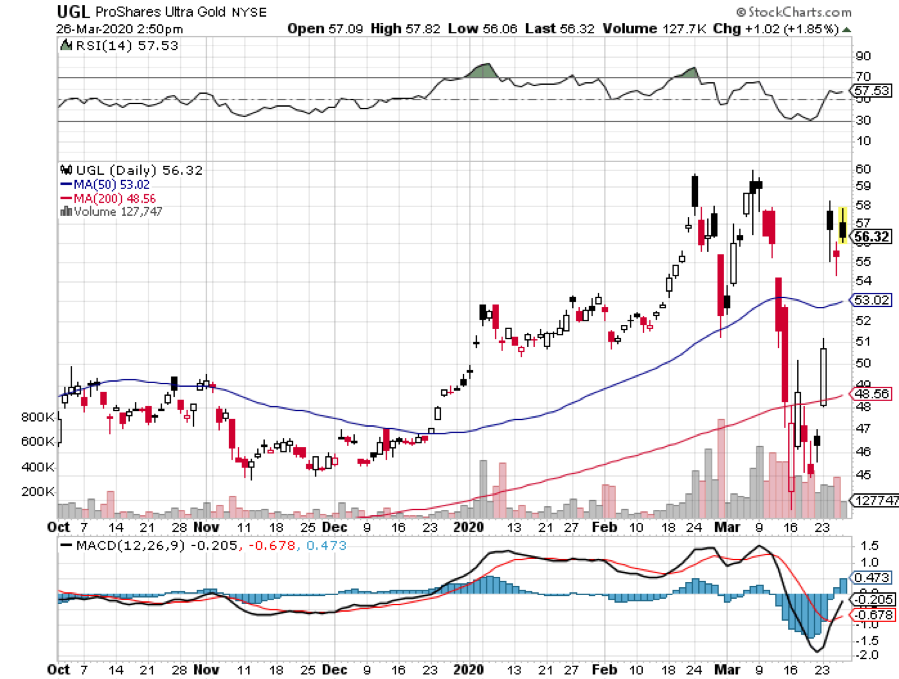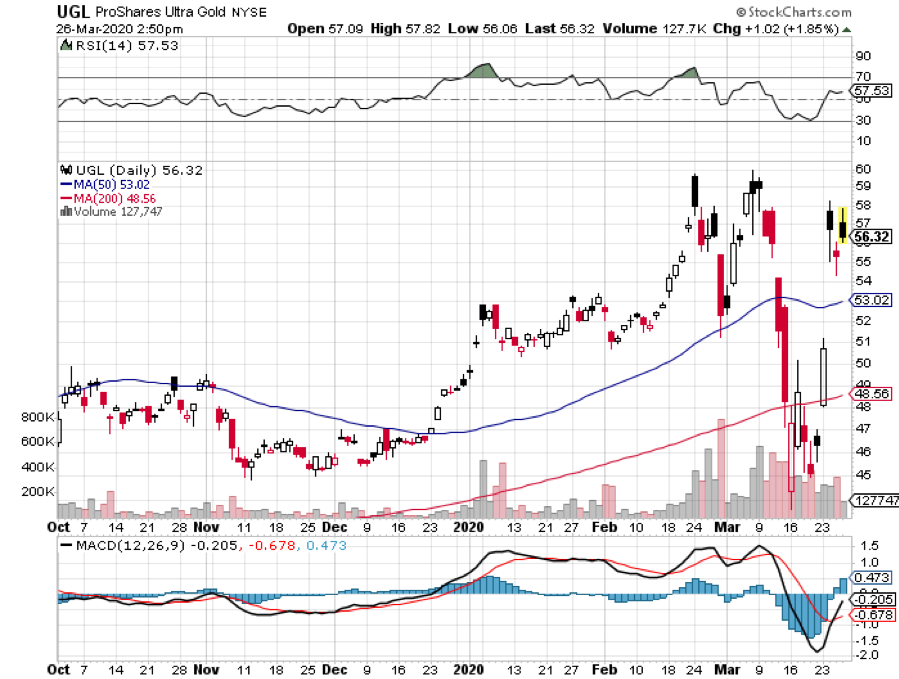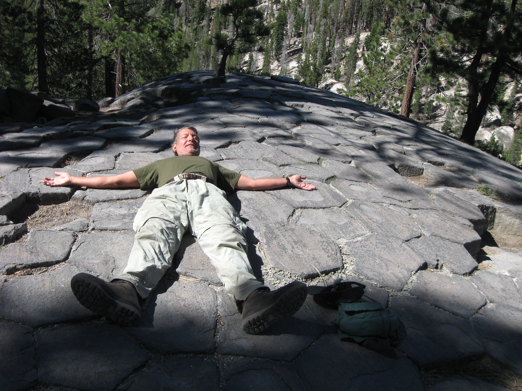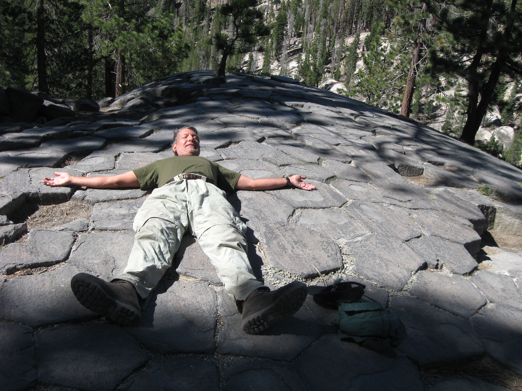 It's Been a Tough Month
https://www.madhedgefundtrader.com/wp-content/uploads/2019/04/john-thomas-3.png
391
522
Mad Hedge Fund Trader
https://madhedgefundtrader.com/wp-content/uploads/2019/05/cropped-mad-hedge-logo-transparent-192x192_f9578834168ba24df3eb53916a12c882.png
Mad Hedge Fund Trader
2020-03-27 06:02:11
2020-05-11 14:48:11
March 25, 2020 - Biweekly Strategy Webinar Q&A