After a China trade deal, UK election and a NAFTA 2.0 are announced, what is left to drive the stock market?
That is a very good question and explains why the Dow Average was up only a microscopic 3.33 points on Friday. It had spent much of the day down.
It's not a pretty picture.
Not only is the market running out of drivers, the economic data is still decelerating, with the GDP running a 1.5% rate, inflation rising, and corporate earnings growth at zero, with earnings multiples at 17-year high.
A Wiley Coyote moment comes to mind.
And while we are finishing a great 27% year (56% for the Mad Hedge Fund Trader), we are in effect getting three years of performance packed into one. Not only did we pull forward a good chunk of 2020's performance, we borrowed heavily from 2018 as well, coming in at such a low start as we did.
Thus 2019 might well get bookended by an 8% gain in 2018 and another 8% year in 2020, with dividends. Blame it all on the massive liquidity burst we got from the Fed that started last December and continues unabated.
Stocks have been floated by a tidal wave of new money creation worldwide. Globally, new money creation is running at a $1 trillion a month rate and much of that is ending up in the US stock market, especially in technology shares.
The rush was enough to drive Apple (AAPL) to a new all-time high at $275, pushing its market capitalization up to a staggering $1.2 trillion. It could surpass Saudi ARAMCO's $2 trillion valuation in a year or two.
Steve Jobs' creation now accounts for a mind-blowing 6% of the S&P 500 and 4% of total US stock market capitalization. It's the best argument I've ever heard for becoming a hippy and dropping out of college after one quarter.
Which leads us to paint a picture for the 2020 stock market. Even the most optimistic outlook for next year, that of Ed Yardeni, is calling for only a 10% gain. Many prognostications are calling for negative numbers next year.
You might be better off parking your money in a 2% CD and taking a cruise around the world. I've done that before, and it works fantastically well.
You're only going to have one shot at making money in 2020. Wait for a 10%-20% nosedive to go long. My guess is that happens when it becomes clear that the Democrats are dominating in the polls (Joe Biden is currently 14 points ahead in swing state Pennsylvania). No matter who wins, less borrowing, less spending, and higher taxes will prevail.
Then stocks will rally 10% AFTER the election because the uncertainty is gone. That will get you a 20%-30% profit in 2020, but only of you are a trader and follow the Mad Hedge Fund Trader. After basking in their own brilliance in 2019, 2020 might be a year when indexers wish they never heard of the term.
In the end, corporate earnings growth always wins, especially in tech, which is still growing at 20% a year. Remember, my 2030 forecast for the Dow Average is 125,000.

China (FXI) won big in mini trade deal. We rolled back a tariff increase that was never going to happen and the Chinese buy $50 billion worth of soybeans they were going to buy anyway, except at half the price that prevailed two years ago. All of it will come out of stockpiles built up during the trade war. Only the ag sector is affected, which is 2% of the US economy. The ag markets aren't buying it. If this were a real trade deal, stocks would be up 1,000 points, not 89.

Conservatives won big in UK election. The British pound (FXB) is up 2% and stocks are soaring. A hard Brexit is coming, so look for Scotland to secede and Northern Ireland to join the Republic. The UK will be gone as we know it. Britain's standard of living will plummet. Great Britain will no longer be great, and the Russians financed the whole thing.

Volatility crashed, as complacency rules supreme. Don't buy (VIX) until we see the $11 handle again.
Chinese copper purchases hit a 13-month high, up 12.1% in November, to 483,000 metric tonnes. It explains the 78% move up in Freeport McMoRan (FCX) since October, the world's largest producer. Obviously, someone believes a trade deal is coming. My long LEAP players love it.
US Consumer inflation expectations rebounded, up 0.1% to 2.5%, accounting to the New York Fed. That's crawling up from a five-year low, a slightly positive economic note.
Saudi ARAMCO went public, with a 10% pop in the shares on the first two days, providing a $24 billion fund raise. This is one of the top three largest IPOs in history after Alibaba (BABA) and Softbank. It values the company at $1.88 trillion. Oil (USO) is down a dollar on the news, no longer needing artificial support to get the deal done. This could be one of the seminal shorts of our generation.
NAFTA 2.0 was signed, removing a potential negative from the market. It is 90% of the original NAFTA, not the "greatest trade deal in history" as claimed. Buy the main North/South railroad, Norfolk Southern (NSC) on the news.
Weekly Jobless Claims soared to a two-year high, by 49,000 to 252,000. Are stores laying people off from Christmas early this year, or did they never hire in the first place because the retail businesses are gone? Peak jobs are in. US job growth is now far slower than in the Obama era, as is GDP growth.
Most US companies will have fewer staff in 2020, except Mad Hedge Fund Trader. More automation and algos mean fewer humans. Only a capital spending freeze caused by the trade war kept a low of low-skilled people in their jobs.
This was a week for the Mad Hedge Trader Alert Service to catapult to new all-time highs.
My long positions have shrunk to my core (MSFT) and (GOOGL), which expire with the coming December 20 option expiration.
My Global Trading Dispatch performance ballooned to +356.00% for the past ten years, a new all-time high. My 2019 year-to-date catapulted back up to +55.86%. December stands at an outstanding +4.85% profit. My ten-year average annualized profit rebounded to +35.59%. 
The coming week will be a noneventful one on the data front, with some housing data and the Q3 GDP on the menu. Anyway, everyone else will be out Christmas shopping or attending parties.
On Monday, December 16 at 9:30 AM, New York Empire State Manufacturing Index for December is out.
On Tuesday, December 17 at 9:30 AM, Housing Starts for November are released.
On Wednesday, December 18 at 11:30 AM, US EIA Crude Stocks for the previous week are announced.
On Thursday, December 19  at 8:00 AM Existing Home Sales are published. At 8:30 AM, we get Weekly Jobless Claims.
On Friday, December 20 at 9:30 AM, the final read on US Q3 GDP is printed. The Baker Hughes Rig Count follows at 2:00 PM.
As for me, after blowing out 1,200 Christmas trees, the Boy Scouts will be taking down the tree lot for the year. And who do they turn to when it comes to wielding a chain saw or sledge hammer?
Good luck and good trading.
John Thomas
CEO & Publisher
The Diary of a Mad Hedge Fund Trader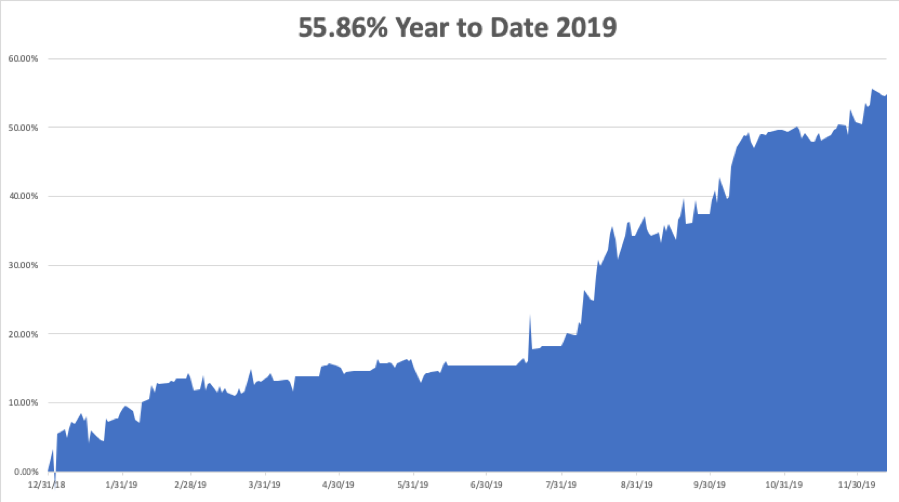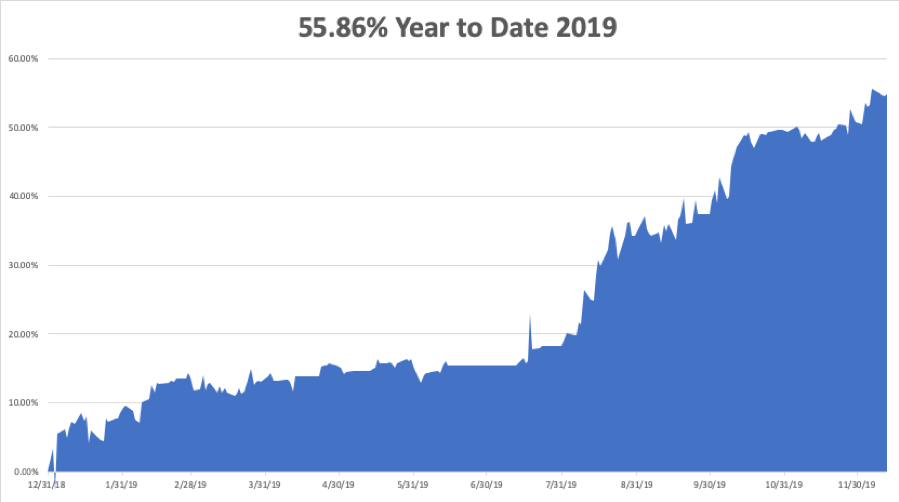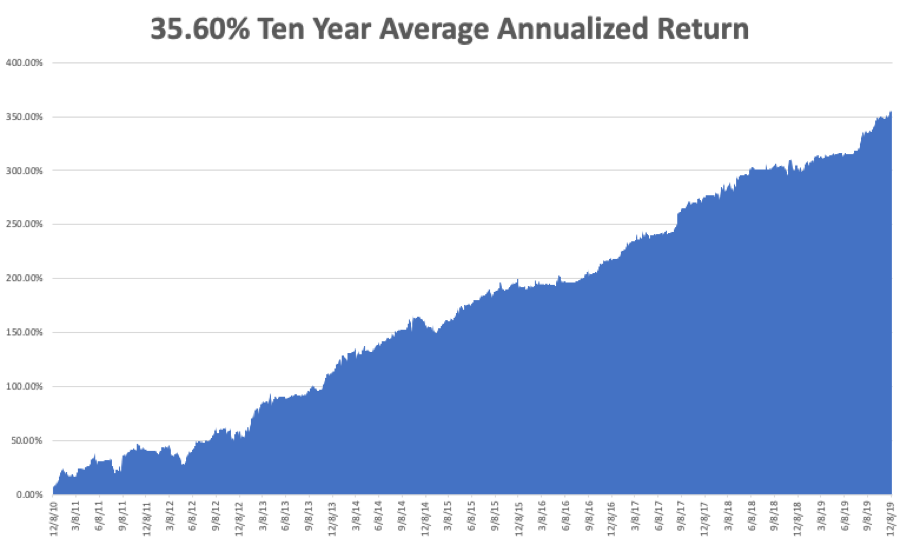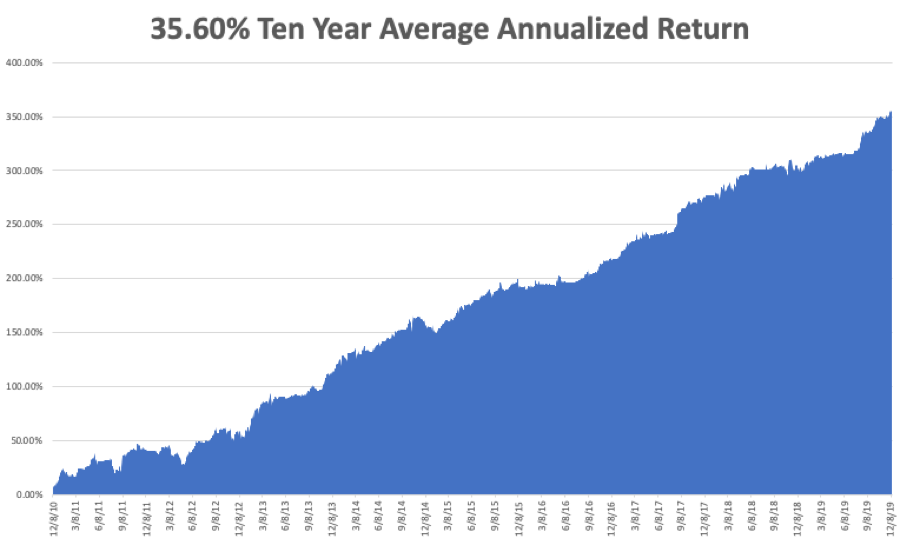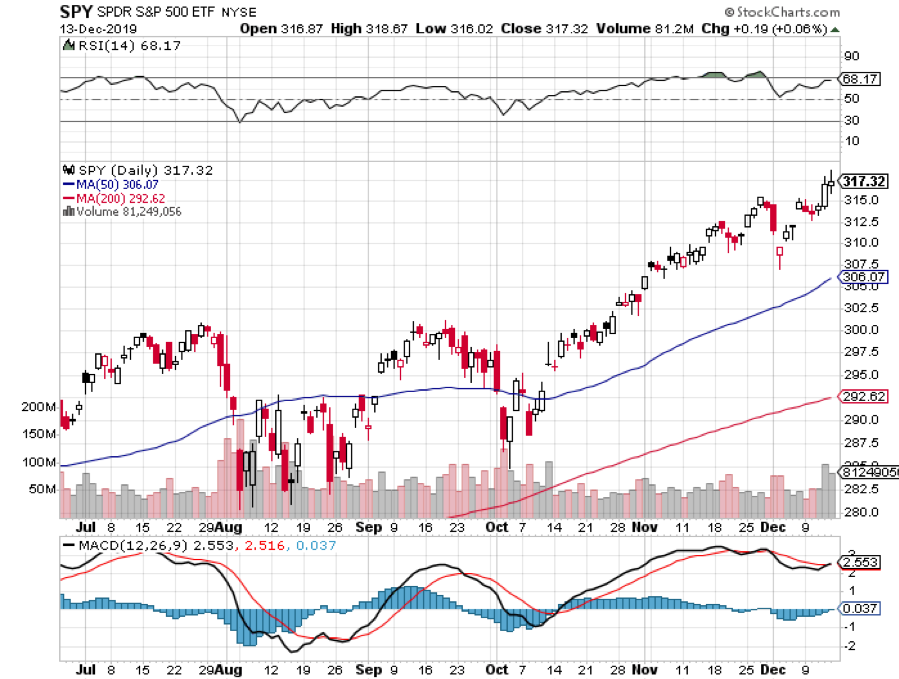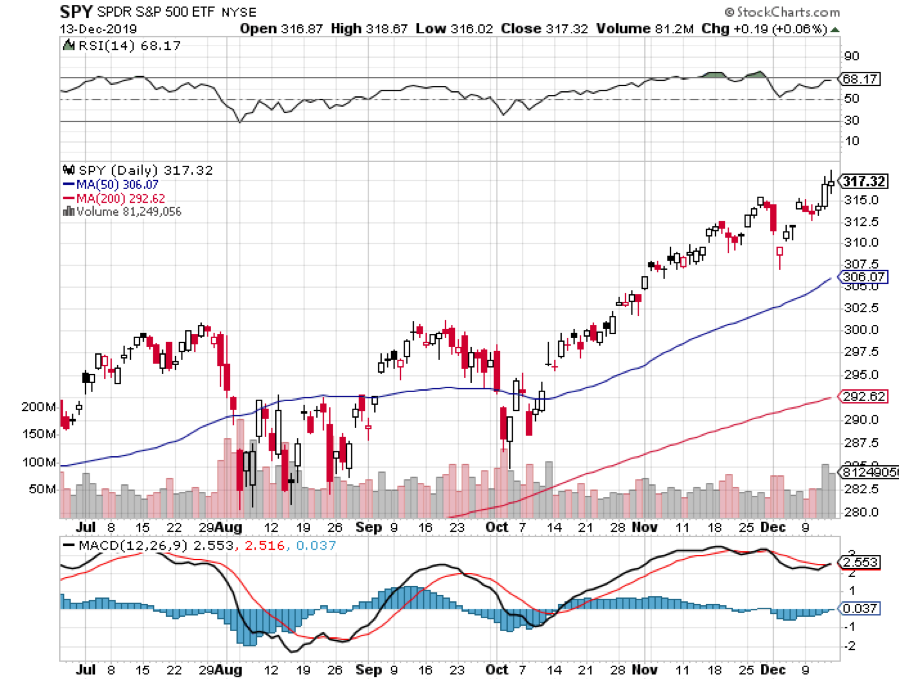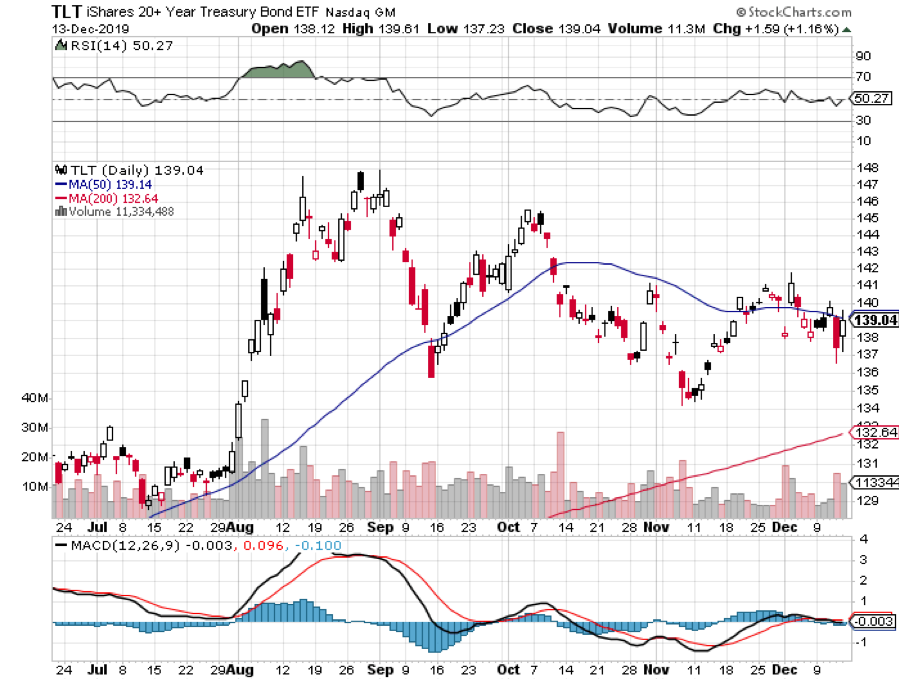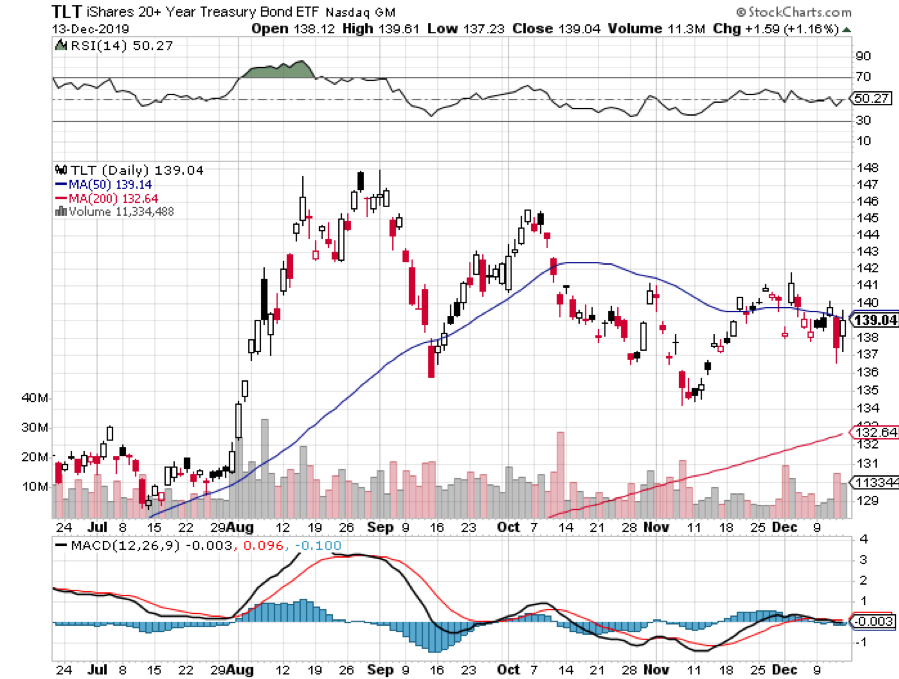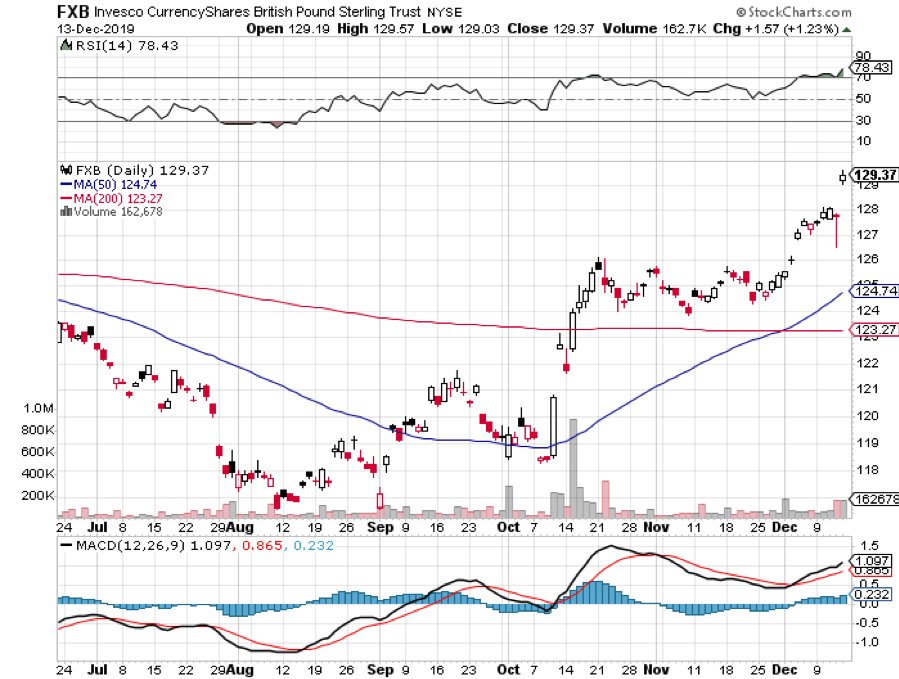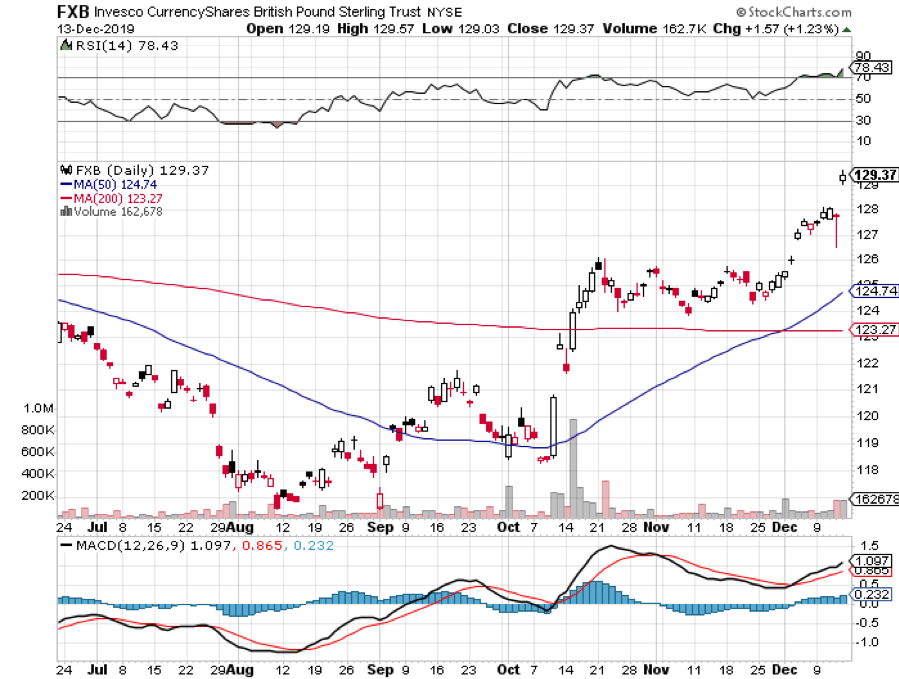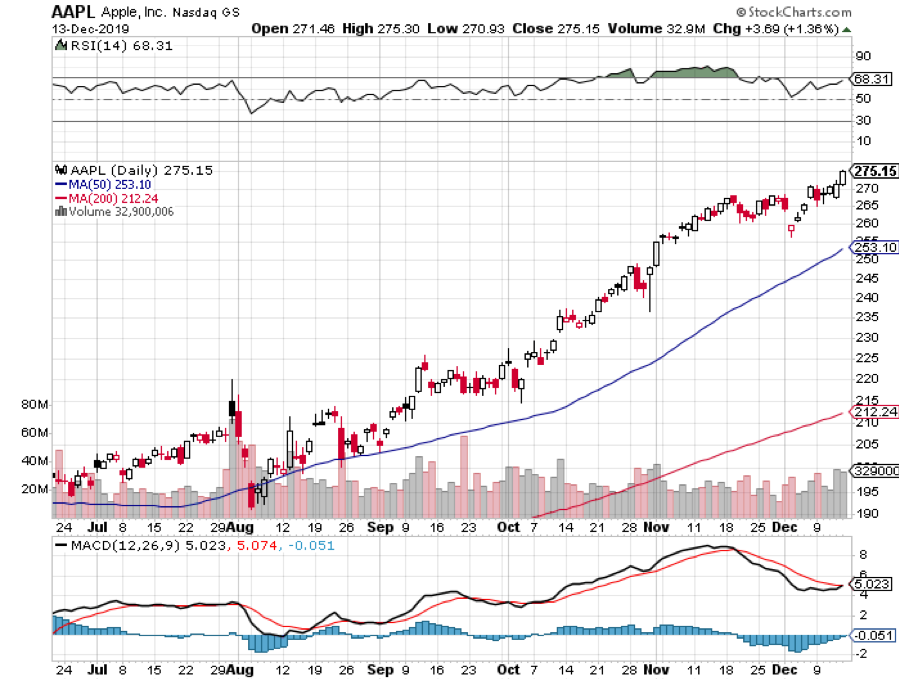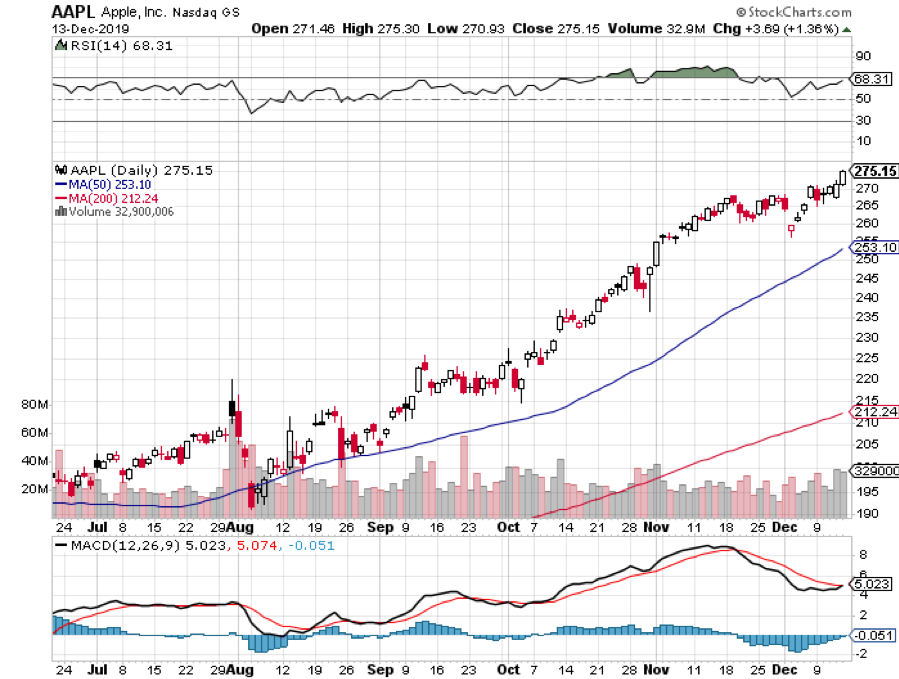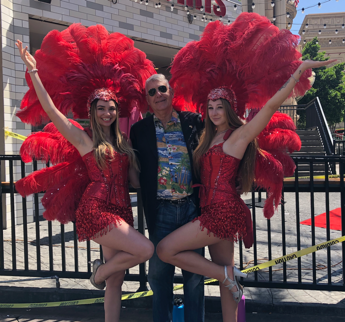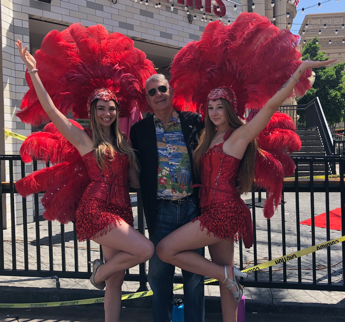 https://www.madhedgefundtrader.com/wp-content/uploads/2019/09/john-and-girls.png
322
345
Mad Hedge Fund Trader
https://madhedgefundtrader.com/wp-content/uploads/2019/05/cropped-mad-hedge-logo-transparent-192x192_f9578834168ba24df3eb53916a12c882.png
Mad Hedge Fund Trader
2019-12-16 11:02:06
2020-05-11 14:03:26
Market Outlook for the Week Ahead, or The Good News is Out