Over the past month, COVID-19 vaccine developers like Pfizer (PFE), Moderna (MRNA), and AstraZeneca (AZN) have offered the world a bit of good news.
For the first time since the pandemic started, we have seen a light at the end of this crisis' tunnel.
This time around next year, the economy should be close to its normal state.
Before we see the struggling financial market completely recover, you might want to consider buying shares of an under-the-radar COVID-19 vaccine developer that could be on its way to performing better in 2021: Merck (MRK).
Major healthcare and drug stocks rarely get this cheap relative to the S&P 500 in the last 15 years, Merck is a prime example of this once-in-a-blue-moon phenomenon.
Although it was slow to start and report on updates in its COVID-19 vaccine, Merck has been making strides in emerging as a major competitor against Gilead Sciences (GILD) when it comes to developing a COVID-19 drug.
To date, Merck landed a $356 million supply agreement with the US government to deliver 60,000 to 100,000 doses of its oral antiviral drug for COVID-19.
While vaccines are definitely valuable in helping prevent the spread of the virus, there is another important market that healthcare companies are targeting: the hospitalized COVID-19 patients.
With this recent announcement from Merck, it's obvious that the company has its hands on both the vaccine market and the hospitalized patient group.
In terms of vaccine development, Merck may be behind Pfizer and Moderna but this New Jersey-based titan has one of the leading vaccine franchises in the industry.
The frontrunner in Merck's vaccine franchise is its cervical cancer vaccine Gardasil, which is estimated to be worth half of its current market value of approximately $200 billion.
The company is also anticipated to record high single-digit earnings growth in the years to come, thanks to the 2021 spinoff of its Organon unit.
Following Pfizer and Mylan footsteps in the newly formed Viatris (VTRS), Organon will be used to unload the slower-growth products from Merck's current portfolio.
With the purging of its product portfolio of the low-performing treatments comes the expansion of Merck's R&D courtesy of its $2.75 acquisition of biotechnology startup VelosBio. 
Thanks to this deal, Merck will gain access to VelosBio's prized VLS-101, which is basically a miniature chemotherapy grenade that would disintegrate cancer cells.
This collaboration could turn out into another moneymaker for the company.
Merck is no stranger when it comes to picking winning oncology investments.
The last massive deal it completed was a $1.16 billion deal with AstraZeneca in 2017, with the two companies agreeing to milestone payments of up to $6.15 billion.
This partnership brought to life one of the highest-selling cancer drugs in the world today, Lynparza.
To date, Lynparza is not only used for prostate cancer but also gained expanded approval for breast and pancreatic cancer.
In the third quarter of 2020 alone, even with the pandemic still wreaking havoc everywhere, Merck's share of profits for Lynparza jumped 59% year over year to reach $196 million—a number that is projected to continue to climb as the drug awaits more approvals from the EU.
Merck offers the most attractive upside case among the healthcare stocks today, with the company projected to report consistent revenue growth until at least 2025.
Moreover, this pharmaceutical company has a strong balance sheet, as seen in its recent acquisitions and potential partnerships still underway.
So far, Merck's shares are down 12% this year to only $80, with the stock trading 13 times its projected earnings in 2021 at $6.29 per share.
This pharmaceutical giant has a stable dividend yield of 3.3%, which is double the S&P 500.
As the economy continues with its recovery, you can expect Merck to get stronger and the stock should rally sooner rather than later.
Hence, buying it before it completely bounces back could allow you to cash in some spectacular returns.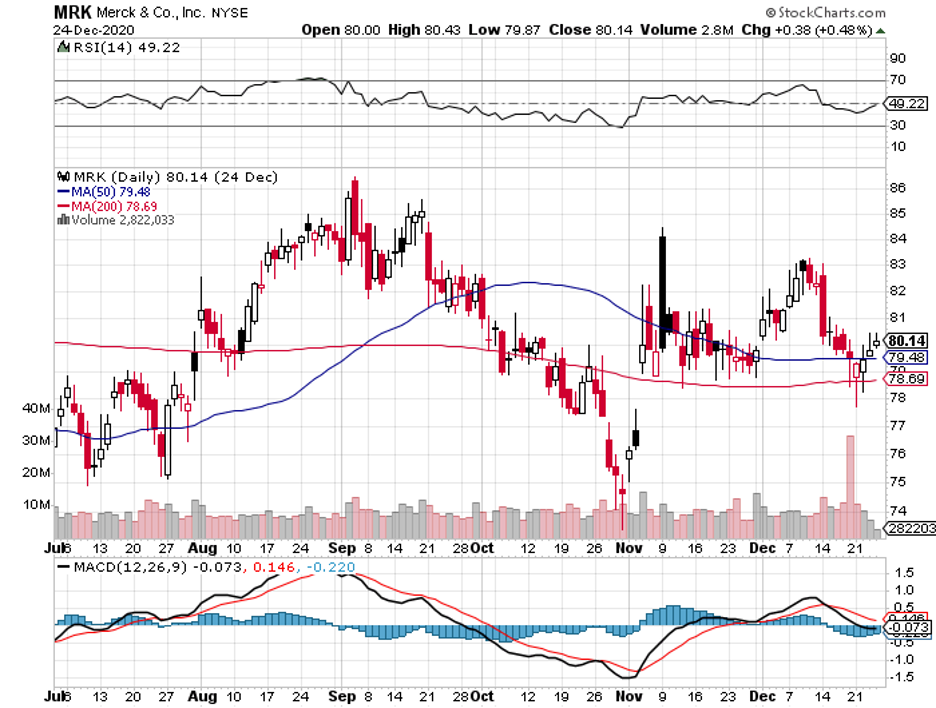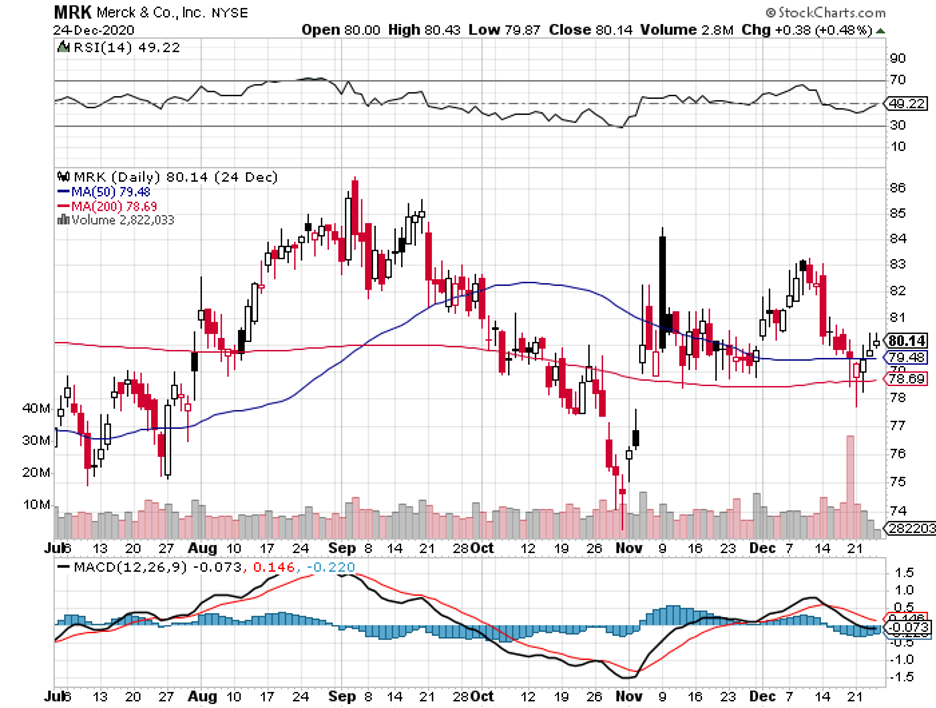 https://madhedgefundtrader.com/wp-content/uploads/2019/05/cropped-mad-hedge-logo-transparent-192x192_f9578834168ba24df3eb53916a12c882.png
0
0
Mad Hedge Fund Trader
https://madhedgefundtrader.com/wp-content/uploads/2019/05/cropped-mad-hedge-logo-transparent-192x192_f9578834168ba24df3eb53916a12c882.png
Mad Hedge Fund Trader
2020-12-29 11:00:43
2021-01-02 20:01:13
Buy Before the Rally