With the increase of globalization, investing in foreign stocks can be a smart move. Many Americans have low exposure to foreign equities in their portfolio believing that US stocks are safer and more reliable. However, investing in foreign stocks can help to decrease risk, diversify your portfolio, give you access to emerging markets, and deliver dividend yields that you can only dream about at home.
France Telecom (FTE), the largest telecom operator in France, is a favorite target of yield hungry hedge funds. Earlier this year, the company?s revenue and growth declined due to the entry of a lower cost mobile operator Iliad S.A. (ILD.PA). Iliad offers SIM-only plans, which bypass the cost of having to buy a new phone. In its first quarter ever, Iliad added 2.6 million subscribers, taking many from France Telecom and its competitors.
Although Iliad?s entrance into the wireless market was impressive, SIM-only customers account for less than 5% of total users. Despite the difficult competitive and economic conditions France Telecom faces, they have recently experienced large customer growth, as 320,000 domestic consumers have switched back to their mobile service.
Customer growth is occurring internationally as well, with strategic marketing campaigns targeted in Africa and the Middle East. In fact, their Africa and Middle East segments have become their key drivers of growth over the past year. France Telecom currently pays one of the largest dividends in the telecom industry, which was recently cut in November. Their dividend yield is an eye popping 13.10% and the company is selling for $11.60 a share. France Telecom is enticingly undervalued here.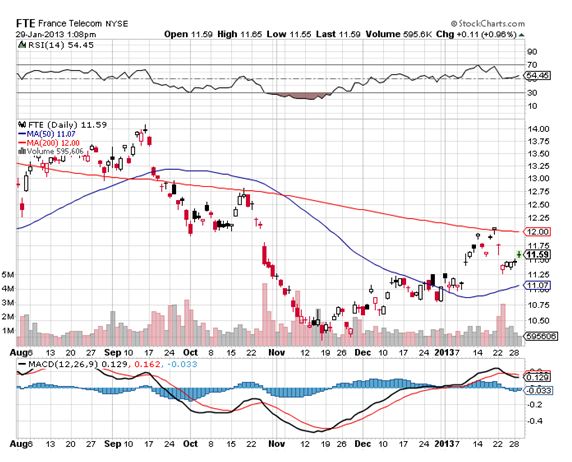 Banco Santander (SAN) is the largest bank in the euro zone by market value. It has been instrumental in restructuring the Spanish financial system as the country plans to decrease the number of competitors to create stronger, more reliable institutions.
With its recent acquisition of the Spanish banks Banesto and Banif, Santander expects to save over ?520 million a year. Although Santander has cut its branches to 30,000, it has greatly benefited from the ?100 billion rescue plan provided by the European Union.
Thanks to the ongoing financial crisis in Europe, Santander?s stock has been crushed. Analysts expect to see earnings of at least $0.80-1.00 a share in 2013. The stock is trading at 9.65 times its forward earnings, which is low compared to the industry average of 17.35. Furthermore, the relatively cheap stock is trading at 0.75 times its book value in comparison to a higher 1.33 of most other Spanish banks.
While the banking sector in Spain saw an overall revenue decrease of 0.4%, Santander exceeded expectations, growing 3.7%. The company has projected steady revenue growth for 2013 and 2014. Their current dividend yield of 6.9% provides a nice cushion against any near term volatility.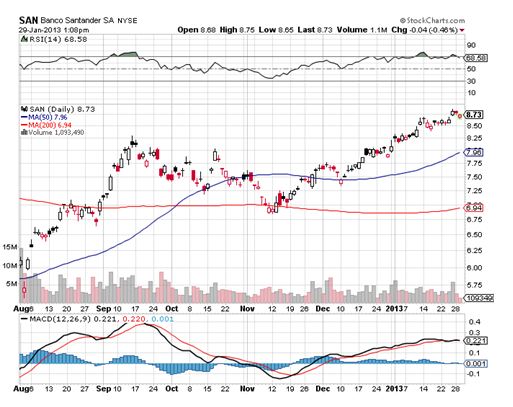 CorpBanca S.A. (BCA) is one of Chile?s oldest and largest banks. The company has a strong presence in Latin America and is attempting to penetrate the U.S market as well. A recent ADR (American Depository Receipt) issue means more liquidity and more accessibility for U.S. investors. The company intends to use proceeds of the offering to buy out competitors in the region and to gain a stronger grasp particularly in the Colombian banking industry.
With a current GDP growth rate of 5.7%, Chile (ECH) is one of the fastest growing economies in Lain America and is one of the few countries that run a budget surplus. Due to mandatory saving systems established by most companies, Chileans save a sky high 21.6% of their income. Furthermore, Chile gives foreign investors the same rights as domestic investors, which adds safety to any. CorpBanca has a 31.2% profit margin and a quarterly revenue growth of 38.2% year-on-year.? Their recent dividend yield of 6.0% is expected to rise.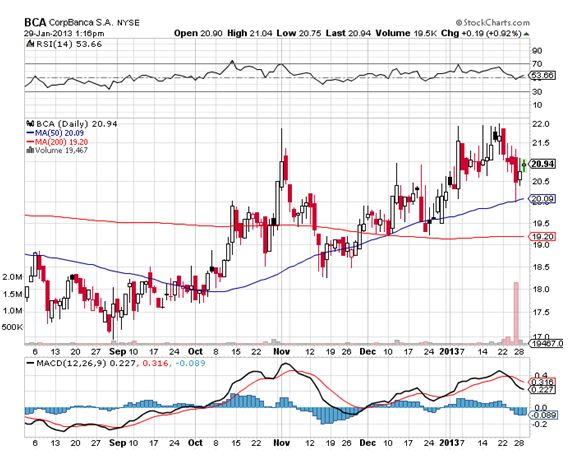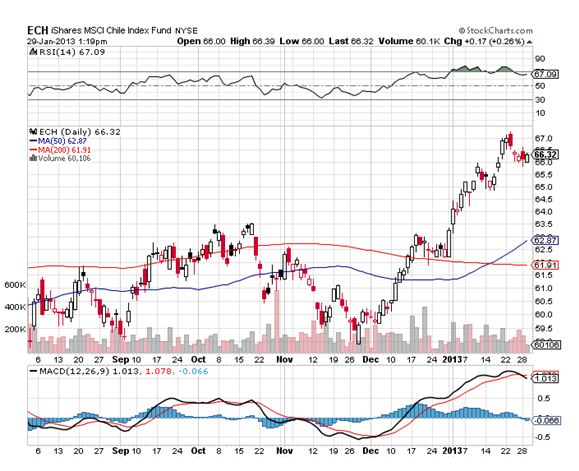 Veolia Environment (VE) is a multinational French company that provides water management, water supply, waste management, energy, and transport services. It is the world?s largest water company, operating in 77 countries with a market cap of $6.2 billion.
Through the Veolia Innovation Accelerator Initiative, the company works with the most promising start-up companies to identify and develop clean technology. Veolia is strongly involved with governments around the world to help preserve natural resources, develop alternative energy sources, and control environmental degradation.
Due to the European crisis, the company saw H1 2012 results weaker than expected. To fight back, Veolia has been undergoing significant restructuring which includes a partial buyback program of USD and Euro-denominated bonds. Veolia has become heavily involved in China due to the country?s miserable environmental conditions. It operates in 17 provinces, municipalities, and autonomous regions helping restructure water and wastewater services. Veolia?s large presence in China will continue to grow in the coming years, promising stable growth over the long term.
Veolia pays a dividend 5.90% off of today?s $12.85 price. With its involvement in countries across the globe and its ever-increasing presence in China, Veolia is likely to do well in the coming years.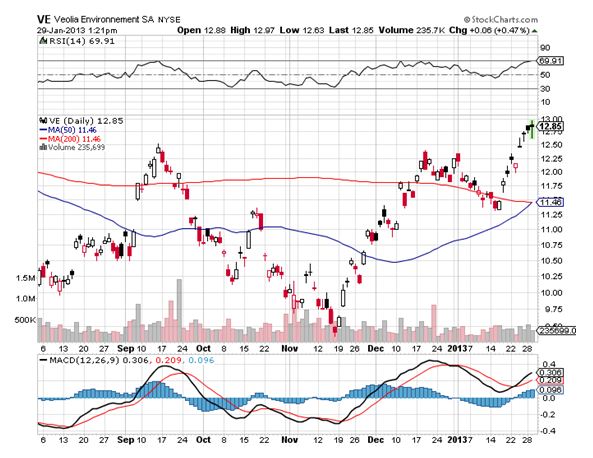 Alumina Limited (AWC) is an Australian company that specializes in mining bauxite, alumina (aluminum oxide), and the smelting of pure aluminum. (AWC) produces around 17% of the alumina in the world and operates in the United States, Brazil, Spain, Suriname, Jamaica, and Guinea. It is your classic deep cyclical play.
Alumina has great thermal conductivity, making it a primary component of electrical insulation. In its crystalline form, it is used in sharp cutting tools making it essential for many manufacturing and production materials. Alumina Ltd?s very low debt to equity ratio and its estimated annual earnings growth rate of 35.10% for the next five years have attracted investors who focus on basic material commodities. Their forward dividend yield stands at a solid 6.10% with a payout ratio of 220%. (AWC) is selling well below its book value. There is one cautionary note: it is unusually sensitive to economic conditions of its main customer, China.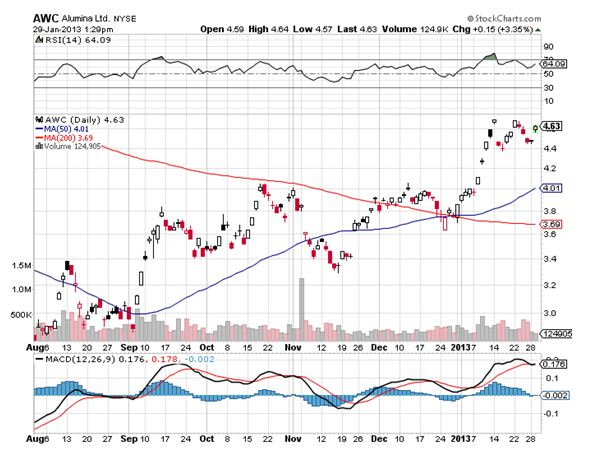 https://www.madhedgefundtrader.com/wp-content/uploads/2013/01/High-Yield-Dividends.jpg
230
232
Mad Hedge Fund Trader
https://madhedgefundtrader.com/wp-content/uploads/2019/05/cropped-mad-hedge-logo-transparent-192x192_f9578834168ba24df3eb53916a12c882.png
Mad Hedge Fund Trader
2013-01-29 23:01:44
2013-01-29 23:01:44
Reach for Yield with High Dividend Foreign Stocks