The city is now the most crowded that it has been at any time since WWII. Most hotels have tripled their rates, forcing traveling students on a budget to sleep in doorways and under bridges everywhere.  My usual abode here, The Naval Officers Club near Piccadilly, honored their regular price since I have been such a long term and loyal guest. However, I was the only one in the building not participating in an Olympic event, as the teams of several nations booked every room two years ago.
The American team arrived today in their spiffy blue blazers. After randomly driving around London, the hapless bus driver broke down and admitted that he didn't know where the Olympic Village was. And enterprising athlete whipped out his iPhone, Googled the address, Mapquested the directions, and they finally arrived four hours late. Still, they fared better than the Australian sailing team, whose sales were lost by Qantas Airlines.
I decided to flee the madness in London for a day and visit some old friends in the countryside, the 8th Earl and Countess of Carnarvon. The late 7th Earl was an early investor in my first hedge fund and I have kept in touch with the family ever since.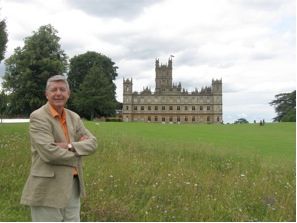 His grandfather, the 5th Earl gained fame and fortune from his co-discovery of King Tut's tomb in Egypt's Valley of the Kings in 1922. His early death, shortly thereafter, was the origin of "The Mummy's Curse" of depression era horror film fame. Many of his discoveries today make up the bulk of the Egyptian collection in New York's Metropolitan Museum of Art, which the family sold to pay estate taxes.
Recently, the family has been renting out their 350 year old home, a 15-minute taxi ride south of Newbury, the spectacular Highclere Castle, for use as a film set. The period drama series that resulted, "Downton Abbey," unexpectedly became a blockbuster in the US where viewers stupefied by endless low budget reality shows were starved for quality, thoughtful content and adult writing.
It also sent 100,000 visitors a year their way, as well as $25 million in ticket fees. This windfall enables to maintain the house and the magnificent gardens in immaculate condition. The cash flow enabled them to ramp up the other family business, breeding racehorses for the queen. Portraits of past winners adorned almost every room. After tea with my hosts and a personal tour of the estate, I picked up some tea towels for friends at home who are into this kind of thing. I also saw a display of some spectacular early Egyptian relics, which the family found bricked up behind a wall 60 years after the Met sale.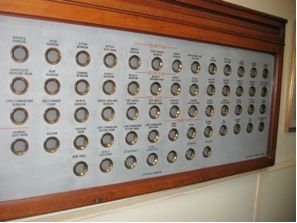 The train has just emerged from the tunnel and we are now racing our way across the Norman countryside. Everyone's cell phone has simultaneously started bleeping, mine with a text message welcoming me to France and informing me that I will be allowed unlimited data transfer, but will be billed $1.29 per minute for voice. Is that in English or French? Is there a surcharge for speaking foreign languages in France? The medieval red rick farmhouses whip by in a blur.
The steward has arrived with my dinner tray, so I'll sign off for now. I'll report again after Paris.
John Thomas