I am writing to you from the poolside cabana number B-2 at the Bellagio Hotel in Las Vegas. It is an unseasonably cool 70 degrees in the shade and the air is bone- dry, so I?m on my third banana daiquiri for the day. The days when I risked getting my hands broken with a hammer for card counting at blackjack have long since passed, so I am able to relax. That?s how I had to work my way through college. May Bugsy Siegel rest in peace.
It is shocking what passes for a tattoo these days, and where they end up. I see young women with elaborate Chinese and Japanese characters inscribed in some pretty immodest locations. Reading this unfathomable language myself, I can tell you that they look like they were brushed by a two year old or are completely unintelligible. It is sad that kids are making such awful decisions these days. I predict a raging bull market in companies that make tattoo removal equipment.
I?ve never been big on regulation, having spent a lifetime in financial services, aviation, and the oil industry, the three most scrutinized industries on the planet. But really, a 400-pound woman in a bikini? There ought to be a law! Lycra should be a privilege and not a right!
I have to tell you that the SkyBridge Alternatives Conference (SALT) is the best investment event I have ever attended, bar none. Never have I seen such a concentration of great minds so willing to share with the general trading community market-bending views on all assets classes, long and short. The cost for the four day assembly is a bargain at the price, given that you will probably make all of this back, and much more, on your next trade. This is an education that can make, or break, your year.
SALT was hosted by Anthony Scaramucci, the managing partner of SkyBridge Capital, LLC. a world class networker and high profile operator in the hedge fund industry. Scaramucci is the author of two books, The Little Book of Hedge Funds: What You Need to Know About Hedge Funds but the Managers Won?t Tell You, and Goodbye Gordon Gekko: How to Find Your Fortune Without Losing Your Soul.
SkyBridge Capital II, LLC (?SkyBridge?) is a research driven alternative investment firm with approximately $7.6 billion in total assets under advisement or management. Talk about eating your own cooking!
The firm offers hedge fund investing solutions that address a wide range of market participants from individual retail investors to large institutions. Their businesses include commingled funds of hedge fund products, customized separate account portfolios and hedge fund advisory services. To learn more about their services, please visit their website http://www.skybridgecapital.com.
Unfortunately, there was a total press blackout on the marquee names, and the intelligence provided was for ears only. You can?t blame these guys for being gun shy. All have been grievously misquoted by the press in the past. This can be a dicey problem when their comments are market moving and they already own big positions. Given the choice between a restrained, politically correct views approved by compliance departments, and the real, but unquotable, skinny, I?ll definitely take the later.
Non-stop panel discussions kept us all up to date on the many urgent issues facing hedge funds and their investors today. Fee discounts for size, once unheard of, are now becoming common. There is a rise in the customization of accounts for specific clients. Risk control and transparency have improved dramatically since the 2008 crash. Concerns about the popping of the bond market bubble were almost universal.
Peripheral to the large conference halls were two vast meeting rooms, one with 100 tables, another with 50 white upholstered sofas. There, an army of young, fresh faced marketing reps sold a panoply of hedge fund products to a flotilla of hardened and wizened end investors. Reading the body language was fascinating. Some small hedge fund managers articulated their own strategies to potential partners. Every 30 minutes, the buyers of services rotated tables. You could almost feel the energy of the deals getting done and commerce coursing through the air. God bless America!
Whenever an empty seat appeared between appointments, I seized it and asked the marketers to give me their pitch. I collected about two dozen. All I can say is the variety of specialized products and services offered by the hedge fund industry today is breathtaking, as is the professionalism of the ever younger participants. There are now 22 major hedge fund strategy descriptions, some with another half dozen subdivisions. You need a PhD in math from MIT to understand some of them. You can now outsource any service to third party providers.
At night, the guests were treated to a blowout party around the Bellagio?s ornate swimming pool complex. A Latin band boomed out the music, and the torsos of dancers gyrated wildly in true bacchanalian fashion. Comely waitresses served all the iced tequila shots you could drink. The hotel wisely stationed lifeguards around the pools in case a drunken reveler fell, or was thrown in. It was all a scene worthy of The Great Gatsby.
Because I recently started posting my pictures on the site, I was mobbed by fans, dispensing some 200 business cards that evening. Why do I feel like the protagonist, Nick Carraway? Or am I Jay Gatsby himself?
When I first jumped into the industry 30 years ago, there were only two dozen hedge funds managing a miniscule amount of money, and we all knew each other. Most of Wall Street thought we were all crooks. Now you have 10,000 funds managing $2.5 trillion, accounting for 50%-70% of all trading volume. Pension funds have made the industry respectable, and huge.
Asian readers still have the opportunity to sign up for the Singapore SALT Conference to be held on September 24-27, 2013 (click here for the link). After that, you will have to wait for the Las Vegas conference in May, 2014.
Oh, did I tell you how hard it is to get your clothes off when they are soaking wet? My dry cleaner is going to hate me.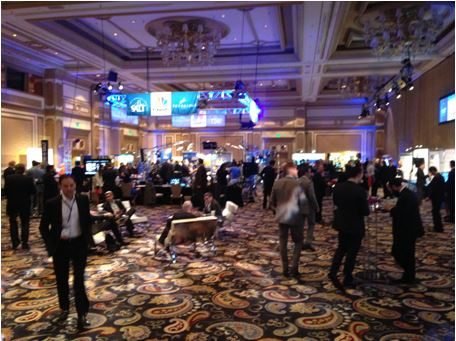 My Never Ending Search for Investment Tips

Looking for More Investment Tips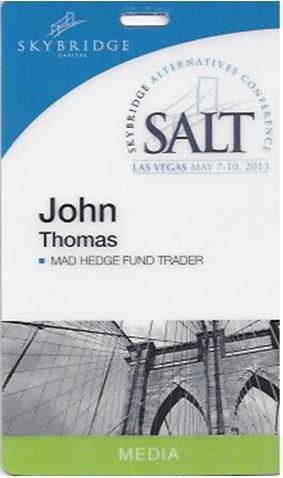 https://www.madhedgefundtrader.com/wp-content/uploads/2013/05/SALT-Badge.jpg
478
283
Mad Hedge Fund Trader
https://www.madhedgefundtrader.com/wp-content/uploads/2019/05/cropped-mad-hedge-logo-transparent-192x192_f9578834168ba24df3eb53916a12c882.png
Mad Hedge Fund Trader
2013-05-14 09:12:23
2013-05-14 09:12:23
Report on the SkyBridge Alternatives Conference