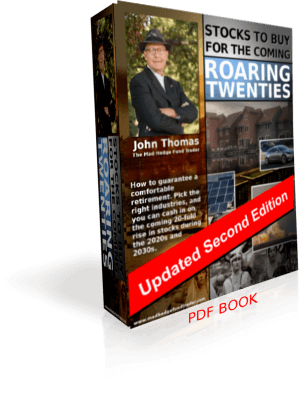 Updated Second Edition!
Introducing "Stocks To Buy For The Coming Roaring Twenties" (167 page PDF book)
If you think the Dow Average has delivered a ballistic performance in recent months, you haven?t seen anything yet!
Are you ready for Dow 338,550 by 2038?
A decade of independent research proves that such an incredible outcome is not only possible, it is probable.
If I am wrong, I am understating the potential appreciation of stocks.
Catch the next new investment wave correctly, and you can look forward to retiring in style and comfort.
In fact, you may never have to work another day in your life!
I have distilled the cream of my objective and unbiased research into a single eBook entitled ?Stocks to Buy for the Coming Roaring Twenties.?
The 130 page, 25,000-word book focuses on the sectors and individual stocks that will lead investors forward for the next two decades. It is packed with hard data, charts, and pictures.
Long-term readers of the Diary of a Mad Hedge Fund Trader will be familiar with its themes.
I outline the major trends that will drive the economy forward for the next twenty years, including demographics, globalization, onshoring, and the return of inflation.
This is clearly going to be another American Century.
I then focus on technology, biotechnology, health care, solar, battery technology, cyber security, and many other industries that will lead the United States into a new Golden Age.
I provide an explanation of how a dozen hyper accelerating technologies intertwine to deliver exponential economic growth. The trickle down effect for the rest of the economy, and the world, will be immense.
Potentially, the major stock indexes could rise by 18.3 times over the following 18 years, starting in 2020. That would take the Dow Average from the present 18,500 to 338,550 by 2038.
If you think this sounds fanciful, I have seen it all before.
From August 1982 until April 2000, the arrival of cheap microprocessors, Windows, and the Internet had a cross leveraged effect on each other which drove the Dow Average up exactly 18.3 times, from 600 to 11,000.
Remember all those Dow 10,000 by 2000 hats?
All I?m calling for is a repeat. That?s if you can fit 338,550 on to a hat!
Except this time, we have not just three, but two dozen major trends and far more powerful demographic influences driving us forward.
The book can be purchased for $49 by filling out the order form below.? After your purchase you will get to a download page for the PDF which you can print out, or distribute it freely to your friends by email.
Read, and enjoy.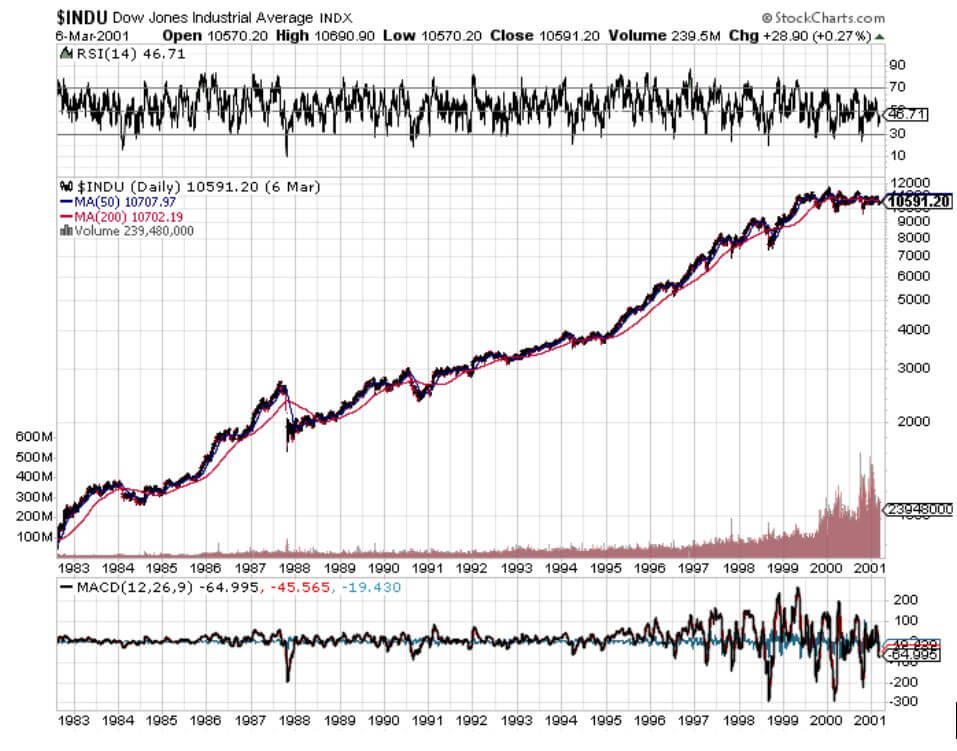 Order and download my latest book (Electronic PDF ONLY) for $49.00.
(access to the PDF will be given to you via email)
---