Below please find subscribers' Q&A for the Mad Hedge Fund Trader September 18 Global Strategy Webinar broadcast from Silicon Valley, CA with my guest and co-host Bill Davis of the Mad Day Trader. Keep those questions coming!
Q: What would happen to the United States Treasury Bond Fund (TLT) if the Fed does not lower rates?
A: My bet is that it would immediately have a selloff—probably several points—but after that, recession worries will take bond prices up again and yields down. I don't think we have seen the final lows in interest rates by a long shot. That's why I bought the (TLT) last week.
Q: Is it good to buy FedEx (FDX) considering the 13% fall today?
A: I use the 3-day rule on these situations. That's how long it takes for the dust to settle from an earnings shock like this and find the real price. The problem with FedEx is that it's a great early recession predictor. When the number of delivered packages decreases, it's always an indicator that the economy as a whole is slowing down, which we know has been happening. It's one of the most cyclical stocks out there, therefore one of the most dangerous. I wouldn't bother with FedEx right now. Go take a long nap instead.
Q: Would you be a buyer of Facebook (FB) here, given they seem to have weathered all the recent attacks from Washington?
A: Not here in particular, but I would buy it 20% down when it gets to the bottom edge of its upward channel—it still looks like it's going crazy. They're literally renting or buying buildings to hire an additional 50,000 people in San Francisco anticipating huge growth of their business, so that's a better indicator of the future of Facebook than anything.
Q: Will junk bonds be more in demand now that rates are cratering?
A: Junk bonds (HYG), (JNK) are driven more by the stock market than the bond market, as you can see in the huge rally we just had. Junk bonds are great because their default ratios are usually far below that which the interest rate implies, but you really have to trade them like stocks. Think of them as preferred stocks with really high dividends. When the stock market tops, so will junk bonds. Remember in 2008, junk yields got all the way up to 15% compared to today's 5.6%.
Q: What will happen to emerging markets (EEM) as rates lower?
A: If lower interest rates bring a weaker US dollar, that would be very positive for emerging markets over the long term and they would be a great buy. However, emerging markets will take the hardest hit if we actually do go into a recession. So, I would pass for now.
Q: What are your thoughts on Alibaba (BABA) and JD.com (JD)?
A: They are great for the long term. However, expect a lot of volatility in the short term. As long as the trade war is going on, these are going to be hard to trade until we get a settlement. (JD) is already up 50% this year but is still down 40% from pre trade war levels. These things will all be up 20-30% when that happens. If you can take the heat until then, they would probably be okay for a long-term portfolio globally diversified.
Q: What do you have to say about the ProShares Ultra Short 20+ Year Treasury ETF (TBT)—the short bond ETF?
A: If you have a position, I'd be selling now. We just had a massive 20%, 4-point rally from $22 to $27 and now would be a good time to take a profit, or at least get out closer to your cost. The zero interest rates story is not over yet.
Q: Would you short the US dollar?
A: I would most likely short it against the euro (FXE), which now has a massive economic stimulus and quantitative easing program coming into play which should be positive for it and negative for the US dollar (UUP). That's most likely why the euro has stabilized over the last couple of weeks. That said, the dollar has been unexpected high all year despite falling interest rates so I have been avoiding the entire foreign exchange space. I try to stay away from things I don't understand.
Q: If all our big tech September vertical bull call spreads are in the money, what should we do?
A: You do nothing. They all expire at the Friday close in two trading days. Your broker should automatically use your long call position to cover your short call position and credit your account with the total profit on the following Monday, as well as release the margin for holding that position. After that, we'll probably wait for another good entry point on all the same names, (AMZN), (FB), (DIS), (MSFT).
Q: If the US fires a cruise missile at Iran, how would the market react?
A: It would selloff pretty big—markets hate wars. And the US wouldn't send one missile at Iran; it would be more like 100, probably aimed at what little nuclear facilities they have. I doubt that is going to happen. The world has figured out that Trump is a wimp. He talks big but there is never any action or follow through. Inviting the Taliban to Camp David while they were still blowing up our people? Really?
Q: Will the housing market turn on the turbochargers after this dip in rates?
A: It wouldn't turn on the turbochargers, but it might stabilize the market because money is available now at unprecedentedly low interest rates. However, we still have the loss of the SALT deductions—the state and local taxes and real estate taxes that came in with the Trump tax bill. Since then, real estate has been either unchanged or has fallen on both the East and West coast where the highest priced houses are. It's the most expensive houses that take the loss of the SALT deduction the hardest. Don't expect any movement in these markets until the SALT deduction comes back, probably in 16 months.
Q: What catalyst do you think would cause a 10% correction in the next 2-3 months?
A: Trump basically saying "screw you" to the Chinese—a tweet saying he's going to bring another round of tariff increases. That's worth a minimum of 2,000 points in the Dow Average (INDU), or about 7% percent. Either that or no move in Fed interest rates—that would also create a big selloff. My guess is that and adverse development in the trade war will be what does it. That's why my positions are so small now.
Q: We have a big short position in the United States Oil Fund (USO) now. Are you going to run this into expiration until October $18?
A: Even though oil has already collapsed by 10% since we put this position on last Friday, premiums in oil options are still close to record levels. So, it pays us to hang on for the time decay. The world is still massively oversupplied in oil and the Saudis were able to bring half of the lost production back on in a day. Oil will keep falling unless there is another attack and it is unlikely we will see one again on this scale. And, we only have 20 more days to go to capture the full 14.8% profit.
Good luck and good trading.
John Thomas
CEO & Publisher
Diary of a Mad Hedge Fund Trader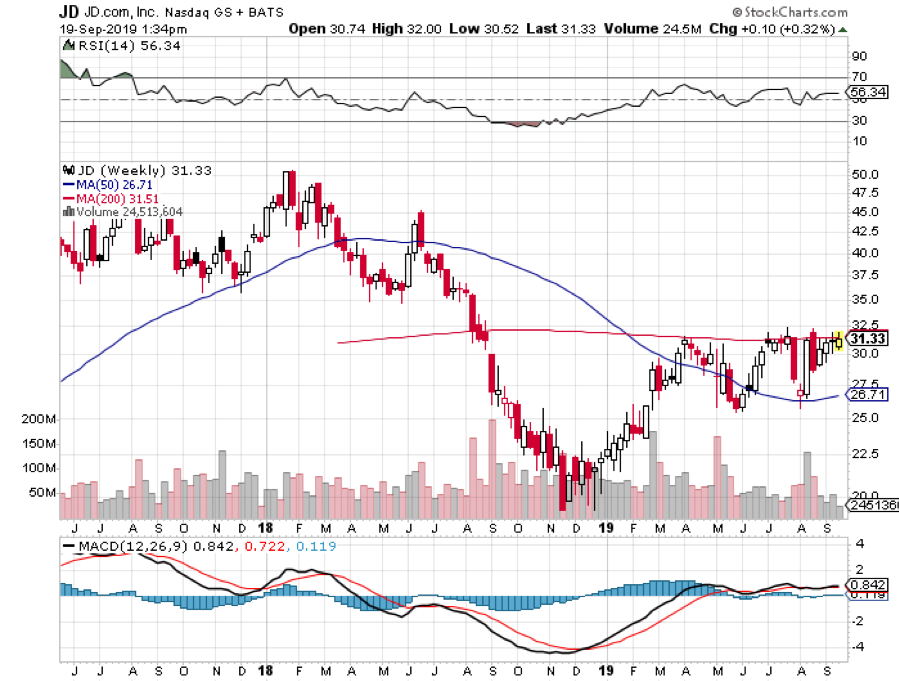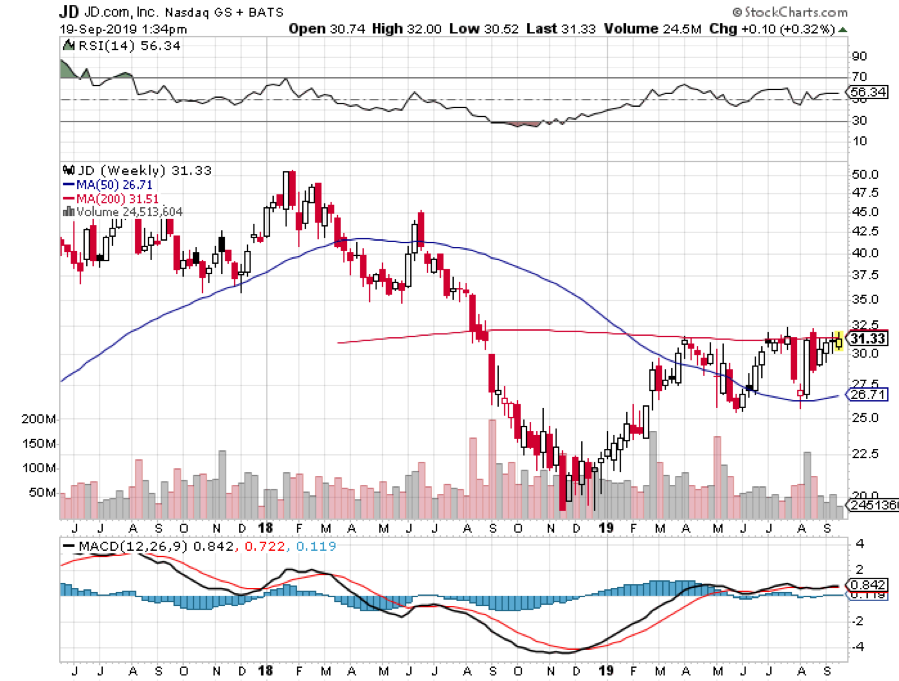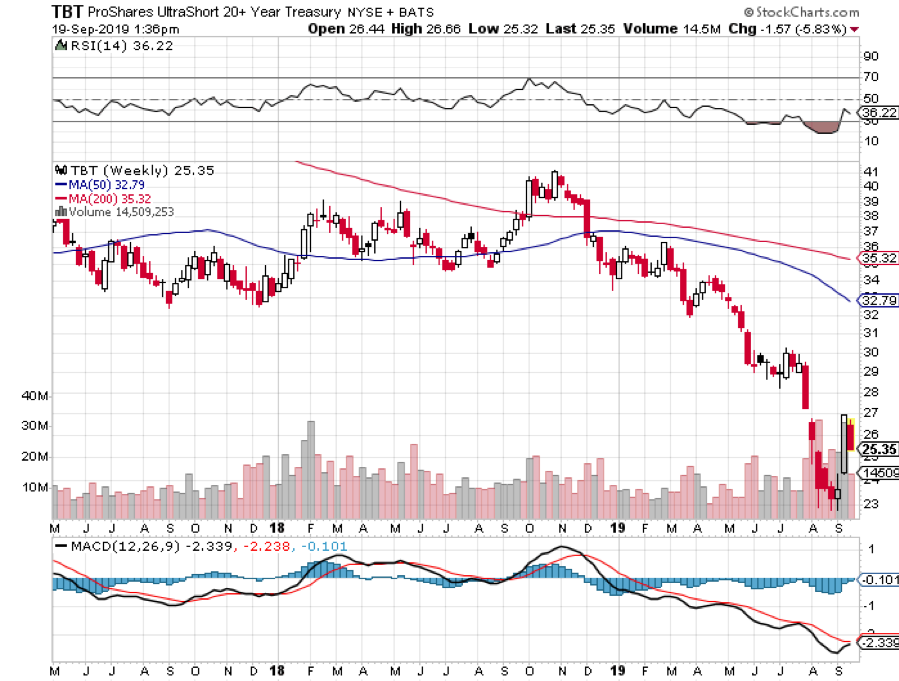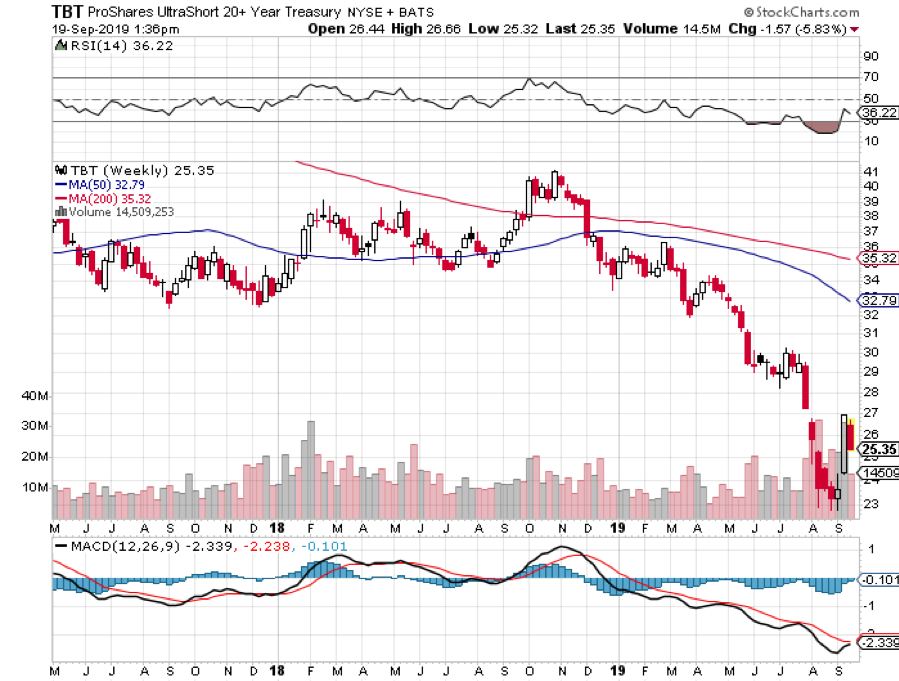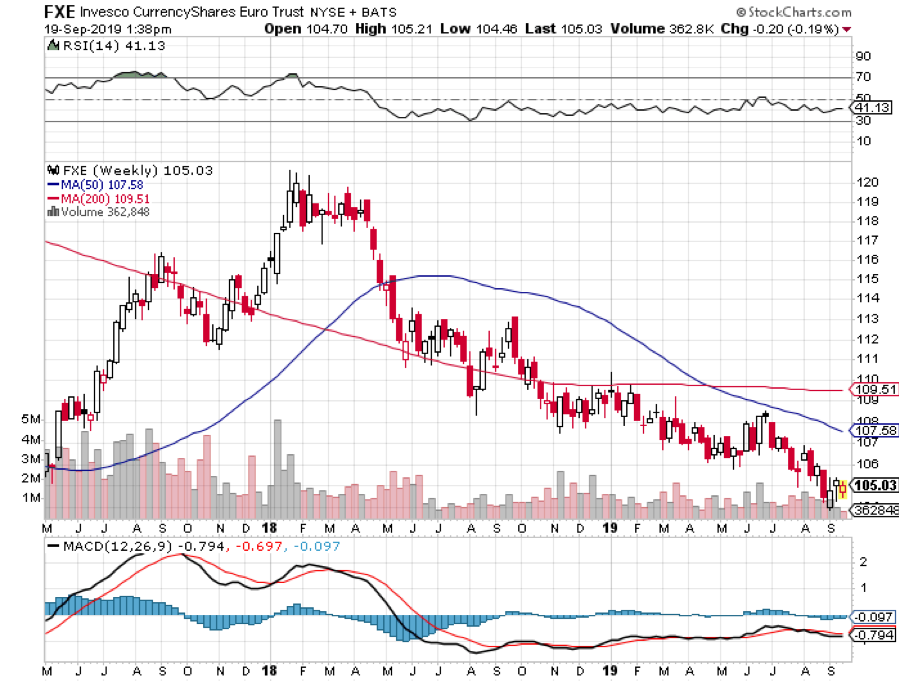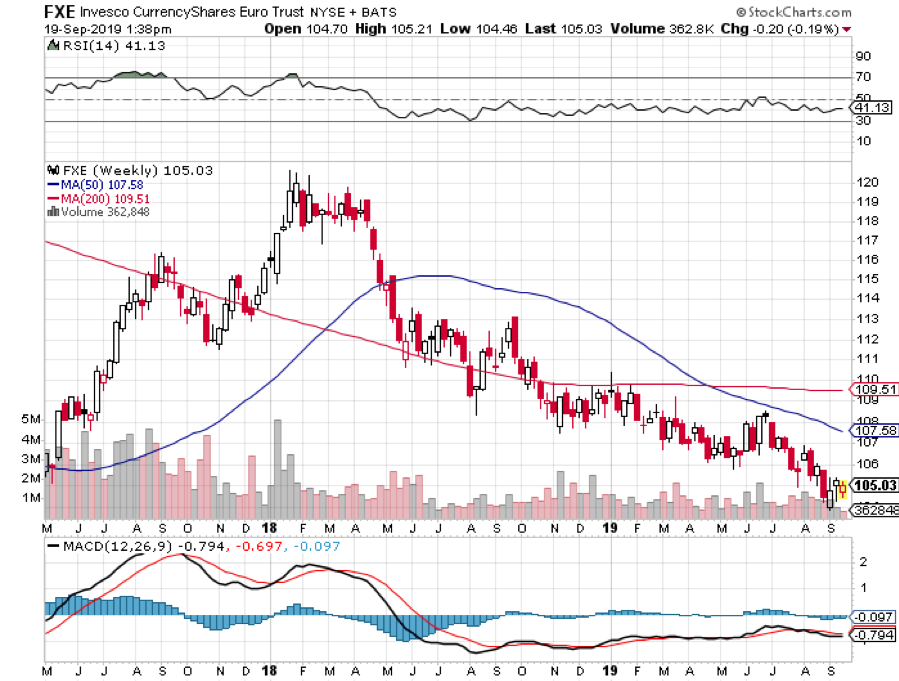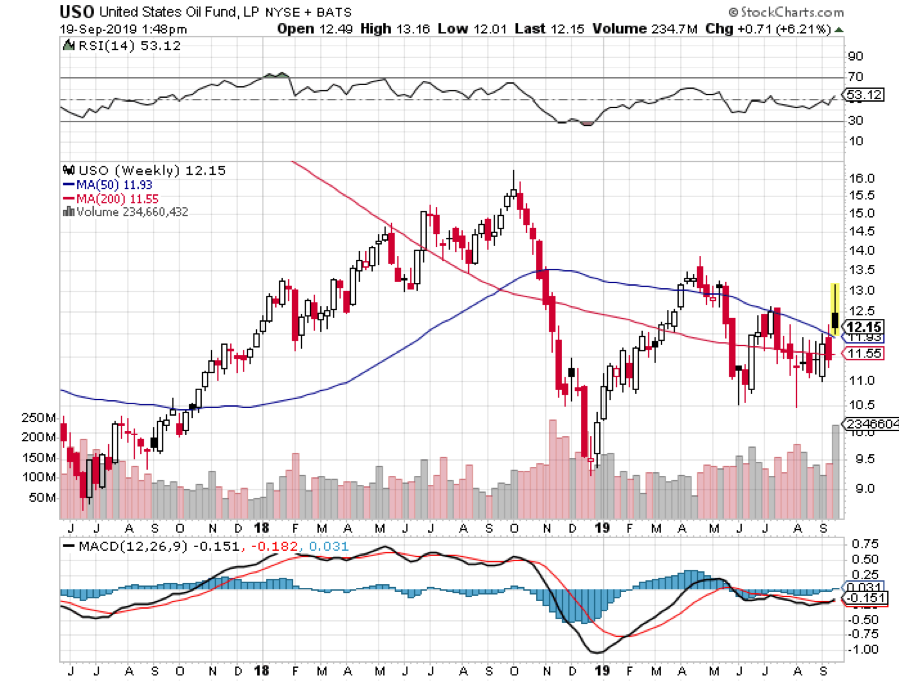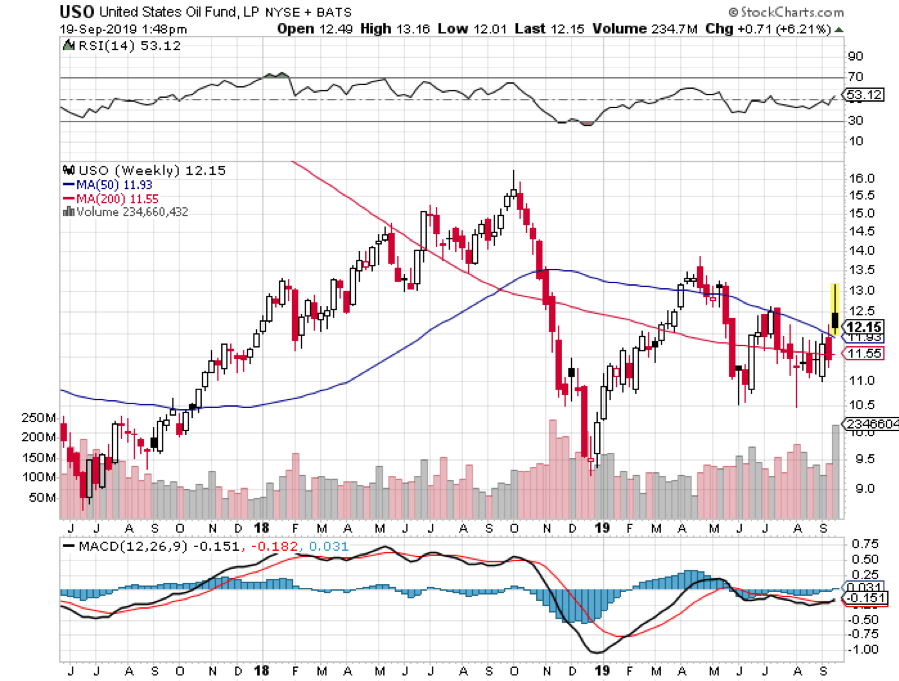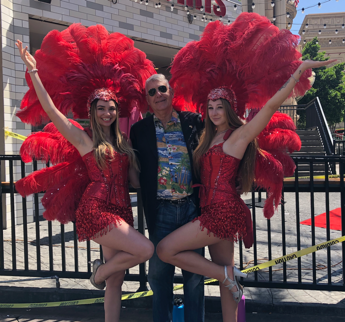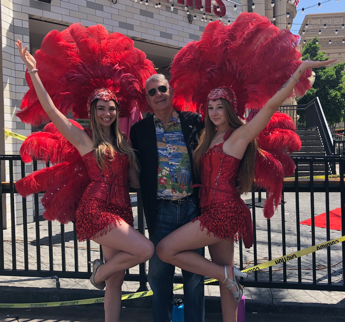 You Can't Do Enough Research
https://www.madhedgefundtrader.com/wp-content/uploads/2019/09/john-and-girls.png
322
345
Mad Hedge Fund Trader
https://madhedgefundtrader.com/wp-content/uploads/2019/05/cropped-mad-hedge-logo-transparent-192x192_f9578834168ba24df3eb53916a12c882.png
Mad Hedge Fund Trader
2019-09-20 01:04:44
2019-12-09 12:38:46
September 18 Biweekly Strategy Webinar Q&A