The Mad Hedge Fund Trader took a much-needed break this week to enjoy turkey with his vast extended family on the pristine shores of Incline Village, Nevada.
The weather was crystal clear, the temperature in the sixties throughout the day, and down into the teens at night. The kids took turns freezing bottles of water outside. To a fire-weary Californian, that's cool.
During my nighttime snowshoeing on the Tahoe Rim Trail, I am overawed by a pale waning moon setting into the lake. I walked through a heard of elk in the darkness, the snow crunching under my boots. On the way back, I noticed that a mountain lion had been tracking me.
The Trade Alerts went out so fast and furious this year, bringing in my biggest outperformance of my competitors since my service started 11 years ago. As of today, we are up 26% on the year versus a Dow Average (INDU) that has gained exactly zero.
Great managers are not measured by how much they make in rising markets but by how little they lose in falling ones.
I made money during the two market meltdowns this year, at least until this week. That last 1,000-point dive really hurt and breaks all precedent with Thanksgiving weeks past.
I played tech hard from the long side during the first half, then avoided it like the plague in the third quarter.
Short positions in bonds (TLT) continued to be my "rich uncle" trade every month this year. I am currently running a double position there.
I avoided banks, energy, gold, and commodities which performed horribly despite many entreaties to get in.
I avoided the foreign exchange markets such as the Japanese yen (FXY) and the Euro (FXE) because they were largely moribund and there were better fish to dry elsewhere.
The Volatility Index (VIX), (VXX) was a push on the year with both longs and shorts.
My big miss of the year was in biotechnology and health care. I am well familiar with the great long-term bull case for these sectors. But I was afraid that the president would announce mandatory drug price controls the day after I took a position.
I still believe in the year-end rally, although we will be starting from much lower levels than I thought possible. The recent technology crash was really something to behold, with some of the best quality companies like NVIDIA (NVDA), Amazon (AMZN), and Netflix (NFLX) down 30%-60% in weeks. It all looked like a Dotcom Bust Part II.
These are all screaming buys for the long term here. Tech companies are now trading cheaper than toilet paper making ones.
As Wilber Wright, whose biography I am now reading, once said, "Eagles can't soar to greatness in calm skies." His picture now adorns every American commercial pilot's license, including mine.
This is a week when my mother's seven children, 22 grandchildren, and 11 great-grandchildren suddenly remember that they have a wealthy uncle, cousin, or brother with a mansion at Lake Tahoe.
So, the house is packed, all the sofa beds put to use. We even had to put a toddler to sleep in a bathtub on pillows.
A 28-pound bird made the ultimate sacrifice and was accompanied with mashed potatoes, gravy, stuffing, potato salad, and mince pie. Cooking a turkey here at 6,125 feet can be tricky where water boils only at 198 degrees Fahrenheit. You have to add 15% to the cooking time or you end up with medium-rare meat, not such a great idea with a turkey.
Topping it all was a fine Duckhorn Chardonnay which the White House served at state dinners during a former administration. I'm told the current president doesn't drink.
I ate an entire pumpkin pie topped with whipped cream last night just to give my digestive system an early warning that some heavy lifting was on its way.
I am the oldest of seven of the most fractious and divided siblings on the planet, so attending these affairs is always a bit of an emotional and physical challenge.
I bet many of my readers are faced with the same dilemma, with mixed red state/blue state families, and they all have my sympathy. Hint: Don't mention Bitcoin. Your Millennial guests will suddenly develop food poisoning, down 80% in a year.
My family ranges throughout the entire political spectrum, from far-right big oil to far-left pot legalization and transgender rights. For this first time in family history, we all voted for the same candidate in the last election in every one of three generations.
Hillary Clinton. Go figure!
Suffice it to say that we'll be talking a lot about the only two safe subjects there are, sports and the weather. Go Niners! Hurray Giants! Will it snow?
We are all giving thanks that we weren't roasted alive in a wildfire and prayed for the 1,000 missing who won't be sitting down for Thanksgiving dinners this year. Most will never be found.
I learned from my brother who runs a trading desk at Goldman Sachs that the industry expects a recession in 2019. (GS) stock has been hammered because the had to refund $600 million in fees that were stolen from the Malaysian government.
Dodd-Frank and Glass Steagall are history, and interest rates are steadily rising like clockwork. Trading volumes are shrinking as the algorithms take over everything. Some 80% of all trading is now thought to be machine-driven.
He finally traded in his Bentley Turbo R for a new black high-performance Tesla Model X with the "ludicrous" mode. I take delivery of mine at the Fremont, CA factory next week. After six decades, sibling rivalry still lives. I cautioned him to keep an ample supply of airline airsick bags in the car. Good thing he got it before the subsidies expired at yearend!
It looks like it's OK to be rich again.
My born-again Christian sister was appalled at the way the government separated children from parents at the border earlier this year. There are still several hundred lost.
My gay rights activist sister has been marching to protest current government policy on the issue. She was quick to point out that Colorado elected its first gay governor, although I doubt anyone there will notice since they are all stoned in the aftermath of marijuana legalization.
A third sister married to a very pleasant fellow in Big Oil (USO) will be making the long trip from Borneo where he is involved in offshore exploration. This is the guy who escaped from Libya a few years ago by the skin of his teeth.
In the meantime, his industry has been beset by waves of cost-cutting and forced early retirements triggered by the recent oil price crash. He says the US will have to build energy infrastructure for a decade before it can export what it is producing now in oil and natural gas.
So far, the local headhunters haven't taken a trophy yet. And I mean real headhunters, not the recruiting kind.
Sister no. 4, who made a killing in commodities in Australia and then got out at the top seven years, thanks to a certain newsletter she reads, graced us with a rare visit.
Fortunately, she took my advice and converted all her winnings to greenbacks, thus avoiding the 30% hit the Aussie (FXA) has taken in recent years.
She's now investing in cash flow positive Reno condos, again, thanks to the same newsletter.
My poor youngest sister, no. 5, took it on the nose in the subprime derivatives market during the 2008 crash. Fortunately, she followed my counsel to hang on to the securities instead of dumping everything at the bottom for pennies.
She is the only member of the family I was not able to convince to sell her house in 2005 to duck the coming real estate collapse because she thought the nirvana would last forever. At least that is what her broker told her.
Thanks to the seven-year-old real estate boom, she is now well above her cost, while serial refi's have taken her cost of carry down by more than half.
My Arabic speaking nephew in Army Intelligence cashed out of the service and is now attending college on the newly revamped GI Bill.
He is majoring in math and computer science on my recommendation. My dad immensely benefited from the program after WWII, a poor, battle-scarred kid from Brooklyn attending USC. For the first time in 45 years, not a single family member is fighting in a foreign war. No gold stars here, only blue ones. If it can only last!
My oldest son is now in his 10th year as an English language professor at a government university in China. He spends his free time polishing up his Japanese, Russian, Korean, and Kazak, whatever that is.
At night, he trades the markets for his own account. Where do these kids get their interest in foreign languages anyway? Beats me. I was happy with seven.
He is planning on coming home soon. Things have recently gotten very uncomfortable for American residents of the Middle Kingdom.
It's true that the apple doesn't fall far from the tree.
My second son is now the head of SEO (search engine optimization) at a major Bay Area online company. Hint: you use their services every day. His tales of excess remind me of the most feverish days of the Dotcom boom. He says that technology is moving forward so fast that he can barely keep up.
His big score this year was winning a lottery to get a rent-controlled apartment in a prime San Francisco neighborhood. It's all of 400 square feet but has a great view and allows dogs, a rarity indeed.
My oldest daughter took time out from her PhD program at the University of California to bear me my first grandchild, a boy. It seems all my kids are late bloomers. We are all looking forward to the first Dr. Thomas someday (we have an oversupply of Captains).
I am looking forward to my annual Scrabble tournament with all, paging my way through old family photo albums between turns. And yes, "Jo" is a word (a 19th century term for a young girl). So is "Qi." The pinball machine is still broken from last Thanksgiving, or maybe it just has too many quarters stuffed in it.
Before dinner, we engaged in an old family tradition of chopping down some Christmas trees in the nearby Toiyabe National Forest on the Eastern shore of Lake Tahoe.
To keep it all legal I obtained the proper permits from the US Forest Service at $10 a pop.
There are only three more trading weeks left this year before we shut down for the Christmas holidays.
That is if I survive my relatives.
Good luck and good trading!
Captain John Thomas
CEO & Publisher
The Diary of a Mad Hedge Fund Trader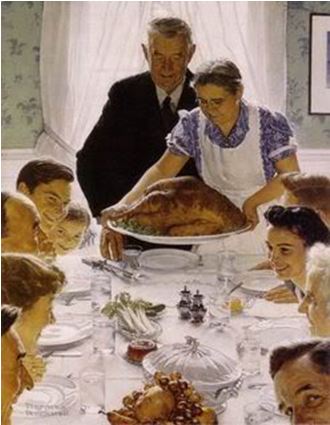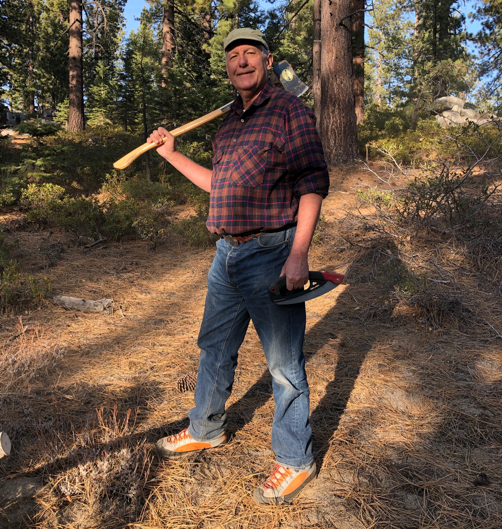 https://www.madhedgefundtrader.com/wp-content/uploads/2013/11/Norman-Rockwell-Thanksgiving.jpg
425
330
Mad Hedge Fund Trader
https://madhedgefundtrader.com/wp-content/uploads/2019/05/cropped-mad-hedge-logo-transparent-192x192_f9578834168ba24df3eb53916a12c882.png
Mad Hedge Fund Trader
2018-11-23 01:06:54
2018-11-21 16:57:26
Surviving Thanksgiving