There are certain parts of tech that I routinely bash on like travel tech, music streaming tech, and the usefulness of social media companies.
One other group of companies that I'm just as sour on are the discount e-brokers.
Yes, tech has embedded deflation into every company causing operations to become more efficient while boosting performance.
That doesn't necessarily translate into more sales for some, and they have cut down the barriers of entry to e-brokers who have struggled.
The race down to zero finally hit rock bottom a few months ago when Interactive Brokers (IBKR) announced doing away with trading fees.
Buying and selling stocks and ETFs now costs the consumer nothing and this has been great news for investors and traders who don't need to shoulder the extra trading costs.
But what about the e-brokers themselves?
Today Charles Schwab (SCHW) announced they are in negotiations to buy out the smaller TD Ameritrade (AMTD).
This was due to happen and is just another round of an industry-wide reshuffle.
I have never once thought these e-broker companies were a candidate for a tech alert, there are so many better companies out there.
Smaller commissions mean less revenue and the exact opposite of what investors should hope for in a tech company.
The lack of pricing power stems from the issue that e-brokers offer a commodified service of selling standard products and pricing is the only way to differentiate themselves.
The first startup company to offer zero was Menlo Park, California dark horse Robinhood which was recently valued at $7.6 billion.
They make money on the interest from customer deposits and sell data flow to high-frequency traders who in turn monetize the numbers using faster internet connections.
The spirited startup was found in 2013 and has added over 6 million users who are mostly from the Millennial age group.
These 6 million also represent the numbers lost to the discount e-brokers.
Robinhood's influence in the industry cannot be understated as they singlehandedly forced an e-broker to cut commissions one by one blowing up their business model.
E-brokers had no choice but to cut to zero unless they were content to bleed customers.
Don't forget that TD Ameritrade acquired competitor Scottrade just two years ago as the consolidation merry-go-round began.
The Schwab and TD Ameritrade deal will create over $5 trillion in asset management together.
Moving forward, the big question is how can these companies sustain themselves.
Exactly, there appears to be no panacea and I would recommend any investor to avoid investing in these e-brokers.
Schwab appears to be hanging their hat on their additional financial services they will be able to provide customers like offering mutual funds.
In addition to offering online brokerage accounts and robo-advisor services, Schwab and TD Ameritrade play a pivotal role in the independent advisory space because they custody assets and offer related services to RIAs.
According to Financial Advisor magazine, Schwab is the leading RIA custodian, and TD Ameritrade ranks third after Fidelity.
A merged company can theoretically offer more services to RIAs, but could also create opportunities for others.
Could these services become a race down to zero as well?
Disruption is in the early innings and round two could see Interactive Brokers or E*Trade (ETFC) in the next round of consolidation.
Smaller e-brokers will in time go bust or get bought out.
This reaffirms the broad trend of financial jobs eroding rapidly as the onslaught of technology has made certain jobs obsolete.
U.S. financial jobs are set to slide by 10% in the upcoming years.
Back office bank jobs are disappearing as we speak and the next big wave of job losses after that will be the front-office broker.
Yes, your Schwab broker could become an algorithm.
At some point, there will be a few managers left over, a handful of executives, and an army of software engineers.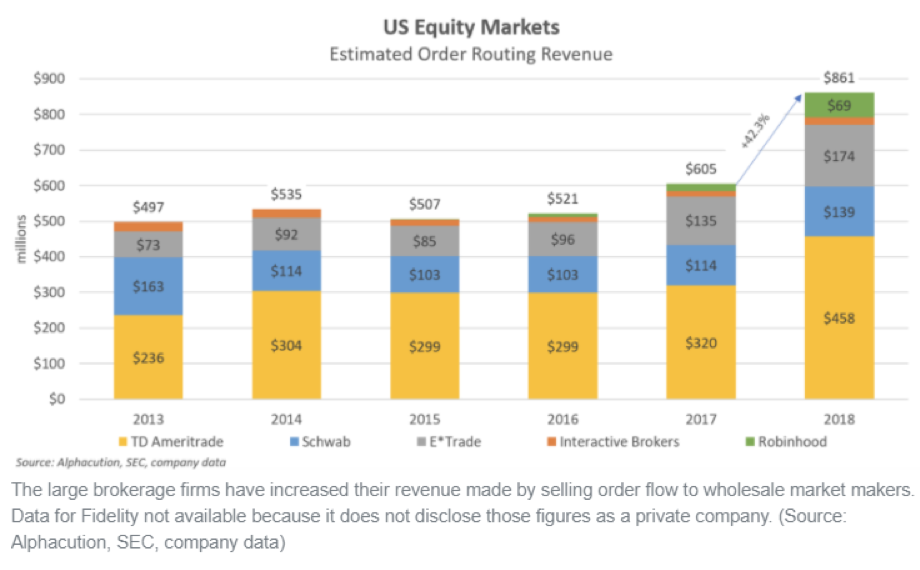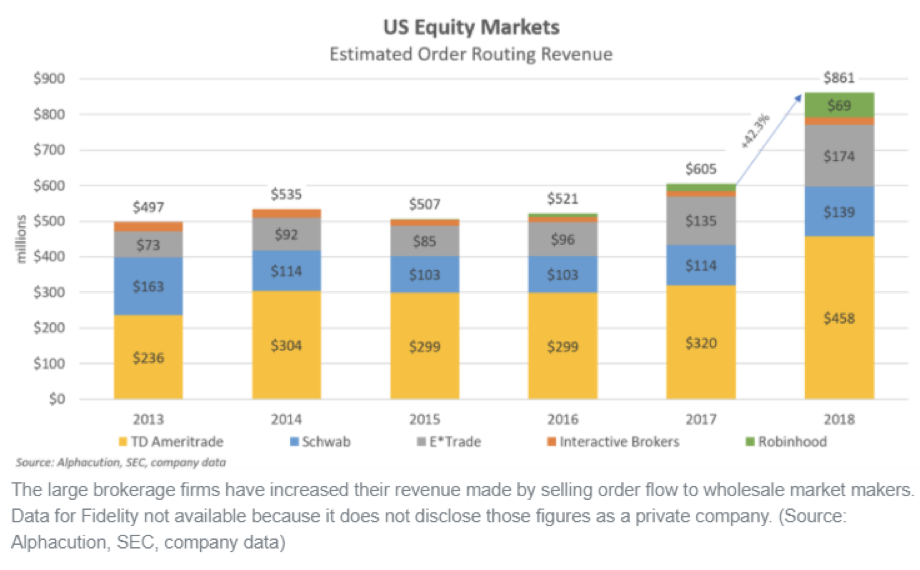 https://madhedgefundtrader.com/wp-content/uploads/2019/05/cropped-mad-hedge-logo-transparent-192x192_f9578834168ba24df3eb53916a12c882.png
0
0
Mad Hedge Fund Trader
https://madhedgefundtrader.com/wp-content/uploads/2019/05/cropped-mad-hedge-logo-transparent-192x192_f9578834168ba24df3eb53916a12c882.png
Mad Hedge Fund Trader
2019-11-22 07:02:49
2020-05-11 12:21:02
The Real Story Behind the Charles Schwab/TD Ameritrade Merger