Many would believe that ad-based music streaming and the free streaming of it would represent a massive windfall in this new work-from-home economy.
And that is exactly what happened when Spotify's (SPOT) stock rose from $121 on March 1st, 2020 and elevated to $365 just in February 2021.
The close to tripling of SPOT's shares came on the heels of a new annual year-end report by America's Recording Industry Association showing that overall recorded music revenue increased by roughly 9.2% in 2020 to $12.2 billion.
This overperformance in music streaming was a relatively significant increase compared to 2019's reported $8.9 billion, but the big takeaway was that two tech companies have seized the bulk of the revenue.
Both Spotify and Apple Music were the two most dominating streaming platforms, raising approximately $7 billion amongst the two, while subscriptions rose from 60.4 million to 75.5 million.
Even more unthinkable, the figures show 83% of the music industry's revenue came as a result of streaming.
Why did 2020 work out so well for SPOT?
More time at home resulted in more people getting hooked on streaming and turning to SPOTs platform, but it also created disruption in listening habits, consumption hours and the release of new music and podcasts.
The new dynamics of music streaming is cause for belief that subscribers have been pulled forward from the back half of 2020, which could translate into underperformance for subscriber growth in the year ahead.
Long term, the trend lines are healthy as streaming from a shift from linear to on-demand has clearly accelerated and will continue to remain as a massive multi-billion user opportunity.
SPOTs stock has consolidated from highs of $365 and now trade around $270 after investors got scared hearing management's lukewarm optimism for 2021.
The hesitation culminated when management admitted that the "full-year 2021 plan will have a higher variance than prior years."
Uncertainty is always killer in tech and SPOTs response is to shift to more aggressive revenue growth where they know pricing power will enable SPOT to increase ARPU.
SPOT is flirting with price increases across a number of markets even if in the world's largest music market, the company's $10-a-month subscription cost has remained fixed for years even as Spotify added millions of podcasts and songs to the platform.
Spotify announced at the investor day that it would double the number of countries where its services are available and roll out dozens of new podcast shows from the likes of Barack Obama and Ava DuVernay.
The ultimate problem that SPOT still confronts is if music streaming can be a profitable business and I believe launching SPOT in 85 new territories across Africa, Asia, and Latin America, such as Ghana, Sri Lanka and Pakistan, will deteriorate SPOTs average revenue per user (ARPU).
ARPU has been declining steadily as the company offered promotional discounts and expanded into countries such as India, where it charges subscribers a lower price. ARPU dropped 8% in the fourth quarter from a year ago, to only €4.26.
At a broader level, the overall number of total ears is saving them but the reckoning with profitability problem could turn out to be 2021 which is inherently terrible for the underlying stock.
In the last year alone, SPOT tripled the number of podcasts on their platform, moving from about 700,000 in Q4 2019 to 2.2 million podcasts today.
Investments in originals and exclusives are creating more and more reasons for listeners to choose Spotify, and exclusive programming is already proving to be an essential part of differentiation.
But how long will they be able to burn through cash before they can scale a profit?
Even if we are in the early days of seeing the long-term evolvement of how we can monetize audio on the Internet, tech will have all business models, and that's the future for all media companies that first will have ad-supported subscription and a la carte sort of in the same space of all media companies in the future, and you should definitely expect Spotify to follow that strategy in that pattern.
Even with that tidal wave of secular positivity, Spotify's management is modeling ARPU to be "roughly flattish" for 2021 and that's a red flag.
The crop has already been harvested for 2020 because last year was the year that investors gave tech and all corporates a free pass to write off performance with investors only focusing on low rates, liquidity, and the overarching secular trends.
As 2021 plays out, the tech market is grappling with an undermining bond scare along with tough quarterly comparisons to last year.
It won't be surprising to see tech growth consolidating and absorbing the higher rates and optimistic re-opening expectations.
After this dip, I expect SPOT to reaccelerate its growth contingent on increasing the ARPU that is beginning to become a sensitive spot for the company's metrics.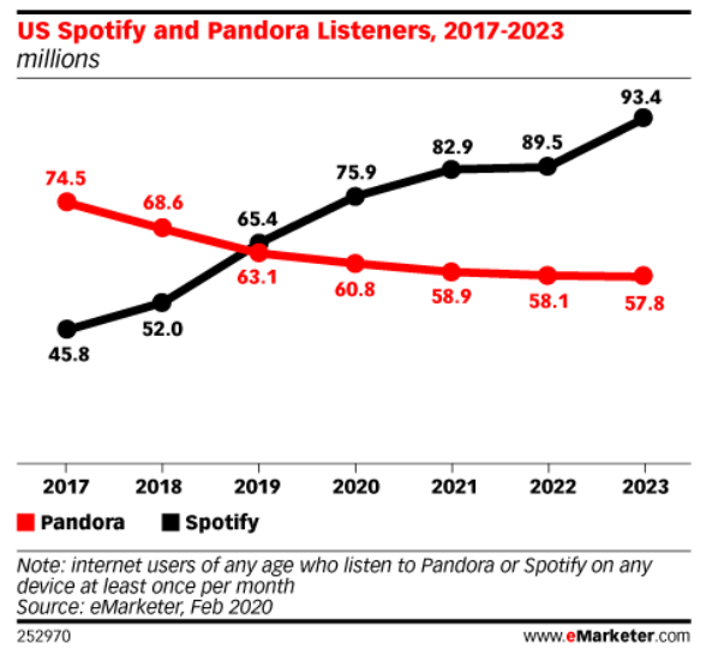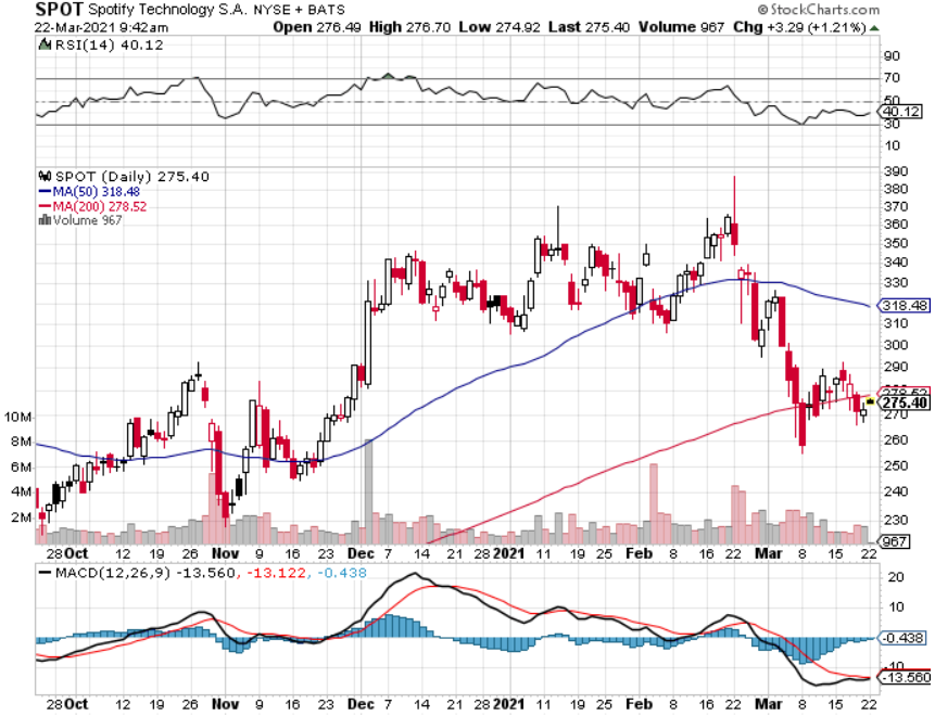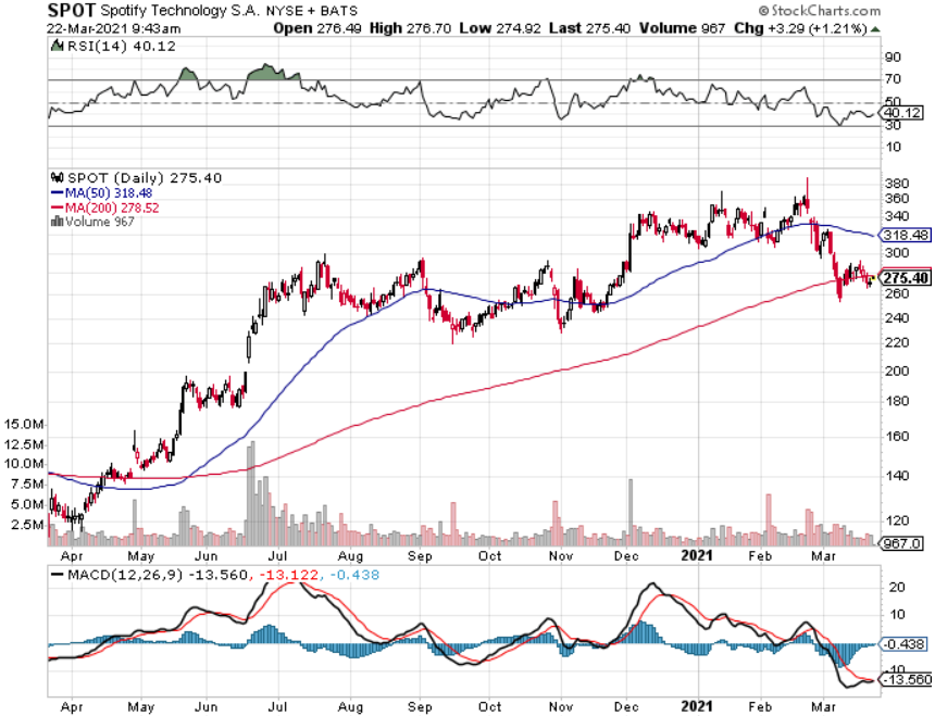 https://madhedgefundtrader.com/wp-content/uploads/2019/05/cropped-mad-hedge-logo-transparent-192x192_f9578834168ba24df3eb53916a12c882.png
0
0
Mad Hedge Fund Trader
https://madhedgefundtrader.com/wp-content/uploads/2019/05/cropped-mad-hedge-logo-transparent-192x192_f9578834168ba24df3eb53916a12c882.png
Mad Hedge Fund Trader
2021-03-22 09:02:08
2021-03-27 21:50:01
What's the Deal with Spotify?