Being as volatile as it is, investors are afforded ample opportunity to get into one of the premium tech stocks in the land Netflix (NFLX).
Chasing this one higher is a dangerous thought, as habitual 30% dips is part and parcel of being attached to this supreme online streaming stock.
December of 2018 gave you that sinking feeling when Netflix dropped off a cliff dipping to $260 but spiking after the turn of the year as the Fed swiveled on a dime to save the equity market from implosion.
Let's make no bones about it, the long-term narrative for Netflix is intact as it's ever been.
The company simply makes a great product, period, and systematically taps endless demand.
What many cable companies don't understand is that you cannot make a high-quality film product that wedges in annoying commercials and equally as obnoxious, dictate the window of time in which they should watch the content.
Optionality is value and Netflix has this spot on.
I know many Millennial consumers that would rather jump off a building than subject themselves to commercials.
These factors erode the quality of the product just as if an employer would dictate to one of his or her employees that wanted to take a vacation to Africa.
But the vacation to Africa would have some strings attached.
He or she would only be able to visit at the height of summer in 120-degree Fahrenheit weather while every activity he or she chose to do, would be pre-empted by numerous advertisements that he or she must be shown.
Consumers don't need these sideshows anymore; the world has developed away from these models and corporates have lost this control.
The loss of corporate control of the consumers is because the internet gives consumers millions of different options at the tip of their fingers.
Tapping into the optionality and the habits that revolve around it is paramount to corporate America.
This is the same reason why big box food companies like Kraft Heinz (KHC) is getting smacked around, consumers have better options and are more aware of them because of technology.
Another example of corporate miscalculation comes in the form of supply chains being redirected from China to South East Asia.
It was clear as day that during my time in China that companies were making a terrible mistake going into China in the first place.
This shows how many corporates are dragged down by a lack of vision and do an awful job of anticipating paradigm shifts that are becoming more common because of the accelerating rate of change of the corporate climate, weather, technology, rule of law, and human migration.
Netflix is effectively blocked from China and China has its own Netflix called iQIYI (IQ), they had no chance from the beginning like Google, Amazon, Facebook, and the many other American tech firms.
Netflix's business model now has scale working for them and growth numbers will be the main recipients going forward if they focus on high quality content.
That means expect high pay packages to the best media talent in the world.
They can afford to pay a tier 1 actor $50 million per movie because the data buttresses this strategy.
At the same time, Netflix is crushing competition by hoarding the talent with extraordinary pay packages while allowing these highly paid specialists 100% creative control over what they do.
Who would want to work for a company that paid more than double and whose management gave them free reign on creative decisions?
Sounds like an artist's dream and it's exactly that for actors like Will Smith who have signed onto Netflix's project.
I would even suggest that Netflix needs to overpay actors just for the reason of taking them off the market for competitors.
This truly is the lucrative golden age for actors, producers, and directors who are the top 1% of their craft, but for everyone else, it's a hard slog.
This usually means becoming a tier 1 actor before the migration to online streaming happened.
The picture I am painting is that Netflix's success and future prospects aren't about Disney or other competitors, but entirely about them.
He who has the most chips at the table with the best cards is in best position to win and the same goes for Netflix.
The rest of the bunch like Apple (AAPL) and Disney who are late to the party will be feeding off the rest of what Netflix cannot exploit and that's the best-case scenario.
Disney should be able to have moderate success with its array of great movie, television, and sports content.
I'd be surprised if Disney failed because they possess the ingredients to concoct a delicious cocktail.  
Apple has a harder proposition because of the lack of entertainment value in their content. They are still tied to the hardware sales and much of the service sales come from their app store and servicing the hardware.
But Apple does have money, and a lot of it to throw at the problem, but I don't believe CEO of Apple Tim Cook is the right man to navigate through the travails of the online content world. He's an operations guy and has never proved anything more than that.
Netflix still has substantial opportunity to grow its brand and the runway is long.
The demand for watching great original movies and television programs without commercials whenever consumers want is still in the first innings.
Even though Disney will remove some non-original content from Netflix's platform, the content spend on a massive pipeline of new projects will more than fill the void left by Disney's content.
In fact, Netflix should thank Disney for all those years that Disney allowed them to build their brand through 3rd party premium content like the television program Friends.
I believe Netflix does not need 3rd party content anymore, that is how much Netflix has bolted ahead in the past few years.
The company has introduced price hikes with its 4K premium package going from $14 to $16 per month.
But Netflix is still underpricing itself to the consumer to grab market share, and there is still pricing headway in the future if the company wants it.
In the coming months, Netflix plans to offer more detailed reporting on its metrics and the transparency will give investors even more insight into why this company is brilliant.
I believe the numbers will show that Netflix is absolutely killing it.
As for the trading, Netflix has settled in a range of $320 to $380 and any dips to the $340 range should be quite appetizing.
Add incrementally and use any large dip to drop your cost basis.
Stand aside if you cannot handle heightened volatility.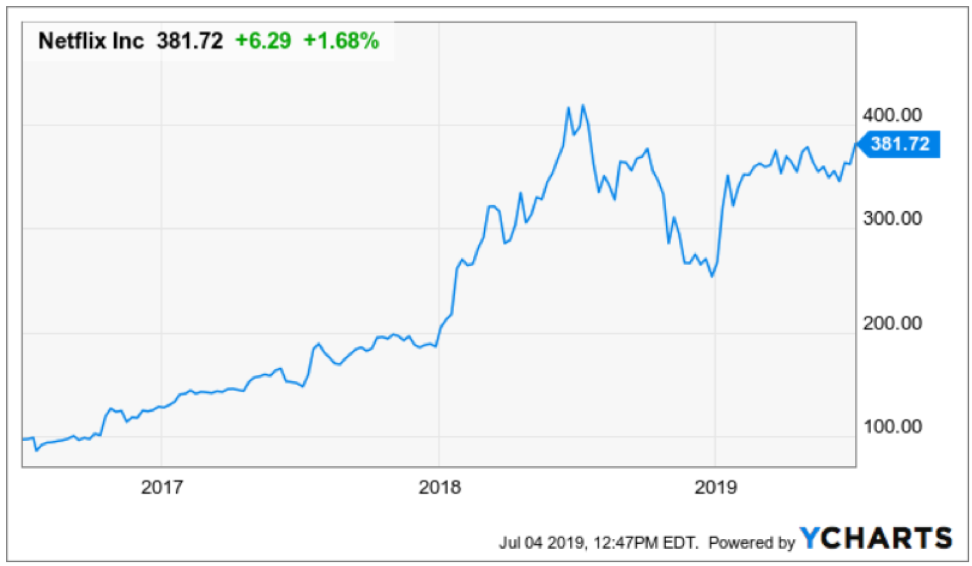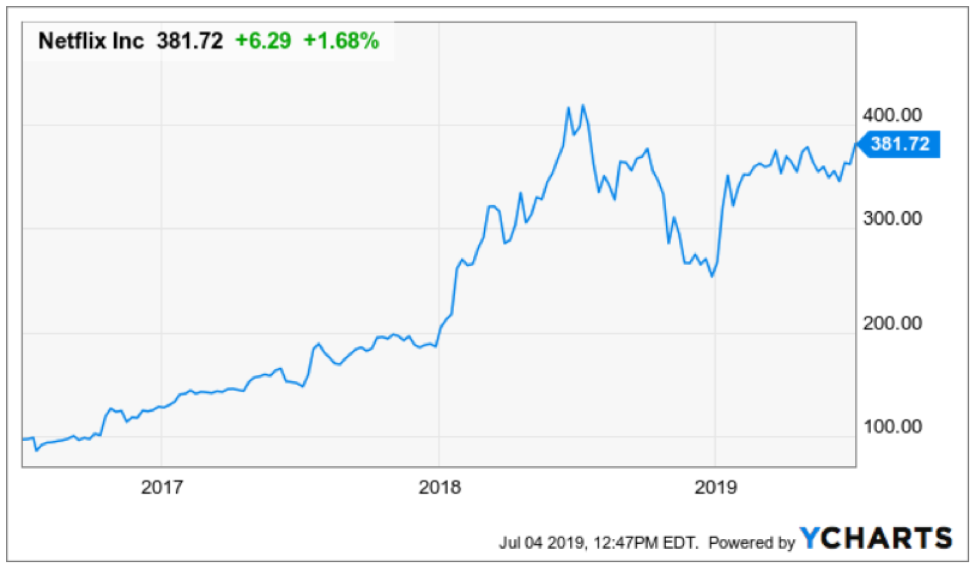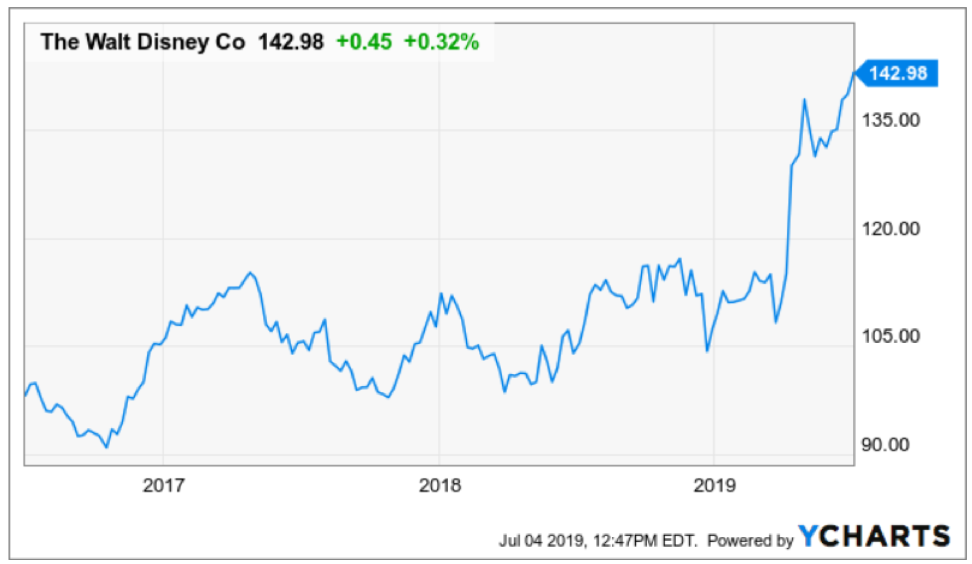 https://www.madhedgefundtrader.com/wp-content/uploads/2019/07/dis-july5.png
564
972
Mad Hedge Fund Trader
https://madhedgefundtrader.com/wp-content/uploads/2019/05/cropped-mad-hedge-logo-transparent-192x192_f9578834168ba24df3eb53916a12c882.png
Mad Hedge Fund Trader
2019-07-05 07:02:15
2019-08-05 17:50:19
The Ball is in Netflix's Court