Seeking for a great long-term buy and hold tech name?
Then look no further than Intuitive Surgical, Inc. (ISRG).
Intuitive Surgical develops and produces robotic products designed to enhance clinical outcomes for patients through minimally invasive surgery, its most well-known product is the da Vinci surgical system.
Healthcare is one sector that I have rarely touched on, but not only will this cross-pollination with tech serve a social good, investors have a chance to rake in future profits.
The da Vinci systems and Intuitive Surgical are the best of breed and have had almost zero competition in the past 20 years.
The systems are placed in operating room used for invasive surgery for various types of ailments from cancer to hernia, and the systems were successfully used over one million times for surgery last year.
The da Vinci systems aren't cheap – they cost $1.5 million and the customers, usually the hospitals, buy the add-ons of extra parts and supplies that inflate the price another $1,900.
As you would expect, net profit margins are compelling, being over 30% which e-commerce companies would give a left leg for translating into numbers that make the company incredibly profitable.
The story of the da Vinci systems starts way back in the 80s with the Defense Advanced Research Projects Agency (DARPA) hoping it could figure out how to offer surgeons the ability to operate remotely on soldiers wounded on the battlefield.
SRI International (SRI), an American nonprofit scientific research institute and organization took the painstaking time to develop the technology.
SRI's intellectual property was eventually acquired in 1994 and incorporated a new company named Intuitive Surgical Devices by the founders.
It took another 4 years for the FDA (Food and Drug Administration) to finally approve usage of the da Vinci Surgical System.
The first available surgery was for general laparoscopic surgery used to address gallbladder disease and gastroesophageal disease.
The next year saw another harvest of approvals with the FDA giving the green light to use the system for prostate surgery.
The approvals started to flow like a waterfall with thoracoscopic surgery, cardiac procedures performed with adjunctive incisions, and gynecologic procedures also approved by the FDA.
Fast forward to 2019 and the company couldn't be financially healthier looking back at the year of 2018 in review.
Instruments & Accessories revenues came in at $1.96 billion comprising 52.7% of total revenue.
System sales crushed it with $1.13 billion, growth of 30.3% YOY and service sales amounted to $635.1 million up 17% YOY.
And in the latest quarter, Intuitive Surgical reported 19% YOY growth in worldwide da Vinci procedure volumes which contributed to bumping up revenue 18% YOY in the instruments and accessories segment.
The company is seeing the same type of success abroad with foreign revenues totaling $307 million, up 24% YOY.
Intuitive Surgical installed 115 systems in the previous quarter outside of America compared with 86 in the quarter before last.
55  of these new systems were installed in Europe, 31 in Japan, and nine in Brazil.
Procedure growth is forecasted to expand between 13-17%, fueled by U.S. general surgery and procedures.
Unfortunately, the stock sold off after earnings because adjusted operating expenses are expected to rise 20-28% reminding investors that the stock can't always move up in a straight line.
The harm to operating margins is a tough pill to swallow in the short-term, but that does not take away the gloss from this leading tech company.
Intuitive Surgical plans to branch out from the da Vinci systems with its new Ion system, a robotic-assisted bronchoscope awaiting FDA clearance, a revolutionary way to kill cancer cells inside the lung.
After decades of unbridled market leadership, there are a few icebergs ahead in the distance in the form of competition.
Verb Surgical, a collaboration between Johnson & Johnson (JNJ) and Alphabet (GOOGL), will enter the healthcare robot surgery market in 2020.
Johnson & Johnson recently indicated it will splurge $3.4 billion in cash for Auris Health, a robotics startup with a device to perform lung biopsies that could compete with Intuitive Surgical's Ion system.
Auris Health was approved by the FDA in March 2018 for this device that performs lung biopsies and Intuitive Surgical promptly sued citing patent infringement.
Auris Health was established by the co-founder of Intuitive Surgical Dr. Frederic Moll who pioneered the field of surgical robotics but left Intuitive in 2003 after 8 years there.
Intuitive could rub up on some more competition in the future, that is a stark possibility, but the pathway to profits are still open as the company rolls out different systems, services, and has the capital to fund new directions.
Hospitals that already have existing relationships with Intuitive will be less inclined to switch over to competing services if they are satisfied with the quality, service, and price points of the equipment.
This will help Intuitive build on the current strong momentum and ensure their products are in the pipeline to be adopted by the next batch of future demand.
Shares of the company are sky-high and expensive with a PE multiple of 55.
The big investment into R&D is in no doubt to fend off the potential competition around the corner, but I view that as a net positive.
It would be logical to wait for a pullback to buy shares, this one is a keeper.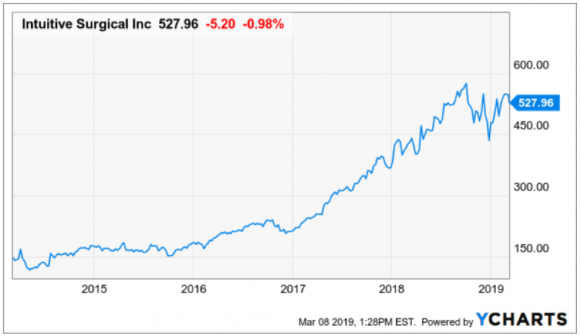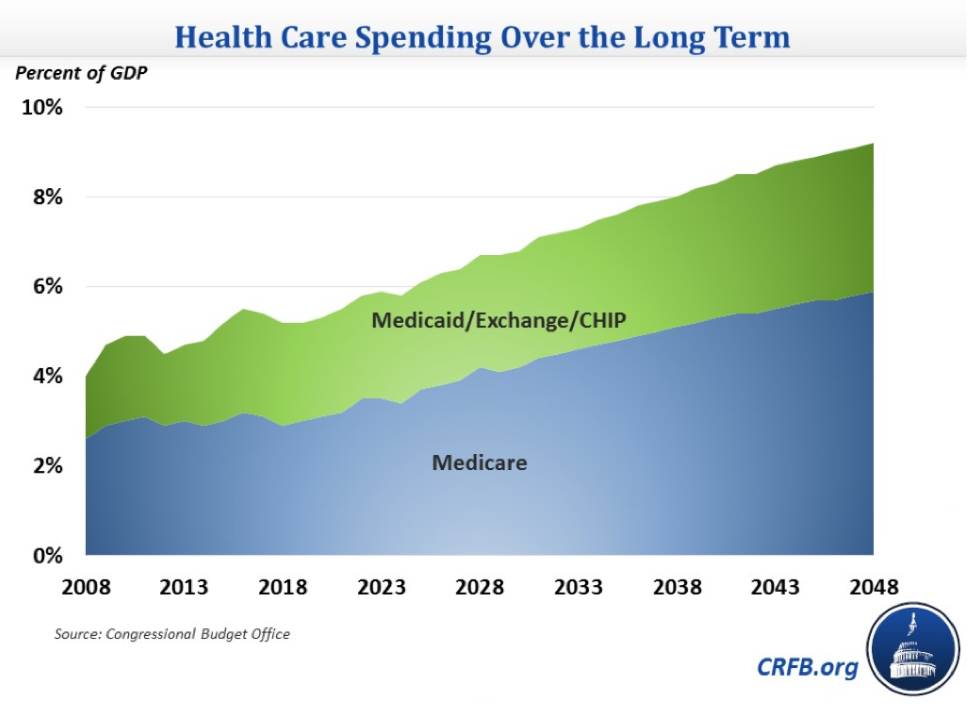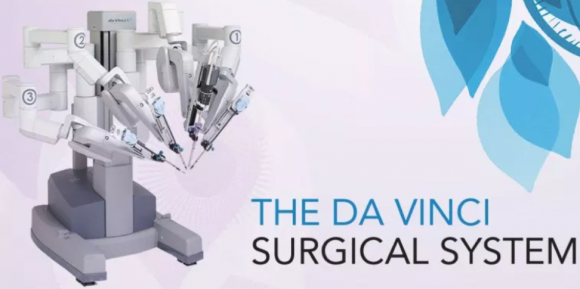 https://www.madhedgefundtrader.com/wp-content/uploads/2019/03/da-vinci-e1552290991511.png
289
580
Mad Hedge Fund Trader
https://madhedgefundtrader.com/wp-content/uploads/2019/05/cropped-mad-hedge-logo-transparent-192x192_f9578834168ba24df3eb53916a12c882.png
Mad Hedge Fund Trader
2019-03-11 04:06:50
2019-07-10 21:44:00
The Best Tech Play in Healthcare