Now is not a good time to put new money to work in the semiconductor space.
American chip companies are some of the major exporters of domestic technology in a world that has been taken over by a contentious global trade war.
The administration shows no signs of backing down digging into the trenches and not giving up an inch.
Damocles' sword is hanging over chip revenues waiting for the final verdict giving investors a great short-term reason to avoid semiconductor companies.
It's not the time to be cute in the market, but there is still one must-buy name in the chip space that is best in show and that is Nvidia (NVDA).
"Turing is NVIDIA's most important innovation in computer graphics in more than a decade," said Nvidia CEO and founder Jensen Huang.
Huang made this announcement of the eighth-generation Turing graphics architecture at a conference in Vancouver last week.
There have been recent leaks in the press that Nvidia will roll out two new GPU products shortly, the RTX 2080 and RTX 2080 Ti adding to its already stellar lineup of gaming hardware.
The quality shines through with the real-time ray-tracing offering gamers newly enhanced lighting effects.
Nvidia's new GeForce RTX 2080 series of graphics cards is derived from the company's Turing architecture.
To check out a demo that shows off production-quality rendering and cinematic frame rates then click here.
Innovation has been a hallmark of Nvidia's approach for quite some time and the high quality of products has always attracted a diverse set of customers.
Enhancing its GPU products is a boon because a myriad of gamers, professional and casual, will end up upgrading to these chips that vie to stay ahead of the fierce gaming competition.
Gaming is Nvidia's core revenue stream comprising more than 58% of sales.
Global exports revenue projects to surge 30% higher in 2018, eclipsing $906 million and could swell to $1.65 billion by 2021.
The new Turing GPU is poised to elevate margins because of its $2,500-$10,000 price point.
The Turing architecture incorporates enhanced Tensor Cores offering six times the performance of the previous generation architecture.
The steep price will entice content creators and developers to drop a wad of cash on state-of-the-art GPUs improving their own products.
The step up in price reflects the addition of modern AI and ray-tracing acceleration into the design that previous generations lacked.
Ray tracing is the act of simulating how light bounces in the physical world smoothly transferring it to a virtual image.
The new Turing architecture will produce 25 times the performance of the previous generation.
Content creators are drooling over these new possibilities.
Profit margins will increase starting from the fourth quarter when shipping commences.
Nvidia has chimed in before describing that the GPU addressable market will rake in 50 million potential customers and will be a $250 billion industry.
Innovation is Nvidia's bread and butter and instead of resting on its laurels, it has gone out and pushed the limits further with these new GPU technologies.
Advanced Micro Devices (AMD) will have a hard time replicating Nvidia's success after Nvidia's second generation of products with integrated AI acceleration is lapping up praises by industry specialists.
Nvidia has adopted the playbook that so many tech companies have found useful. It has a mix of businesses that complement its core business.
The gaming division is by far its main driver. However, the rest of the 42% of revenue is made up of a collection of mainly the data center comprising 23.8% of sales, and its automotive segment bringing up the rear with 5.2% of revenue.
The total addressable market for artificial intelligence will be in the ballpark of $50 billion by 2023 offering a huge pipeline of potential deals in its data center and autonomous driving divisions.
Nvidia rings in just 5.2% of revenue from autonomous driving segment and the mass rollout of robot-taxis will ignite this segment into a meaningful part of its portfolio.
The first hurdle is the mass adoption of Waymo vehicles because they are first in line to make this futuristic industry into modern day reality.
Either way, Nvidia is advancing its technology to be in pole position to capitalize on the shift to automotive driving by developing a driverless car supercomputer named Drive PX Pegasus aimed at helping automakers create Level 5 self-driving vehicles.
Even though this industry is still in its incubation stage, a projected 33 million autonomous vehicles will be cruising around streets by 2040 ballooning from the 51,000 cars forecasted by 2021.
Nvidia's have struggled as of late.
The post-earnings sell-off happened even though it beat the current quarter's projections, but the all-important guidance was light.
Guidance fell short because of bitcoin's fall from grace cratering from $20,000 to $6,000.
Low cryptocurrency prices suck the air out of the demand for GPUs required to mine cryptocurrency.
The softness in demand was reflected in last quarter's crypto-based revenue coming in at a paltry $18 million.
The previous quarter was a different story with crypto-based revenue boosting top-line revenue substantially with quarterly revenue registering $289 million, which was 9% of total quarterly revenue.
Huang has confided that crypto-based revenue is not the main driver for Nvidia going forward. And latching itself to an unstable digital currency with governments out to drown out the fad is not sustainable.
The guidance, even though less than expected, is still healthy representing 23% YOY growth.
The sell-off offers a prime entry point in a stock that is the best publicly traded chip company in America right now.
No doubt the enhanced GPU chips will kick-start another round of increasing revenue. The lighter-than-expected revenue guidance sets the stage for Nvidia to resoundingly beat next quarter's earnings estimate.
Crypto-based revenue was never an assumed part of Nvidia's revenue engine and was at best a one-off boost to the bottom line.
Nvidia is still a great company producing hardware with duopoly playmate AMD, which has seen a double in its share price in the past four months.
As Nvidia retraces from its all-time high, $225 is the next level of support that would provide a timely entry point into a company that leads its industry.
These types of companies do not grow on trees and if you choose to buy into any chip stock, Nvidia would be the favorite because of its dominant position grabbing 66% of market share in the GPU market leaving runner-up AMD with the scraps.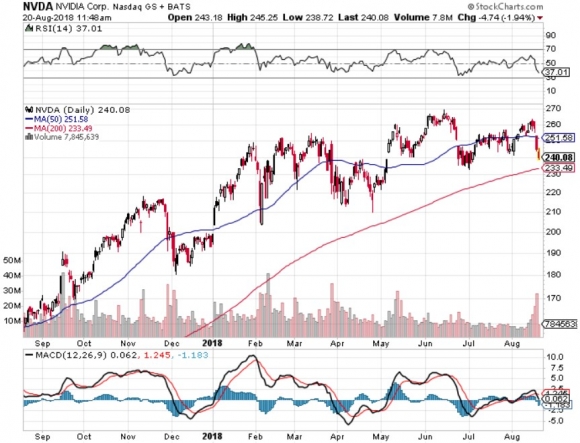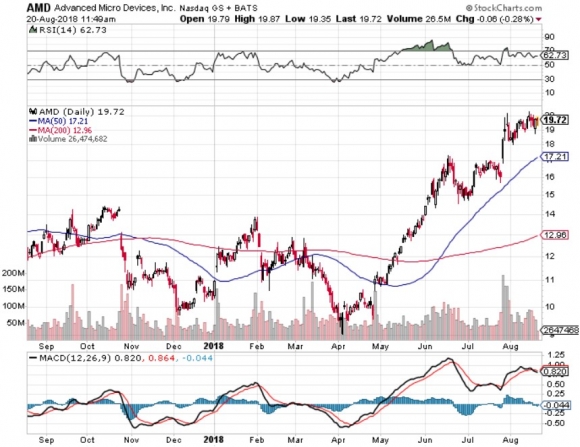 ________________________________________________________________________________________________
Quote of the Day
"It's OK to have your eggs in one basket as long as you control what happens to that basket," – said Tesla founder and CEO Elon Musk.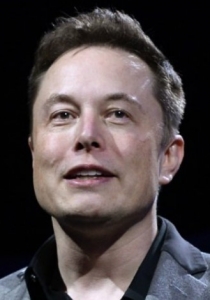 https://madhedgefundtrader.com/wp-content/uploads/2019/05/cropped-mad-hedge-logo-transparent-192x192_f9578834168ba24df3eb53916a12c882.png
0
0
MHFTR
https://madhedgefundtrader.com/wp-content/uploads/2019/05/cropped-mad-hedge-logo-transparent-192x192_f9578834168ba24df3eb53916a12c882.png
MHFTR
2018-08-21 01:05:01
2018-08-20 20:40:47
The Chip Mini Recession is On